Healthy homemade granola bars made with natural sweeteners, oats, nuts, and a little bit of chocolate for good measure!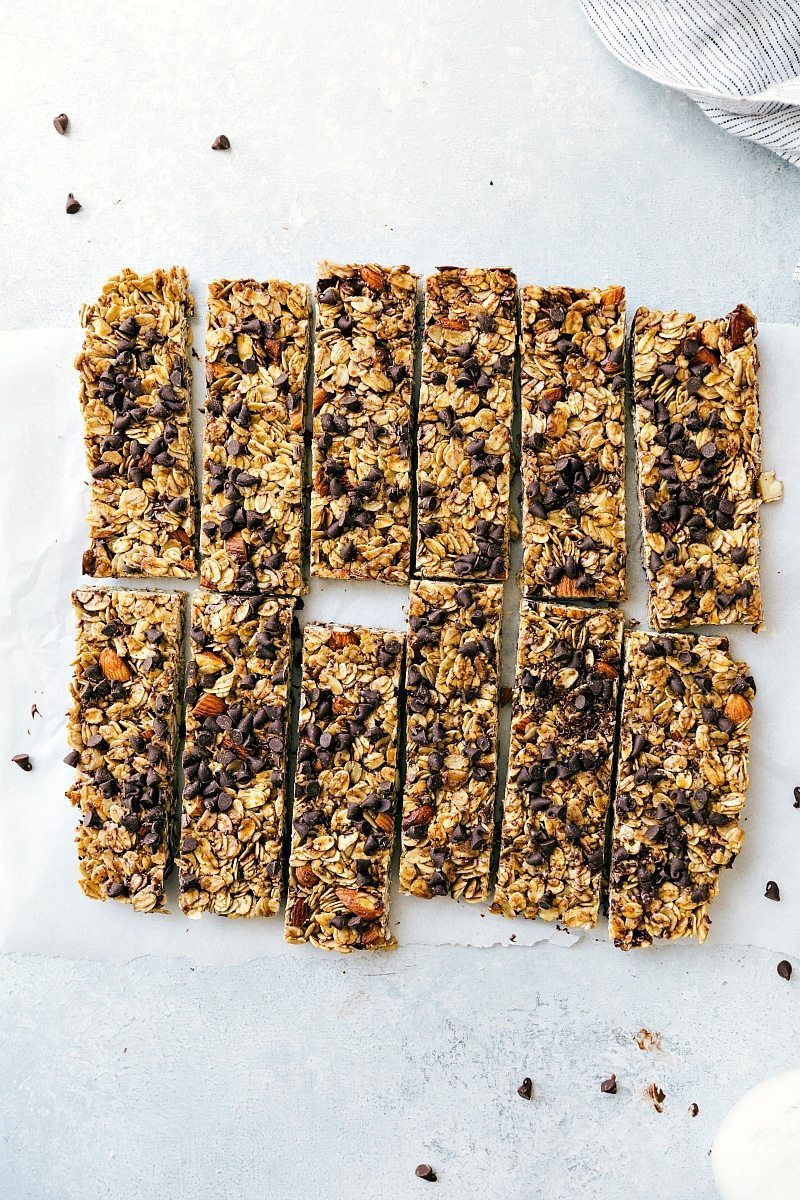 My kiddos INHALE granola bars. We bring them everywhere — to the park, to the doctor's, to the store….you can count on me always having a few in my purse or in the car ready to hand out!
Since we go through them so often, I've started making my own. I love knowing exactly what is in the bars and honestly, I think they taste way better. The kids agree 🙂
These are a "copycat" of your basic "Chewy" Granola Bar. They are soft, chewy, and packed with good ingredients. They're naturally sweetened with honey and coconut sugar (although brown sugar works as well) and they've got plenty of fiber thanks to the oats. Their packed with protein (cashews and almonds) and all while still being super kid-friendly (hello chocolate chips!)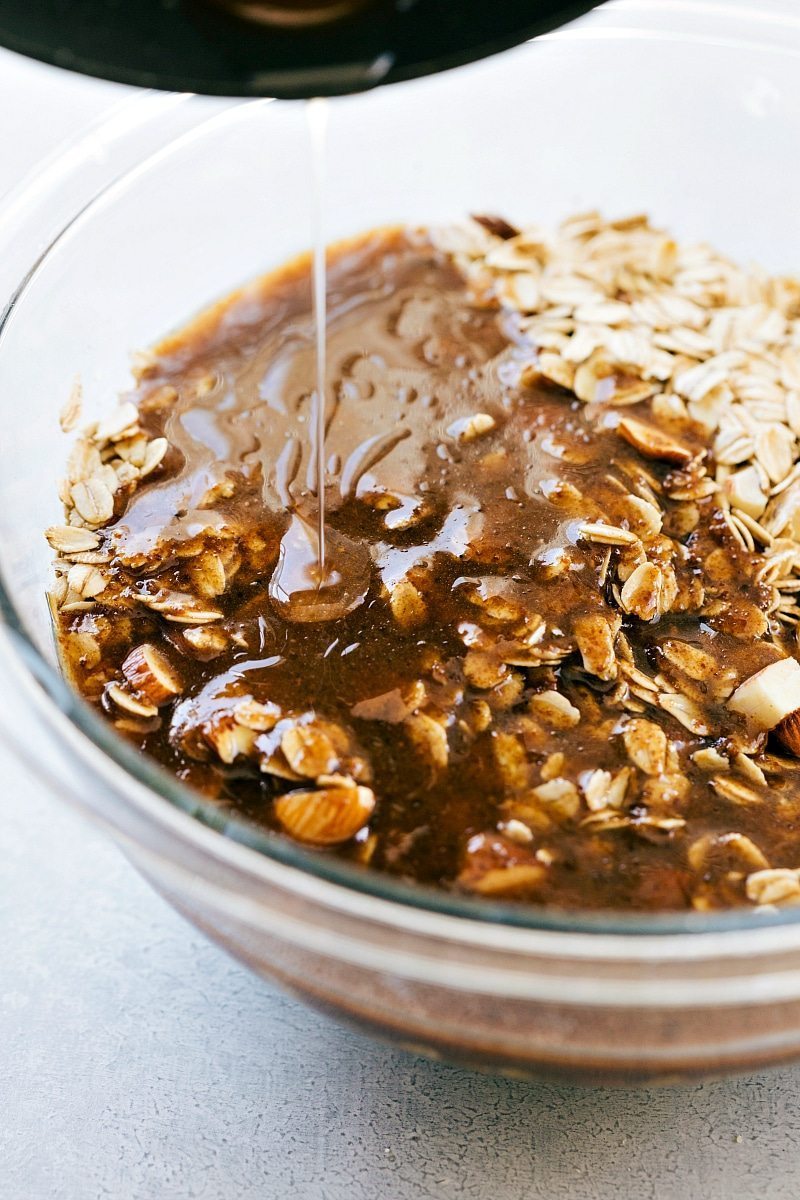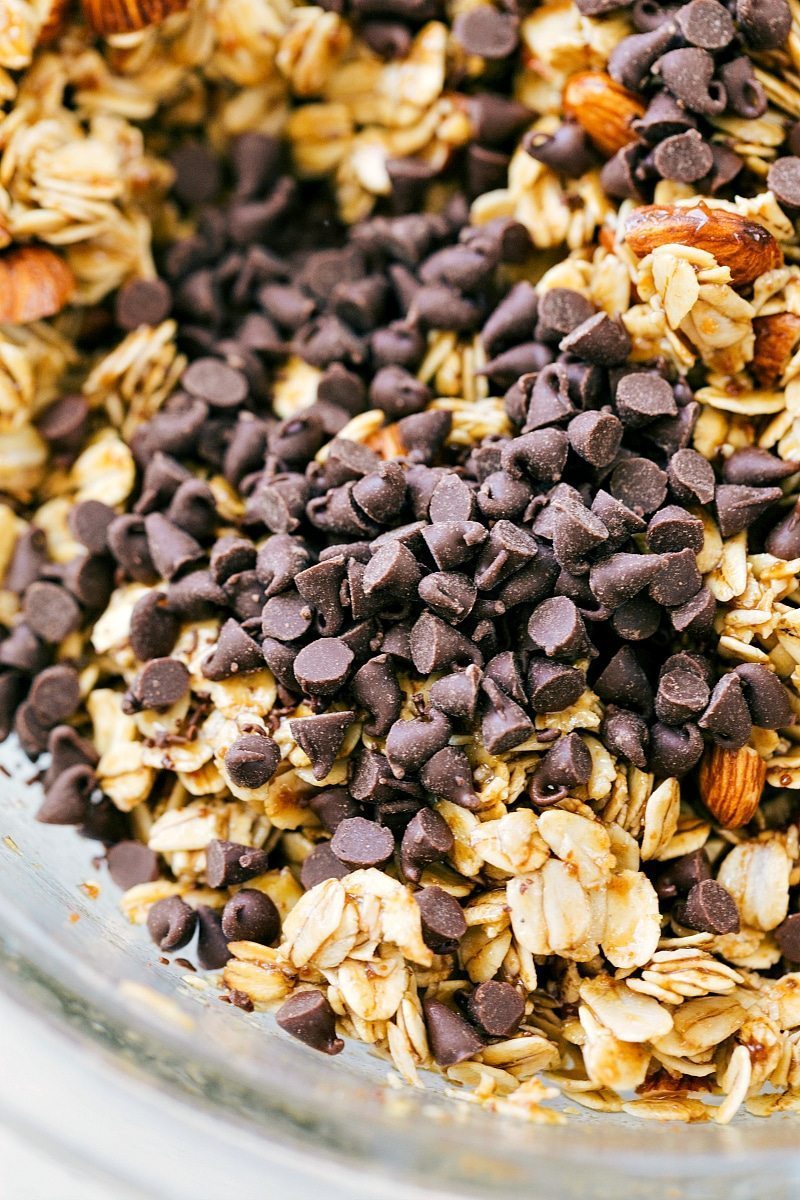 One of the best things about these bars though? They are crazy simple to make! I typically whip up a batch every Monday morning (and again usually on Thursday; because like I said, my kids INHALE them) and from start to finish it never takes more than 20 minutes.
There is one step that is a little more time-consuming (and keeps these from being a true "no-bake" bar) and that is toasting the oats and nuts in the oven. To start out these bars, you'll pour the oats and coarsely chopped nuts on a sheet pan and roast them for about 8 minutes. This gives the nuts and oats an irresistible roasted flavor.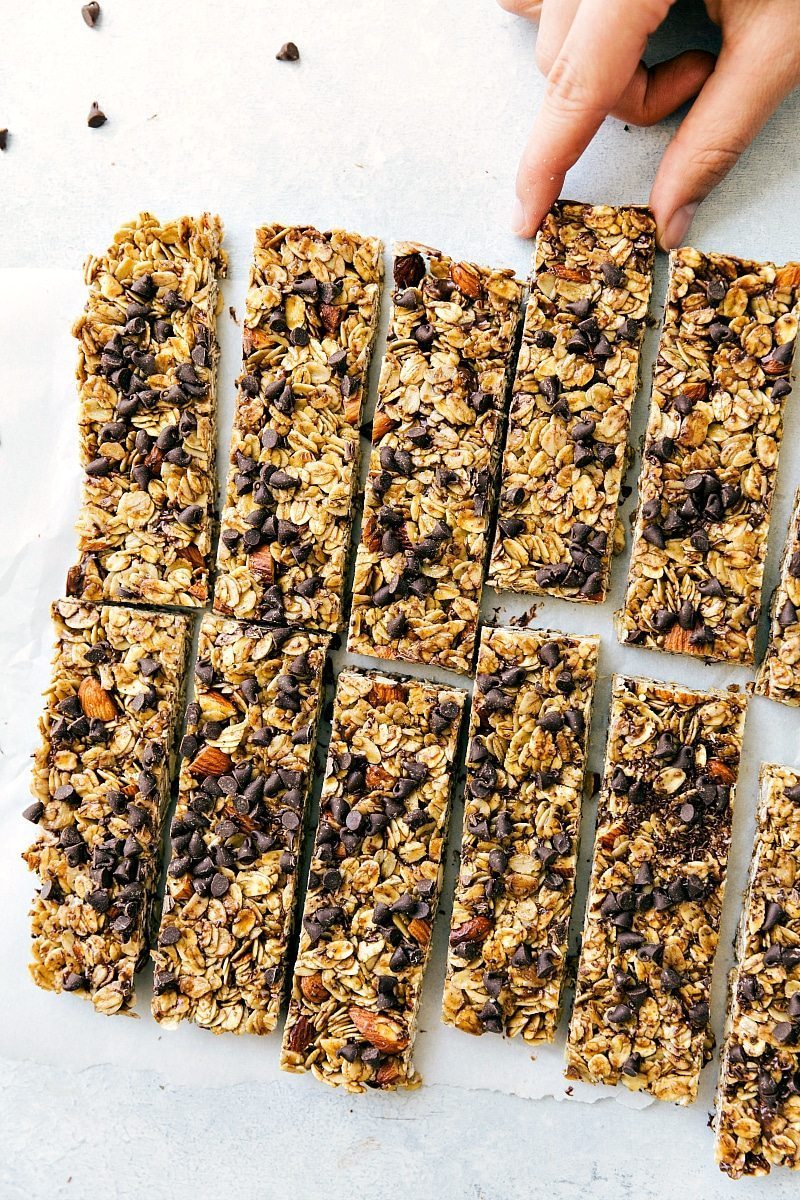 Since I always get asked about substitutions, here are a few that work well in these bars:
You can swap out the almonds and cashews for whatever nuts you like best (you can even use all almonds or all cashews instead of the mix) — just make sure to coarsely chop whatever nut you use!
You can use agave nectar instead of honey (vegan option!)
You can omit the chocolate chips or use dark chocolate chips for a healthier (dark chocolate has great healthy fats and antioxidants) addition.
You can replace the chocolate chips with a different mix-in (think chopped craisins, raisins, or extra coconut). Just note, the chocolate does help to hold these together a bit better though.
You can replace the butter with coconut oil (slightly different taste and texture, but still great), just make sure to measure your coconut oil in the hardened state.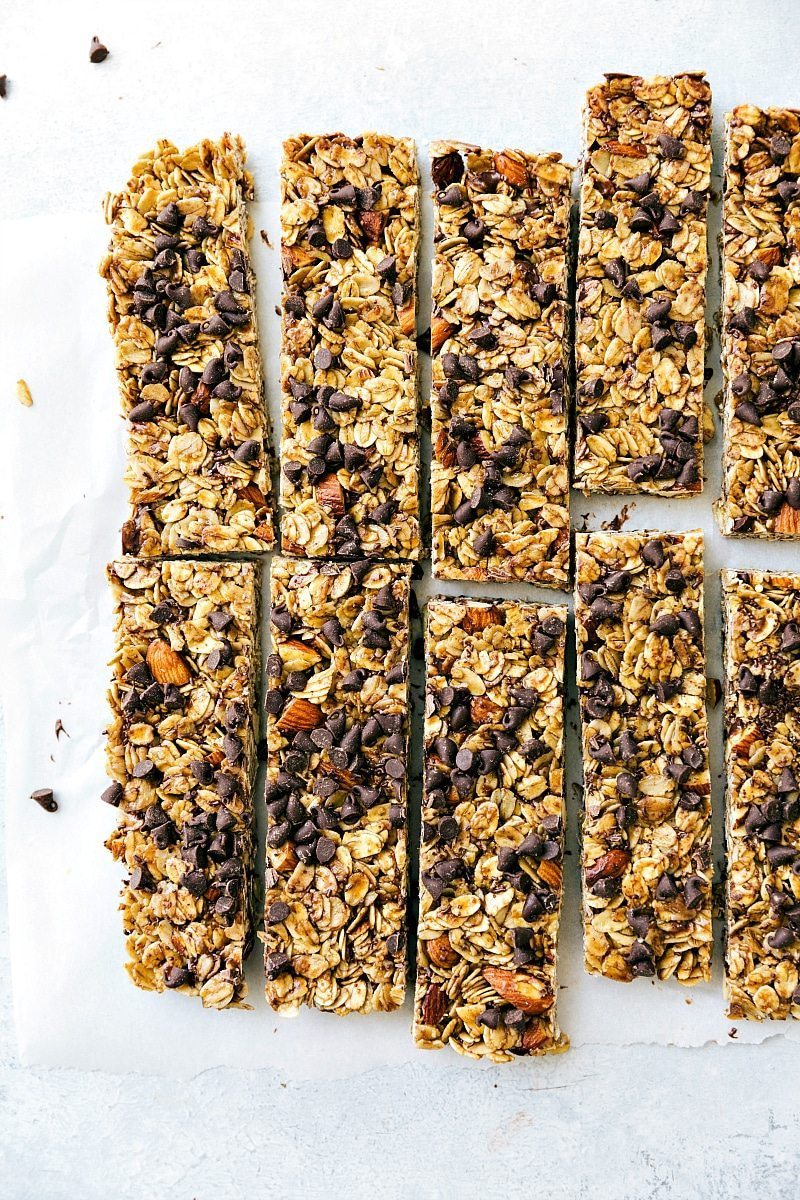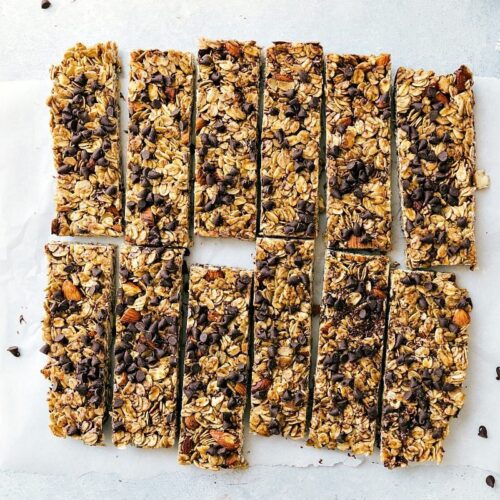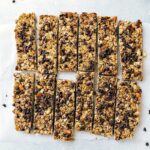 Homemade Granola Bars
Healthy homemade granola bars made with natural sweeteners, oats, nuts, and a little bit of chocolate for good measure!
Ingredients
2 and 1/2

cups

old fashioned oats

(do not use quick or steel oats)

1/4

cup

whole cashews,

coarsely chopped

1/4

cup

whole almonds,

coarsely chopped

1/3

cup

honey

4

tablespoons

unsalted butter

1/3

cup

coconut sugar (or 1/3 cup lightly packed brown sugar)

1/4

teaspoon

salt

1

teaspoon

vanilla extract

1/2

cup

toasted coconut flakes,

optional

1/2

cup

miniature chocolate chips,

separated
Instructions
Preheat the oven to 350 degrees F. Line a large tray with parchment paper or a silpat liner. Add the oats to the pan. Coarsely chop the cashews and almonds and add to the pan.

Bake for 4 minutes, stir around and bake for another 3-4 minutes or until lightly toasted and fragrant. Remove and allow to slightly cool.

Meanwhile, add the honey, butter, coconut sugar (or brown sugar), and salt to a medium sized saucepan and place over medium heat. Stir constantly until the mixture is completely smooth. Remove immediately from the heat (do not simmer or boil at all!)

In a large bowl, combine the oat and nut mixture and the honey mixture along with the vanilla extract. If desired, stir in the toasted coconut flakes here.

Let cool for a few minutes and then stir in 1/4 cup miniature chocolate chips. They get a little melted and that's intentional to hold the bars together well.

Line a 9 x 9 pan with tin foil with overhang on each side to make for easy removal of the bars.

Transfer the mixture into the pan and compress the bars using a rubber spatula. Press them very firmly down (this is important to avoid crumbling). Once the mixture is very firm and evenly pressed down, add the remaining 1/4 cup chocolate chips and press those gently to adhere to the top of the bars.

Cover the bars and place in the fridge for at least 1 hour and up to 3 before cutting.

Using the foil overhang, pull out the bars and allow them to come to room temperature (easier to cut). Then slice into 12 evenly sized bars.

Store the bars in an airtight container. (Fridge for firmer bars and room temperature for softer bars).

These bars are best enjoyed within 7 days.
More Healthy Snacks: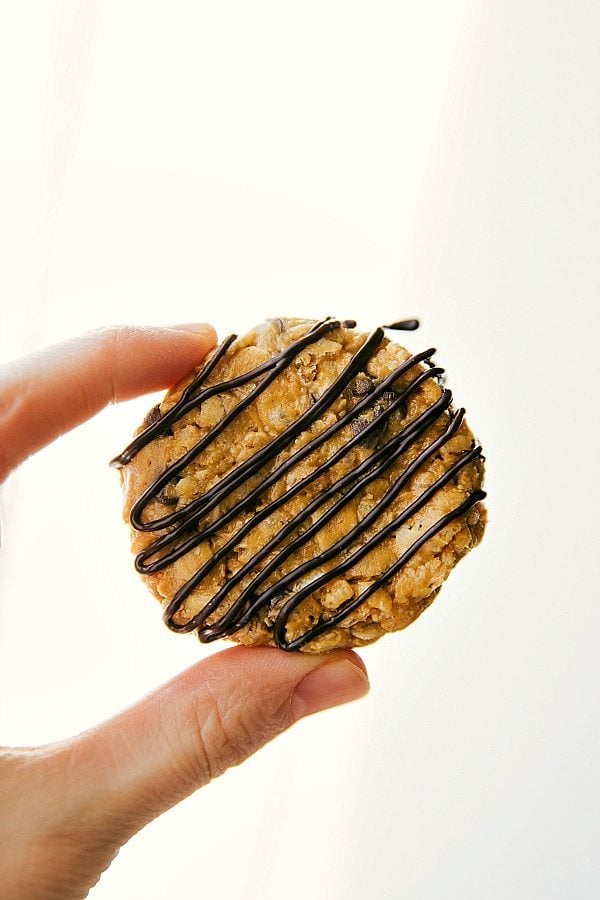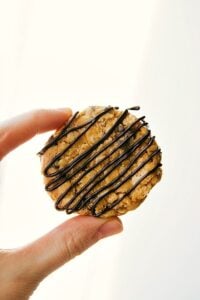 No-Bake Healthy Breakfast Cookies
The BEST Healthier Oatmeal Chocolate-Chip Cookies