Special thanks to Montmorency Tart Cherries for sponsoring this post. As always, all opinions are my own.
Soft and chewy no bake granola bars with Montmorency dried tart cherries and sliced almonds. These bars are loaded with wholesome ingredients and a homegrown super fruit, making them the perfect breakfast or on-the-go snack.
Use any leftover dried tart cherries in these cherry scones.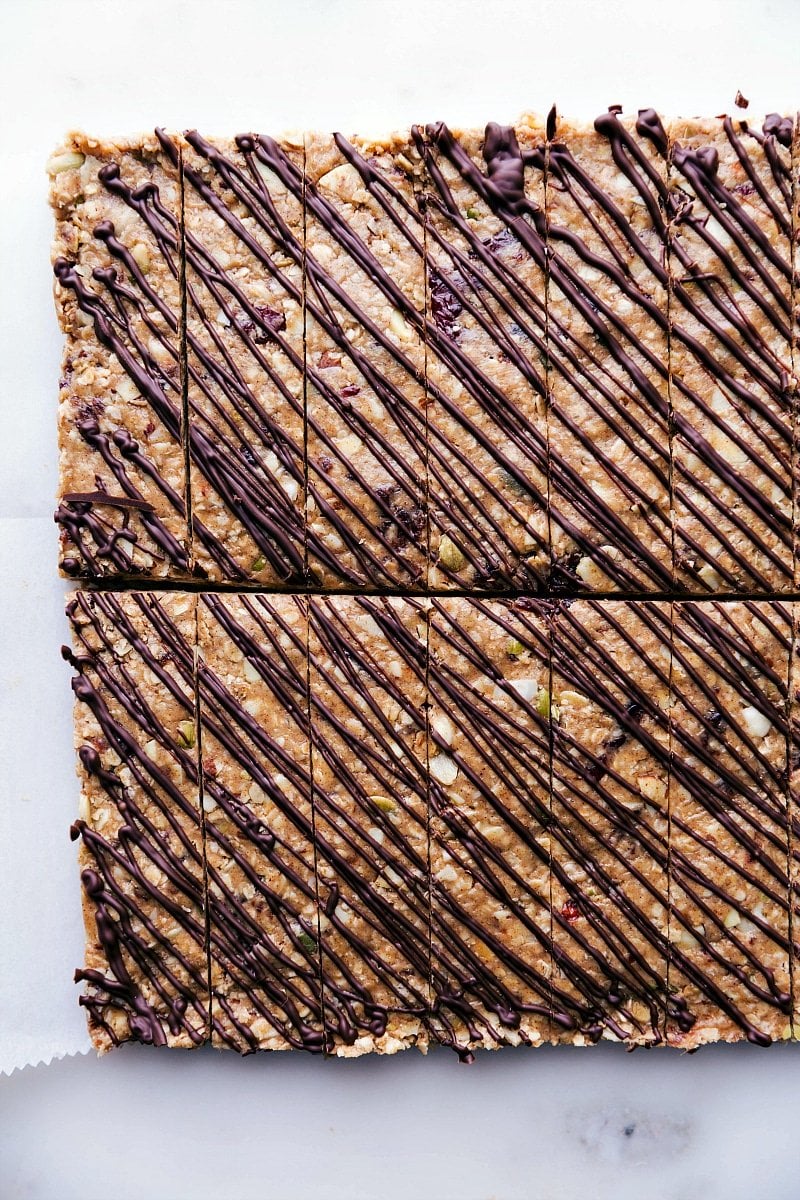 I am so excited to be partnering up again this year with the Montmorency Tart Cherry Industry. I've loved sharing the message of this superfruit and recipes with tart cherries.
Dried tart cherries are one of my favorite ingredients to use and they're unbelievably good in these Montmorency Tart Cherry No-Bake Granola Bars. Montmorency tart cherries are a homegrown super fruit known for their unique sour-sweet taste. This flavor pairs perfectly with the almond butter and honey I used in these no bake bars.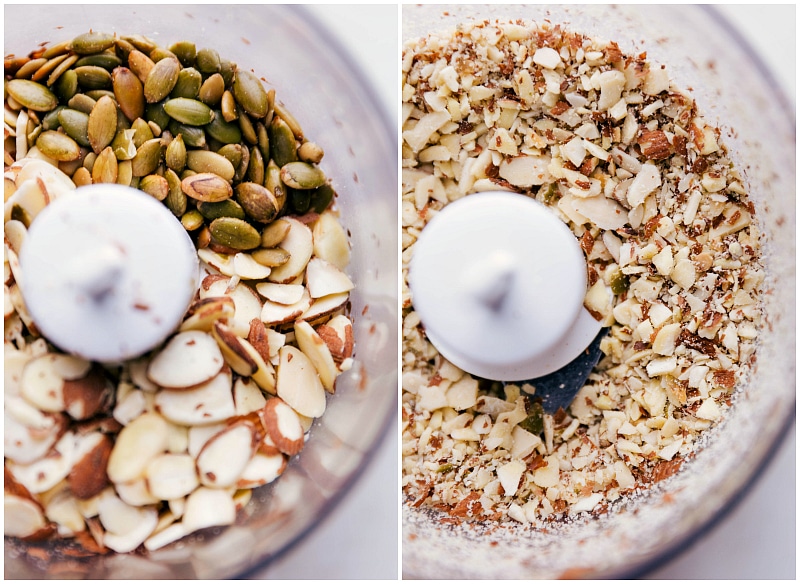 How to make Montmorency Tart Cherry No Bake Granola Bars
Pulse ingredients

: Add sliced almonds and pepitas to a food processor. Pulse both ingredients to break them up a bit as large chunks will cause crumbly bars. (You can opt to coarsely chop everything if you don't want to use or don't have a food processor.)

Chop dried tart cherries

: Using a sharp knife, give your Montmorency tart cherries a coarse chop. You can add them to the food processor, but they're a bit sticky and seem to fare best when chopped by hand.

Combine dry ingredients

: Once pulsed, combine the nuts, seeds, and tart cherries in a large bowl with the salt and oats. Mix it all together to combine.

Combine wet ingredients

: In another bowl, combine the almond butter and honey. Microwave this mixture for 30 seconds then add the vanilla. Stir ingredients together until smooth.

Toss everything together

: Toss the wet into dry and then mix until ingredients are well coated (I like to use hand mixers for this part — the mixture is thick and sticky!). Transfer to a pan and press until firm.

Add a drizzle of dark chocolate

: Store your no bake tart cherry granola bars in the fridge until firm!

No bake granola bar notes
As tempting as it is to want to just dig right in,

these bars needs to fully set up in the fridge

before being cut into bars. The time in the fridge allows the chocolate to harden and the oats to soften & absorb the liquid from the almond butter and honey.

Store

the granola bars at room temperature in an airtight container, or wrap them up well and

freeze them for long-term storage

(up to 3 months).

These bars can

easily

be made

gluten-free

. Just ensure sure the oats you are using are

certified gluten-free

and not processed in a factory gluten/wheat ingredients.

After you mix everything together, add more almond butter or honey if things seem

too dry or crumbly

. Alternatively, add more oats or nuts if the

mix seems too heavy

.

Use good quality dark chocolate for topping: I like getting a dark chocolate bar with sea salt in it, it adds a very subtle touch of salt to the top of these no bake granola bars – delicious!
Montmorency Tart Cherries
February is National Cherry Month AND American Heart Month, so there are lots of reasons to celebrate Montmorency tart cherries this month!
I mentioned earlier that these tart cherries are considered a superfruit with many science-based health benefits. Scientific research suggests Montmorency tart cherries may help aid exercise recovery. Other studies have examined the impact of Montmorency tart cherries on heart health, sleep, arthritis and gout. Nothing bad to gain while enjoying these delicious no bake tart cherry granola bars!
Enjoying tart cherries
Unlike other superfruits, Montmorency tart cherries are available year-round in a wide range of forms such as dried, frozen, canned, juice, or juice concentrate. There are many different ways to enjoy them beyond these granola bars! For lots more tart cherry recipes, be sure to check out choosecherries.com.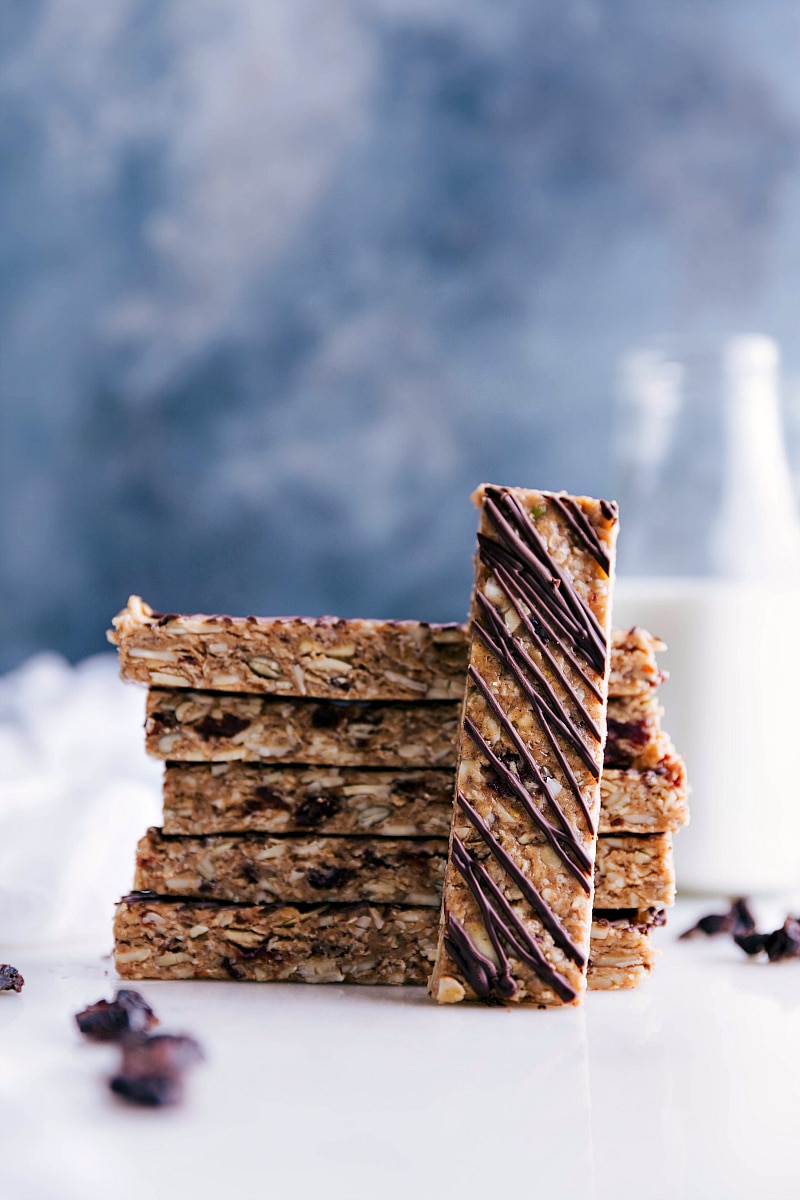 More nutritious snacks: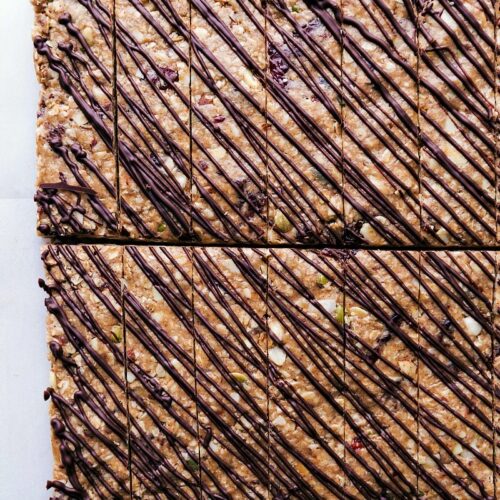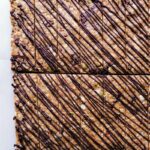 Montmorency Tart Cherry No Bake Granola Bars
Soft and chewy (no baking required!) tart cherry granola bars. These bars are loaded with good and wholesome ingredients and are the perfect breakfast or on-the-go snack.
Ingredients
1

cup

sliced almonds

1/4

cup

pumpkin seeds (pepitas)

2/3

cup

dried tart cherries

1 and 3/4

cups

quick oats

1/2

teaspoon

fine sea salt

1

cup

creamy almond butter

1/2

cup

honey

1

teaspoon

pure vanilla extract

1/4

cup

dark chocolate,

coarsely chopped from a dark chocolate bar
Instructions
PREP: Line a 9x9-inch pan with parchment paper. Leave an overhang for easy removal of bars.

DRY INGREDIENTS: Add the sliced almonds and pepitas to a food processor. Pulse for about 7-10 seconds (on chop setting), until the nuts are all broken up. Add to a large bowl. With a sharp knife, coarsely chop the dried Montmorency tart cherries (I found they don't chop well in the food processor). Add to the bowl with the nuts. Add in the quick oats and salt. Stir together.

WET INGREDIENTS: In another bowl, add the creamy almond butter and honey. Microwave for 30 seconds. Remove and pour in the vanilla extract. Stir for about 30 seconds to one minute or until well blended.

COMBINE: Pour the wet ingredients into the dry ingredients. Use hand mixers (or your hands) to mix/knead the mixture together until combined. This takes a little effort, but it will come together! Once the ingredients are well combined, pour into the prepared pan and then firmly press down with your hands. Use the bottom of a 1 cup measuring cup to really press and pack the mixture together in one even layer. Press firmly here to avoid crumbling later!

CHOCOLATE: Coarsely chop up a dark chocolate bar and add to a small microwave safe bowl. Microwave for 15 seconds, stir for 15 seconds, and if needed return to the microwave for another 15 seconds and stir for another 15 seconds until smooth and melted. Using a spatula, transfer the melted chocolate to a small bag and snip off the top (or use a pastry bag fitted with a #3 tip). Drizzle chocolate all over the bars.

FIRMING UP: Place pan of bars in the fridge 30 minutes to an hour or until the chocolate is hardened and the bars are firmed up. When you're ready to slice, lift the bars out of the pan by using the overhang from the parchment. Use a sharp knife to cut into 16 bars (7 vertical cuts and 1 horizontal cut down the middle).
Recipe Video