The easiest (and quickest) grilled turkey gyros with tzatziki sauce!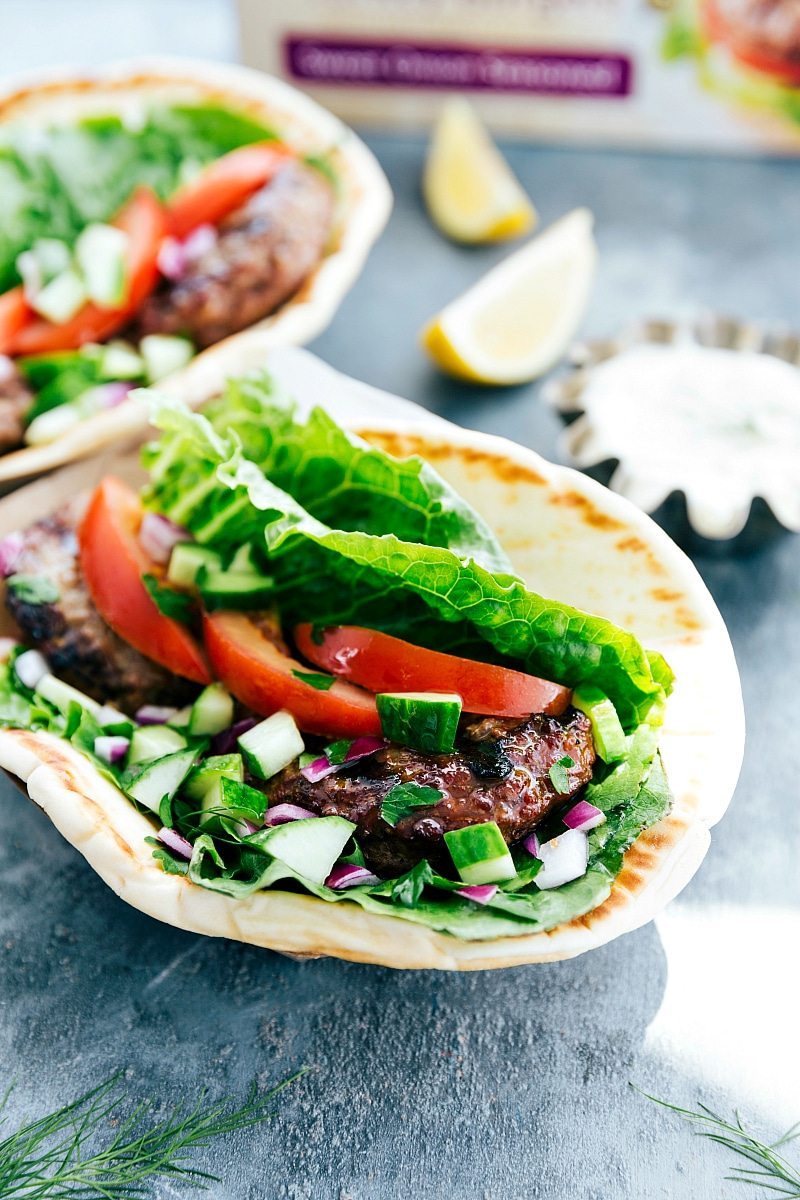 About a week ago, we got our backyard hydro-seededed and while that grass is growing in, no one can go in the backyard. Having two little boys restricted from playing in the yard for a few weeks is not fun for anyone, so that's left us playing on our back deck for hours in a day OR we'll head out to the park.
What usually happens when we play on the back deck: one boys sits on one end of the deck and the other on the other end with me. We grab a ball and roll it to each other from one end to the next. Over, and over, and over again.
As much as I love that game (…..) it gets kind of old, kind of fast for me. But luckily, the grill happens to be on that back deck too, and grilling the boys stuff to eat definitely gets me a free pass (for at least a little) from the ball rolling game.

Although, to be honest, if I take TOO long of a break, inevitably the ball never makes it back to the other side and the boys get frustrated. So, the grilling breaks have to be quick ones 🙂
And that is EXACTLY what these simplified gyros are all about. They can be ready (start to finish) in 20 minutes or less!
They're so delicious and you won't even believe how easy they are. Not to mention they're quite healthy. ?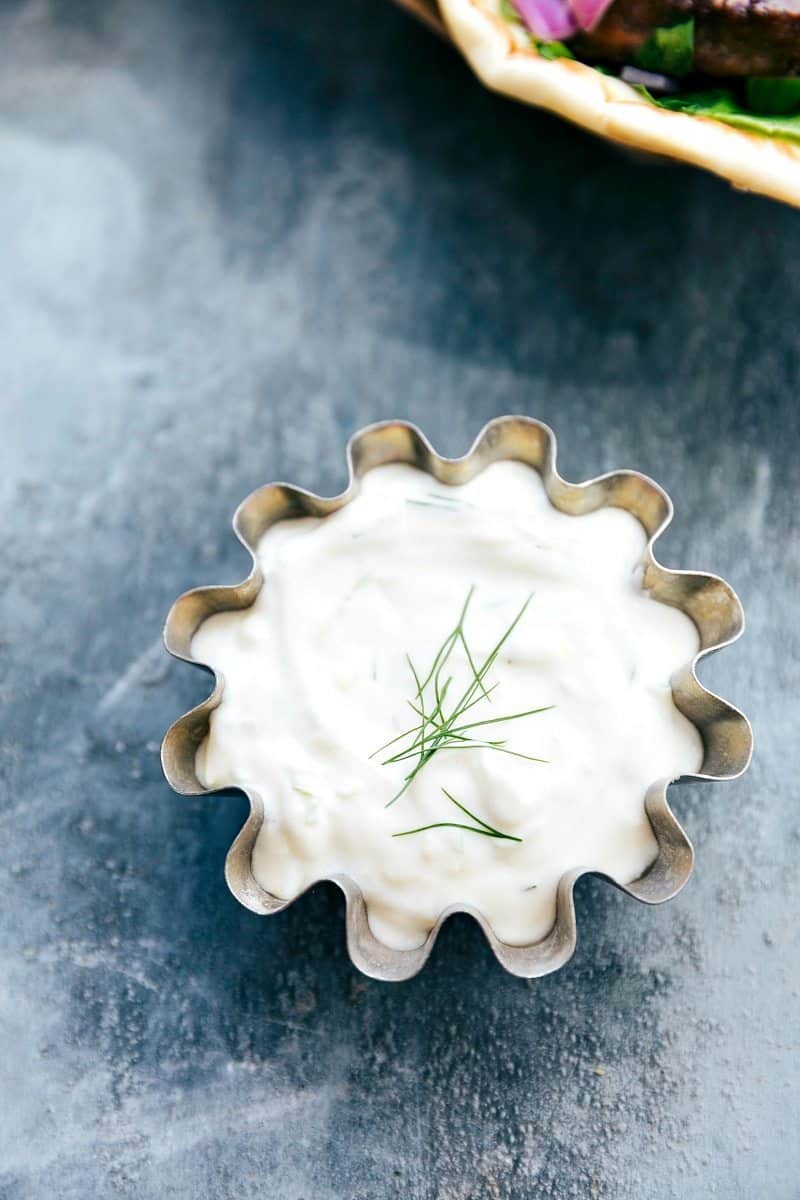 What makes these so quick is the turkey burgers I'm using. For these gyros, I'm using Butterball's Sweet Onion Seasoned Turkey Burgers. Besides the amazing taste, texture, and health benefits of these turkey burgers, my favorite thing is that they can go straight from freezer to grill (!!!). You only have to flip the burgers once on the grill which allows you to prep everything else while they're cooking.
My little turketarian boys LOVE these turkey burgers. This is the second year I've had the opportunity to work with Butterball and share recipes using their products and my family couldn't be more excited about it. We love their turkey burgers (and you all know how much we love their turkey sausage! Evidenced lightly here, here, here).
So while those burgers are grilling you can make the tzatziki sauce which is a super simplified sauce (but still so delicious). Once that sauce is prepped, it'll be time to flip the burgers and while they are finishing cooking you can prep the veggies you want on your gyros — we love romaine lettuce, tomatoes, English cucumber, some red onion, and a bit of parsley! Slice the burgers in half and place them on your gyro with whatever veggies you picked out and these guys are ready to be enjoyed!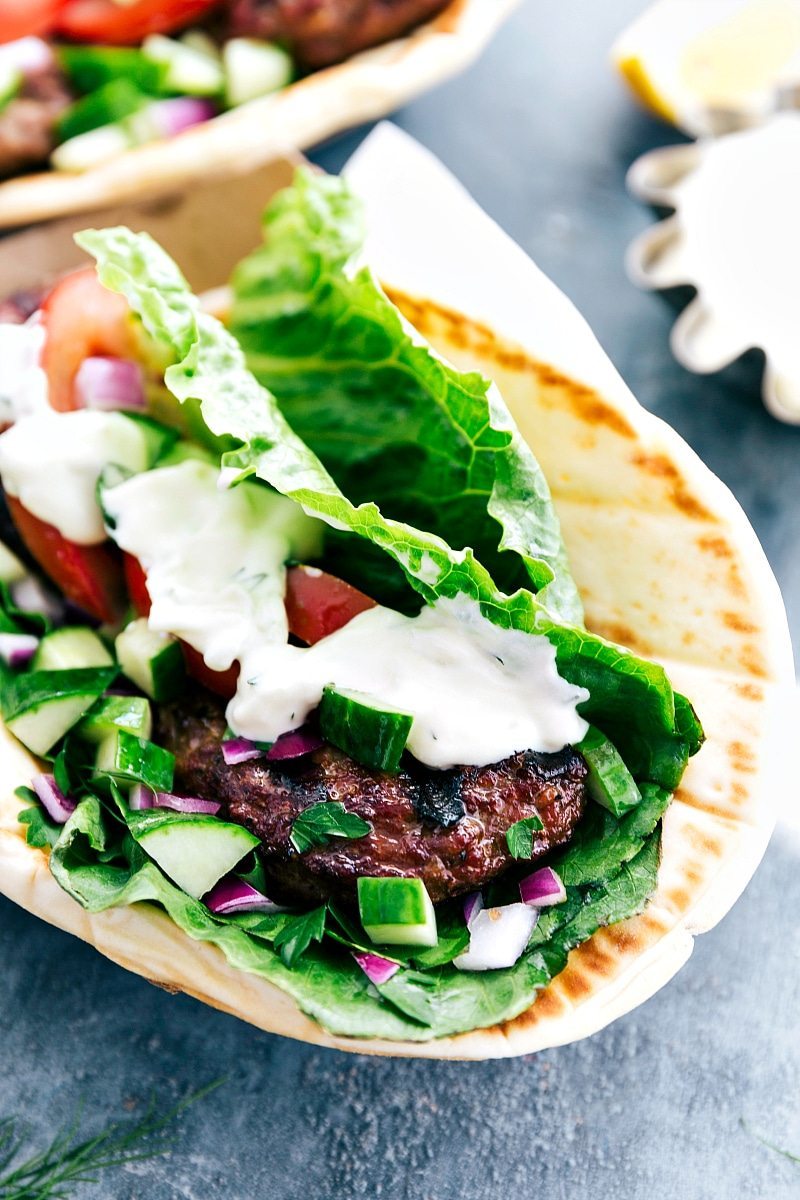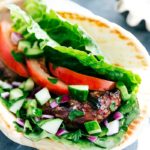 20-Minute Gyros
The easiest (and quickest) grilled turkey gyros with tzatziki sauce!
Ingredients
Tzatziki Sauce
1/2

of 1

English cucumber

1

cup

Plain Greek yogurt,

full-fat

2

teaspoons

minced garlic

1

tablespoon

fresh dill,

chopped

1/2

tablespoon

red wine vinegar

1

large

lemon

(1 teaspoon zest, 1 tablespoon juice)

3

tablespoons

olive oil

Salt and pepper,

to taste
Gyros
1 package

Butterball Turkey Burgers (I use sweet onion seasoned)

(6 turkey burgers total)

Oil, for the grill

6

Pitas

Gyro toppings: red onion, cucumber, tomato, flat-leaf parsley
Instructions
Grill the turkey burgers (straight from freezer to grill!) according to package directions. When they are finished grilling slice them in half vertically.

While the burgers grill, prepare the tzatziki sauce. Peel and then grate the cucumber. Squeeze the cucumber with paper towel or cheesecloth to get rid of extra moisture. Add to a large bowl.

Add in the Greek yogurt, minced garlic, chopped dill, red wine vinegar, lemon zest, lemon juice, olive oil, and salt + pepper (to taste, I use about a half tablespoon of each). Pour into a covered dish and refrigerate. If you plan ahead, tzatziki is best after being chilled for a few hours (flavors developed more), but it will work on the gyro right away too 🙂

Assemble the gyros: add whatever you'd like (we do romaine lettuce, sliced tomatoes, chopped/sliced red onion, the remaining 1/2 of the English cucumber, and some chopped fresh parsley) along with the two halves of the Turkey burger and as much tzatziki sauce as you'd like!
Recipe Notes
Nutrition facts for this recipe are variable. (It's so highly varied on what you add to your pita and how much sauce!)

Special thanks to Butterball for sponsoring this post. As always, all opinions are my own!