These chicken gyros start with warmed and soft pita bread that's been loaded up with grilled chicken, packed with fresh chopped veggies, and coated in the best tzatziki sauce I've ever had. The chicken has been marinated in a light and fresh lemon marinade with dried oregano and garlic.
There are so many amazing flavors in these gyros and the prep time is separated so actual assembly goes pretty quick. We love setting everything out for these gyros and having guests pile up whatever they'd like in a pita.
These Greek chicken gyros can really pass as a complete meal, but if you want even more veggies, try this Greek salad on the side or this Orzo pasta salad would also be great on the side.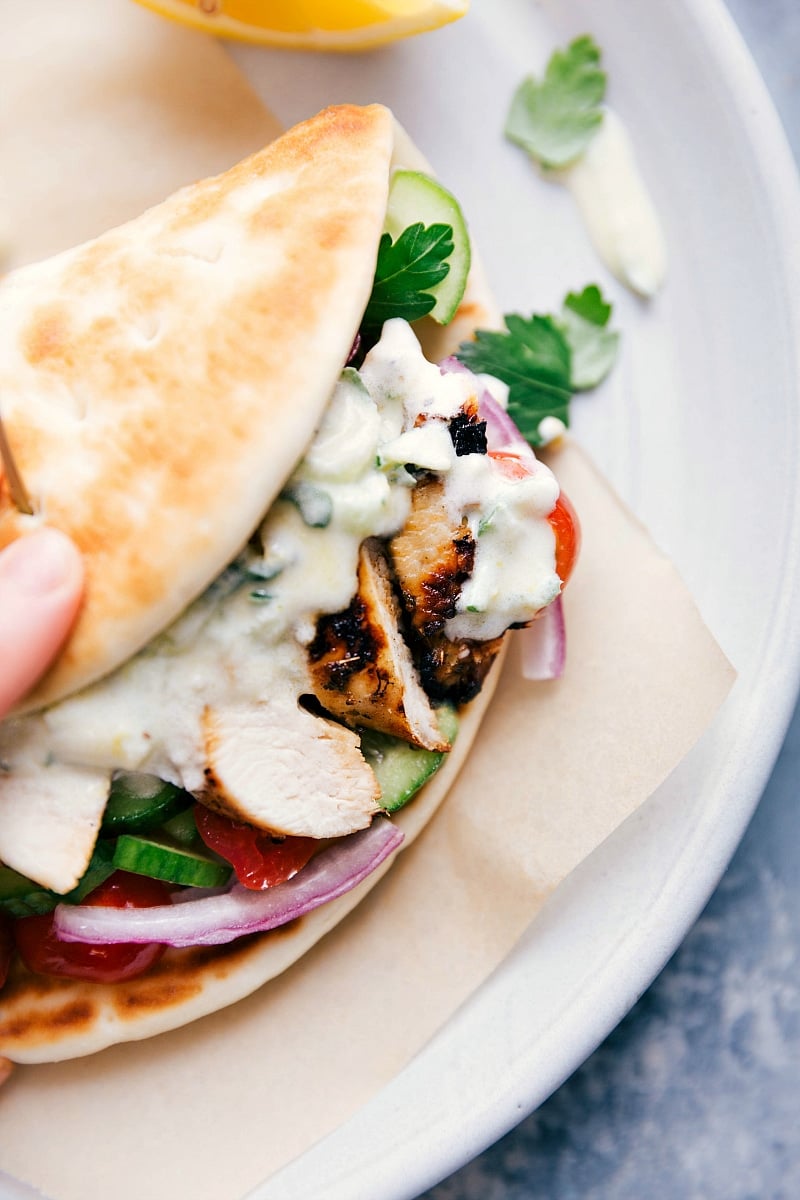 Chicken Gyros
Truly this chicken gyros recipe is one of my absolute favorite recipes on this site! I can never get enough Greek food and when it's all loaded together in warmed pita bread, there aren't too many things better. While there's a lot going on, every component is relatively simple to assemble and together nothing tastes overwhelming. The pita, veggies, chicken, and sauce all complement each other perfectly while delivering a flavor packed, but fresh and light meal.
The marinade for the chicken infuses the chicken with a fresh and light flavor thanks to the herbs, lemon juice, olive oil, and Greek yogurt. The oregano and garlic also add in flavor and really enhance the smell.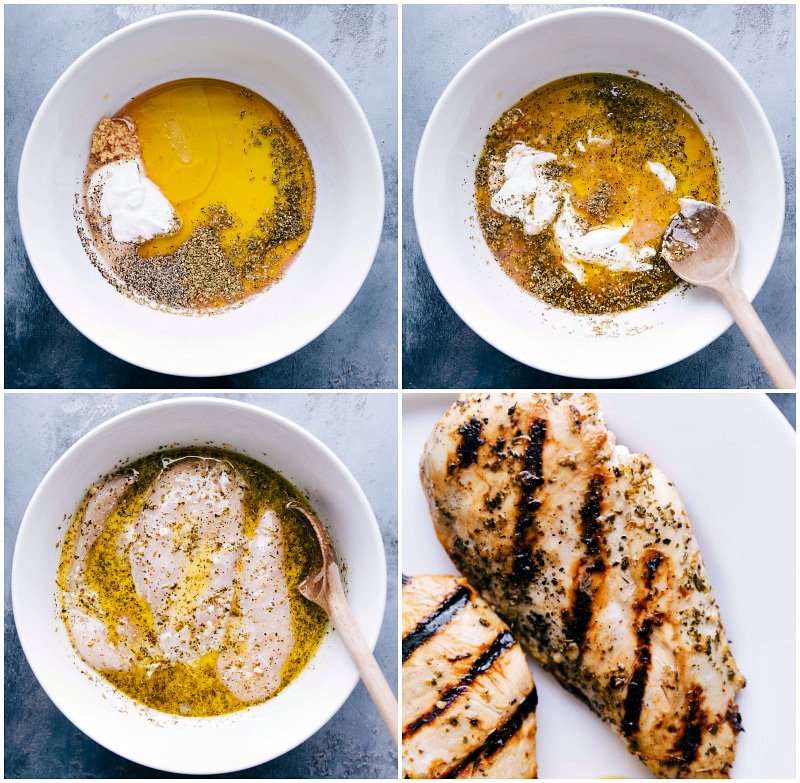 How to make chicken gyros
One of my favorite things about this recipe is how broken apart the prep time is. I love getting half of the dinner prep done in the morning, because come dinner time the actual assembly is very easy. The chicken is marinated and sauce is made beforehand leaving you with just cooking the meal and putting it all together.
Marinate chicken: this marinade is as simple as whisking all the ingredients together and adding the chicken in to coat.
Make tzatziki sauce: while you've already got a lot of the ingredients out for the marinade, whip up the sauce (many ingredients overlap). This also gives a chance for the sauce to "marinate." It becomes more flavorful as it sits in the fridge.
Grill the chicken: once the chicken is marinated, grill the chicken on an indoor or outdoor grill.
Veggies: while the chicken is cooking, whip together the veggie "salad" that goes on the pita. It is simple — only tomatoes, cucumber, and red onion. This could even be made in the morning as well.
Assemble: grill or warm pita breads and load them up with the veggies, grilled and sliced chicken, and plenty of sauce.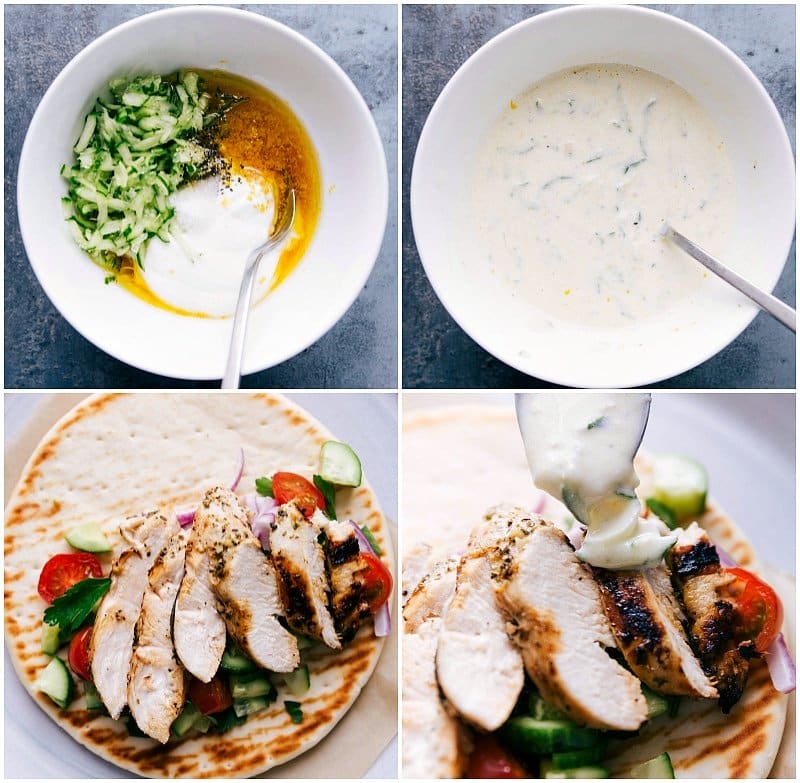 Tzatziki sauce
This sauce on these chicken gyros is the best! It's also very quick and easy to whip together and uses many of the same ingredients used in the marinade. I like making it in advance because it becomes more flavorful as it sits in the fridge.
Make sure to use good full fat Greek yogurt that is plain: if it's vanilla flavored the sauce won't taste too good :). We want a full fat yogurt to avoid an overly watery sauce.
Squeeze liquid out of cucumber: the cucumber is exceptionally watery and will water down the sauce or make it bland. Wring out excess liquid a few times with paper towels or cheesecloth before adding to the sauce.
Real lemon: bottled lemon juice won't quite cut it here, because the sauce relies on the zest of the lemon. When zesting the lemon, avoid the white pith of the lemon — this is very bitter. Using a microplane, zest only the very outside yellow part of the lemon.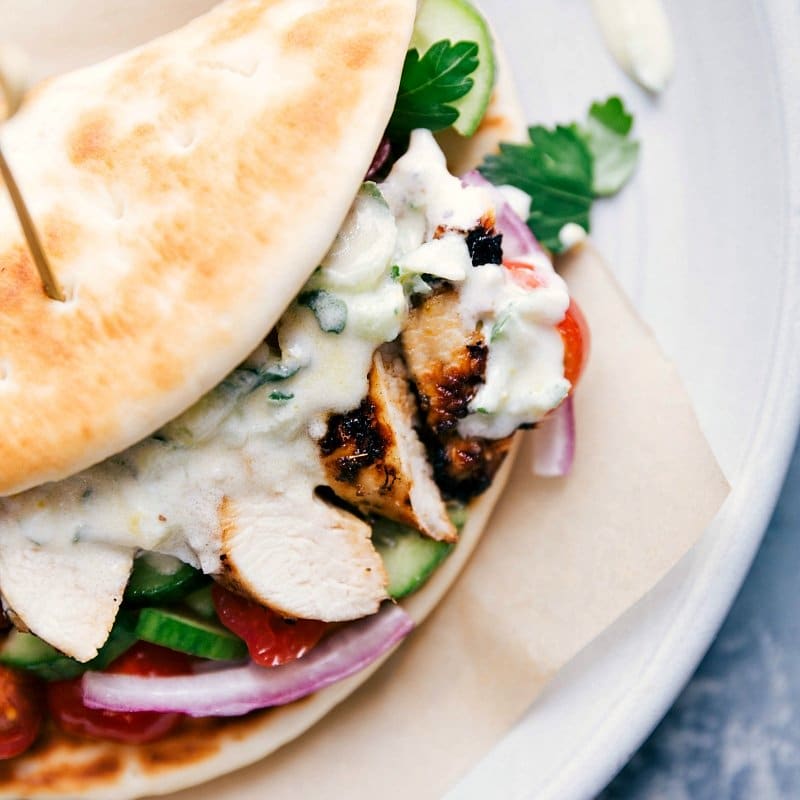 Greek chicken gyro tips
A gallon-sized, zip-top freezer bag is the best for marinating chicken. It not only makes clean-up easy, but it also helps to ensure all of the chicken is coated in the marinade. To save dishes, you can dump all your marinade ingredients in the bag, shake them up and knead to mix, and then add in the chicken.
Make sure to slice the chicken in half, or pound them into an even thickness before marinating. This allows the chicken to soak up more flavor from the marinade (which improves the taste), and the even thickness will allow them to grill evenly.
Rest grilled chicken: right after the chicken is pulled off the grill, place it on a plate and cover it with foil. This allows the juices to redistribute (more of the science behind it here). Once it's rested, thinly slice it and add it to the pita.
Grill pita bread: since you've already got the grill on for the chicken, add the pita bread on for the last 30 seconds or so. Giving the bread a quick grill makes it much more flavorful and helps it fold without breaking.
Serve chicken gyros assembly style: when making for guests or my family, I like serving everything in an assembly line: grilled and sliced chicken, grilled pita bread, veggies, sauce, and lemon wedges. Everyone can load up their pita exactly how they'd like.
More easy chicken recipes: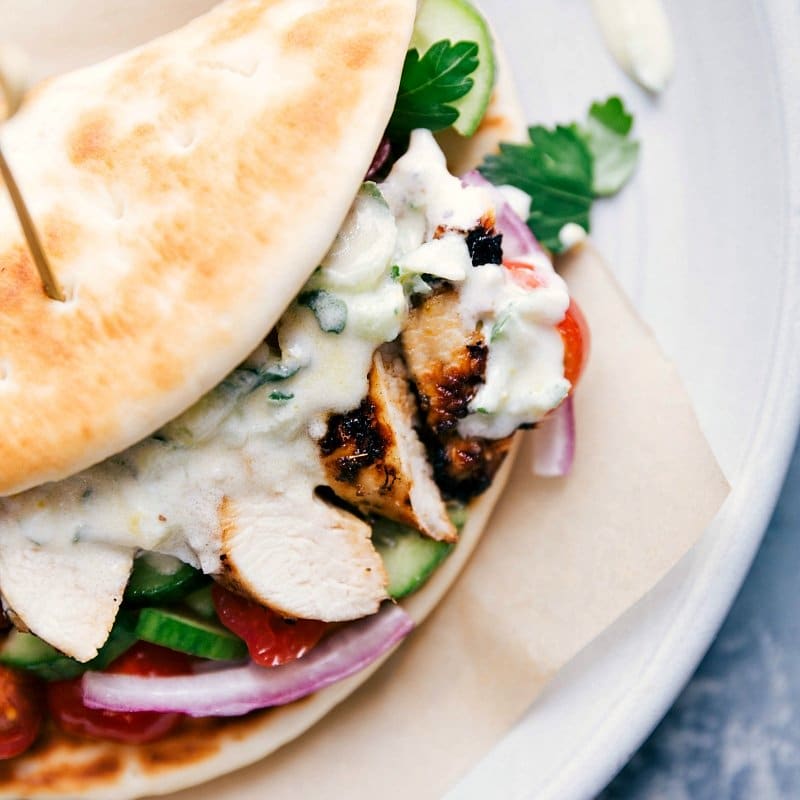 Chicken Gyros
These chicken gyros start with warmed and soft pita bread that's been loaded up with grilled chicken, packed with fresh chopped veggies, and coated in the best tzatziki sauce I've ever had. The chicken has been marinated in a light and fresh lemon marinade with dried oregano and garlic.
Keyword:
chicken gyro, chicken gyros, chicken gyros recipe
Ingredients
Chicken Marinade
1.8

pounds

boneless skinless chicken breasts

3

tablespoons

freshly squeezed lemon juice

1/4

cup

full fat plain Greek yogurt

2

teaspoons

dried oregano

1/4

cup

olive oil

1

tablespoon EACH:

red wine vinegar, honey, minced garlic

Salt and pepper
Tzatziki Sauce
1/4th

of 1 large

English cucumber

(1/2 cup measured after grating)

1/2

cup

full fat plain Greek yogurt

1

teaspoon

minced garlic

1 and 1/2

teaspoons

red wine vinegar

1

large

lemon

(1/2 teaspoon zest and 1 tablespoon juice)

1 and 1/2

tablespoons

olive oil
Assembly
4-6

pitas breads

1/2

of 1 large

red onion,

thinly sliced

2

cups

diced English or Persian cucumbers

2

cups

diced cherry tomatoes

freshly Parsley
Instructions
MARINATE CHICKEN: Prepare the chicken breasts by halving large breasts horizontally. Cover chicken breasts with plastic wrap (to avoid splatter). Using a meat mallet or the bottom of your frying pan, pound breasts to even thickness (you don't want to flatten the meat, just even it in thickness throughout). Pat dry with paper towel. Place in a large ziplock bag. In a bowl, whisk together the 3 tablespoons lemon juice, 1/4 cup Greek yogurt, 2 teaspoons dried oregano, 1/4 cup olive oil, 1 tablespoon red wine vinegar, 1 tablespoon honey, and 1 tablespoon minced garlic. Season with salt and pepper (add to personal preference, I add 1 teaspoon salt and 1/2 teaspoon pepper). Once combined pour over prepared chicken breasts. Turn to coat and massage into the breasts and then place in the fridge for 2-3 hours and up to 8 hours. I like to make the tzatziki sauce when marinating chicken because it becomes more flavorful as it sits.

TZATZIKI: While chicken marinates, prepare the sauce so it can have a chance to chill before serving. Grate a cucumber with the large holes in a cheese grater. Line a small bowl with a few paper towels (or clean kitchen towel) and place the grated cucumber on top. Squeeze out as much extra moisture as you can from the cucumber (to keep the sauce from being watery). Once it's drained add to a medium sized bowl. Add in the 1/2 cup Greek yogurt, 1 teaspoon minced garlic, 1 and 1/2 teaspoon red wine vinegar, 1/2 teaspoon lemon zest, 1 tablespoon lemon juice, 1 and 1/2 tablespoons olive oil, and salt and pepper to taste (I add 1/4 teaspoon salt and a pinch of pepper). Place in the fridge, covered, until ready to serve.

GRILL: Preheat grill to medium heat (400 degrees F). Remove the chicken from the marinade and discard any remaining marinade. Prepare the fully preheated grill by cleaning and then generously oil the grill (I drench a rolled-up paper towel in vegetable oil and, holding it with tongs, rub it over the grill grates). Return heat to 400 degrees.

GRILL CONT.: Add the chicken to the grill. Cook the chicken for 4-5 minutes per side or until it registers 160 degrees F (carryover heat will take it to the safe temperature of 165 degrees F). Remove grilled chicken to a plate and cover with foil. Once everything is removed give the grates a quick clean with the brush. Now add the pita bread. Grill the pita bread for 15-30 seconds per side or until toasted and warmed through.

VEGGIES: In a large bowl toss the thinly sliced red onion, 2 cups diced cucumber, and 2 cups diced tomato. Season with salt and pepper (just a pinch) and toss to combine.

ASSEMBLY: While the chicken is resting under the foil (5 minutes), set everything out: grilled/warmed pita, sauce, and veggies. Slice chicken breasts and assemble. Set out pita bread and top with veggies and fresh parsley (you can chop, I just rip off pieces), add chicken on top, and drizzle tzatziki sauce on top. Enjoy immediately.