Christmas Mason Jar Desserts: Double-Chocolate Brownies. Free printable recipe attachment!
video tutorial
This week, I'll be sharing a new Christmas Mason Jar dessert everyday (4 in total). Click here to see the M&M Christmas Cookies I shared two days ago and the Peppermint Bark Brownie Cookies I shared yesterday.
Above this text is a quick video overview showing the assembly of the mason jar desserts and also the final treat the mason jar will make. Below are the tools I use to make the mason jar desserts.
For these mason jar desserts, I use: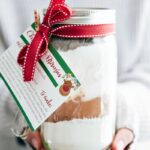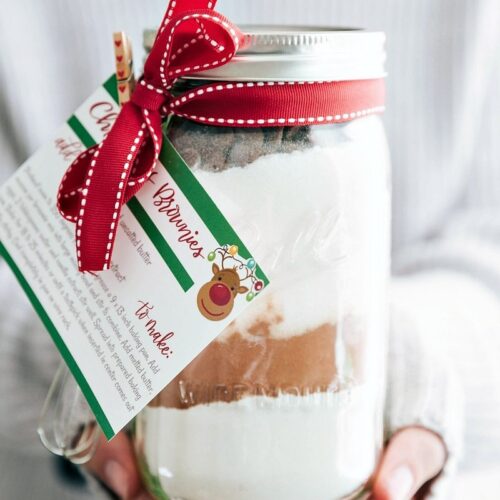 Christmas Brownies
Rich and fudgy chocolate brownies with chocolate chunks throughout.
Ingredients
1 and 2/3

cups

white sugar

3/4

cup

unsweetened cocoa powder

1 and 1/3

cups

white flour

1/2

teaspoon

baking powder

1/2

teaspoon

salt

1/2

cup

milk chocolate chips
ADD IN LATER
3/4

cup (1 and 1/2 sticks)

unsalted butter,

melted

2

large

eggs

1/2

tablespoon

vanilla extract

2

tablespoons

water
Instructions
IN THE MASON JAR: add the white sugar. Tap the jar several times firmly to get the sugar in one layer. Add the cocoa powder and again, press to get in one firm layer. Use a paper towel to wipe down the sides of the mason jar after the cocoa powder. Add the flour, baking powder, and salt and again compress. Add the chocolate chips on top. Seal the mason jar, add a ribbon with a miniature whisk (if desired), and attach the free printable recipe attachment (or the following directions)

RECIPE TO ATTACH: Preheat the oven to 350 degrees F. Generously grease a 9 x 13 inch baking pan. Add mason jar brownie mix into large mixing bowl and stir to combine. Add melted butter, eggs, 2 tablespoons water, and vanilla extract; stir well. Spread into prepared baking pan. Bake for 18-25 minutes or until a toothpick when inserted in center comes out slightly sticky. Cool completely in pan on wire rack.

Recipes and Printables are copyright for Non-Commerical use only
See the other Mason Jar Desserts Here: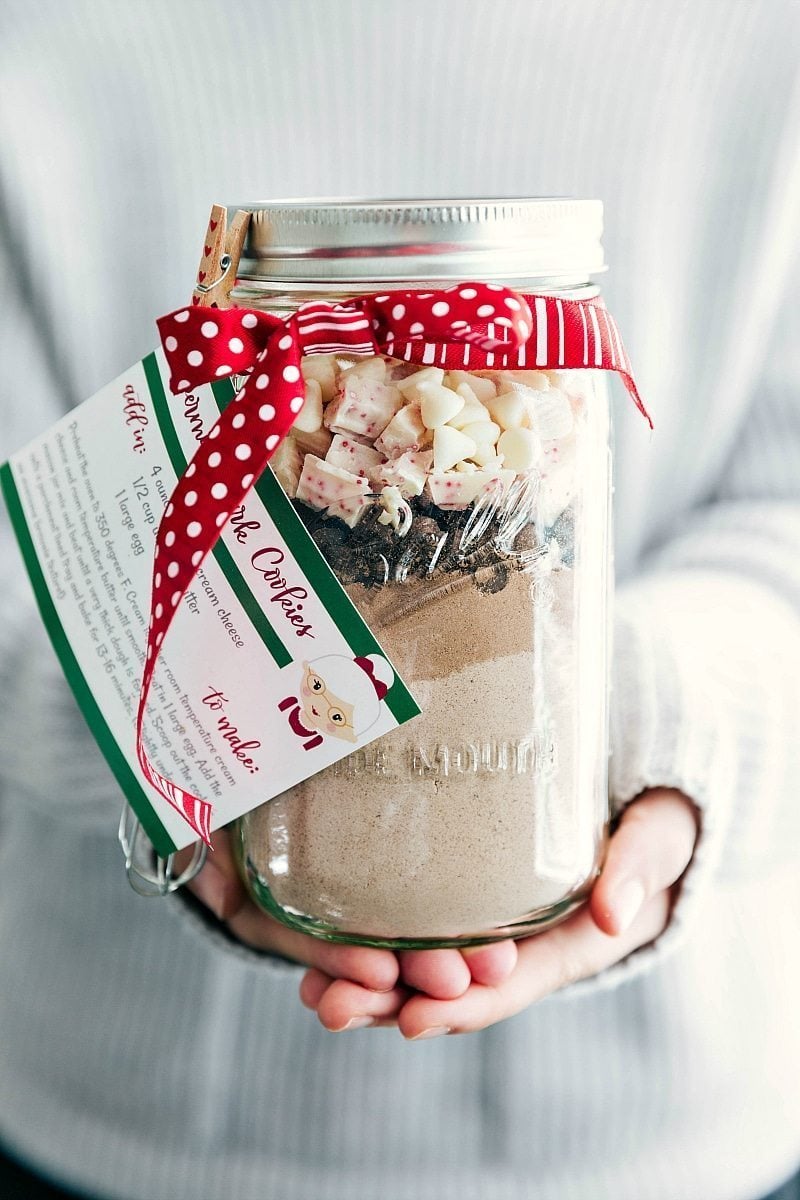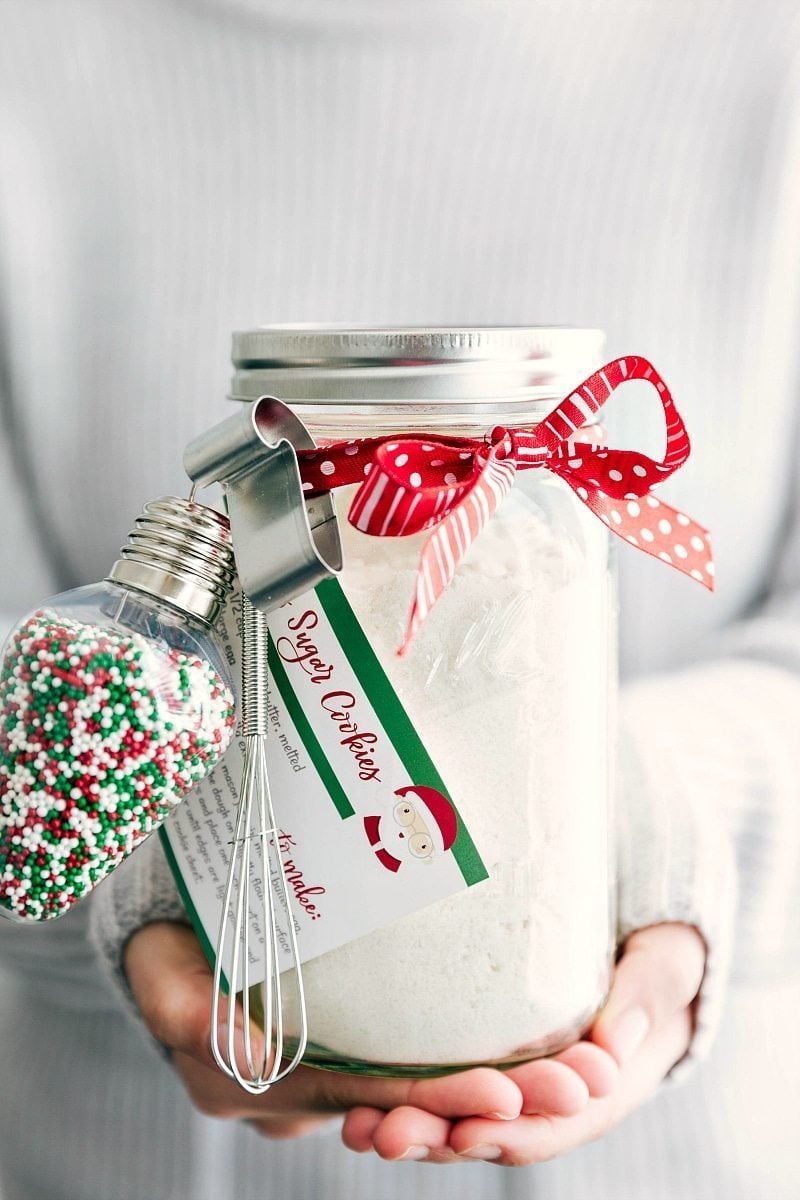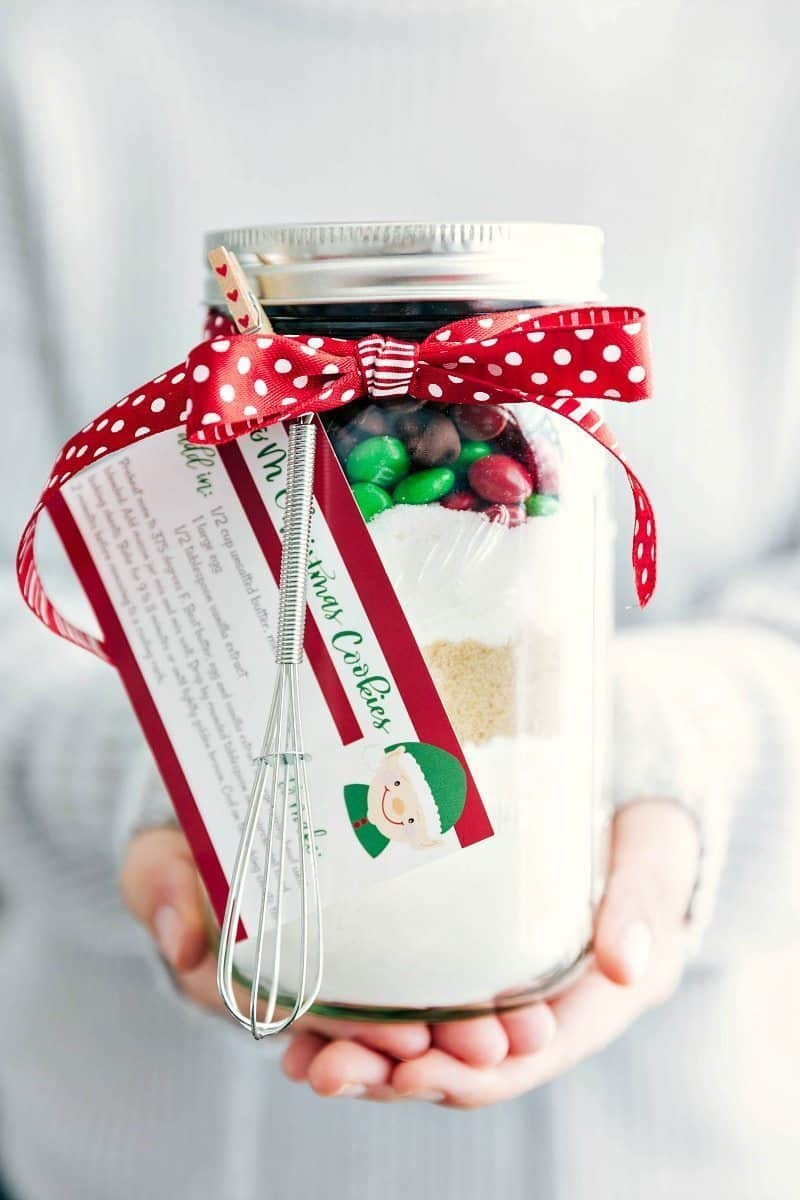 Some of the links above are affiliate links meaning if you were to purchase through that link I would receive a small commission at no extra cost to you. Thank you for supporting Chelsea's Messy Apron! Happy Holidays ?