Oreo Ball "Spiders," an easy Candy Corn Punch, and a fun way to decorate your table this Halloween!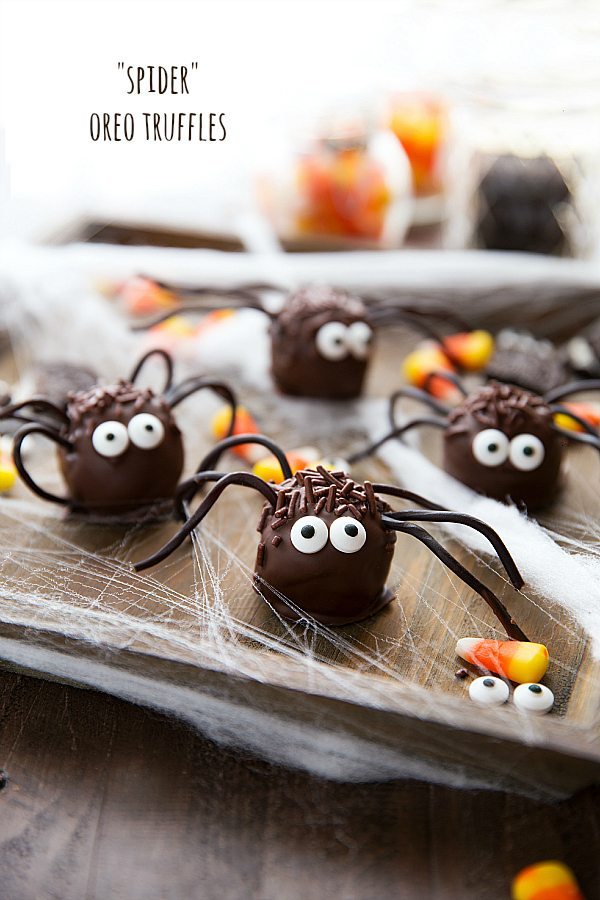 It's been full-blown Halloween mode at my home for a couple weeks already. The home was decorated mid-September and tons of different Halloween treats have been created and enjoyed. Creating them is my favorite part because they are so. dang. cute. I mean, look at these spiders!!
And for me to say a spider is cute means it has to be REALLY cute because honestly I am scared to death of spiders. The husband is also not a fan of spiders. He will kill them for us (thank goodness), but if he sees one by surprise, he'll jump. And then be creeped out for a bit after that.
Thanks to my reactions, my 2-year old is also mildly scared of them. However, he recently found a fake spider in my Halloween decorations and, being the tease that he is, loves scaring everyone (especially me) with it. He'll stick it in random places or set it on my lap or throw it at me all in attempts to get a reaction. It's a pretty large plastic spider, but also quite realistic looking. There have been a few times I've seen this fake spider around and jumped thinking it is real. Random side-note: After my mother-in-law saw it, she had the great idea to stick the fake spider on my husband's side of the bed under the sheets. I told her it would be a great idea except I don't think I'd live to tell her about it… 🙂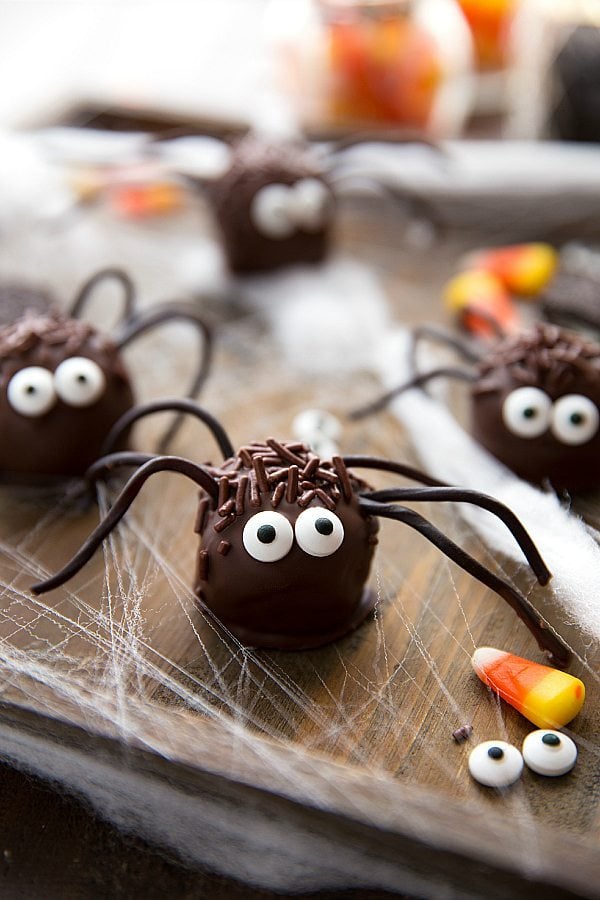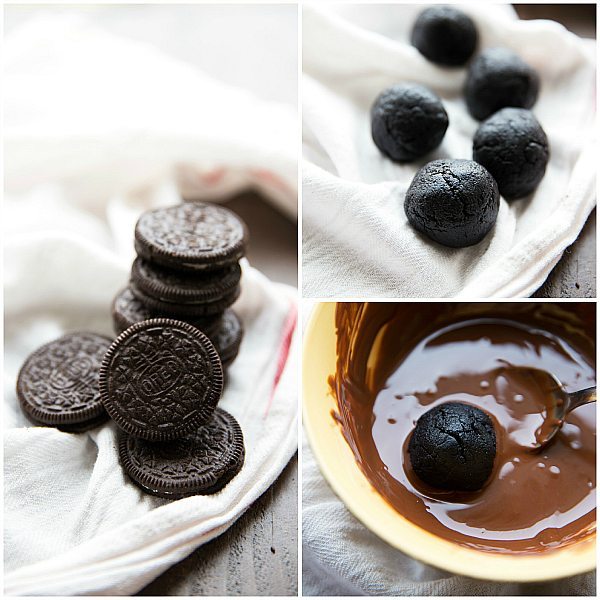 Anyways, these non-creepy spiders make the perfect Halloween celebration treat. They are festive, easy to make, and taste great. Who doesn't love a great oreo truffle? They are one of my favorite desserts! Not to mention, I score major wife points when I make oreo truffles. And wife points are much better than whatever would ensue if I were to put fake spiders on his side of the bed…
My two-year old seriously enjoyed making these cookie balls look like spiders. I let him put on some of the eyeballs and sprinkles and he loved that. And while I took pictures of the babe's spider OREO balls to save for myself, they wouldn't help you know how to make these spiders…sprinkles and eyeballs ended up all over the place!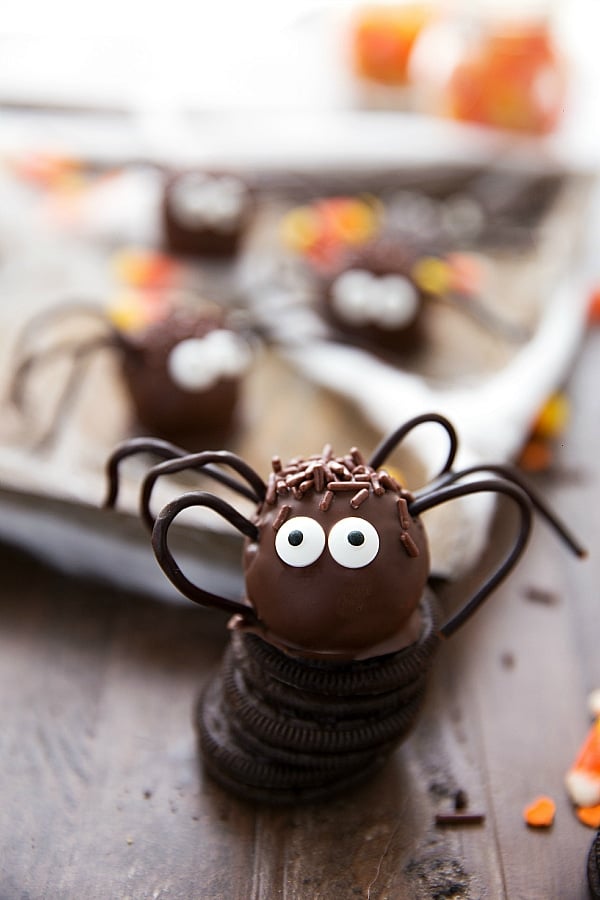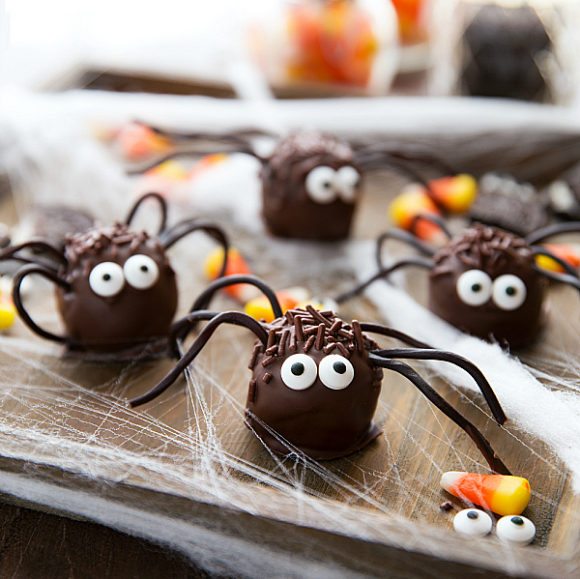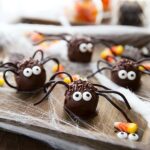 Spider Oreo Balls
Oreo Ball "Spiders," an easy Candy Corn Punch, and a fun way to decorate your table this Halloween!
Keyword:
Spider Oreo Balls
Ingredients
1 package

(16 ounces)

OREO Cookies

divided

1 package

(8 ounces)

full-fat cream cheese

at room temperature

2 and 2/3rds

cup

chocolate chips

I like milk chocolate best

3-4

teaspoons

vegetable oil
Spider Decorations
96

Candy eyeballs

1/3

cup

brown sprinkles

Thin black licorice
Instructions
In a large blender or food processor, process the OREO's until they resemble crumbs.

Beat together the room temperature cream cheese and cookie crumbs until blended.

Shape the mixture into 48 (1-inch) balls and then freeze the balls for ten minutes.

In a microwave-safe bowl, combine the chocolate chips and vegetable oil. (I like to separate the chocolate and do 2-3 batches so it stays nice and melted while dipping the cookie balls in) Microwave in bursts of 20 seconds stirring for 15 seconds in between each burst until the chocolate is fully melted.

Dip the balls in the melted chocolate (add more vegetable oil to thin the chocolate if needed) and place on a tray lined with parchment paper.

Before it dries, sprinkle the top of the balls with brown sprinkles and then press two candy eyes onto each ball.

Cut the licorice with scissors and press into the cookie ball. Do this before the chocolate has a chance to harden. It's helpful to insert two legs (one on each side) at a time to get leverage to press the legs fully in.

Allow the chocolate to harden and dry.
And now for a super simple and fun party drink: CANDY CORN PUNCH!!
I saw a huge pitcher of candy corn punch on BHG and totally fell in love with the idea. This recipe is very slightly adapted from BHG in that it is made for individual glasses. That way, the drink doesn't get ruined when the first person pours out a glass 🙂
This drink is so quick to make and you can double or triple (or more) for as many guests as you plan on having for a Halloween celebration. The bottom layer stays put because it has gelatin in it that sets up for a couple of hours. It doesn't get all the way set-up, but stiff enough that the orange soda can be put on top and stay in a different layer. The top is just whipped topping sprayed on which gives the drink a delicious texture and taste when stirred in just a little.
And of course, you've got to garnish the top with a candy corn…or two. 🙂
Candy Corn Punch
Oreo Ball "Spiders," an easy Candy Corn Punch, and a fun way to decorate your table this Halloween!
Keyword:
Spider Oreo Balls
Servings
:
4
large glasses
Ingredients
1 package

(4.3 ounces)

lemon-flavored gelatin

1

cup

boiling water

2

cups

mango juice or mango nectar

I used a mango-flavored yellow juice

3 and 1/2

cups

Fanta orange soda

1

spray can of whipped topping

Candy corn

to top drinks with
Instructions
Place the Fanta in the fridge until well chilled.

In a bowl, whisk together the gelatin and boiling water until the gelatin is completely dissolved. Stir in the mango juice or nectar.

Pour an even amount in the bottom of as many glasses as you want (I did 4 large glasses).

Cover the glasses with plastic wrap and place in the fridge for 2 hours.

Remove from the fridge and very gently pour the Fanta over the mango layer. Use the back of a wooden spoon to guide the soda into the glass so it doesn't break through the bottom layer.

Pipe the whipped topping on top of the four glasses and garnish with a candy corn.

Enjoy immediately.
Recipe Notes
Cook time refers to chilling time. Adapted from BHG.
More simple Halloween ideas: