A festive and fun 4-ingredient patriotic treat — flag bark. Perfect for the Fourth of July!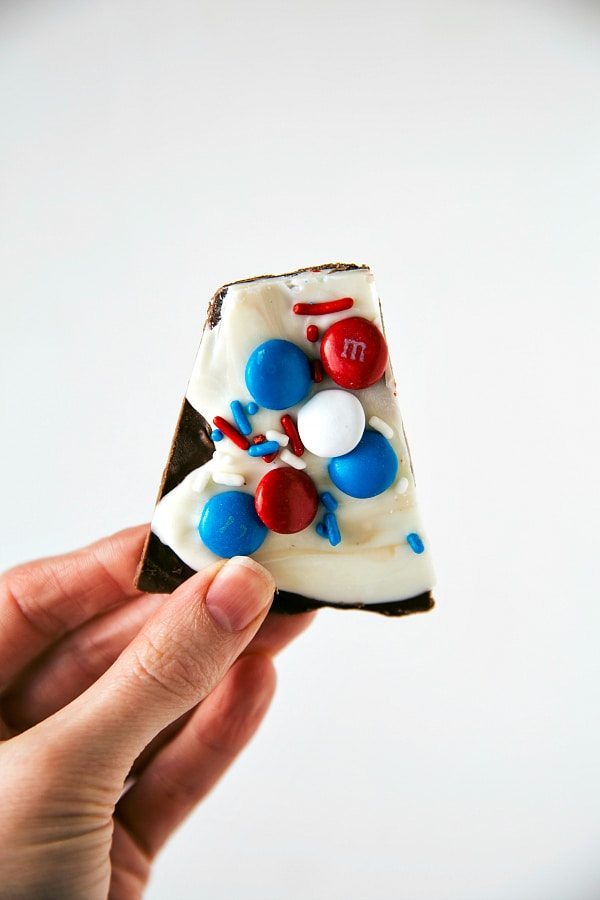 Bark is one of the best treats. It's easy, no-bake, quick to make, and so easy to dress up for a fun occasion or holiday!
Right now I'm a cub scout leader in my community/church which I absolutely love. And a few months ago, one of the requirements was to learn about the flag. So I got the boys mini flags to hang in their homes, we played a trivia game to learn fun facts about the flag (did you know the US has 6 flags on the moon right now?!), and we all ate way too much ?? flag ?? bark.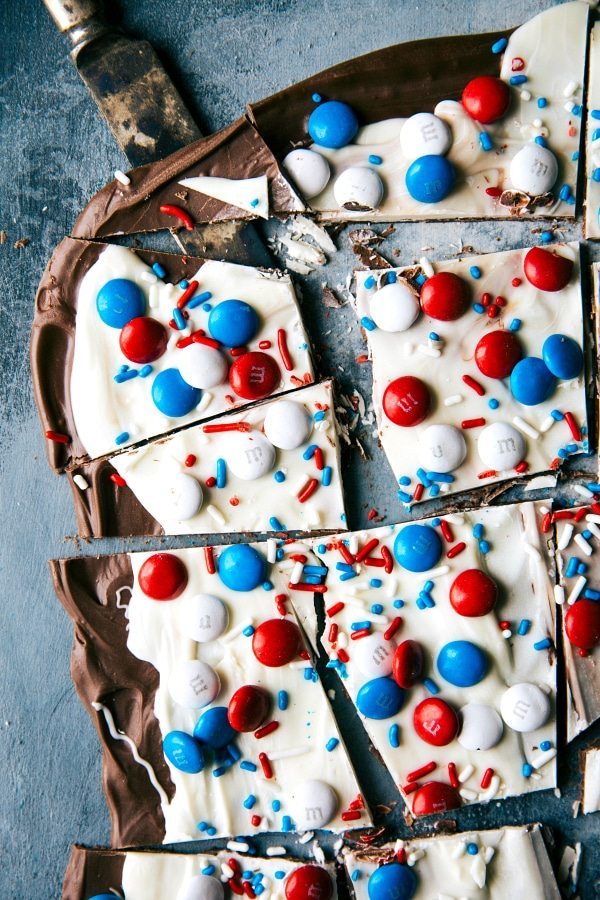 When I was planning the activity my mind (of course) kept going back to what treat I could bring. I thought about the typical flag treats — some red, white, and blue cakes or cupcakes, but wanted to do something a little simpler and less messy.
And after one glance in my pantry, at the baking shelf, I thought of bark. We may or may not have over 15 bags of every single flavor of chocolate chips in my pantry. Milk chocolate, dark chocolate, white chocolate, peanut butter chips, semi-sweet chocolate, butterscotch, mint chips, peppermint chips, … you name it and we've got it!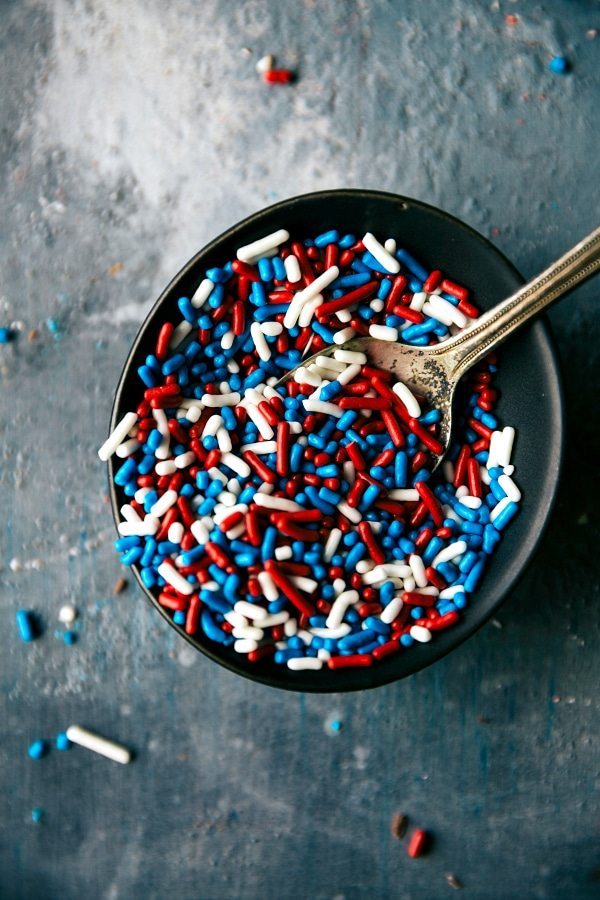 Because I have such a huge variety of chocolate chips, I mixed the bottom layer with 1 cup of milk chocolate and 1 cup of dark chocolate. Those just happen to be my two favorite chocolates and I love how they taste together. However, you can pick whatever you like best! If you are worried about this treat being overly sweet, use semi-sweet chocolate.
The top layer of this bark is just white chocolate chips.
After that there are patriotic M&M's and festive sprinkles. The M&M's made for a fun sorting game for the toddler; I bought a huge bag of multi-colored M&M's and had him sort them into all the different colors. He loved it! So in the video you'll notice there are just blue and red M&M's. But, when I made this bark again to take some pictures of it (okay fine, and to eat some more of it!) I found a big bag of red, white, and blue M&M's on Amazon. So use whatever is easiest and most convenient for you to use. If you get a bag at the store you'll want a huge bag to make sure you have enough of the red and blues.
As far as the sprinkles, I found them in the baking aisle of the grocery store.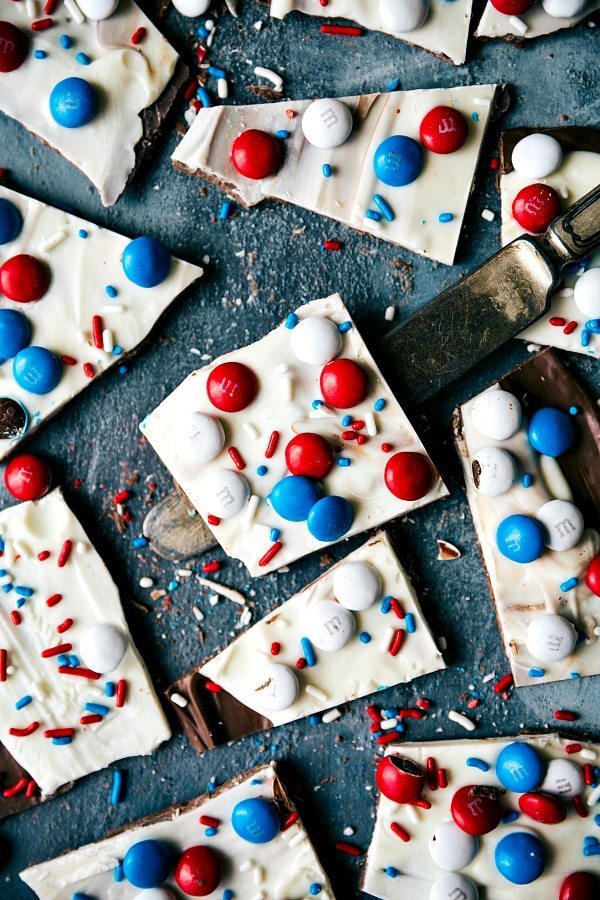 For best results, use high quality chocolate chips. Since you are melting the chocolate chips with nothing else, you really want a good quality that will melt well. Especially with white chocolate. I've used cheap chocolate chips to try and make bark and it always turns out to be a disaster.
My next tip is to be patient with melting the chocolate. You don't want to over-cook the chocolate at all or it will taste awful and not spread into a bark. I've found the best practice is to microwave it for only 15 seconds and then to give it 5-10 second stirring breaks in between each microwave burst. Yes, it's a pain and takes a little longer, but it's totally worth it. I've never burnt chocolate by taking my time microwaving and stirring plenty in between. Remember that a lot of the chocolate melting happens outside of the microwave.
Last tip: add the M&M's and sprinkles QUICKLY. The white chocolate starts to harden extremely quickly. If you aren't super fast about adding the toppings, they won't stick. The quicker you get the M&M's and sprinkles on, the better!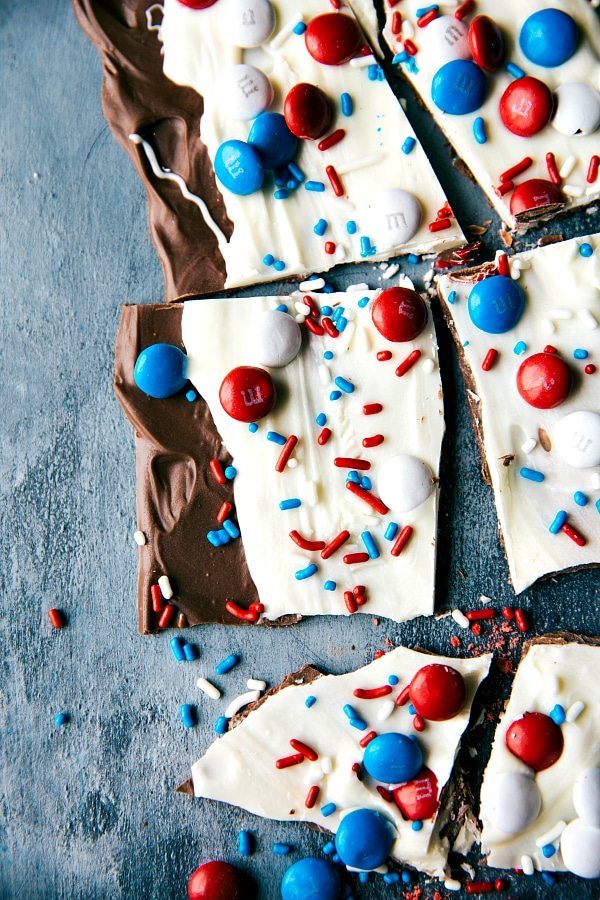 More easy & quick (no bake) treats: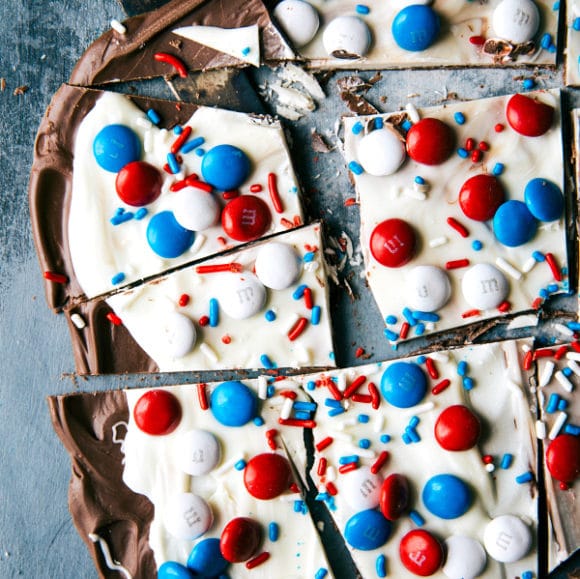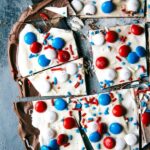 Patriotic Bark
Servings
:
1
9 x 13 pan worth of bark
Ingredients
2

cups

high quality milk chocolate chips*

2

cups

high quality white chocolate chips

3/4

cup

red, white, and blue M&Ms

1/3

cup

sprinkles
Instructions
Line a 9 x 13 pan with parchment paper and set aside.

In a microwave safe bowl add in the milk chocolate chips.

Melt in the microwave in bursts of 15 seconds stirring for 5-10 seconds in between each burst until chocolate is melted. Be careful to not over cook the chocolate and be patient with the slow bursts. A lot of the melting happens in between microwave bursts.

Using a spoon and a spatula, spread the chocolate evenly over the full surface of the parchment paper on the prepared pan.

Let set. (Do not put in the fridge because a cold chocolate layer will make the white chocolate harden even quicker)

Add the white chocolate chips to a microwave safe bowl and again, melt in 15 second bursts stirring in between each burst for 5-10 seconds.

As soon as the white chocolate is melted, pour and spread evenly over the chocolate layer. Work quickly as white chocolate hardens very fast.

As soon as the white chocolate is spread evenly over the chocolate add the M&M's and sprinkles.

Allow to completely set until the chocolate layers are hardened.

Break into pieces and enjoy!
Recipe Notes
*You can use 2 kinds of chocolates here for a more interesting taste. I generally combine milk and dark chocolate, but use whatever 2 chocolates (or just 1 chocolate is great too) that you enjoy best!