THE secret to the perfect baked potato in a fraction of the time: cutting it in half! That's right, we roast potato halves instead of full potatoes. Not only do they take less time, they also have perfect caramelized edges and a soft fluffy interior.
Top the potatoes with your favorite toppings; we love salt & pepper, butter, sour cream, sharp cheddar cheese, and green onions! Read on for more ideas on how to top your potatoes and how to make them into a filling meal.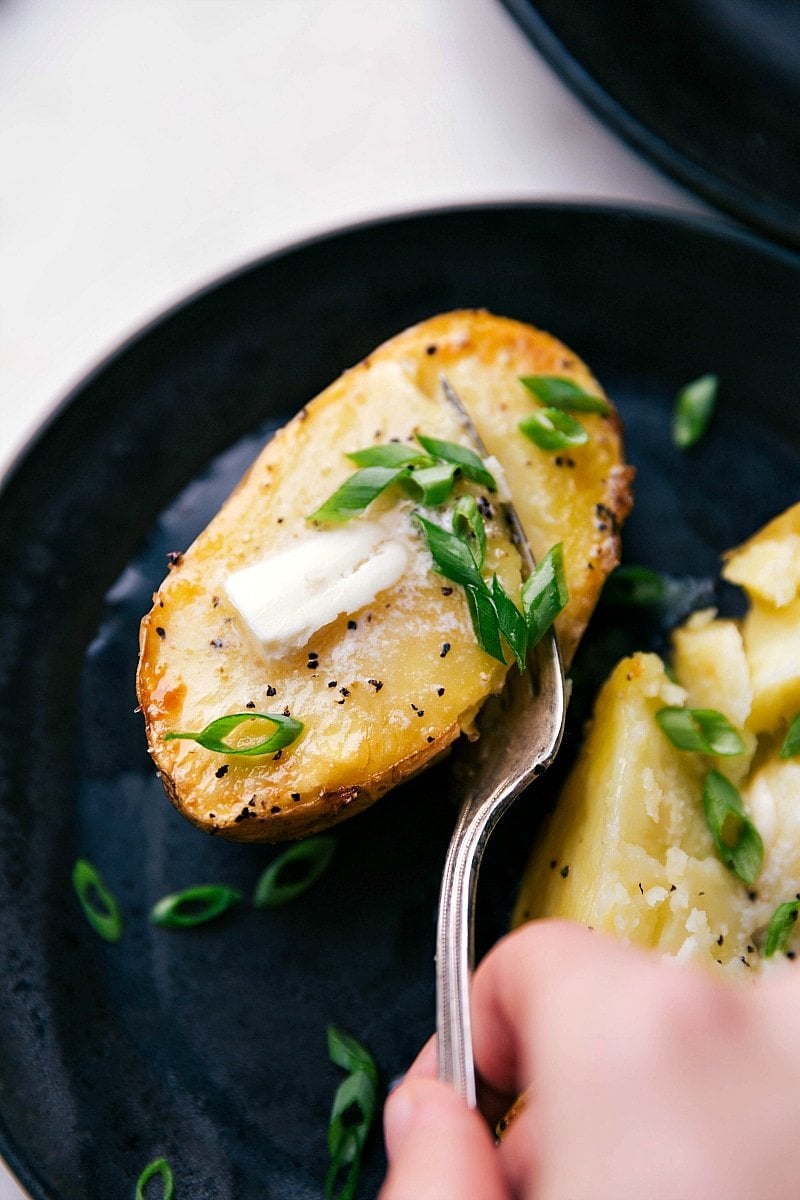 The "secret"
We're obsessed with potatoes at my home and in my opinion, there aren't too many meals easier than loading up a baked potato and calling it dinner (with a side of this Italian salad of course)!
ESPECIALLY when baking the potato takes around 35 minutes instead of an hour. The secret is in cutting the potatoes in half and baking them that way. I use this technique when cooking full sweet potatoes (for these delicious loaded sweet potatoes) and the method works perfectly with russet potatoes as well. In fact, I've never had a tastier baked potato; the edges get slightly caramelized, the skin is perfectly crispy, and the inside is light & fluffy.
The other important "secret" to these potatoes is make sure you don't skip the seasonings! Potatoes need salt and pepper. You can of course reduce if you're sensitive to salt or pepper, but, if you're wanting more flavor, it could be as simple as adding another sprinkle of salt and pepper.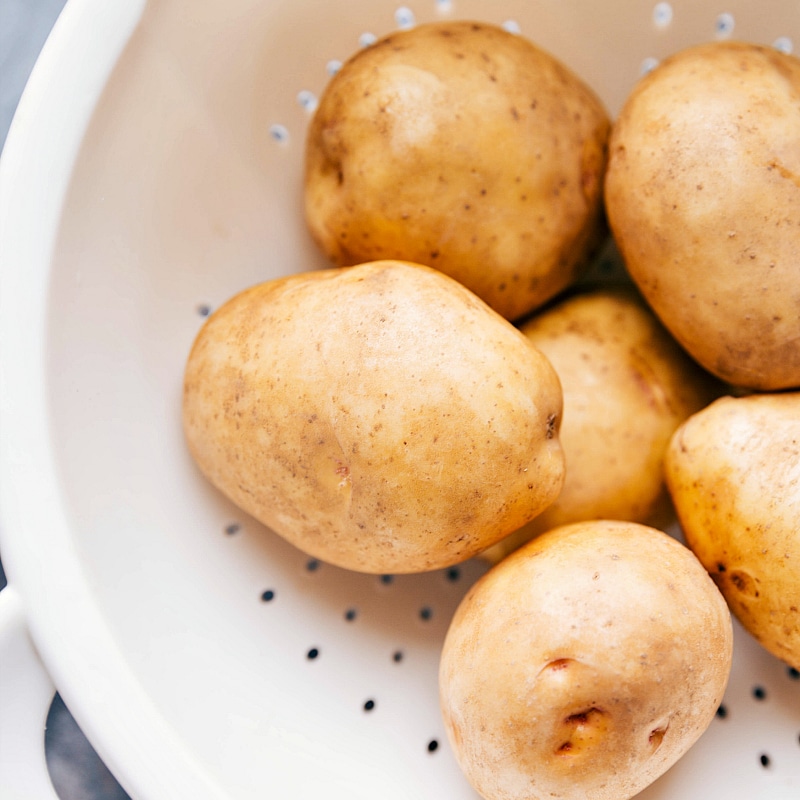 Topping your potato
Keeping it simple: butter, salt, and pepper (a perfect side dish!)
Jazzed up a bit more: with the above additions, add freshly grated sharp cheddar cheese (or your favorite cheese), cooked and crumbled bacon, green onion or chives, and a scoop of sour cream (or Greek yogurt)
Hearty meal: add a broccoli cheddar cheese sauce or a few scoops of this famous crockpot chili
Taco potato: add taco meat (from these taco lettuce wraps), cheddar cheese, fresh lime, and sour cream
Sloppy joe potato: add the meat from this sloppy joe recipe
BBQ: add leftover BBQ pulled pork or chicken
Vegetarian: add seasoned baked beans and cheddar cheese
And if you're serving a crowd, you can make a baked potato bar. Set out all the toppings, bake the potatoes, and let guests chose how to top them!
More veggie side dishes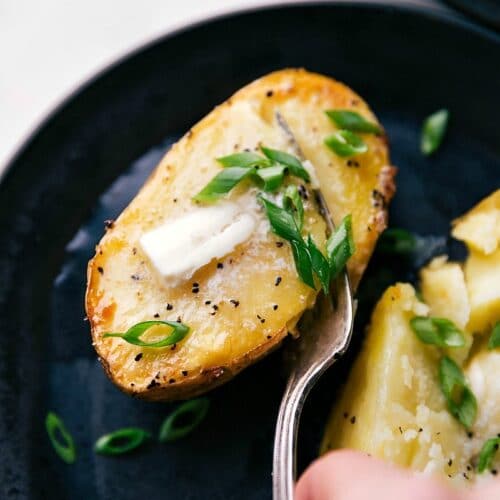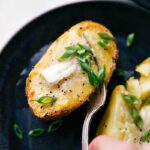 Baked Potato
THE secret to perfect baked potatoes in a fraction of the time: cutting them in half! That's right, we roast potato halves instead of full potatoes. Not only do they take less time, they also have perfect caramelized edges and a soft fluffy interior.
Course:
Main Course, Side Dish
Servings
:
4
full potatoes
Ingredients
4

(evenly sized)

russet or yukon gold potatoes

(6-9 ounces in size) Note 1

3

tablespoons

olive oil

1

teaspoon

fine sea salt,

separated

1/4

teaspoon

freshly cracked pepper,

separated

Serve with your favorite toppings such as: freshly grated cheddar cheese, butter, green onions or chives, sour cream, cooked & crumbled bacon, etc.
Instructions
OVEN: Preheat the oven to 400 degrees F. Line a large dark sheet pan with parchment paper or a silpat liner. Don't skip the parchment paper, it really helps the potatoes cook evenly without the cut side getting too hard.

CLEAN POTATOES: Throughly scrub the potatoes in COLD water. Clean to remove all the dirt and any debris. Completely dry the potatoes. Cut the potatoes in half lengthwise.

PREP POTATOES: Place the potatoes flesh side down on the sheet pan. Pierce each back side of the potato 3 to 4 times with the tines of a fork. Flip the potatoes flesh side up. Drizzle the oil over all the potatoes and take your time to rub the oil into both sides of the potatoes so all parts of the potatoes are sufficiently covered. Evenly sprinkle 3/4 teaspoon of salt over all the potatoes (3/4 teaspoon for ALL potatoes not each). Add 1/8 teaspoon pepper to the flesh sides of the potatoes. Now flip again so the potatoes flesh side down. Sprinkle remaining 1/4 teaspoon salt over all the skins of the potatoes and remaining 1/8 teaspoon pepper on the skins.

BAKE: Bake (flesh side down) for 35-45 minutes, checking at 35 minutes. Check for doneness by inserting a fork into the biggest potato. If it goes in easily, the potatoes are ready! If not, add an additional 5 minutes. Cook until fork tender, checking every 5 minutes.

ENJOY: Remove from the oven and serve with favorite toppings. We like a pat of butter, cheddar cheese, sour cream, and green onions or chives. See the blog post for more ideas! Make sure to taste the potatoes and add additional salt and pepper as needed
Recipe Notes
Note 1: I have also tested this recipe with potatoes that are 9-13 ounces in size. Add an additional tablespoon of oil and they bake for about 10 minutes longer. You'll also likely want to add an additional sprinkle of salt and pepper on the baked potatoes (taste first). Also, while you can cook more than 4 potatoes at a time, remember the more potatoes on the sheet pan, the longer the overall cooking time will be.