Miniature sugar cookie cups filled with melted caramel and the best chocolate pudding. These turtle pudding bites are topped with fresh whipped cream and chopped pecans.
My sister recently got engaged and I'm so excited for her and to have a new brother-in-law! I love everything weddings, so I've been flooding her with wedding ideas from the minute she told me she was engaged:)
I've also got her bridal shower completely planned out…which won't be held for another month…
The one funny thing about my sister is she does not like "traditional" American desserts. She detests cake, ice cream, and brownies. Instead of a birthday cake we'll give her a package of store bought cookies :). Her favorite desserts? Cookies and pudding! These turtle pudding bites are an all-star combination of both cookie and pudding and you can bet they are already on the menu for her bridal shower!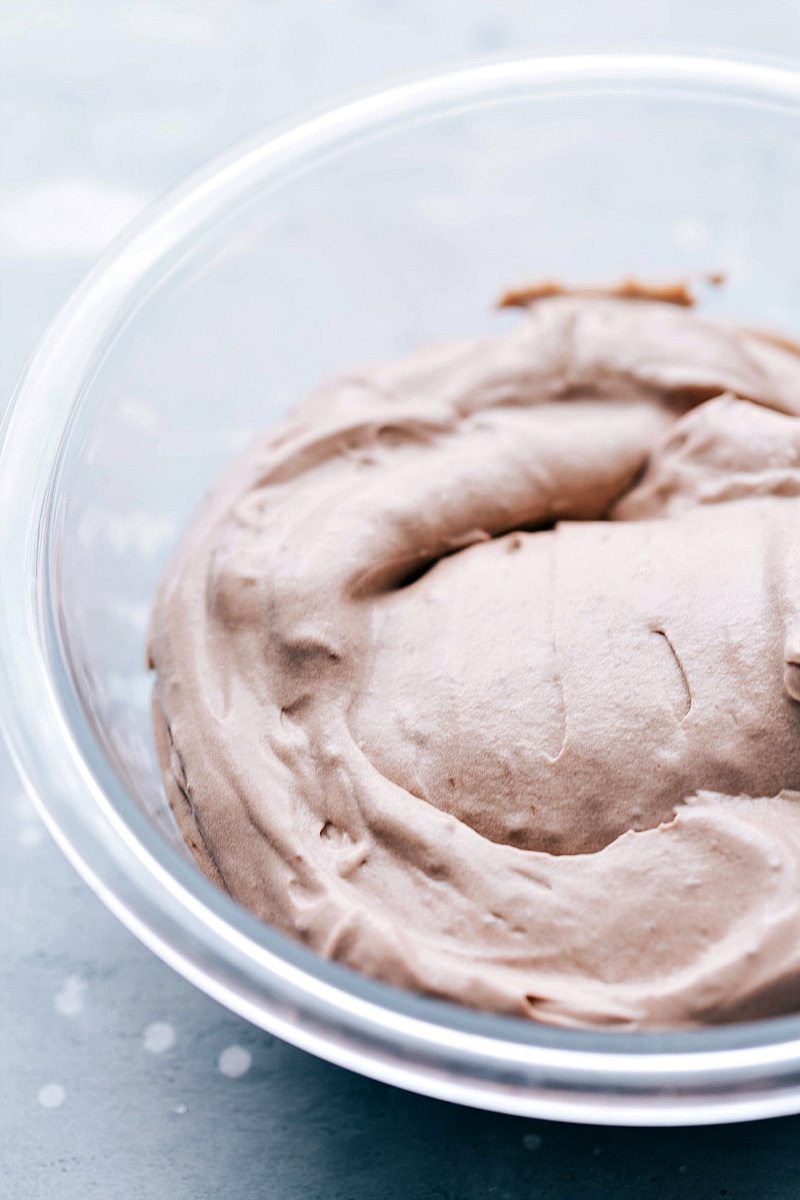 But first off, what flavor is "turtle"?
Turtles are a delicious treat developed in the early 1900s that have caramel, chocolate, and pecans. When these turtle candies were first made they looked like a turtle so that is what they were called. Now when a food has those flavors or ingredients, "turtle" is the word used to describe the taste of it 🙂 Today I'm making possibly the best flavor twist ever on a "turtle" by using instant chocolate pudding mix as the chocolate base for this dessert.
These pudding bites have all three components of a "turtle" candy:
Caramel

: the base of the cookie cup is filled with melted caramel candies that are mixed with a little bit of heavy cream. The caramel hardens enough to form a layer, but still stays soft and chewy when you bite into the cookie.

Chocolate

: the main filling of these turtle cookie bites is instant chocolate pudding — couldn't be quicker to whip together!

Pecans: These cookie bites are topped with a small swirl of whipped cream and on top of that is where you'll find the nut addition. Since the pecans are very finely chopped, the flavor is subtle, but definitely there. You'll add a sprinkle to each cookie cup!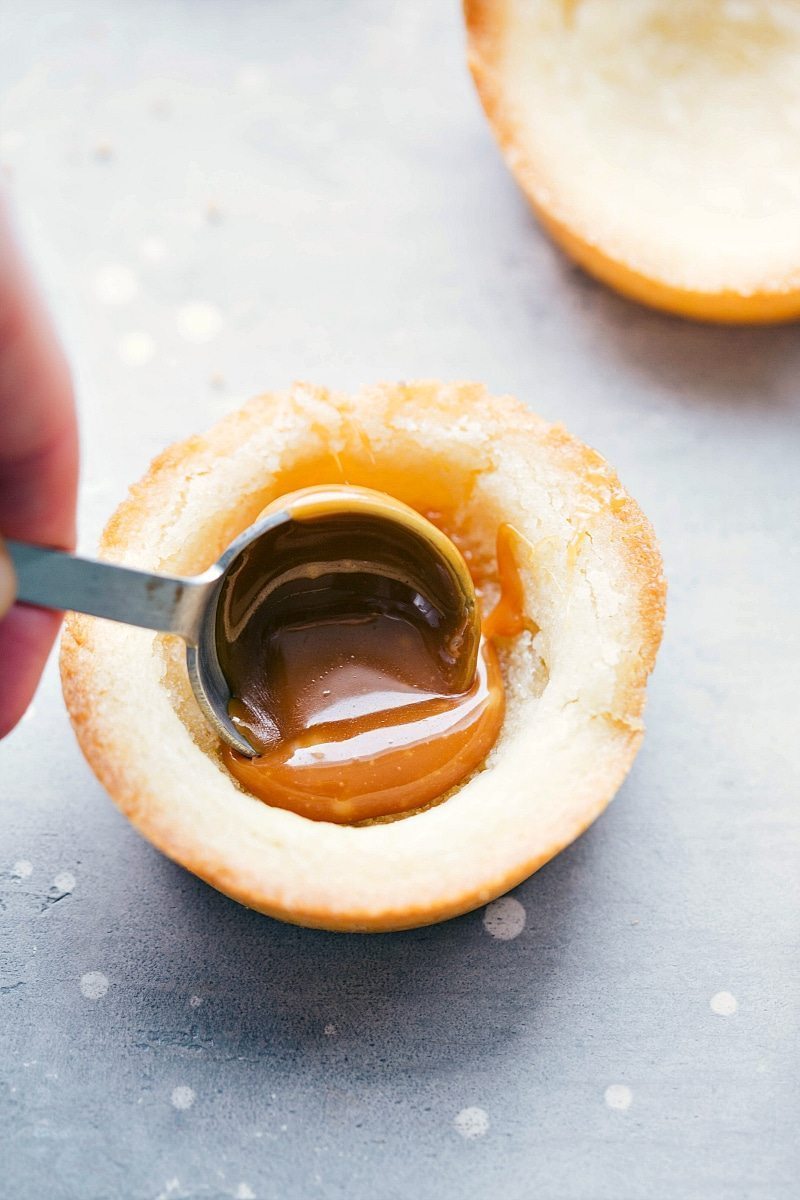 At first, it might sound like a lot, but this recipe for turtle pudding bites is so simple to make!
In four easy steps, you'll be ready to eat these Turtle Pudding Bites:
Make the Sugar Cookie base

: to make this easy, we're using pre-made sugar cookie dough so this base takes mere minutes to whip together. Simply press the dough up the sides of the muffin tin and bake!

Make the Caramel Filling

: This filling is only TWO ingredients. Soft caramel candies and heavy whipping cream. Microwave the two, stirring often, until melted. Then spoon that mixture into the baked sugar cookie cups.

Make the Chocolate Pudding Filling

: The pudding filling is only three ingredients: grab instant chocolate pudding mix and whisk it with milk. While that is setting up for a few minutes, whip some fresh cream and then fold that into the pudding.

Decorate: Take a bit of leftover whipped cream and pipe (or spoon) that on top of the pudding layer and then sprinkle with a few chopped pecans.
These turtle pudding cookie cups are beautiful and elegant, but secretly so easy to whip together. I can't wait for you to try them 🙂
I can't wait to serve them at my sister's bridal shower! Enjoy!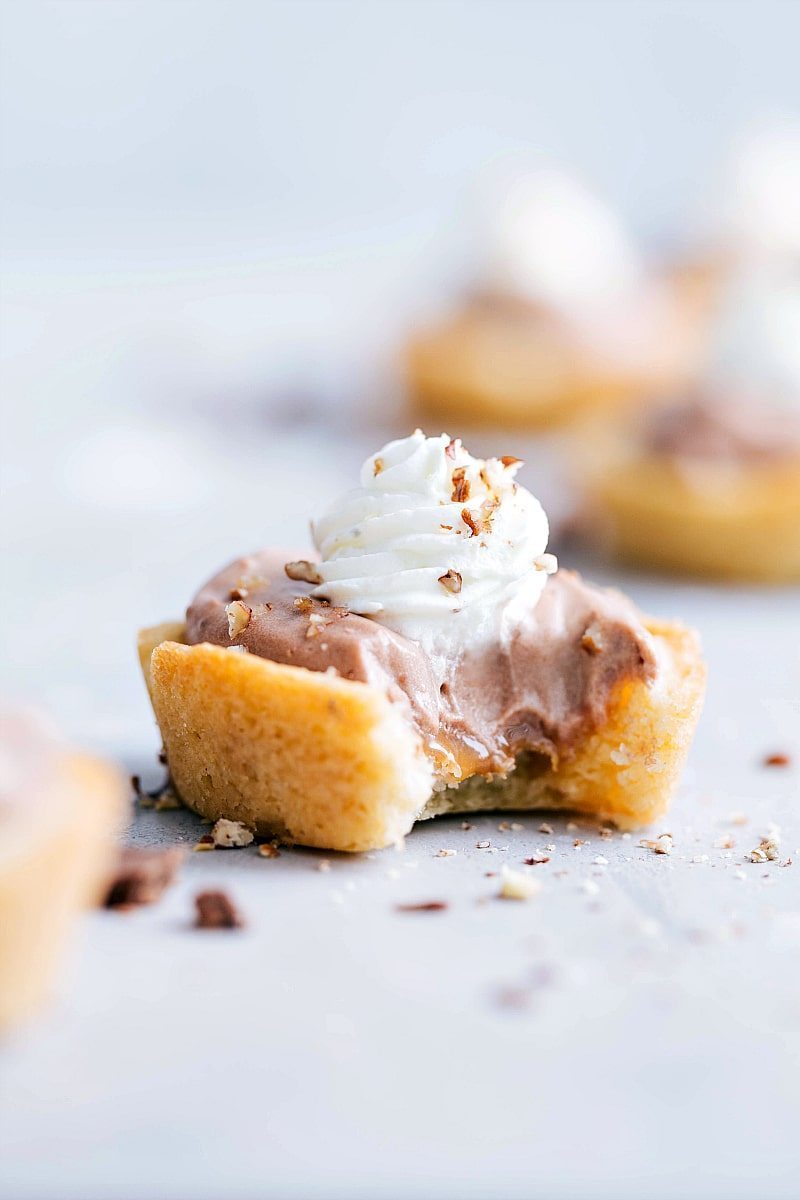 More Delicious Desserts: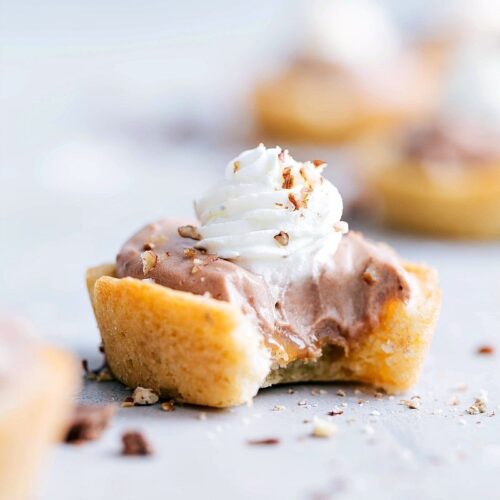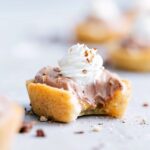 Sugar Cookie Turtle Pudding Bites
Miniature sugar cookie cups filled with melted caramel and the best chocolate pudding. These bites are topped with fresh whipped cream and chopped pecans making them the most delicious turtle cookie bite!
Ingredients
2

packages (16 ounces EACH)

prepared (refrigerated) sugar cookie dough

2

packages (5 ounces EACH)

soft caramel candies,

unwrapped

1-1/2

cups + 2 tablespoons

heavy whipping cream,

divided

1

package (3.7 ounces)

Instant Chocolate Pudding Mix

2

cups

milk (I use 2%)

3-4

tablespoons

pecans,

very finely chopped
Instructions
Preheat the oven to 350 degrees F and grease + lightly flour a regular sized muffin tin.

Cut each package of cookie dough into 12 even pieces (so 24 pieces between the two packages) and press into the bottom and about 2/3 up the sides of prepared muffin tin.

Bake for 15-20 minutes or until edges are barely golden. Let the cookie cups cool for 5 minutes in the tin and then gently transfer (coax out with a butter knife) to a wire rack to cool completely.*

Meanwhile, combine the unwrapped caramels and 2 tablespoons heavy whipping cream in a large microwave-safe bowl. Microwave in bursts of 20 seconds stirring in between each burst for 15 seconds or until melted and smooth.

Spoon an even amount of caramel into the baked and cooled cookie cups.

In a stand mixer fitted with the whisk attachment (or using hand mixers), add the remaining 1 and 1/2 cups heavy whipping cream. Whip to soft peaks. Reserve about 3/4 cup of the cream.

Prepare the pudding according to package directions and let stand 5 minutes. Using a spatula, gently fold in the whipping cream (minus the reserved 3/4 cup) until the pudding mixture is smooth.

Spoon the pudding mixture evenly onto the top of the caramel base. Fill the sugar cookie cups to be slightly overfilled.

Using the reserved 3/4 cup heavy whipping cream, either pipe or spoon on top of the pudding layer. Sprinkle some finely chopped pecans on top.

Enjoy these pudding cups within 10-30 minutes of making them.
Recipe Notes
*If the cookie bites don't cave in the center after cooling, then gently press the insides down with the bottom of a tablespoon.