These super moist chocolate chip yellow cupcakes with cream cheese buttercream frosting and chocolate chip cookie crumbs reign supreme in the dessert world. Soft, fluffy, and bursting with buttery flavor. These are some of my favorite cupcakes!
Hey guys! I'm Emily from Layers of Happiness – a food blog where I share easy, drool-worthy recipes with my mom. I'm so happy to be here with you this morning to share one of our family's new favorite recipes. Chocolate Chip Cookie Cupcakes. These are such a fun mashup of chocolate chip cookies and cupcakes. Chocolate chip cookies and cupcakes were meant to be together.
A really good cupcake is pretty hard to pass up… but adding the creamy dreamy buttercream frosting and chocolate chip cookie crumbs on top- takes right over the top! Mmmmm hmmm.
These cupcakes were inspired by our favorite cupcakes at a local bakery… "Milk & Cookies" is what they are called, but they should be called "Cookie Monster Dreams" because these are a cookie-lover's dream!!
The cupcake base is made of a classic yellow cake batter with mini chocolate chips mixed in. Not just any cake batter though, this cake is so rich, tender and incredibly moist. The cupcake then gets topped off with a cream cheese buttercream for a little extra richness, and chocolate chip cookie crumbs for a little extra pizzazz. Each bite completely melts in your mouth.
I used store bought cookies and crumbled them into crumbs, but if you are super fancy, you could totally make your own chocolate chip cookies to crumble on top
NOW the next time you go reaching for boxed mixes and canned frosting (eww), take 2 seconds to read this sentence: NOTHING beats the flavor of this homemade chocolate chip cookie, cream cheese buttercream frosted, super moist yellow cupcake. If you're shaking your head doubting your cupcake baking skills, let me tell you that it is not impossible to make a buttery, rich, moist yellow cake from scratch! And you can do it with everyday ingredients like milk, flour, sugar, and eggs. You can! You can..
Cupcake lovers, unite! 🙂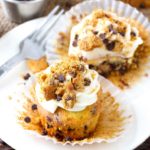 Chocolate Chip Cookie Cupcakes.
Ingredients
For the Cupcakes:
1 1/2

cups

sugar

2

large eggs

2

egg yolks

½

cup

melted butter

½

cup

all vegetable shortening

melted

½

cup

milk

1 ¼

cup

all purpose flour

½

teaspoon

baking powder

½

teaspoon

baking soda

¼

teaspoon

salt

1

Tablespoon

almond extract

1

Tablespoon

vanilla extract

2/3

cup

mini chocolate chips
For the frosting:
4

ounces

unsalted butter

softened

4

ounces

cream cheese

softened

2

cups

powdered sugar

1

teaspoon

vanilla extract

1

cup

chocolate chip cookie crumbs
Instructions
Preheat oven to 350 degrees. Line 12 muffin tins with paper liners.
To make the cupcakes:
Combine sugar, eggs, and egg yolk in a mixer fitted with the whisk attachment on high speed until combined.

Gradually add milk, beating until combined. Then gradually add melted butter and shortening, beating until combined.

In a medium bowl, combine flour, baking powder, baking soda, and salt. Slowly add flour mixture to sugar egg mixture one cup at a time. Add extract and beat just until combined. Fold in chocolate chips. Spoon batter evenly into prepared muffin cups. Bake for 18-20 minutes until a toothpick comes out clean. Be careful not to under bake cupcakes. Under baking cupcakes will cause the center to sink in.

Remove from oven and let cool for 5 minutes before removing from pan.
Make the frosting:
In a large bowl, beat together the butter and cream cheese with a mixer fitted with the paddle attachment. With the mixer on low speed, add the powdered sugar a cup at a time until smooth and creamy. Beat in the vanilla extract. Fold in about 1/2 cup chocolate chip cookie crumbs.

Frost cupcakes and top with remaining cookie crumbs.
 Hungry for more yummy cupcakes? Try our…
Homemade Vanilla Cupcakes with Chocolate Fudge Frosting