Special thanks to McCormick® for sponsoring this post. As always, all opinions are my own.
A few secret ingredients make this crockpot beef stew with gnocchi the BEST EVER!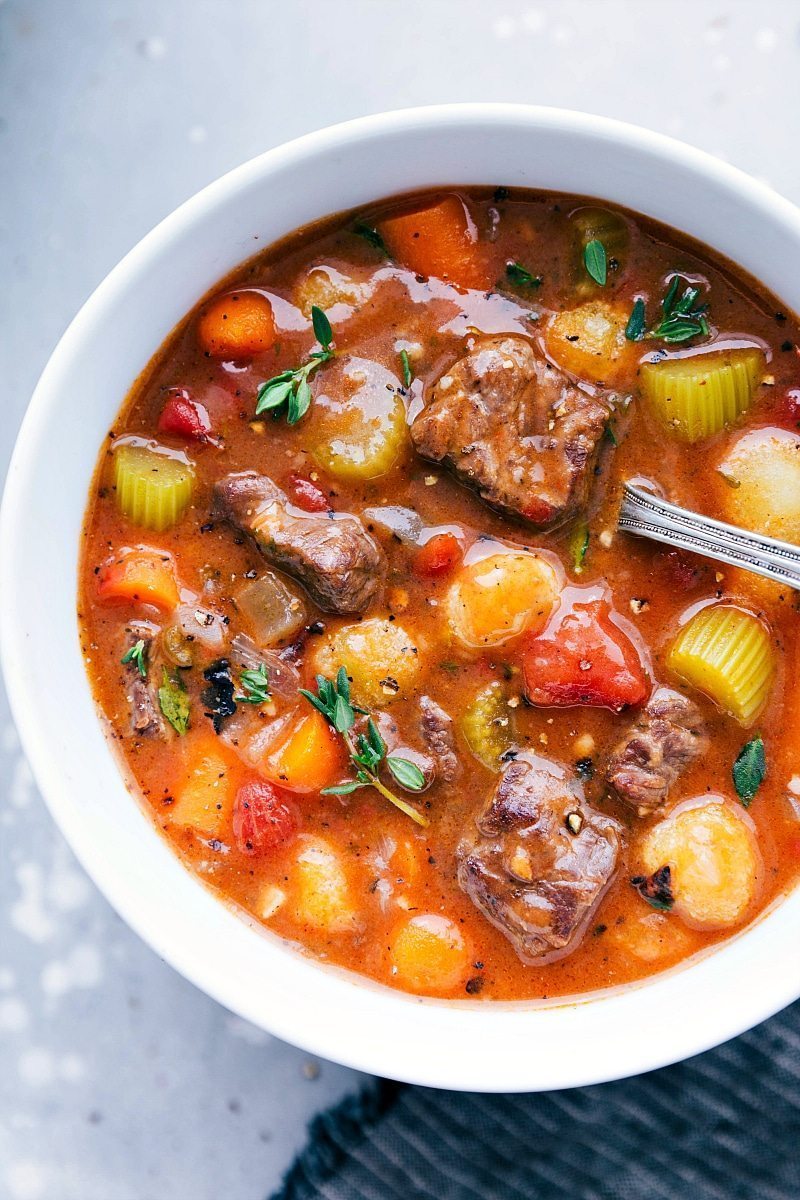 Lately, my husband has been getting into making huge breakfasts every couple of mornings — bacon, eggs, toast, pancakes, etc. He'll tell you without hesitation that breakfast is his favorite meal of the day. I'm not saying I don't like breakfast, because I definitely do, but it does get last slot in the lineup. For me, it's lunch first, dinner second, and breakfast last. I'm a huge sandwich, salad, or soup kind of gal and well, my husband couldn't be more opposite. (His lineup puts lunch in last place.)
It's probably no secret that I'm a huge fan of soups and salads, because over half of my savory recipes are soups or salads. And of all the soups (stews?) in the world, beef stew is hands down my favorite. My dad used to make beef stew all the time growing up and it was the birthday dinner I'd always request (despite the fact that my birthday is in the summer!)
Thanks to a lot of experimentation over the years (starting with my dad's beef stew "base" recipe), I'm ready to share this amazing beef stew recipe with you all and hope you all love it as much as my family has. (Which has been *almost* enough to convert my husband to eating this beef stew for breakfast ;))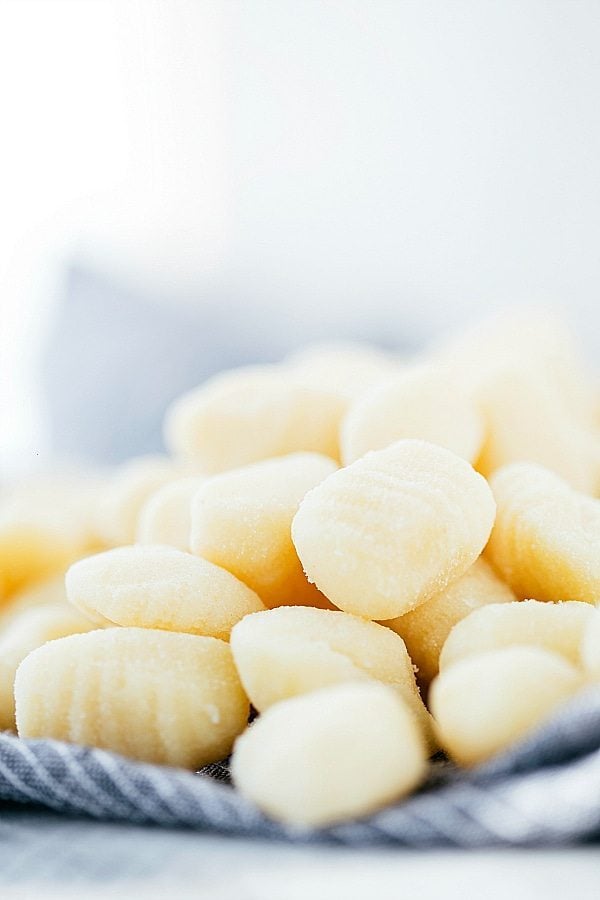 This beef stew recipe is AMAZING and it's all thanks to a few "secret ingredients" and a few extra steps in the cooking process. But first, "secret ingredients":
The first one — McCormick's Simply Better Beef Gravy. This gravy is truly the secret to this stew! It gives this stew a hearty thickness and adds a ton of flavor, spice, creaminess, and variance. Plus you know you can always trust that McCormick's gravy with be made with their top-of-the-line spices and without any artificial flavors or MSG. It adds a depth to this stew that you won't believe until you try it!
Next — the gnocchi. Most stews call for chopped potatoes and, don't get me wrong, I love those stews probably just as much, but the gnocchi really changes up this stew and gives it something special. It's a unique addition, but you won't be missing the potato texture or flavor since gnocchi is of course made from potatoes. If you want a fun twist on your typical stew, gnocchi is just the ingredient to change things up while keeping the flavors you know and love.
And finally, the beef stock, like this one from Kitchen Basics. A lot of recipes call for beef broth, so I consider the stock to be a secret ingredient. Stock is a richer liquid than broth. It's made by simmering bones, vegetables, herbs, and spices in water for hours until the flavor can be extracted (broth uses water simmered with meat). Stock has a richer and deeper flavor than broth and it is a key to the flavor of this stew.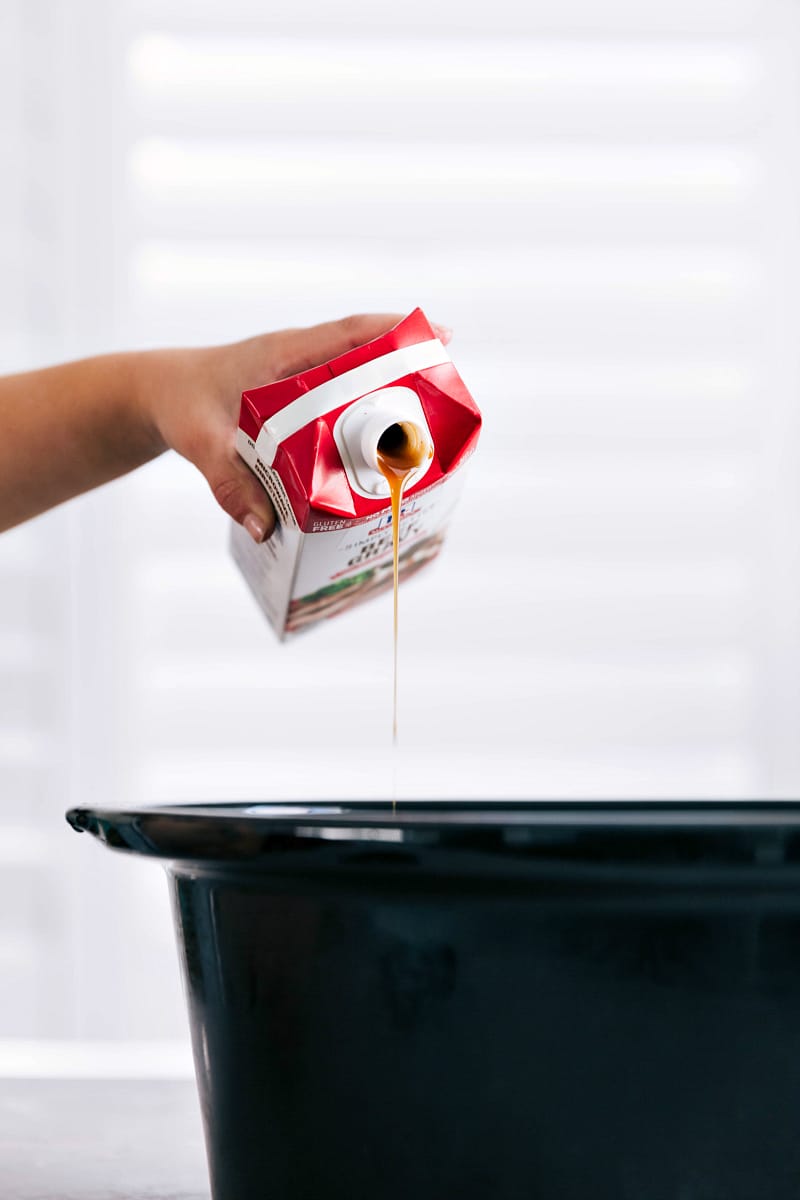 This beef stew recipe is made simpler in the crockpot, but there are a few more steps than your typical "dump it and forget" about it crockpot meal — you'll use one other dish — a dutch oven/stockpot.
The dutch oven is used to sear the beef and then to make the thick/creamy base to the stew. Searing the beef adds about 15 minutes to the prep time, but it is well worth the effort. Why sear the beef? Searing does two things; first, it creates a more complex flavor in the browning process (the browning also leaves bits of flavor that will be included in the creamy base to this soup) and second, the final dish will have a less grease (and as a result, a less greasy flavor). While you can add raw beef to the crockpot, I highly recommend searing it beforehand! The cream base to the soup does have to be cooked in a separate pot (for it to thicken properly), so if you're already dirtying it, you might as well brown the beef in it too 🙂
After the beef is seared and the creamy base is quickly whipped together, you just add in all the other ingredients (besides the gnocchi) and let the slow cooker work its magic. I prefer the long slow cook, but you can cook this stew on high and save a couple of hours.
Right before serving, you'll quickly boil the gnocchi and add those delicious little bites of potato to each serving bowl. Cut up some crusty bread to serve alongside and you're never going to want to eat anything else while the weather is chilly 🙂

More Delicious Soup Recipes: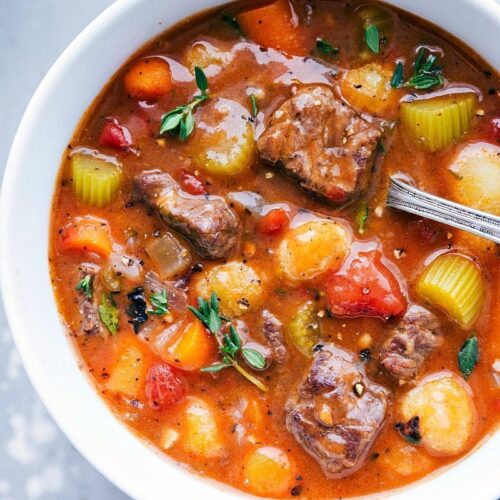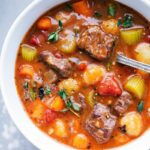 Crockpot Beef and Gnocchi Stew
A few secret ingredients make this crockpot beef stew the BEST EVER!
Ingredients
2 and 1/2

pounds

beef chuck roast,

cut into 1-2 inch cubes

2

cups

baby carrots,

halved

4

stalks celery,

sliced (~1 and 3/4 cups)

1

can (14.5 ounces)

fire-roasted diced tomatoes

UNdrained

2

tablespoons

tomato paste

1

teaspoon

dried parsley

1/2

teaspoon

dried thyme

1

bay leaf

1

tablespoon

Worcestershire sauce

1

teaspoon

white sugar

3

tablespoons

olive oil,

separated

1

yellow onion,

diced

2

teaspoons

minced garlic

3

tablespoons

unsalted butter

1/4

cup

white flour

2

cups

beef STOCK (not broth)

1

container (12 ounces)

McCormick Simply Better Beef Gravy

1

package (16 ounces)

miniature potato gnocchi

Salt and pepper,

to taste
Instructions
Cut the beef chuck roast into 1-2 inch cubes and set aside.

In the crockpot, put the halved baby carrots, sliced celery, fire-roasted diced tomatoes, tomato paste, dried parsley, dried thyme, bay leaf, Worcestershire sauce, and sugar in the bottom of a large (6 quart) crockpot.

Heat a large dutch oven on high (do not use a nonstick skillet). Add in 2 tablespoons olive oil. Once the dutch oven is hot, add the cubed beef. Sear beef for about 2 minutes on each side (to get a nice sear, don't stir the beef around. Leave it in one spot and then flip it to the other side after about 2 minutes using tongs). Do this in batches so you don't overcrowd the beef and get a nice sear. Remove the beef with a slotted spoon into a bowl. Add more oil to the batches as needed.

Do NOT wash out the dutch oven. Add the remaining 1 tablespoon of oil. Once the oil is hot, add in the diced onions. Cook for 3-4 minutes, scraping up the browned bits in the dutch oven as you stir the onions. Then add in the garlic and cook for another minute. Add in the butter and allow to melt. While whisking constantly, add in the flour and, whisking constantly, cook for one minute. Pour in the beef stock gradually, while whisking constantly. Simmer over low heat until thickened, about 2-3 minutes.

Pour this mixture into the crockpot and add the seared meat into the crockpot (drain off the juices that will have accumulated). Add in the beef gravy, salt and pepper to taste (I add about 1/2 teaspoon of each) and give everything a good stir. Make sure the beef is completely submerged in liquid.

Cover and cook on low for 9-10 hours (recommended) or high for 6-7 hours.

About 20 minutes prior to serving, bring a large pot of salted water to a boil and cook the miniature potato gnocchi according to package directions (~2-3 minutes). Drain and set aside.

Taste the stew and add additional seasonings if needed (salt, pepper, or a pinch of sugar goes a long way). Serve the stew in bowls with a few spoonfuls of gnocchi into each bowl*.
Recipe Notes
*I add the gnocchi to individual bowls so the leftovers don't get bloated.