Simple and quick (15 minutes to make) homemade parmesan crackers perfect to dip in delicious veggie dips. Perfect for entertaining and snacking!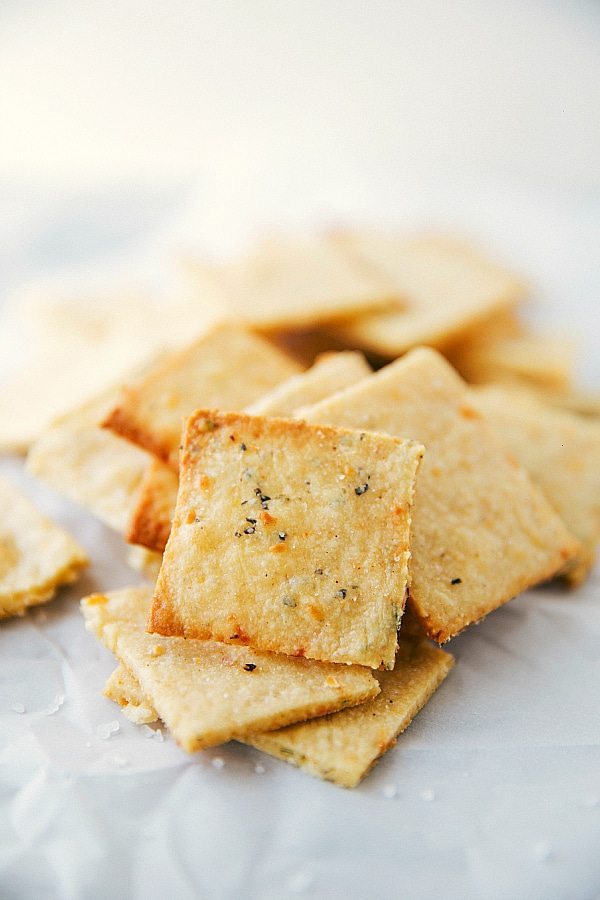 Back when we lived in Australia for a bit, I found out I was pregnant with our little Bentley. It wasn't too hard to figure out after the immediate morning (all day?) sickness and other symptoms I recognized from being pregnant with Grey.
Almost immediately I wanted to eat all the crackers. I'm pretty sure my entire first trimester with both babes consisted of eating about a hundred crackers a day and nothing else. I still remember one day that I was especially sick I parked myself in front of the TV and watched about five shows in a row. If you know me, I NEVER do this. I'm not much of a TV person at all. That is, unless you count Netflix during my morning treadmill runs; then I'm a major TV person ?
Anyways, one of the shows was a super old re-run of a Martha Stewart show. In the show she had a guest come and show how to make several variations of homemade crackers. I still remember the show and how badly I wanted to make and eat all those different crackers. Now almost an entire year later, I finally got around to making my own crackers. And wondering why it took me this long!!
If you want something lighter AND fancy to serve (or eat yourself ?) during the holiday season, making homemade crackers and serving them with a delicious veggie dip + veggies makes a great and festive appetizer!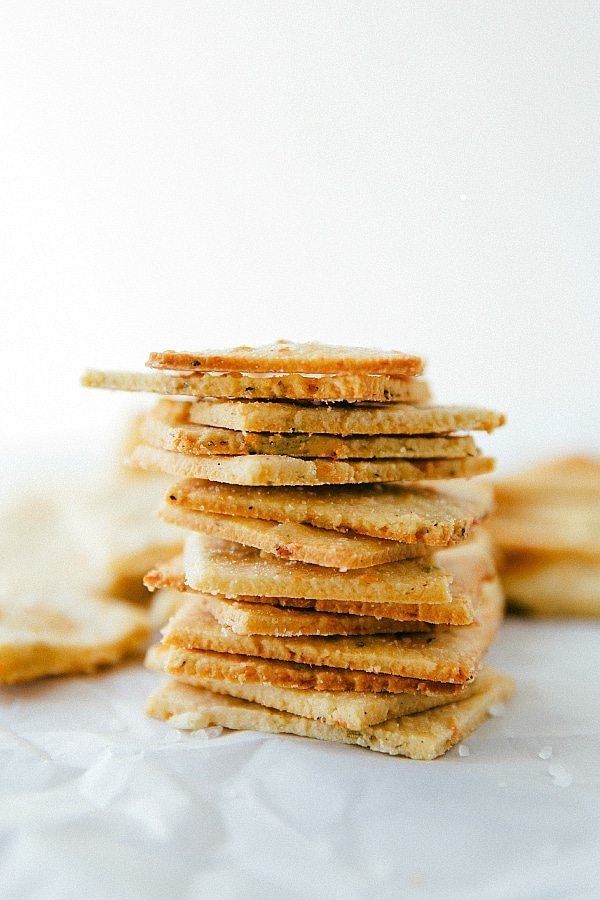 These homemade crackers are incredibly easy to make and use simple ingredients. And you can have them in just 4 easy steps!
✔️ Combine all the ingredients together in your blender or food processor. Pulse to make a dough.
✔️ Knead the dough together for thirty seconds and then roll out the dough to 1/8th-1/4th inch thick.
✔️ Place the dough on large greased & floured baking sheets and score lightly with a very sharp knife.
✔️ Bake. Remove from the oven and break into crackers.
I guess, technically there is a fifth step… EATING the crackers! Enjoy them with lots of veggies, a yummy dip (more on that in a sec), or even make homemade snack cracker sandwiches! ?
Okay, so the dip I keep talking about? I got several veggie dips to serve with these homemade crackers + veggies and they are some of the best dips I've ever had! These dips are phenomenal with some fresh veggies.
My two favorite dips are their ranch, and the southwest ranch dip (pictured in these pictures). While I have been eating wayyy too many desserts this holiday season at all the different parties and events (plus blog recipes), it's nice to have a flavorful dip + healthier snacks to eat during the day! These dips, veggies, and crackers fit the bill!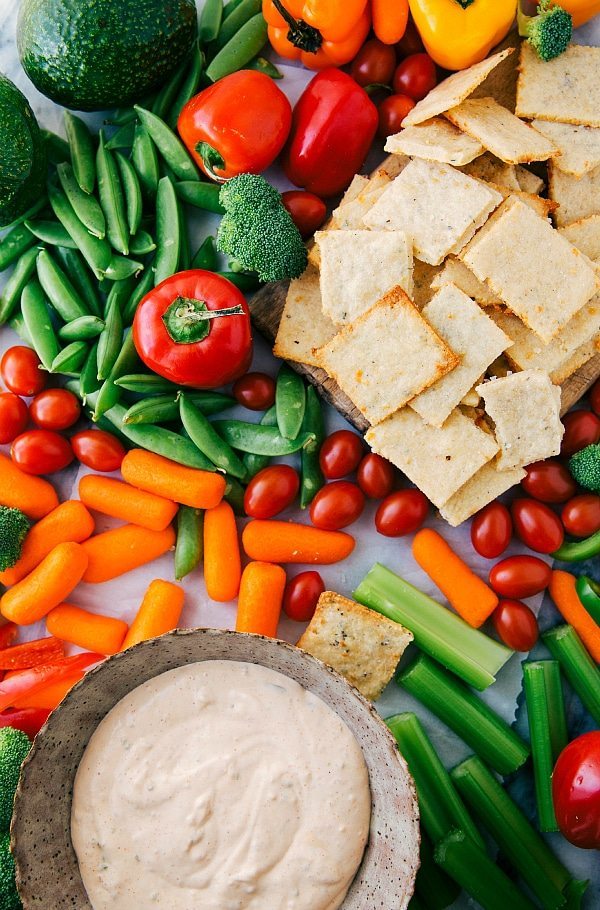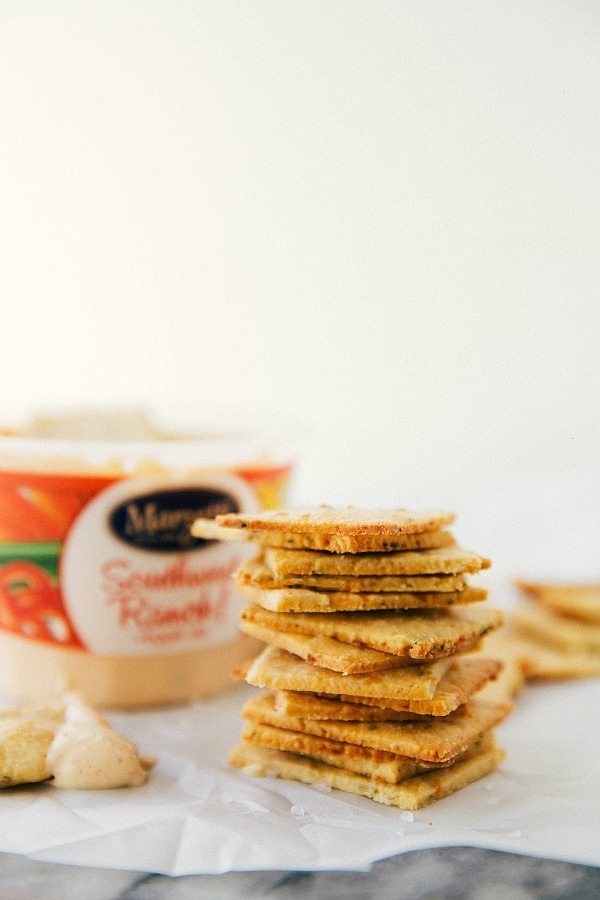 GIVEAWAY: ENDED. Congrats to Stephanie R. 🙂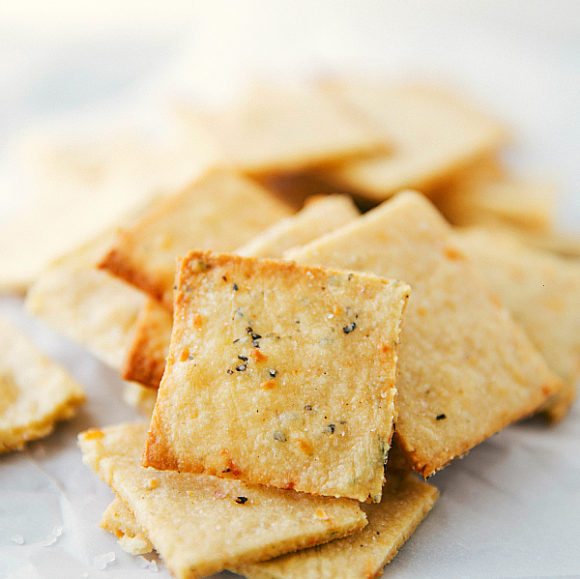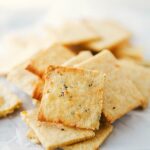 Parmesan Crackers
Simple and quick (15 minutes to make) homemade parmesan crackers perfect to dip in delicious veggie dips. Perfect for entertaining and snacking! 
Keyword:
Parmesan Crackers
Servings
:
30
-45 crackers
Ingredients
1/2

cup

freshly grated Parmesan cheese

1/4

cup (4 tablespoons)

unsalted butter

cold

1/2

teaspoon

seasoned salt

1/8

teaspoon

ground pepper

1/8

teaspoon

paprika

1/8

teaspoon

dried minced garlic

1

cup

white all-purpose flour

4-5

tablespoons

heavy whipping cream

not whipped

2

teaspoons

Italian seasoning

Optional: coarse sea salt
Instructions
Preheat the oven to 400 degrees F. Spray a large baking sheet with nonstick spray and then lightly flour the surface. Set aside.

Cube the butter into 8 equal cubes.

In a small blender (I use a Twister jar with my Blendtec) or food processor, pulse the Parmesan cheese and butter until crumbly.

Add in the salt, pepper, paprika, dried minced garlic, and half of the flour. Pulse.

Add the rest of the flour and 4 tablespoons heavy whipping cream. Pulse and add the last tablespoon if needed.

Remove the mixture onto a sheet of plastic wrap or wax paper.

Pour the Italian seasoning on top and knead for 1-2 minutes or until the dough comes together completely.

Place another piece of plastic wrap or wax paper on top and roll out the dough to 1/8th-1/4th inch thickness (according to personal preference).

Transfer the dough to the prepared baking sheet.

Using a super sharp knife, perforate the dough to make lines for the crackers. (Don't cut all the way through the dough).

Bake for 7-10 minutes or until lightly browned at the edges. Sprinkle with coarse salt if desired.

Remove and allow to cool for 3-5 minutes.

Remove the dough using a spatula. Break into the crackers.

Enjoy with some delicious veggies and a Marzetti Veggie Dip!
Recipe Notes
High quality cheese is really the secret to the best flavor on these crackers!
Recipe inspired by Martha Stewart cooking show, adapted from this recipe.