A delicious loaded potato soup! All the flavors you know and love stuffed into a potato and made into a creamy cheesy soup!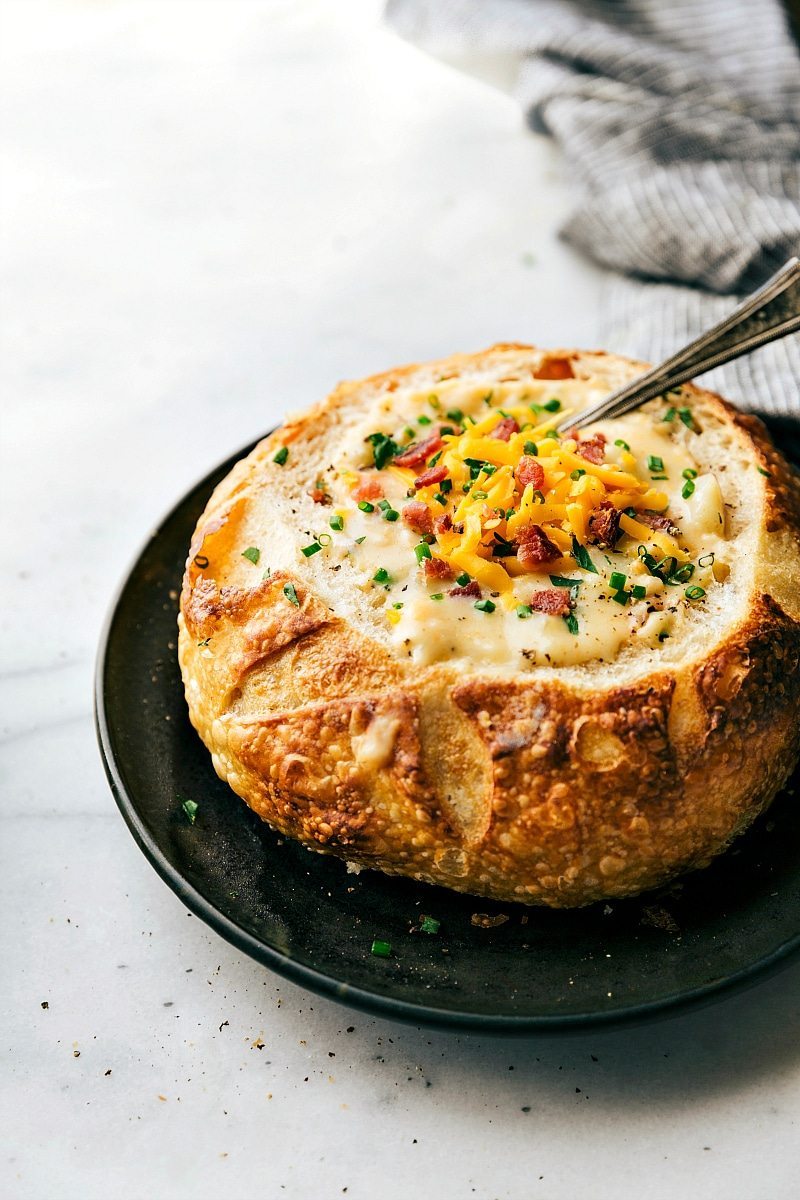 Potato Soup
Red potatoes are one of my all-time favorite veggies. It's a toss up between red potatoes and corn as a favorite for my dad, but I definitely inherited the love of red potatoes from him. When he cooks you can guarantee there will be red potatoes AND corn in whatever he's making.
I've never known him to make anything without one or both of those ingredients.
One of his "famous" recipes is a big red potato beef stew made in a dutch oven (and cooked outside in coals). That to me is pure cold-weather-comfort food.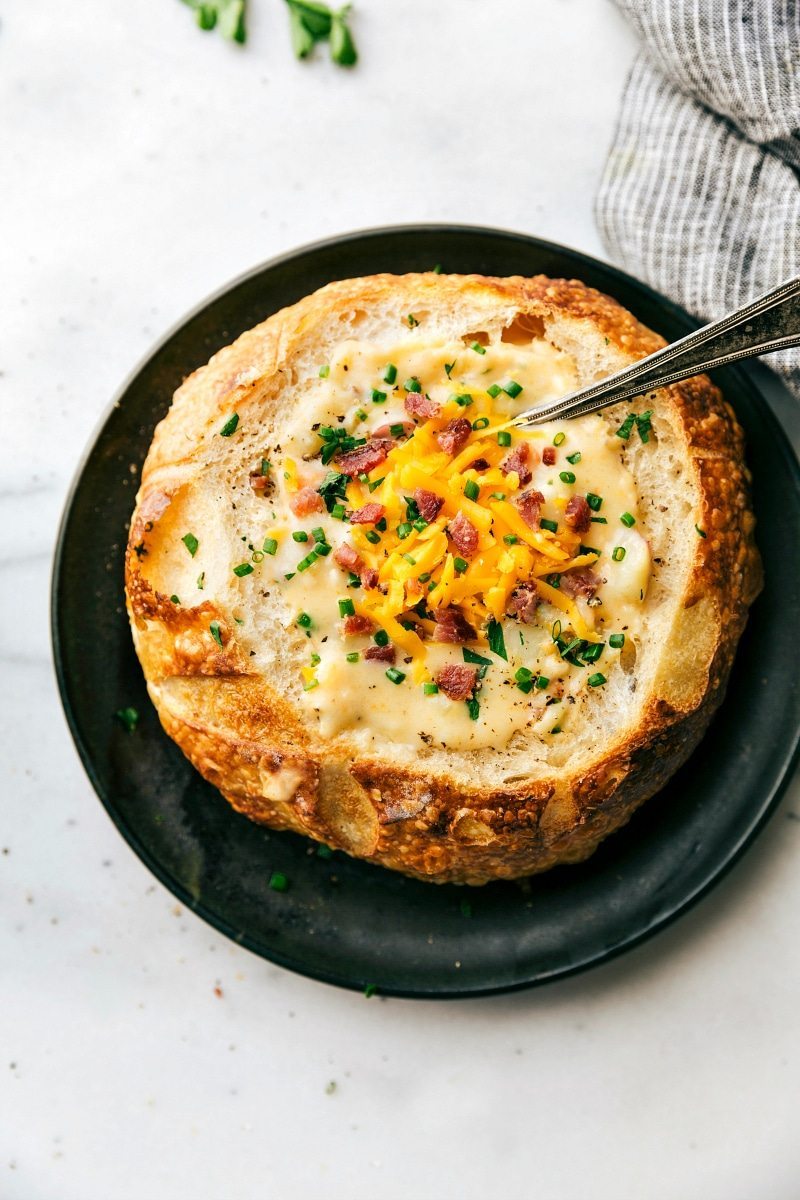 This soup was inspired by his big red potato stew and my love for baked potatoes (and their toppings). This soup tastes like a huge cheesy baked-potato loaded with all the good stuff! But I think it's made even better by using the red potatoes! It's incredibly filling and the perfect kind of comfort food.
Also, one of my favorite things about this recipe is how much it makes. It's a fair amount of effort with chopping the veggies and cooking the bacon, so it's only fair you have lots of yield! This potato soup makes a lot and is a great thing to have in your fridge for lunches all week long!
Enjoy, and stay warm!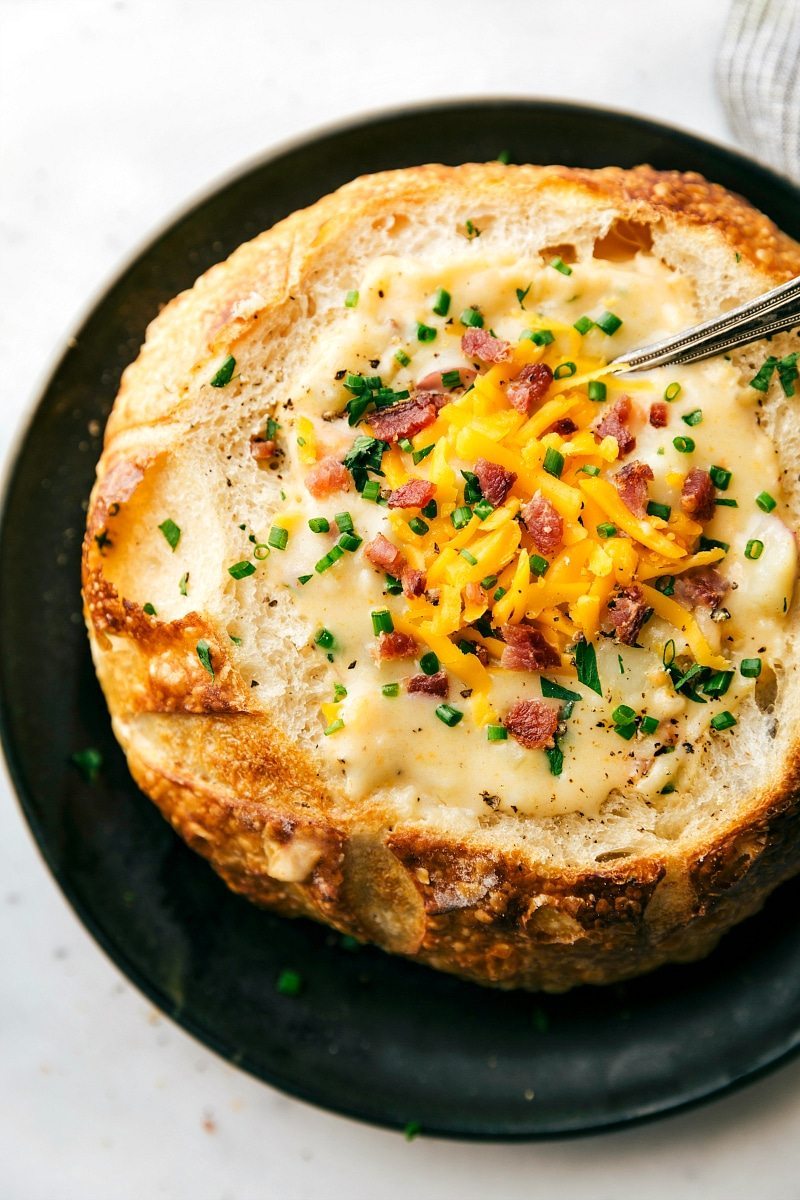 More delicious soup recipes: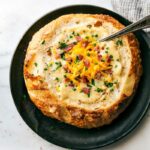 Loaded Red Potato Soup
A delicious "loaded potato" soup made with red potatoes instead! All the flavors you know and love stuffed into a potato and made into a creamy cheesy soup!
Ingredients
1

package (12 ounces)

smoked bacon

1

small onion

2

stalks celery

1

large carrot

2

teaspoons

minced garlic

2

pounds

red potatoes

cubed*

6

regular sized chicken boullion cubes

or 6 cups chicken stock

2/3

cup

unsalted butter

3/4

cup

white flour

4

cups

whole milk

at room temperature

1

container (8 ounces)

sour cream

I use reduced fat

2 and 1/2

cups

sharp cheddar cheese

separated

Salt and pepper

Chives or green onions
Instructions
Prep: Wash the red potatoes and cut into small cubes. Peel if desired (I like to leave the peel on). Dice the onion, dice the celery, dice the carrot.


In a very large pot, over medium heat, cook all of the bacon to desired doneness.


Remove onto a paper towel lined plate and dab off the excess grease. Coarsely chop the bacon.


Drain all of the bacon fat except for 3 tablespoons.


Add in the onion, celery, and carrot and cook until the onion is translucent over medium heat, about 5-7 minutes. Add the garlic in the last 30 seconds.


Add in the potatoes and toss everything to coat.


Cover everything with 6 cups water and 6 regular sized chicken boullion cubes (watch out, there are extra large ones -- if you get large ones adjust) OR 6 cups chicken stock. SEE NOTE to finish in crockpot.


Heat to boiling and then reduce the heat and cook for about 10 minutes or until potatoes are tender.


Using a potato masher, mash down some of the tender potatoes, leaving some chunks.


In another pot, melt the butter over medium heat.


Slowly whisk in the flour and whisk until smooth. Cook for one minute over medium heat.


Very slowly add in 2 cups of room temperature milk.


Whisk until thickened. Add in a generous amount of salt and pepper (I add about a teaspoon of each, but to your preference!)


To the potatoes: add in the cream mixture, additional 2 cups of milk, sour cream, generous amount of chives or green onions, 2 cups of the cheese, and half of the cooked bacon.


Stir and cook until heated and cheese is melted.


Top individual bowls with remaining 1/2 cup cheese, remaining bacon, and remaining chives/green onions. Enjoy warm!

Recipe Notes
*I like to leave the skin on, but peel if that is your preference
TO MAKE IN THE CROCKPOT: Follow steps 1-7 and then put everything into the crockpot (besides the cooked bacon). Cook on low for 5-7 hours or high for 3-4 hours. Mash the potatoes in the crockpot and then continue on with step 10-13. Add everything in the crockpot and cover for 15-20 more minutes on high to heat everything through. Continue with step 16-17. 🙂 You'll want to use a 6 quart crockpot for this meal.