Chicken Tortellini is a delicious combination of cheese-filled tortellini, tender bites of chicken, and fresh broccoli, tossed in a cheesy sauce and baked until hot and bubbly. This easy casserole is comforting, flavorful, and filling.
This chicken tortellini bake can be prepared ahead of time and is the perfect dish to bring to a family or friend in need. Serve this dish alongside a simple fruit salad and these dinner rolls.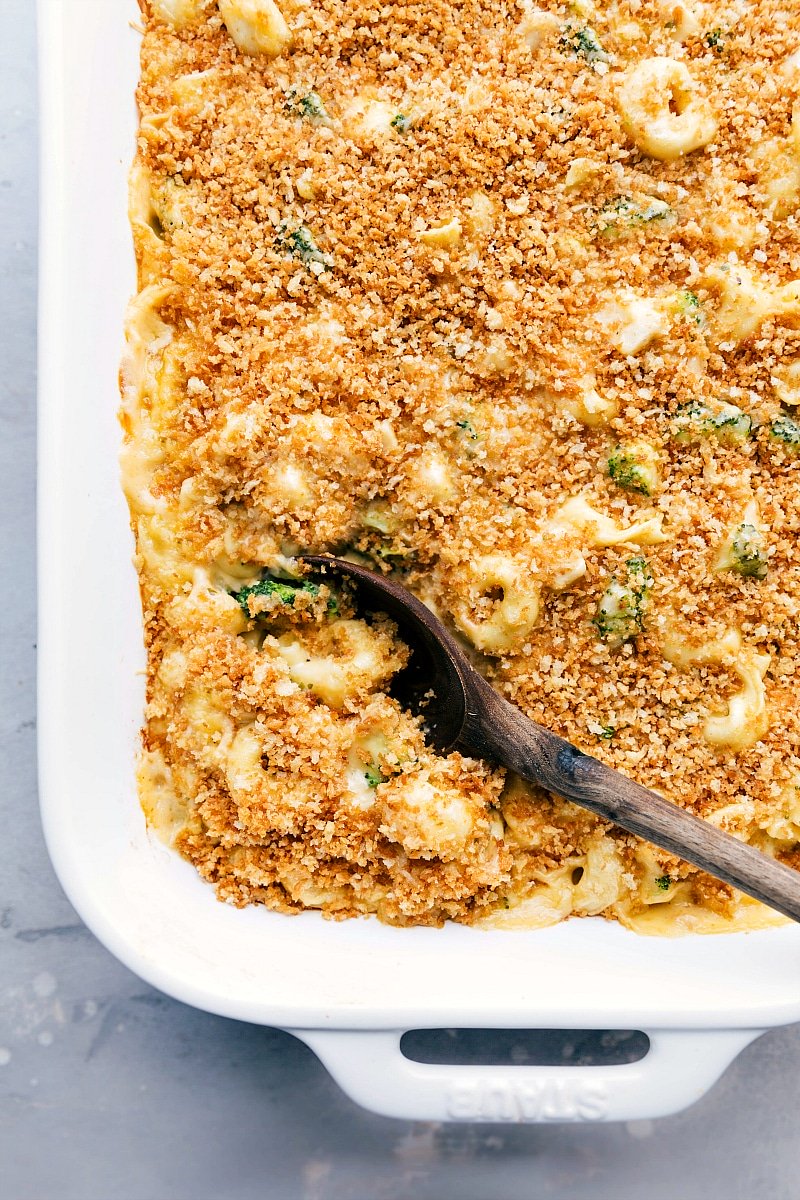 As far as comfort food goes, there aren't too many things better than lots of cheese and plenty of pasta (ok, or mashed potatoes). And while mac & cheese is fine and all, when you try this chicken tortellini, it may just become your go-to for comfort food.
It's so quick and easy to make, thanks to a few shortcuts. We're using rotisserie chicken (already cooked, tender, and flavorful chicken with zero prep) and frozen tortellini that you don't need to thaw or bake beforehand. We're also skipping a pot to cook the broccoli in, because if you cut it small enough, it will bake through in time. I'm all about the shortcuts (as long as they work) and I can tell you this casserole comes out perfectly every single time!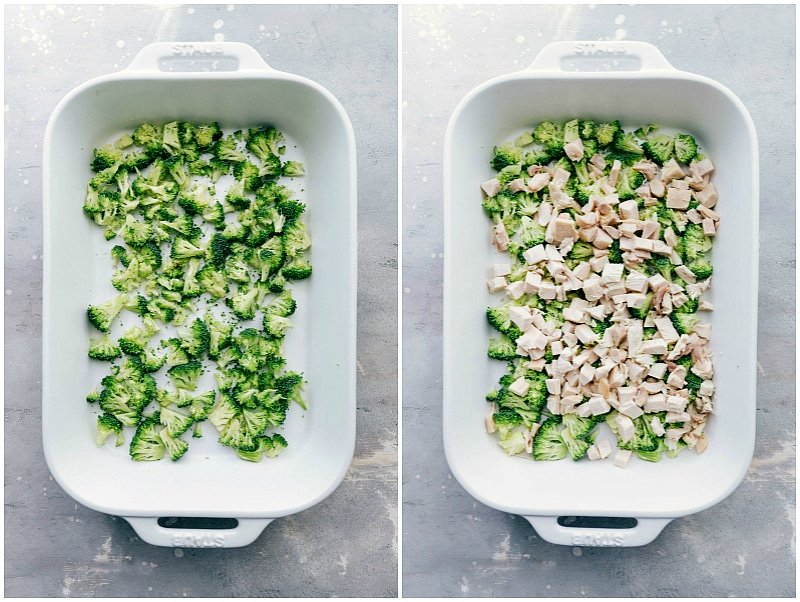 While this meal is pretty inclusive — veggies (broccoli), protein (chicken), and carbs (pasta), it could benefit being served alongside some greens or a lighter side dish. Below are a few ideas.
What to serve with Chicken Tortellini
For side dishes, a large garden salad (such as this Olive Garden Salad copycat or this Italian Salad) would be delicious.
Hard dinner rolls, garlic bread, or crusty bread would create a delicious avenue to sop up any leftover creamy sauce.
While this dish already has broccoli, if you're looking to add more veggies, these roasted vegetables are a great option for a side dish.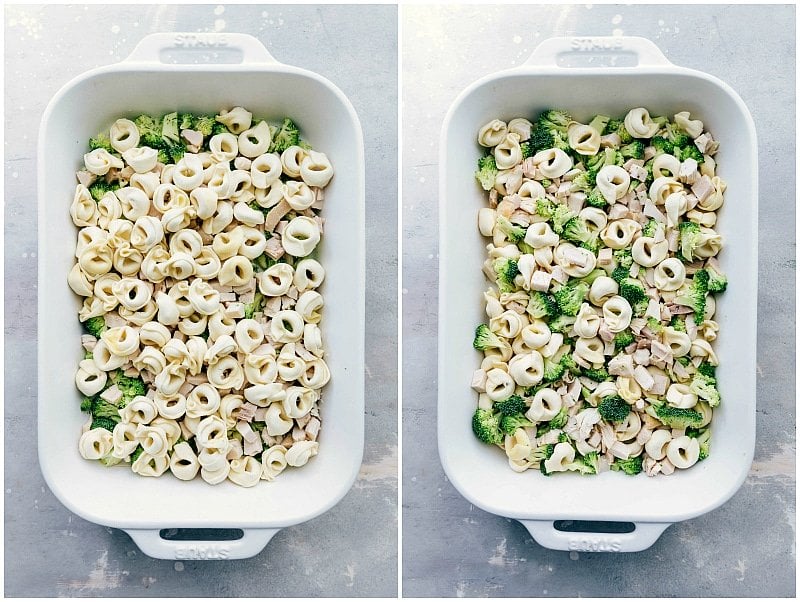 Love chicken and tortellini? Here are some other ideas.
Chicken Tortellini variations
Chicken Tortellini with pesto: This is our favorite pesto chicken tortellini recipe.
Switch up veggies: Instead of broccoli, try frozen peas or chopped fresh baby spinach.
Lighter sauce: Use fat-free sour cream and 1% milk for a cheese sauce with less fat.
Chicken Tortellini marinara: Try this recipe and swap out the sausage for chopped rotisserie chicken.
Chicken tortellini salad: try this Greek tortellini pasta salad and add some chopped rotisserie chicken
Cheesy Chicken Tortellini soup: Here's our favorite chicken tortellini soup!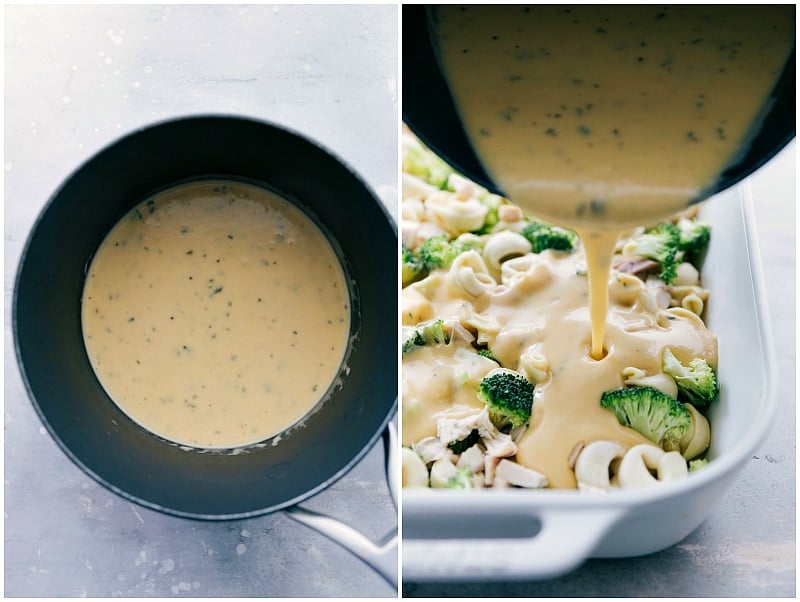 Chicken Tortellini storage
Preparing ahead of time
To make this in advance, assemble the casserole according to recipe instructions right up until baking (store panko topping separately to avoid a soggy topping). Cover with foil and place in fridge for up to 2 days.
When ready to bake, let casserole sit on the counter as the oven preheats to 375 degrees F. Add panko topping and cover the casserole with foil. Bake for 45-50 minutes or until heated through and bubbly around the edges.
Reheating
To reheat Chicken Tortellini in the oven, cover the leftovers in the casserole dish with foil and bake at 375 degrees F. for 30 minutes or until warmed through.
You can also reheat individual servings in the microwave.
Freezing
Make and assemble according to directions, up until adding the panko. Store panko in a bag separately to avoid a soggy topping.
Let casserole cool from the warm cheese sauce.
Wrap securely with plastic wrap and then foil.
Label and freeze for up to 3 months.
When ready to use, thaw overnight in the fridge (it can take up to 24 hours to fully thaw).
Bake, covered, at 375 degrees F for 45-55 minutes. Add panko topping in the last 10 minutes of baking.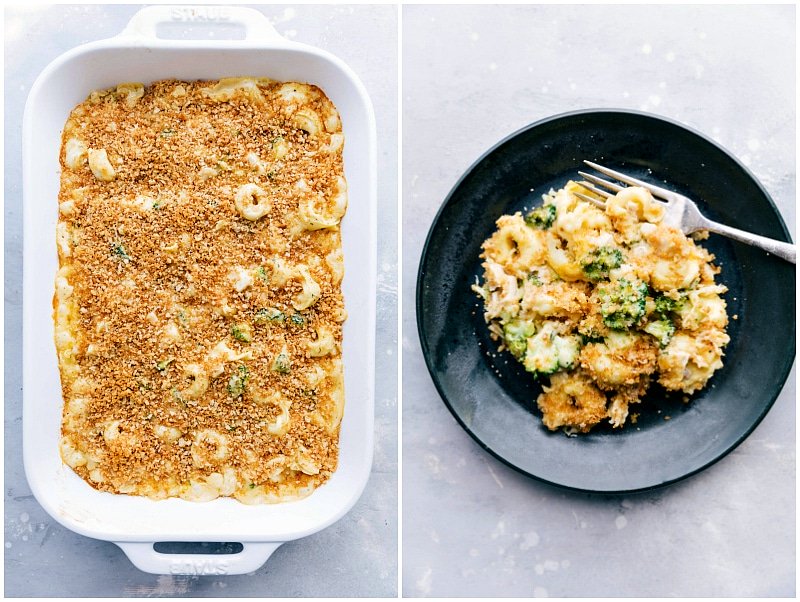 Chicken Tortellini quick tips:
Make sure to only use 1 pound (or 16 ounces) of tortellini. Any more and the sauce won't be sufficient to coat and cover everything.
I have tried this dish with fresh tortellini, but it tends to absorb too much liquid. I recommend sticking with frozen tortellini.
Freshly grated cheese allows for a perfect melt into the cream sauce. If you use pre-shredded cheese, the coating on it keeps it from melting as well or tasting as fresh.
More comfort food favorites: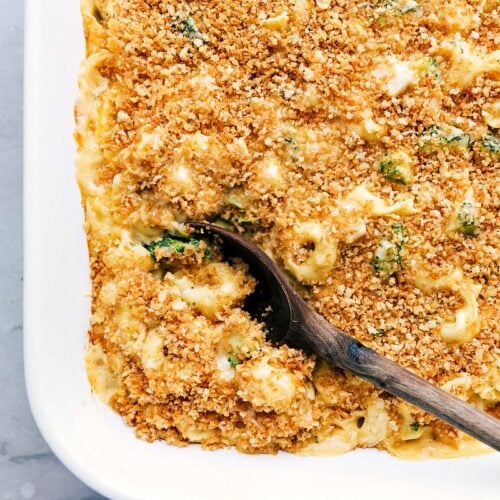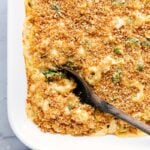 Chicken Tortellini
Chicken Tortellini is a delicious combination of cheese-filled tortellini pasta, tender bites of chicken, and fresh broccoli, tossed in a cheesy sauce and baked until hot and bubbly. This easy casserole is comforting, flavorful, and satisfying.
Course:
Dinner, Main Course
Keyword:
Chicken Tortellini
Ingredients
2

cups

broccoli,

chopped into very small pieces

2

cups

rotisserie chicken,

chopped into small pieces

1

pound (16 ounces)

frozen cheese-filled tortellini

3

tablespoons

unsalted butter

1/3

cup

white all-purpose flour

1

cup

milk

(1%, 2% or whole; I use 1%)

1

cup

chicken broth or chicken stock

1

cup

freshly grated sharp Cheddar

1

cup

freshly grated Parmesan cheese,

divided

1/2

cup

sour cream

(I use fat free)

2

teaspoons

chicken bouillon powder

1 and 1/2

teaspoons

Dijon mustard

1

teaspoon

EACH: dried parsley flakes, roasted garlic powder

1/4

teaspoon

granulated onion

Salt and pepper
Topping
2

tablespoons

unsalted butter

3/4

cup

Panko

(next to breadcrumbs)
Instructions
CASSEROLE: Preheat the oven to 375 degrees. Cut the broccoli into small pieces (no need to cook beforehand if you chop it small). Chop the chicken into small pieces. Add both to the bottom of a 9x13-inch baking dish. Add the frozen (not thawed and not cooked) tortellini on top. Toss everything to combine.

SAUCE: Melt 3 tablespoons butter in a small pot over medium heat. Once melted, gradually add in flour, while whisking constantly, until a thick paste forms. Whisk for one minute to cook out the raw flour taste and then gradually add in 1/3 cup of the milk while whisking constantly. Gradually add 1/3 cup chicken stock or broth while continuing to whisk. Add in another 1/3 cup milk, another 1/3 cup stock, last remaining 1/3 cup milk, and last remaining 1/3 cup stock. Whisk after each addition until completely smooth and sauce is thickened. Add in 1 cup of sharp Cheddar cheese and 1/2 cup Parmesan cheese and whisk until completely smooth. Add in sour cream and whisk again until smooth. Stir in the chicken bouillon powder, Dijon mustard, dried parsley, garlic powder, granulated onion, and salt and pepper to taste (I add 1/2 teaspoon salt and 1/4 teaspoon pepper; add to taste preference -- the Parmesan cheese does add a good amount of saltiness as well).

ASSEMBLE AND BAKE: Pour the sauce over everything in the casserole dish and toss ingredients to evenly coat. Make sure the tortellini is covered with the sauce. Sprinkle remaining 1/2 cup Parmesan cheese over top of the casserole. Cover with foil and bake for 30 minutes. Meanwhile, in a saucepan over medium high heat, melt the 2 tablespoons butter for the topping. Add the panko crumbs and toast, stirring constantly, until panko is light brown and toasted. After casserole has baked for 30 minutes, remove and then sprinkle topping evenly over cheese. Bake, uncovered, for another 8-10 minutes or until warm and bubbly. Remove and serve hot.