Our absolute favorite chicken salad made in wrap form with tomatoes, avocado, and lettuce. These chicken salad wraps are packed with flavor!
The chicken salad portion of this wrap can be made ahead of time and stores well in the fridge for up to 4 days. Make it ahead of time for a quick lunch assembly or a great weekly meal prep option.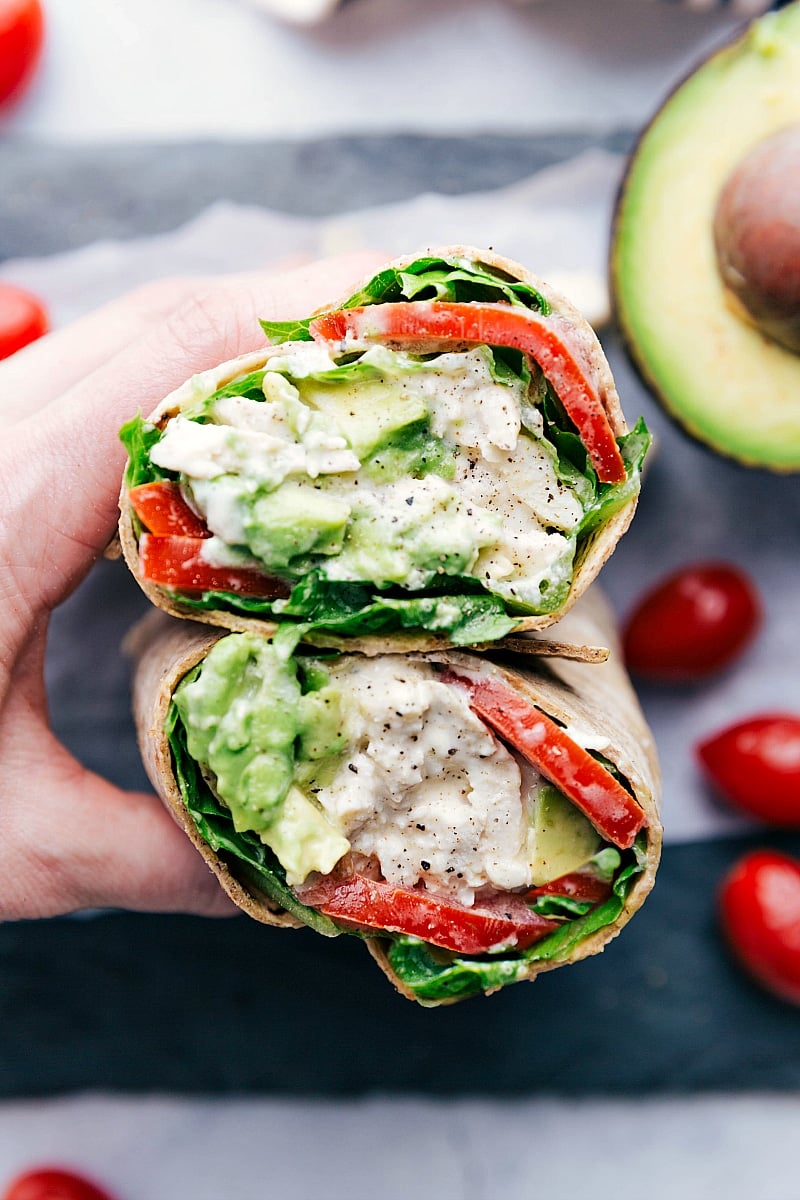 Growing up we had two lunches more than any other meals I can remember — wraps and healthy-ish black bean nachos. More on nachos another day, because today we're talking wraps.
What was filling the wraps changed often — deli meat, leftover holiday ham, hummus & veggies, or chicken salad. The chicken salad filled wraps were always my favorite.
And especially when they were loaded with avocados and tomatoes! Today I'm sharing my favorite chicken salad wrap recipe loaded up in a whole wheat tortilla and packed with tomatoes and avocado.
How to serve this recipe
I've mentioned a whole wheat tortilla, but any tortilla works. Use your favorite! I like the flatout flatbreads for a healthier option.
If you're looking to keep things lower carb while still using a tortilla, check out these options.
To save on calories and carbs you can omit the tortilla entirely and wrap everything in lettuce instead.
Another option is to serve on crackers or apple slices
The wrap can be nixed entirely in favor of a sandwich — grab your favorite bread or a croissant and layer the ingredients on top.
And let's not forget that spooning the chicken salad straight out of the bowl is definitely an option 🙂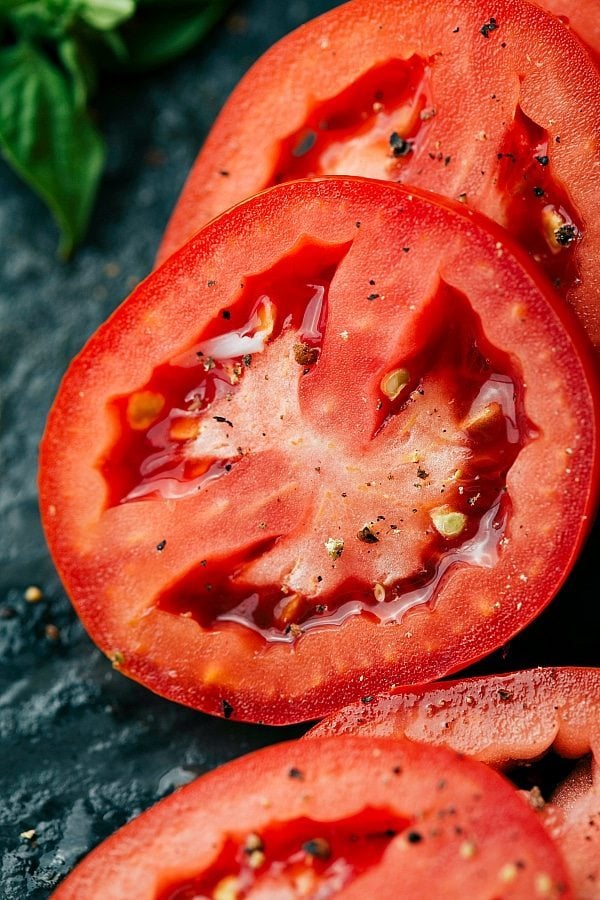 One of the great things about this recipe is how easy it is to customize and make exactly how you like! Below are a few ideas 🙂
Chicken salad wrap variations
Chicken salad wrap with cranberries: remove the avocado and tomato, add cranberries, thinly sliced celery, and slivered almonds or pecans
Sante fe style: add corn, black beans, and finely chopped cilantro to the chicken salad portion.
Chicken salad with grapes: remove the avocado and tomato and replace with halved grapes, slivered almonds, dried cranberries, and thinly sliced celery
Chicken salad wrap with cheese: feel free to add in some cheese to this recipe; I'd recommend provolone or Swiss
Spicy chicken salad wrap: these sriracha tuna wraps are incredible; try replacing the tuna with shredded chicken!
Preparing the chicken
I LOVE using rotisserie chicken: it's fast, flavorful, and tender! I like grabbing one from the store (or making one homemade) at the beginning of the week and then using it in recipes throughout the week. If you're really in a time crunch, lots of stores sell pre-shredded rotisserie chicken meat.
Alternatively, you can grill the chicken: Pound breasts to even thickness and then generously salt and pepper the breasts. Drizzle oil on both sides and grill over medium-high heat (400-450 degrees F) turning once halfway through grilling, about 4-6 minutes per side (until the thickest part of the chicken registers 165 degrees F.). Transfer the chicken to a plate and cover with foil to allow for a 5-10 minute rest. Thinly slice and then chop the grilled chicken and it's ready for this chicken salad wrap.
You can cook the chicken in a crockpot and shred it: season chicken breasts generously with salt and pepper and then place in the bottom of a crockpot. Cover the breasts completely with chicken stock or broth. Cook on low for 5-7 hours or high for 3-4 hours. Remove chicken, drain the liquid, and chop the cooked breasts for this recipe.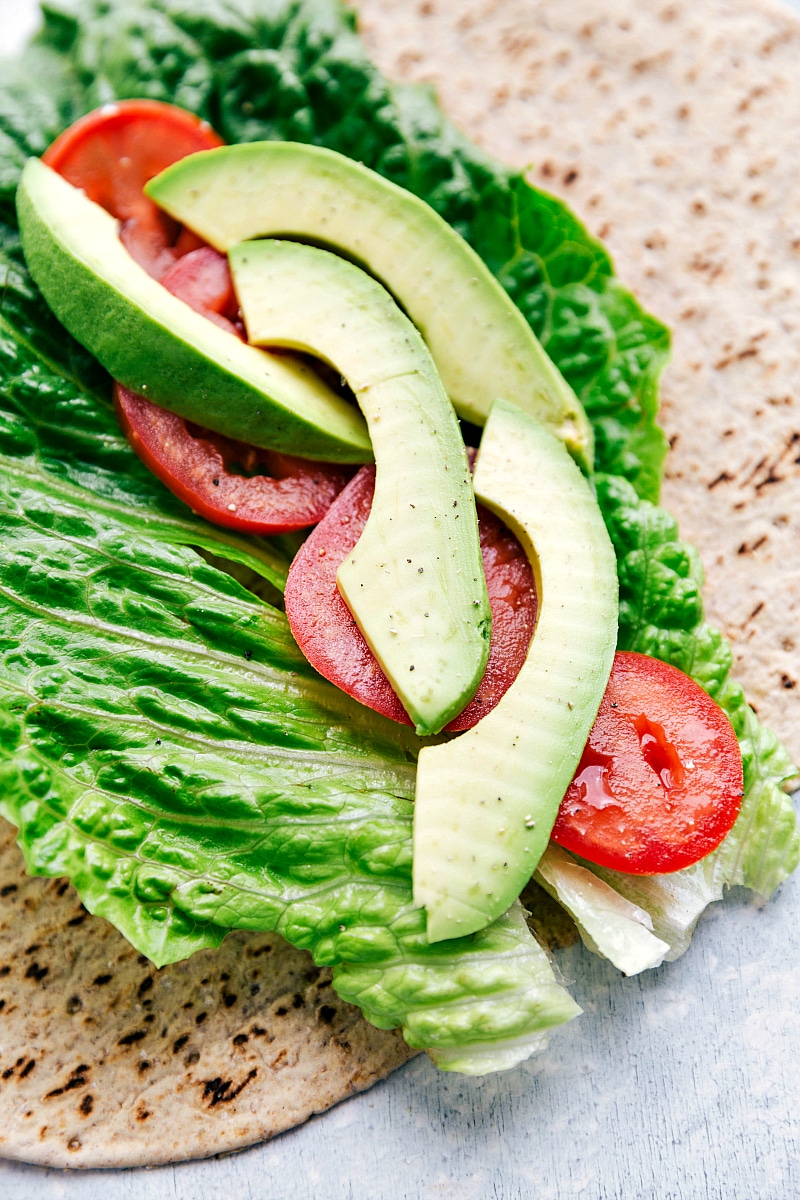 More easy recipes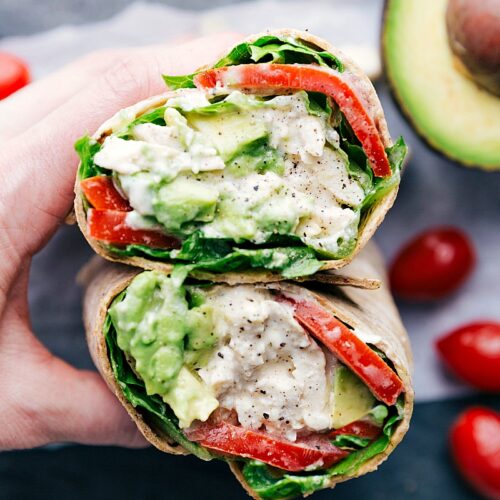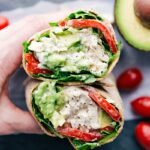 Chicken Salad Wrap
Our absolute favorite chicken salad made in wrap form with tomatoes, avocado, and lettuce. These chicken salad wraps make the perfect easy meal and are packed with flavor.
Cuisine:
American, Healthy
Keyword:
Chicken Salad Wrap
Ingredients
2

cups

prepared rotisserie chicken,

chopped into small pieces

2

stalks celery,

thinly sliced

1/4

cup

full fat mayonnaise

2

tablespoons

sour cream

(fat free or light is great!)

1

tablespoon

honey

1 and 1/2

teaspoons

Dijon mustard

1

teaspoon

freshly squeezed lemon juice

Salt and pepper

to taste

4

whole wheat wraps (I use flatout),

(Note 1)

4-6

pieces washed and dried romaine lettuce

2-3

roma tomatoes,

thinly sliced

1

large

avocado,

thinly sliced
Instructions
In a large bowl, add in the chopped rotisserie chicken and celery.

Add the mayo, sour cream, honey, Dijon mustard, lemon juice, and a generous (or to taste) sprinkle of salt + pepper.

Gently stir all of the ingredients together until combined. Taste and adjust for seasonings (salt, pepper, additional lemon, etc.)

Lay out the tortillas. Place 1-2 pieces of washed and completely dried romaine lettuce in the center (slightly to the right) of the tortilla. Layer the thinly sliced roma tomatoes on top and lastly the thin slices of avocado.

Spoon the prepared chicken salad right on top. Gently roll up the tortilla, slice in half with a sharp knife, and enjoy immediately.
Recipe Notes
Note 1: the total amount of tortillas and toppings (lettuce, tomato, avocado) completely depends on what type of tortillas you get (how large they are) and how loaded you want your wraps. We usually get 4 loaded chicken salad wraps from this recipe, but you can stretch it to get 6!
Chicken salad wrap calories