Tasty and quick (10-minute prep time!) Italian chicken and veggie wraps with lettuce, tomatoes, avocado, parmesan cheese, croutons, and Italian dressing.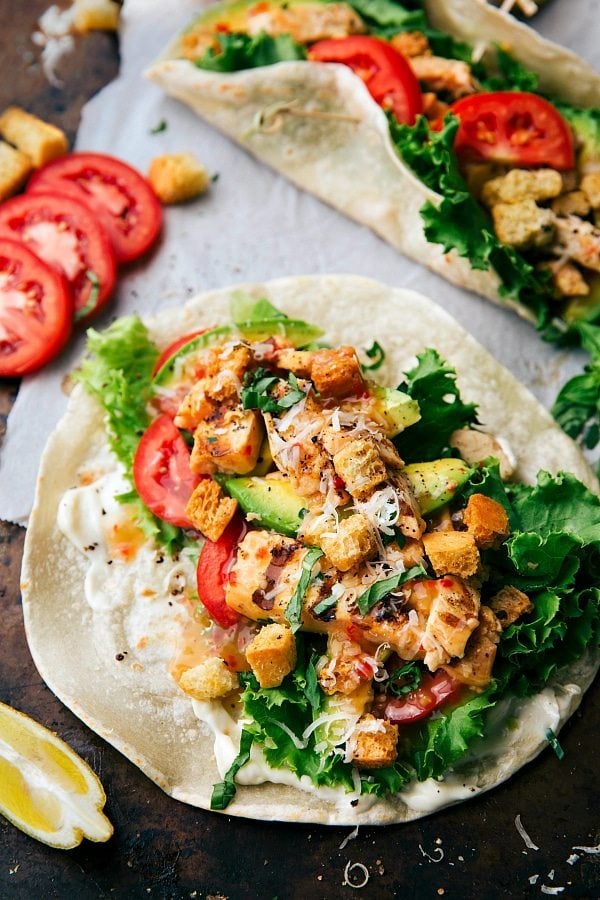 I am a total freak for croutons. When I was in college and didn't have a whole lot of extra time to make my own croutons, I would buy bags of them and snack on them just like normal people snack on pretzels, crackers, or cookies.
I could eat a bag in a couple of days, or, if it was finals time, in a couple of hours. ? These days I don't really snack on croutons by themselves all that much, but they do get added to a lot of our dinners — particularly our side salads.
When I had the idea to do an Italian type of chicken wrap recipe, I thought Italian-flavored croutons would be amazing in them. It is literally life changing to add croutons to a wrap. You get a nice crunch, a different texture, and a great complimentary flavor. Honestly, try it. I don't think you'll ever go back.
And now that I've yapped on about croutons for several minutes, I very solemnly promise to never ever do that again on this site.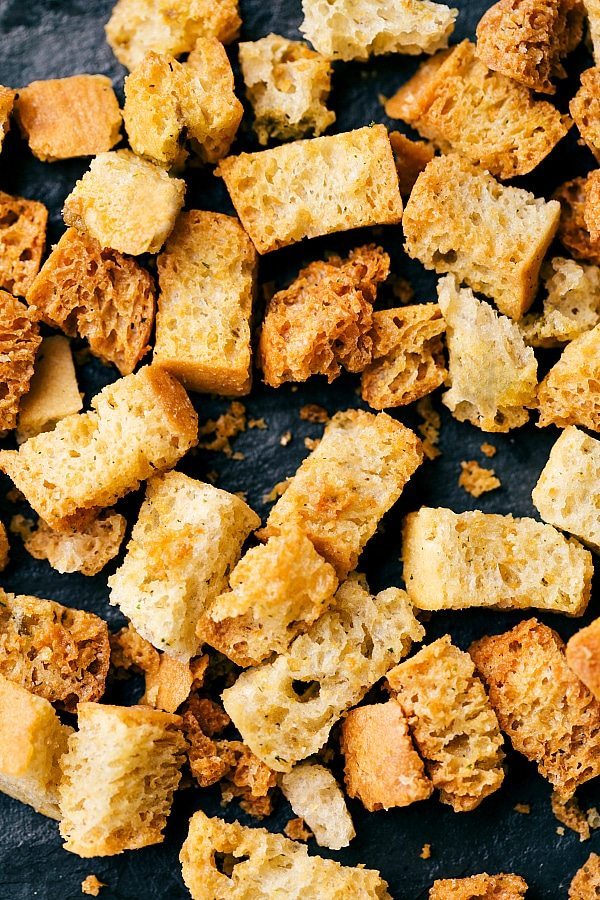 So let's talk about the other ingredients, shall we? It first starts with my favorite tortillas. I've told you all about these tortillas quite a few times because they are my family's favorite — they are the TortillaLand tortillas. They are freshly made (but not cooked) tortillas in the refrigerated section of the grocery store so you do have to quickly cook them up on the stovetop, but it is well, well worth the extra step. They are ultra-fresh, soft, chewy, and completely delicious.
They only take about 30 seconds per side of cooking and they are ready to go.
Next you'll top the tortillas with mayo + Parmesan cheese. The Parmesan cheese is a huge flavor boost and definitely contributes to the Italian flavor. After that you've got pretty standard veggies — lettuce, tomato, avocado.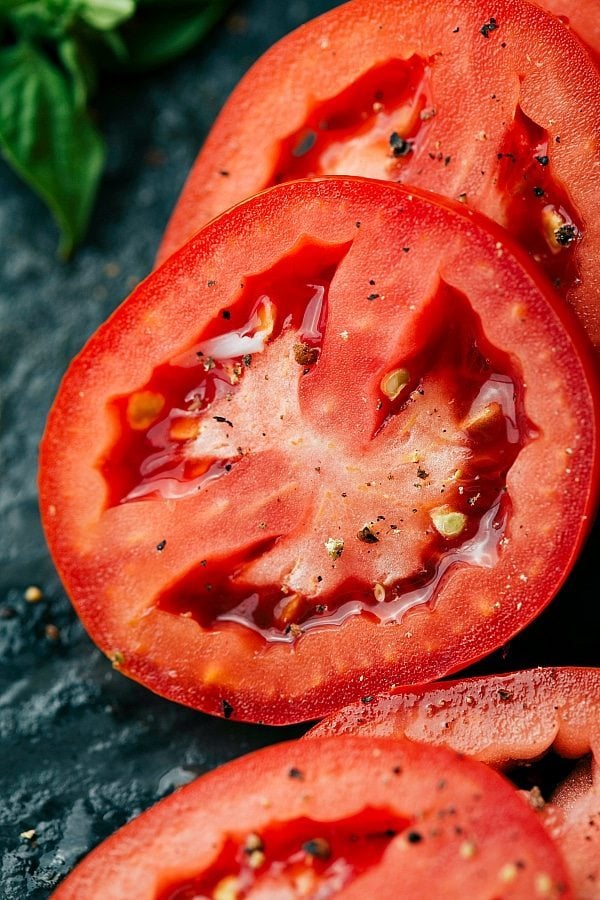 And then comes the chicken. You are probably wondering why I can claim these take less than 10 minutes if these have chicken on them…am I right? That's because the chicken is PRE-COOKED. I use the Tyson Grilled & Ready Chicken in these. The chicken is deliciously tender and tastes like its right off the grill (minus the heat of it). It's also (obviously) in the refrigerated section so it's cold. The right-out-of the fridge chicken is perfect for these wraps. You don't want to warm it up which is perfect since that would take an extra step anyways. 🙂
And last, but not least, you've got a generous drizzle of Italian dressing and those croutons (slightly crushed up) that I went on about forever.
Add some ribboned basil if you have some for an extra boost of delicious and fresh Italian flavor, roll 'em up tight, and enjoy! You'll have one heck of a satisfying, protein-packed, flavor-bursting wrap in the matter of mere minutes.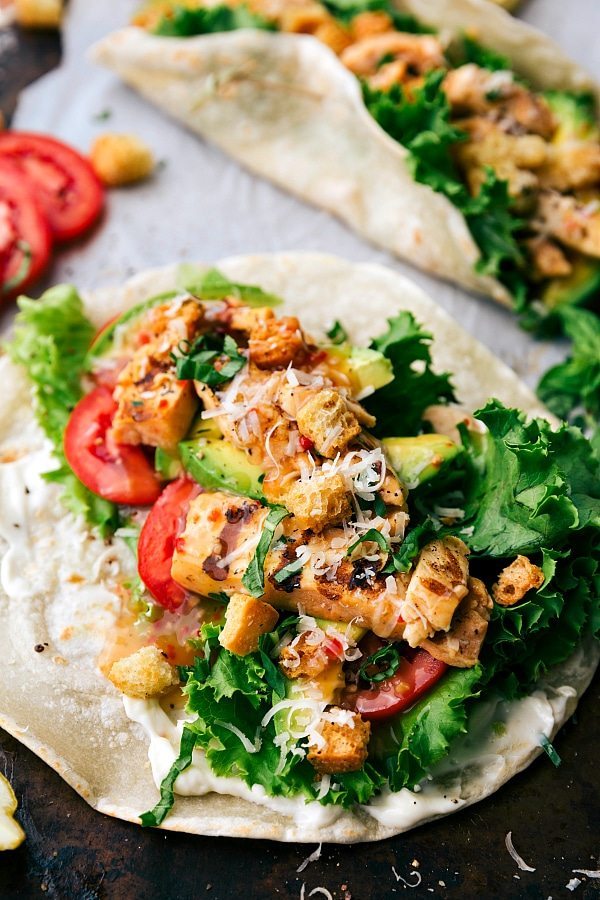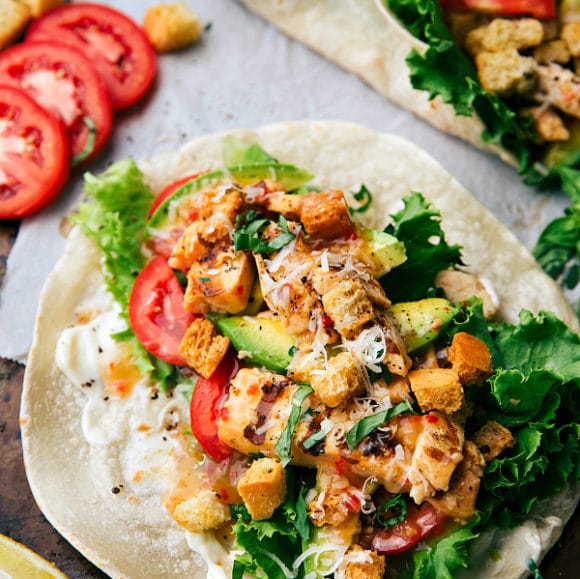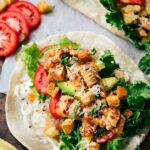 10-Minute Italian Chicken Wraps
Ingredients
4

Flour Tortillas

1/2

cup

regular mayo

1/2

cup

freshly grated Parmesan cheese

separated

4

pieces

of leaf lettuce

2

large Roma tomatoes

1

large avocado

Tyson grilled and ready chicken

or prepared rotisserie chicken, or leftover grilled chicken

1/3

cup

Italian dressing

Salt and freshly cracked pepper

1/2

cup

Italian flavored croutons

regular works okay

10

leaves

fresh basil
Instructions
Prepare the tortillas according to package directions and let cool slightly.

Spread the mayo evenly among all the tortillas -- about 2 tablespoons per tortilla.

Top each tortilla with about 2 tablespoons Parmesan cheese

Next lay down 1 large leaf of lettuce on each tortilla.

Thinly slice the tomatoes and divide evenly among the 4 tortillas.

Remove the pit and skin of the avocado, thinly slice, and add an even amount of slices to the tortillas.

Top the tortillas evenly with the prepared chicken.

Drizzle the Italian dressing evenly on each tortilla on top of the chicken.

Add freshly cracked pepper and salt.

Slightly crush the croutons and divide them evenly among the 4 tortillas.

Ribbon the basil and again, divide the basil pieces evenly among the tortillas.

Roll them up tightly and enjoy immediately.