The ultimate strawberry shortcake: tender and sweet homemade biscuits piled high with fresh whipped cream and juicy strawberries. You won't believe how easy it is to make this dessert from scratch!
I'm sharing an amazing strawberry shortcake recipe from scratch, all my tips and tricks to perfect biscuits, strawberry shortcake variations, and how to store leftovers.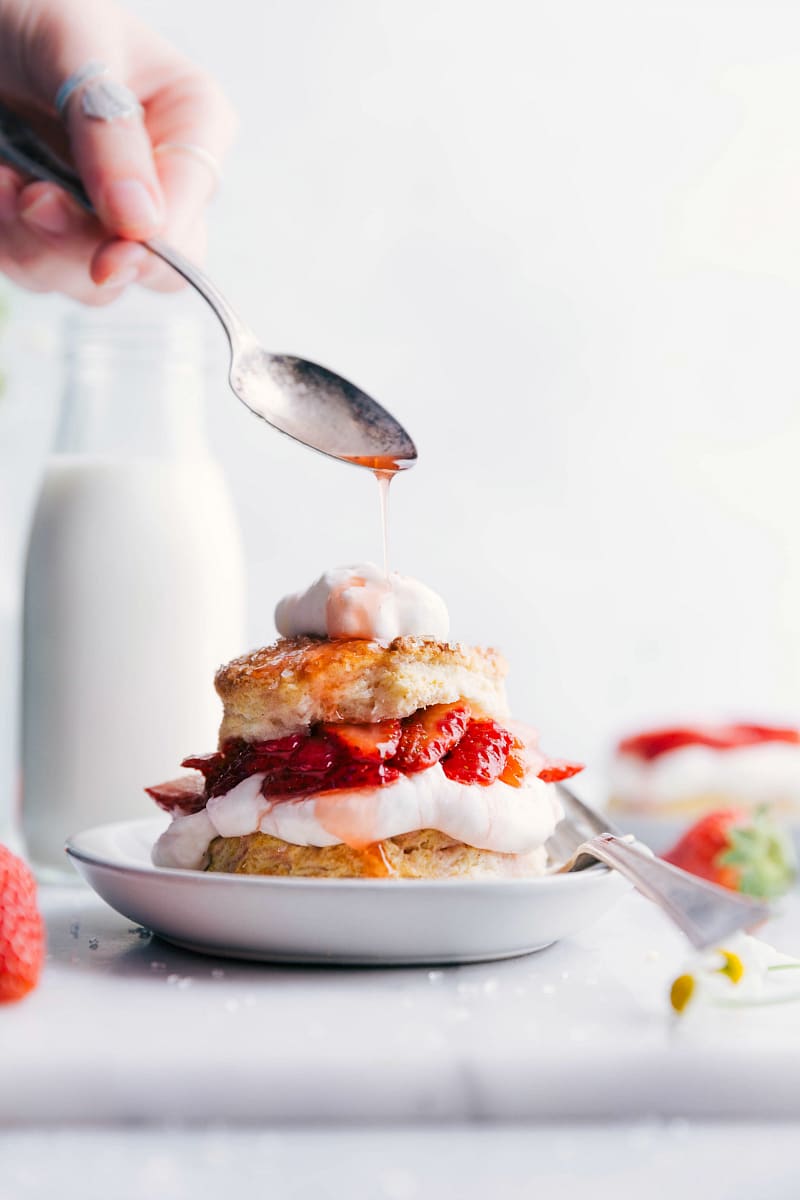 If I'm left to pick out a dessert, I'll always go for chocolate (namely chocolate cheesecake), but after being married for (almost) 8 years to a fruity-dessert-obsessed husband, I've slowly become converted to fruit filled desserts. Strawberry shortcake is one of those desserts. With homemade biscuits (don't worry, they're easy!), fresh and plump strawberries, and perfectly soft and sweet whipped cream — I may just pick these over chocolate any day.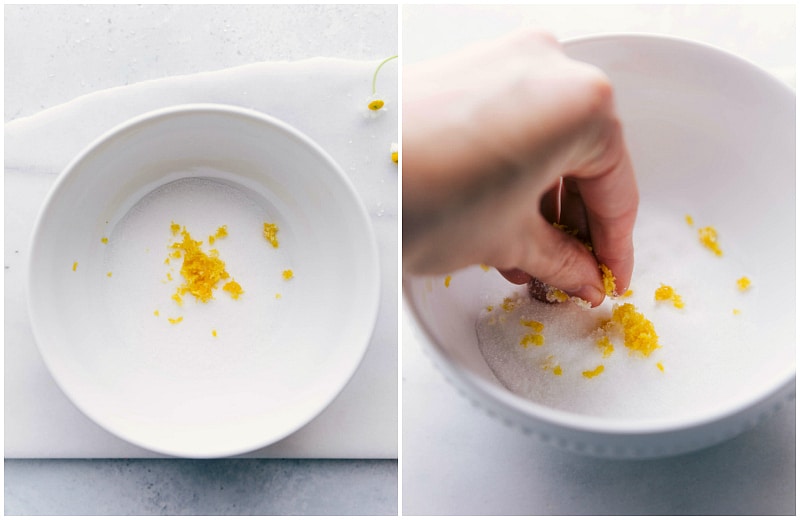 Strawberry shortcake can be made so many different ways, but our favorite is with homemade biscuits.
What does strawberry shortcake mean?
A traditional strawberry shortcake recipe generally includes a cake or slightly sweetened biscuit that's baked, split in layers, and filled with macerated strawberry topping and whipped cream.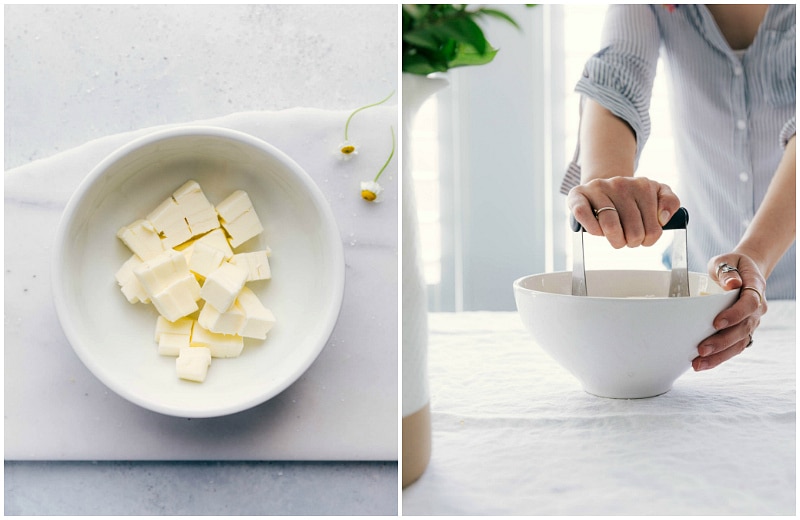 How to make strawberry shortcake
Macerate strawberries: toss sliced strawberries with sugar and set aside. This allows them to soften and become sweeter.
Prepare the biscuits: while these biscuits aren't overly complicated to make, check out the tips below and pay close attention to the instructions, and you'll be successful!
Whipped cream: once the biscuits are mostly cooled, start the whipped cream. If you haven't ever made whipped cream from scratch, it's SO easy; I wrote a guide here: how to make whipped cream.

Strawberry shortcake ingredients
All-purpose white flour: quick tip — make sure to spoon and level the flour into the measuring cup to avoid adding too much flour
Cornstarch: helps keep these biscuits soft inside
Lemon or orange zest (optional): biscuits aren't generally flavored with much, but I love to brighten up my shortcakes with fruit zest (it's so good with strawberries!).

To do this, I massage freshly grated zest into the sugar until the sugar is fragrant and steeped in lemon or orange oil. SO good!

Granulated sugar
Baking agents: baking powder and soda plus salt for flavor enhancement
Nutmeg (optional): adds just a touch of delicious flavor!
Heavy cream: make sure to get full fat, straight from the fridge
Buttermilk: again, full fat and straight from the fridge! This adds a slight tang and tenderness to the biscuits!
For the strawberry shortcake filling: we use strawberries, granulated sugar, heavy cream, powdered sugar, and vanilla!

Strawberry shortcake tips
Number 1 tip: keep the butter and batter as cold as possible! I chill the flour, freeze the butter after cutting it, and grab wet ingredients straight from the fridge. The colder your batter, the better your biscuits will be
When cutting out biscuits with a biscuit cutter press the cutter straight down — don't swivel, shimmy, or shake it! This is important for how they rise.
Go easy on the kneading as soon as the dough comes together — STOP. A few bumps and lumps are good 🙂 Remember we want to keep the shortcake dough as cold as possible. The more you have your hands on the dough, the softer the butter will become.
Watch the bake time: keep an eye on your biscuits while they're in the oven so they don't get overbaked.
Let baked biscuits stand: once you pull out the biscuits from the oven let them stand on the sheet pan for about 5 minutes without breaking into them. The residual heat and steam ensures the insides are fully baked through.
For the best flaky layers in the shortcakes we'll fold the dough over itself multiple times (4-6 times); don't skip this step!
Don't use a rolling pin — it will flatten your dough too much; instead use your hands to work the dough into a rectangle
Use in-season strawberries: I don't recommend using frozen (or out of season strawberries) for this recipe. For best flavor and texture, fresh is best.

Shortcake FAQs
What happens when you put sugar on strawberries?
This process is called to macerate — when you soften food by soaking it in a liquid. To macerate strawberries, we don't add a liquid, but use sugar instead. The water from inside the strawberry and the sugar added on top combines on the outside of the fruit to cause the strawberries to soften and yield a syrup.

Strawberry shortcake variations
Fold some lemon curd into the whipped cream for lemony shortcakes
For a large strawberry shortcake recipe, simply double quantities in the recipe card (to make 12)
For strawberry shortcake made with bisquick, follow the recipe below for whipped cream and strawberries and the bisquick recipe for biscuits
Try a different berry! Replace the strawberries with another berry you love such as raspberries or blackberries.
Love balsamic? Try adding a touch to the macerated strawberries.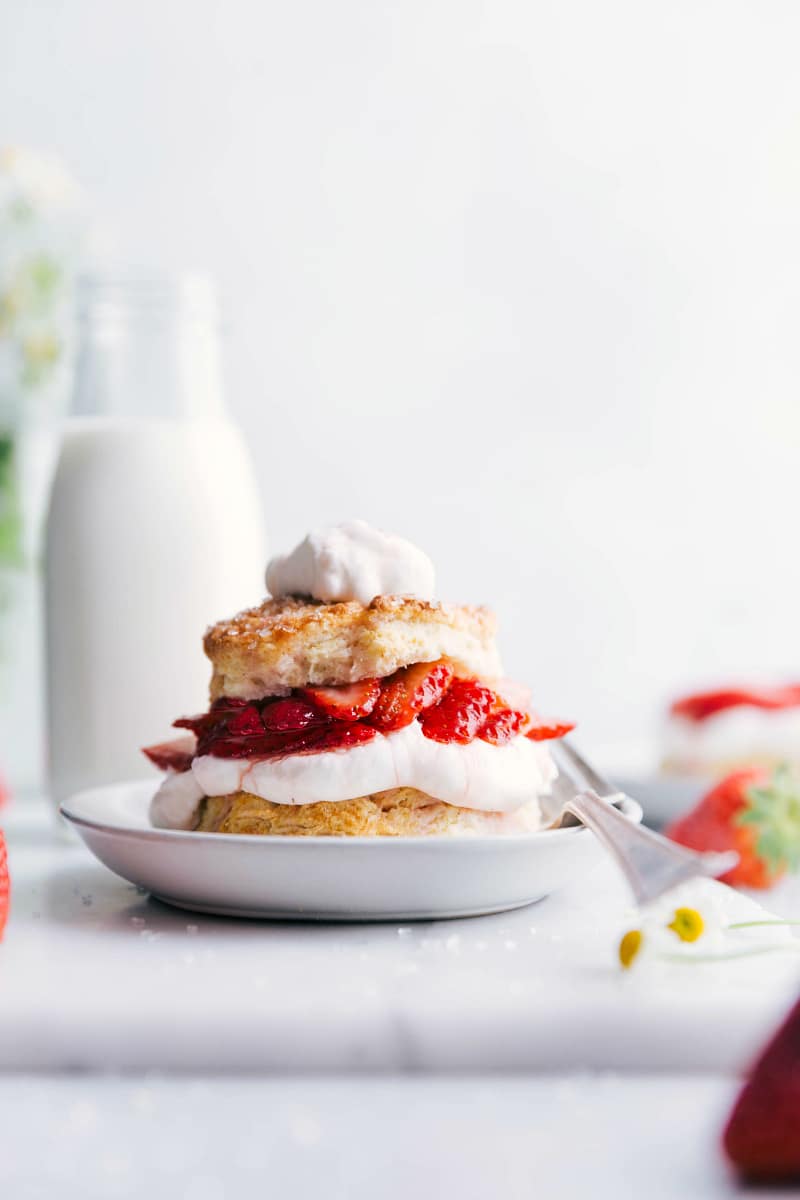 More amazing dessert recipes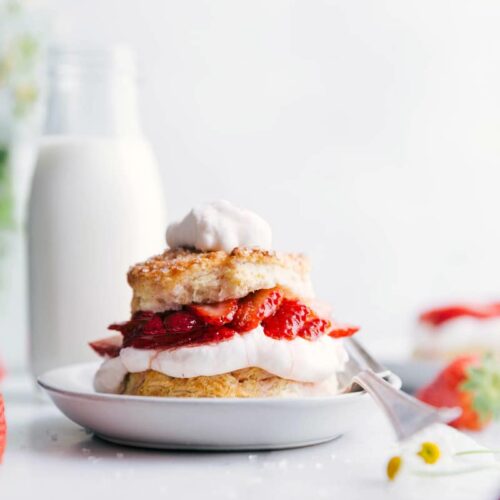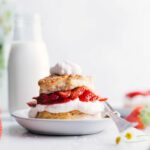 Strawberry Shortcake
The ultimate strawberry shortcake: tender and sweet homemade biscuits piled high with fresh whipped cream and juicy strawberries. You won't believe how easy it is to make this dessert from scratch!
Keyword:
strawberry shortcake, strawberry shortcake recipe
Servings
:
6
strawberry shortcakes
Ingredients
Strawberries
1

pound

fresh, washed strawberries,

tops removed and thinly sliced

3

tablespoons

white sugar
Shortcakes
1/2

teaspoon

loosely measured lemon OR orange zest,

optional

1/4

cup

granulated sugar

2

cups

white all-purpose flour

1

tablespoon

cornstarch

1/8

teaspoon

ground nutmeg,

optional

1

tablespoon

baking powder

1/4

teaspoon

baking soda

3/4

teaspoon

fine sea salt

6

tablespoons

COLD butter,

cut into small cubes

1/2

cup + 2 tablespoons

cold heavy cream,

separated

1/3

cup

cold full fat buttermilk

1-2

tablespoons

white sparkling sugar,

optional
Whipped Cream
1

cup

heavy whipping cream

3

tablespoons

powdered sugar

1

teaspoon

pure vanilla extract
Instructions
PREP: measure out flour and place in the fridge. Cut butter into small cubes and place in freezer. It's very important the ingredients are as cold as possible.

STRAWBERRIES: Thinly slice (cleaned, completely dried, & stems removed) strawberries. Place in a large bowl and add in 3 tablespoons sugar. Stir and set aside. Stir occasionally as you prepare the rest of this recipe.

SHORTCAKES: Preheat oven to 425 degrees F and line a large sheet pan with parchment paper. Set aside. In a small bowl, add the 1/4 cup lemon or orange zest* and sugar. Rub the zest and sugar together with your fingers until the zest is broken down, fragrant, and ingredients are well integrated. (*Skip this step if not adding zest)

Combine the (cold from the fridge) flour, cornstarch, sugar with zest, baking powder, baking soda, and salt in a large bowl and mix to combine.

Remove your frozen, cubed butter from the freezer and put right on top the dry ingredients. Using a pastry blender, cut the butter into the flour until the mixture resembles coarse crumbs. (If you don't have a pastry blender, use two butter knives). Make a well in the center of this bowl.

Pour the 1/2 cup heavy cream and 1/3 cup buttermilk (straight from the fridge) into the well prepared in the dry ingredients. Use a wooden spoon to gently stir until combined. Do not overmix or overwork this dough.

Transfer the dough to a lightly floured surface and use your hands to gently work the dough together. (IF it's too sticky, add a little more flour, avoid adding too much more flour as you'll get dense biscuits)

Once the ingredients have formed a ball, fold the dough in half over itself. Gently flatten the dough to a wide rectangle (see picture) (flatten using hands, never a rolling pin). Rotate the dough 90 degrees and fold in half again. Flatten with your hands again. Fold in half, flatten, rotate the dough. Repeat this process for a total of 4-6 times being careful to not overwork the dough or make it too warm. It should always remain as cold as possible.

Now flatten the dough to 1 inch thick and lightly dust a 2 and 3/4 inch round biscuit cutter with flour. Making close cuts, press the biscuit cutter straight down into the dough (don't twist or swivel it) and then place the cut out biscuit on the prepared baking sheet.

Repeat until you have cut out as many biscuits as possible and place less than 1/2 inch apart on your prepared baking sheet. Once you have cut as many biscuits as possible out of the rectangle of dough, gently re-work the dough to 1 inch thickness to get out another biscuit or two until you have 6 biscuits.

Brush with additional 2 tablespoons heavy cream and sprinkle generously with white sparkling sugar (or use granulated sugar if you don't have any). Place the pan with the biscuits in the fridge for 20 minutes.

Bake in a preheated oven at 425 degree F for 15-20 minutes or until tops and bottoms of shortcakes are a lightly golden brown and shortcakes are cooked through. Remove from the oven and let stand (without breaking them apart) for 5-10 minutes.

WHIPPED CREAM: Combine 1 cup heavy cream, 3 tablespoons powdered sugar, and vanilla extract in a large bowl.

Using an electric mixer, beat ingredients on low speed until combined. Gradually increase the speed to high and beat until stiff peaks form. Watch carefully to avoid over-beating which will cause the cream to break.

ASSEMBLY: Slice your cooled shortcakes in half (fine if they are still warm, just not hot) and place the bottom half (cut side up) on a plate. Top with a generous spoonful of cream, strawberries, and the other half of the biscuit. Spoon a little bit of whipped cream on top of the top biscuit. Enjoy as soon as assembled.
Recipe Video