A delicious, homemade-from-scratch strawberry cake with a thick cream cheese frosting and garnished with sugared strawberries. The perfect cake for Mother's Day!
Right in time for Mother's Day, I've got you covered for dessert. This strawberry cake is relatively simple to make (no worrying about different pans and layering cakes with frosting in between), moist and flavorful, packed with strawberries, and looks super pretty to boot! And after your mom goes crazy over this cake, then you'll want to use this recipe for all kinds of occasions – a baby shower (for a girl), a Princess party, a gorgeous Spring/Summer cake…there are so many times when you'll need a delicious-from-scratch pink cake!
And oh my gosh the frosting + sugared strawberries on top is pure bliss. I mean cream cheese and strawberries – is there a better combo?! And topped with sugared strawberries? Yes, yes, yes!
Slight transition here because this is my last post of the week…I'm wishing you all a very happy Mother's Day! Well, not you guys, but yeah 🙂 Happy, happy Mother's Day! I'm so grateful for my mother (and continue to be more and more grateful as I'm trying to raise this cute little guy of mine.) My mom is so special to me and someone that I look up to a whole lot. She's absolutely one of the most self-less people I've ever met; absolutely everything was about us kiddo's growing up. And she had SEVEN of us crazies! I'm grateful for everything she taught me and continues to teach me!
I'm also so grateful for all the other women in my life that have been like mother's to me. My mother-in-law is top of that list and has treated me like a daughter since I've known her which is pretty special to me. She's a whole lot of fun and she did raise one of the cutest, sweetest guys around that just happens to be my husband. IS the sap killing you yet? Because I'm not even done. I'm also especially grateful to the several women that were "mom's" to me while we lived so far from home – they helped me transition into becoming a mom and were there for me as friends – such amazing people in my life that I am forever grateful to!
I'm so grateful and it would be a shame to not share it here on the blog. Because I am also grateful for YOU! Happy Mother's Day – eat some yummy strawberry cake for me! xox
Strawberries and Cream Cake
Ingredients
Strawberry Cake
1

cup

unsalted butter

at room temperature

2

cups

white sugar

2

large

eggs

2

teaspoons

freshly squeezed lemon juice

2

cups + 3 tablespoons

white flour

5

tablespoons

cornstarch

3

tablespoons

strawberry jell-o mix

dry

1/2

teaspoon

baking soda

1/4

teaspoon

salt

1

cup

buttermilk

or milk mixed with lemon juice--check notes

2/3

cup

chopped fresh strawberries
Frosting
1/2

cup

unsalted butter

softened

1

package (8 ounces)

full-fat cream cheese

at room temperature, don't use low fat

2

teaspoons

vanilla extract

4- 4 and 1/2

cups

powdered sugar
Topping
1 and 1/2

cups

sliced strawberries

1 and 1/2

tablespoons

white sugar
Instructions
Cake:
Preheat the oven to 350 degrees F. Grease and flour a 9 x 13 pan and set aside.

Beat the room temperature butter with hand mixers until light and creamy. Slowly add in the sugar until the mixture is light and fluffy,

In another bowl, lightly beat the eggs and then add the mixture and mix along with the freshly squeezed lemon juice. Beat in the buttermilk.

In a separate bowl, sift together the flour and cornstarch 2-3 times and then add in the jell-o mix, baking soda, and salt. It is important to separate bowls so the cake isn't over-beaten which will result in a dense cake.

Add the dry ingredients to the wet and beat at low speed until just combined.

Remove the stems from the strawberries and finely chop. Add in the finely chopped strawberries to the cake.

Pour the batter evenly in the prepared 9 x 13 pan.

Bake for 30-40 minutes or until a toothpick comes out clean when inserted into the center.

Cool the cake for at least one hour and then chill in the fridge for another hour.
Frosting:
Beat the softened butter and room temperature cream cheese until completely creamy. Beat in the vanilla. Slowly beat in the powdered sugar until smooth and your desired consistency.

Spread the frosting over the cake
Sugared Strawberry topping (optional)
Stir together the sliced strawberries and sugar in a medium bowl. Let them stand at room temperature for about 20-30 minutes. Add them to the cake ONLY when serving and not beforehand.
Recipe Notes
*If you don't have buttermilk, remove 1 tablespoon from your milk and replace it with lemon juice. Mix and allow to sit for 5 minutes before using.
Adapted from MyRecipes
More strawberry desserts:
Chocolate-Covered Strawberry Frozen Yogurt Cones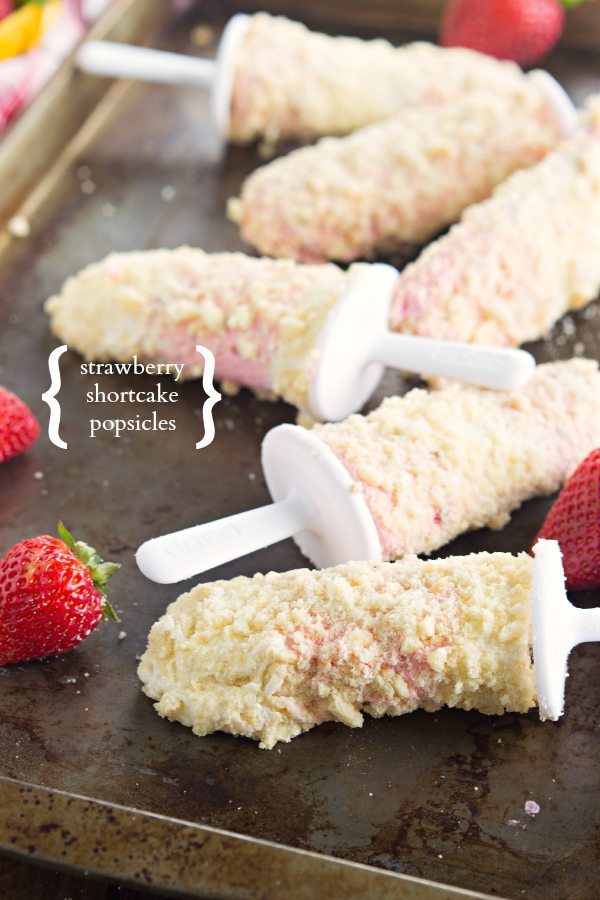 Strawberry Shortcake Popsicles
Strawberry-Lemonade Cheesecake Cookies
Strawberry Mousse Sugar Cookie Tarts