These Chicken Kabobs are made with juicy marinated chicken, ripe mangoes, crisp red onions, sweet cherry tomatoes, and tender zucchini, plus an easy four-ingredient Sriracha sauce for dipping! Chicken kabobs make for a nutritious, protein-packed, and filling meal.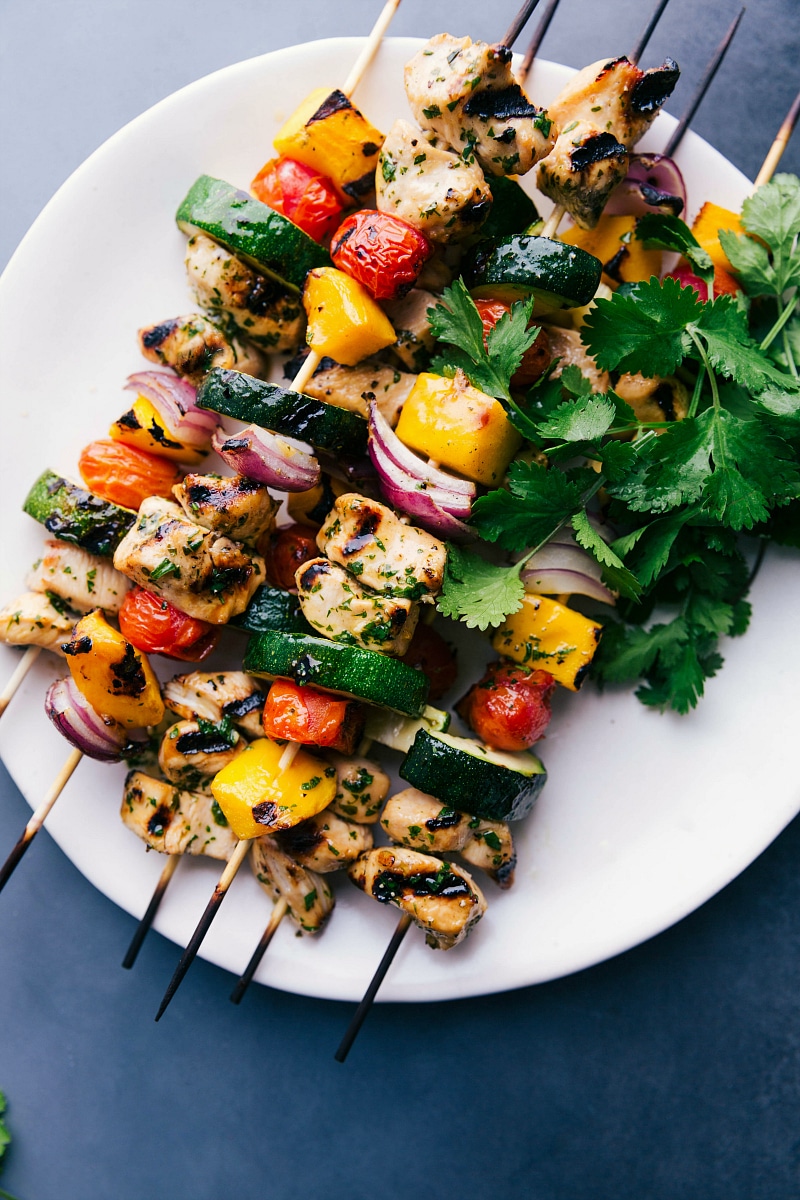 Chicken Kabobs
Chicken Kabobs are an easy remix on traditional summer kabobs, thanks to the unique marinade and the addition of fresh mango. You don't see mango in many grilling recipes, but I'll tell you that once you grill mango, you'll never want to go back. Grilling enhances the natural sweet taste of mangoes and adds a fun flavor twist to the chicken and other vegetables. The mango becomes juicy, smoky, and slightly caramelized, adding a delicious component to the dish.
If you're hesitant about the whole fruit, veggies, and chicken ordeal we've got going on, try adding just the mango to separate kabobs and enjoying it as a side dish to this meal.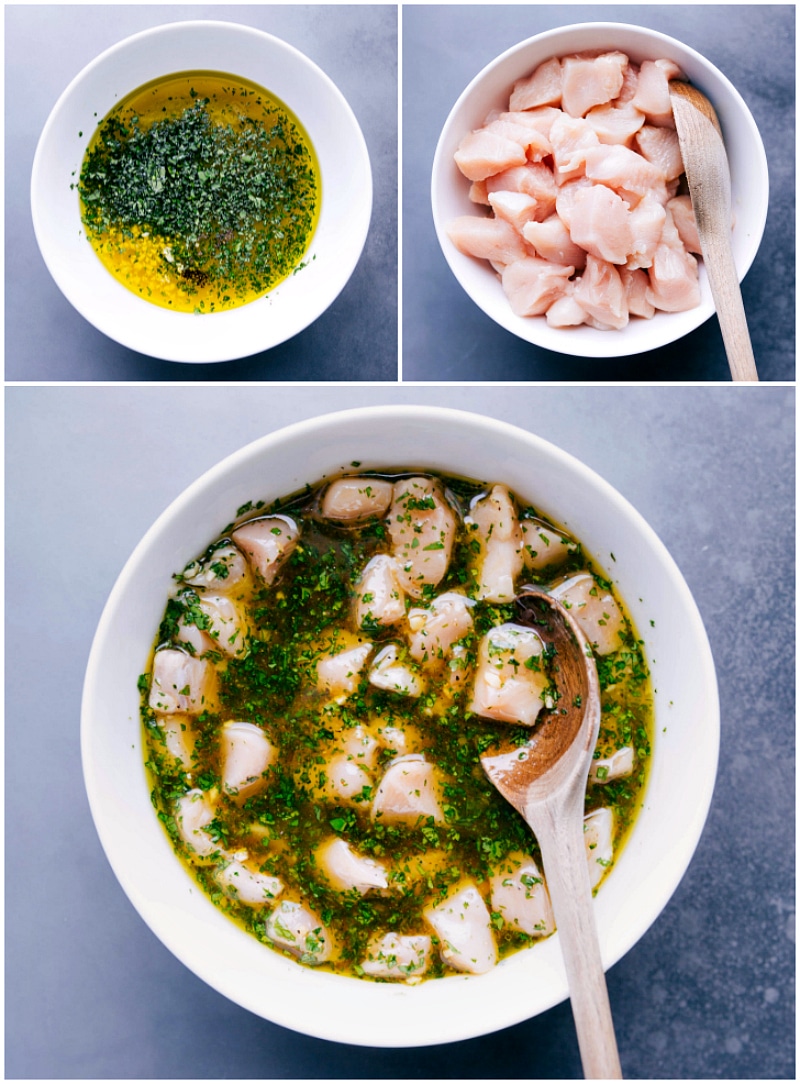 Marinade ingredients
The marinade comes together quickly and makes for incredibly flavorful and moist chicken. Feel free to use chicken thighs instead of breast– just make sure to cut the chicken into same-sized pieces for even cooking.
Olive oil: Not only does the oil keep the chicken from sticking to the grill pan or grates, it also adds a lot of flavor to the meat.
Orange juice: The orange juice adds sweetness and acidity to the marinade. While you can squeeze your own oranges, I prefer using store-bought orange juice for the added sweetness and to cut out a step of prep. I recommend Simply Orange® juice (not sponsored).
Cilantro: Cilantro adds fragrance and a unique, slightly fruity flavor to the kabobs. It pairs especially well with the mango.
Lime juice: This contributes additional acid to the marinade, while adding a different flavor than simply using orange juice.
Soy sauce: Soy sauce (or tamari sauce) brings out the meat's natural flavor and tenderizes the chicken.
Honey: Honey counteracts a lot of the acidity and sourness from the fresh citrus
Garlic, ginger, and Sriracha: All contribute flavor to the kabobs. Feel free to use dried if you don't have fresh and leave out the Sriracha if you're sensitive to heat.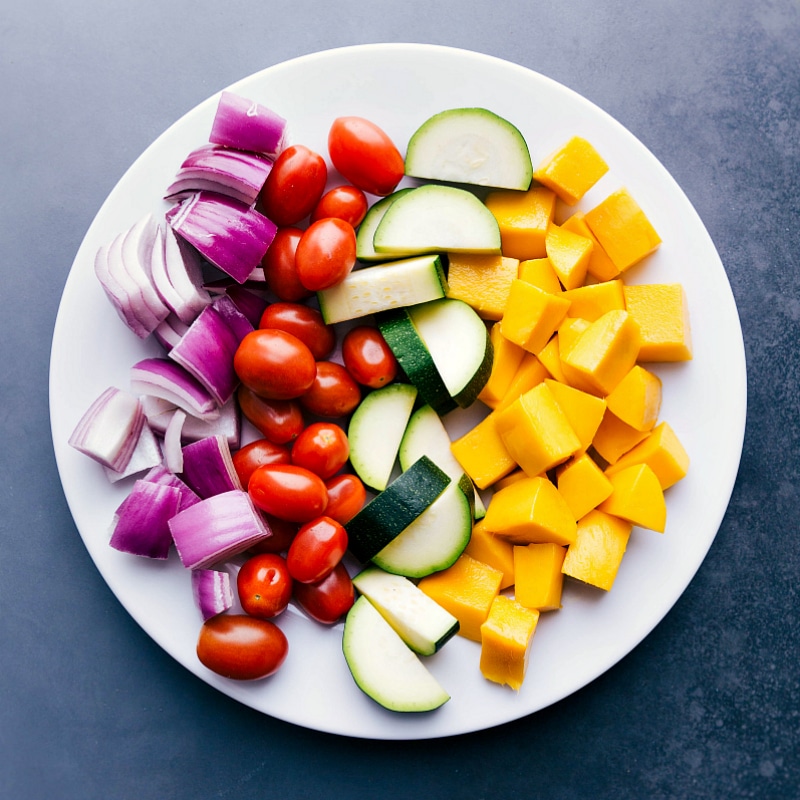 One marinade with three uses
Speaking of marinade, since we go to the work of making it, we want to make good use of it. The marinade is divided into three portions, so make sure you don't add it all to the raw chicken– or you won't be able to use it later on.
We use the marinade, obviously, to marinate the chicken.
We use it again as the chicken is cooking by brushing reserved marinade on the meat.
We'll also reserve some marinade to drizzle over the Chicken Kabobs after they're grilled as a sort of dressing.
If you do happen to add all the marinade to the raw chicken, you can boil it in a saucepan to make it safe again. More details here.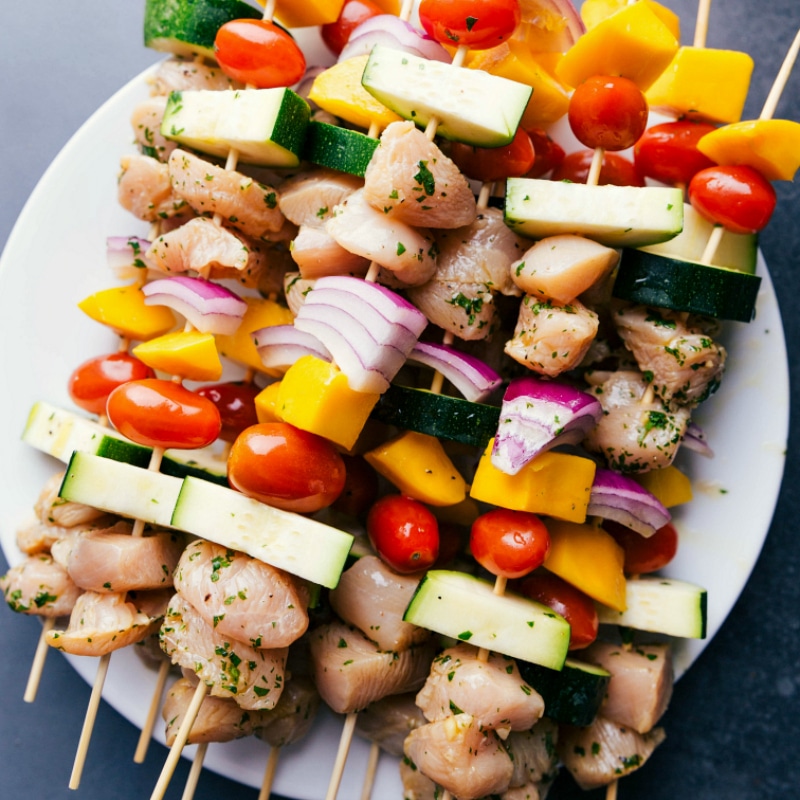 Chicken Kabob tips
Make sure the mango is fully ripe before using in these kabobs. A ripe mango will caramelize and grill much better. You can tell if the mango is ripe by squeezing gently. A ripe mango will give slightly (similar to a ripe peach or avocado). Ripe mangoes also often have a fruity aroma at the stem.
I highly recommend honey mangoes for these Chicken Kabobs (also called Ataulfo mangoes). They're sweeter and creamier than regular mangoe,s without the typical fibers throughout.
Cut veggies the same size: Aim for consistent sizes in cut veggies and chicken pieces. The more evenly everything is cut, the more evenly these Chicken Kabobs will cook.
If using thighs instead of breasts, I recommend separating the ingredients to different skewers. Fill some skewers with just chicken pieces and other skewers with just the veggies and mango. That way you can cook the chicken slightly longer without burning the veggies. Chicken thighs take a bit longer to cook than chicken breast.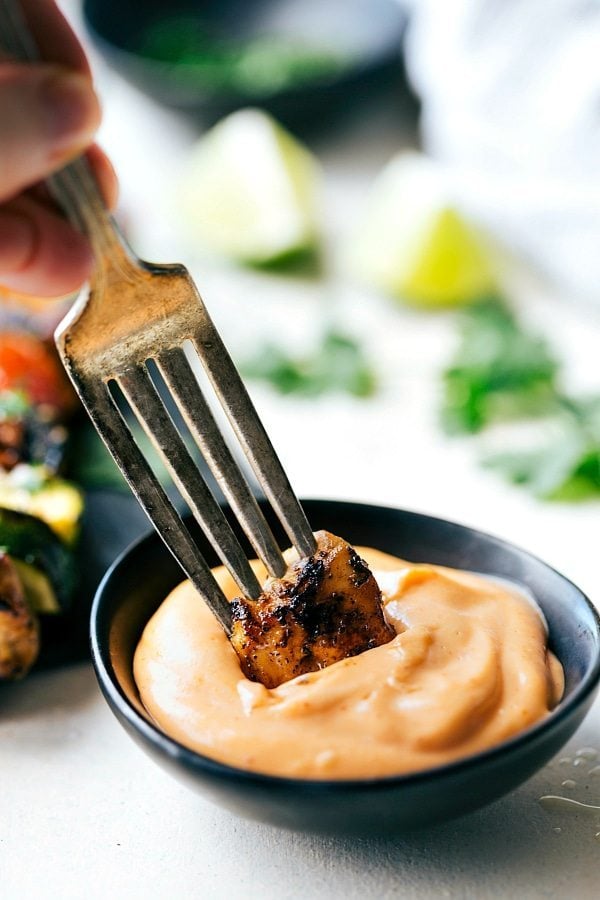 More healthy grilled chicken recipes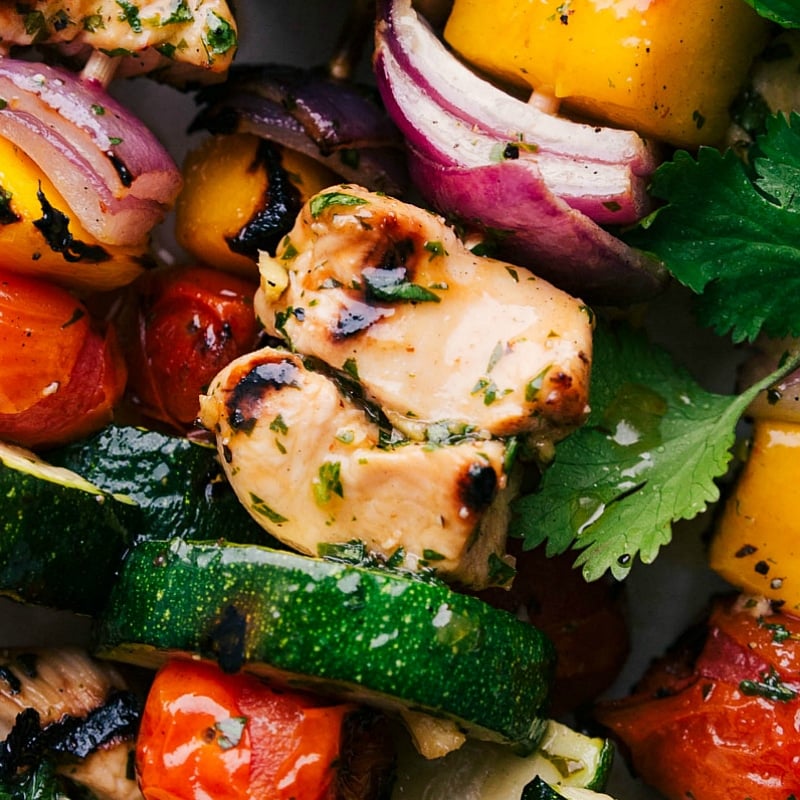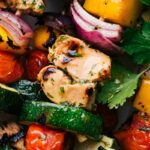 Chicken Kabobs
These Chicken Kabobs are made with juicy marinated chicken, ripe mangoes, crisp red onions, sweet cherry tomatoes, and tender zucchini. Dip these delicious kabobs in an easy Sriracha sauce for a nutritious, protein-packed, filling meal.
Course:
Dinner, Main Course
Ingredients
Chicken Marinade and Veggies/Fruit (See Note 1)
1/2

cup

olive oil

3/4

cup

orange juice

2

tablespoons

chopped cilantro

1/4

cup

freshly squeezed lime juice

2 and 1/2

tablespoons

low-sodium soy sauce

2

tablespoons

honey

1

teaspoon

minced garlic

1

teaspoon

minced ginger

(or 1/4 teaspoon ginger powder)

1

teaspoon

Sriracha sauce

Salt and pepper

1 and 1/2

pounds

boneless skinless chicken breasts

Fruits/Veggies: 1 large mango or 2 honey mangoes, 1 red onion, 3/4 pint cherry tomatoes, 2 small-medium zucchini, chopped cilantro (optional)
Sriracha Dipping Sauce
1/2

cup

mayo

2

large limes

3

teaspoons

Sriracha sauce

1

teaspoon

white sugar,

optional
Instructions
MARINADE: Whisk together all of the marinade ingredients in a medium-sized bowl. Remove about 1/2 cup (put in an airtight container in the fridge for later) and pour the rest into a large sealable bag.

CHICKEN: Cut the chicken into bite-sized pieces (1 to 1 and 1/2 inches) and put in the resealable bag with the marinade. Seal the bag or cover tightly and place in the fridge. Refrigerate for at least 30 minutes and preferably 2-3 hours up to 6 hours. Do not exceed 6 hours, as the acidity will start to dry out the chicken.

PREP GRILL: Preheat the grill to medium high heat (about 400-450 degrees F). Clean and then oil the grill grates by generously dipping a paper towel in olive oil and using tongs to rub it on the grill grates.

PREP FRUIT AND VEGGIES: Peel and chop a mango into 2 inch cubes; chop the red onion to thick 1-2 inch pieces; and cut a zucchini into half moons.

CREATE KABOBS: Once the chicken has been marinated, place the chicken pieces on a skewer alternating with (See Note 1) prepared fruits and veggies (the cubed mango, red onion pieces, and zucchini). Add cherry tomatoes to the skewers as well.

GRILL: Place the kabobs on the oiled hot grill and cook for 6-8 minutes, flipping once or until chicken is cooked through. Chicken should reach 160 degrees F or juices run clear. The carryover heat will take chicken to the safe 165 degrees F. When turning the kabob sticks, brush the chicken with all but 2 tablespoons of the reserved marinade. Save those last 2 tablespoons for a finishing "dressing."

SERVE: add kabobs to a plate and evenly drizzle the remaining 2 tablespoons marinade over everything. Serve with the sriracha dipping sauce and additional chopped cilantro if desired.
Sriracha Dipping Sauce
Zest part of 1 lime to get about 1/2 teaspoon lime zest and then juice 2 limes to get about 3-4 tablespoons lime juice.

Combine the mayo, lime juice, lime zest, Sriracha, and (if desired) white sugar in a bowl. Add some salt and pepper to taste. Stir well and then taste, adding additional lime or Sriracha to personal preference.
Recipe Video
Recipe Notes
Note 1: The marinade is separated into three parts, so don't add it all to the raw chicken or you won't be able to use it later on. We use the marinade to marinate the chicken, then as the chicken is cooking, we brush the reserved marinade on the meat. We'll also save  some marinade to drizzle over everything after it's finished as a sort of dressing.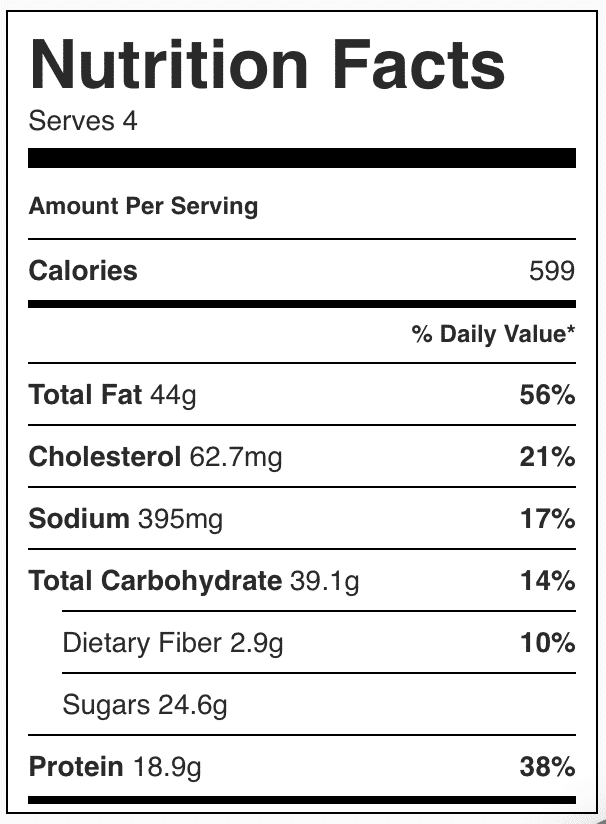 Nutrition facts are a bit tricky here, because the marinade doesn't actually contribute all those calories, but it does contribute some. These nutrition facts reflect all ingredients, even though a lot of marinade is discarded or cooks off the chicken.