A quick and easy grilled curry chicken recipe — simple marinade ingredients plus a recipe for coconut rice.
Try some of our other favorite grilled chicken recipes: this all purpose chicken marinade, this grilled pineapple chicken, or these chicken kabobs.

Grilled curry chicken
The cold weather keeps me from grilling as often as I'd like, but after an especially warm weekend here in Utah, I had to take advantage and make some grilled chicken. The whole family was feeling curry, so I adapted my coconut chicken curry recipe to make a very quick and easy coconut curry marinade.
To keep things simple with this recipe, we use the marinade to both infuse the chicken with plenty of flavor and then to become a sauce to coat the grilled chicken. It doesn't get much easier than that! This meal whips up quickly and while the chicken is grilling, you can use the leftover coconut milk (from the marinade) to make some coconut rice.

How to make grilled curry chicken
Whip together the marinade: the seasonings, coconut milk, olive oil, lime zest & juice, soy sauce, and honey.
Prep the chicken: halve large breasts horizontally and then pound the chicken to even thickness for even grilling
Add chicken to marinade: let marinade for 2-8 hours. Overnight marinating not recommended because of the acidity of the marinade (it will start to dry out the chicken)
Grill the chicken: more on this below!
Sauce and rice: the coconut rice is simple and uses the rest of the can of coconut milk (leftover from the marinade) and the sauce is the marinade just needs to be heated through and thickened!
Serve: add coconut rice, grilled curry chicken, and the sauce to serving plates. Garnish with fresh herbs, chopped nuts, and fresh lime.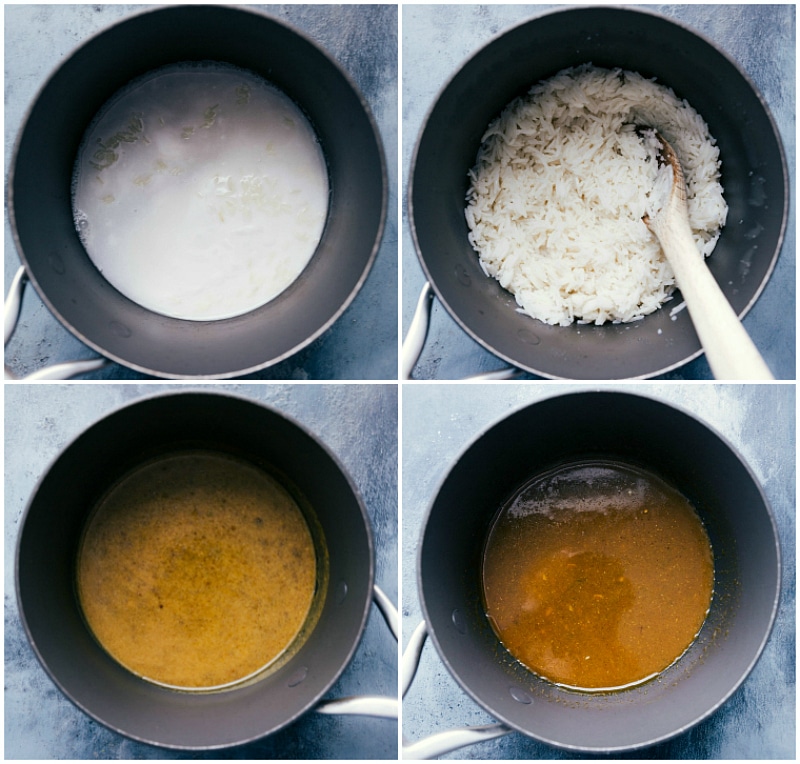 Chicken marinating and grilling tips
Slice breasts in half before marinating: slice and/or pound your chicken breasts into evenly thick pieces before marinating. That way they'll soak up all the delicious flavor from the marinade and AND they'll cook evenly. We don't want to pound the breasts to be flat, just to be even thickness throughout.
Flip and/or stir: throughout the marinating process, be sure to flip the bag of chicken breasts on the other side, or stir the breasts in the marinade. We don't want just one side of the chicken getting flavorful!
Generously oil your grill grates. I do this by rolling up a few paper towels, drenching them in oil (canola or vegetable), and using tongs, rub the drenched paper towels along the grill grates. This will contribute to a beautiful sear, and ensure the chicken doesn't stick to the grates.
Let the grilled curry chicken rest: tented with foil, for 5-10 minutes before cutting in. This allows a redistribution of the juices inside the chicken.
Serving suggestions
Serve this grilled chicken curry alongside coconut rice and fresh herbs. Below are some other side dish suggestions
Naan bread: throw homemade or store bought naan on the grill for 20-30 seconds to warm through
This grilled chicken curry could also be chopped into small pieces and served in a lettuce wrap with the rice and cilantro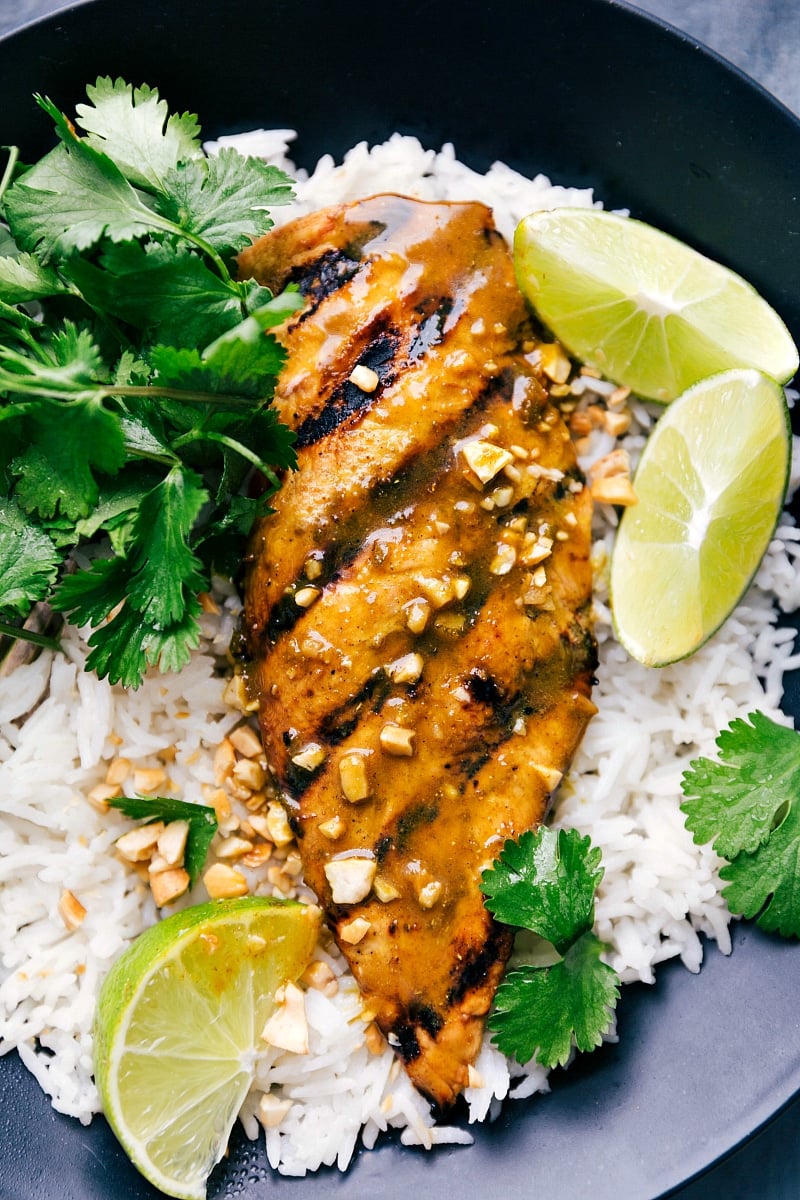 More curry recipes: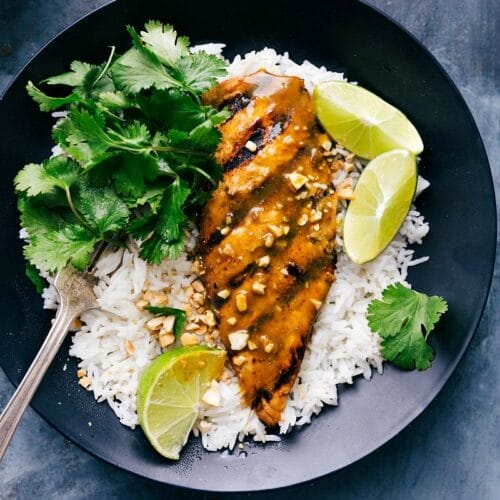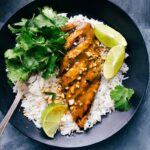 Grilled Curry Chicken
A quick and easy grilled curry chicken recipe -- simple marinade ingredients plus a recipe for coconut rice.
Keyword:
Grilled Curry Chicken
Ingredients
2

tablespoons EACH:

soy sauce, honey, olive oil

2

large

limes

(1 tablespoon zest, 1/4 cup juice)

2-3

cloves

minced garlic

1

teaspoon

cumin

2

teaspoons

coriander seed

2

teaspoons

fine sea salt

2

teaspoons

yellow curry powder

1/8

teaspoon

cayenne pepper,

optional

1

can (14 ounces)

full fact coconut milk,

separated

1 and 3/4ths

pound (~3 large breasts)

raw boneless skinless chicken breast (or thighs)

1

cup

basmati rice

Optional: fresh cilantro, fresh lime, finely chopped cashews
Instructions
MARINADE: Before starting the marinade, keep in mind you'll remove 3/4ths cup of it before adding it to the chicken. In a large bowl, combine the 2 tablespoons soy sauce, 2 tablespoons honey, 2 tablespoons olive oil, 1 tablespoon lime zest, 1/4 cup lime juice, 2-3 cloves minced garlic (add to preference, we add 3), 1 teaspoon ground cumin, 2 teaspoons ground coriander seed, 2 teaspoons salt (or to preference if sensitive to salt), 2 teaspoons yellow curry powder, 1/8 teaspoon cayenne pepper if using, and 1/2 cup coconut milk. (Stir the coconut milk until well integrated before measuring). Whisk all the ingredients together and remove 3/4 cup. Place in the fridge. Pat dry the chicken breasts with a paper towel. Halve thick breasts (cut horizontally) and pound the chicken breasts with a meat mallet or the bottom of a frying pan. We don't want to make the breasts thin, just evenly thick throughout to ensure even cooking. Place chicken breasts in a large plastic bag and pour remaining marinade over the chicken. Knead to coat the chicken, seal the bag without any air, and place in the fridge. Marinate for 2-8 hours.

PREP GRILL: Make sure your grill grates are clean and greased. To grease, dredge a paper towel in vegetable oil and holding it with tongs rub it all over the grate. Grease once the grill is fully preheated. Preheat the grill to medium heat about 400 degrees F.

GRILL: Grill the chicken until completely cooked through (about 4-6 minutes per side depending on heat of the grill and thickness) Chicken should be at 160 degrees F at its thickest part (carryover heat will bring it to 165 degrees). For 1 inch thick breasts grilled at 400 degrees, it takes generally 5 minutes on the first side and 4 minutes on the other side. Use a metal spatula to remove the chicken to a plate and cover it immediately with foil to rest for 5-10 minutes.

RICE: Combine 1 cup basmati rice, remaining coconut milk (should be 1 and 1/2 cups), 1/2 cup water, and 1/2 teaspoon salt (or to taste). Stir and place over high heat. Once boiling, reduce the heat to low and cover the rice. Allow to simmer for 13-18 minutes or until liquid is absorbed. Remove from heat, and keeping covered, let stand for 10-15 minutes. Fluff the rice and divide on plates.

SAUCE: Pour reserved 3/4 cup marinade in a small pot over high heat. Bring to a boil and boil for 1-2 minutes or until sauce is slightly reduced and thickened. Remove from heat and spoon over grilled chicken.

SERVE: top sauced chicken breasts with fresh cilantro, a squeeze of fresh lime, and finely chopped cashews if desired. Enjoy immediately.