Loaded caramel stuffed cookies with big chocolate chips, gooey caramel center, and big M&Ms.
Caramel-stuffed, fully loaded, soft and chewy — these are the ultimate celebration cookie! As much as I love cake, I am through and through a cookie lover. I will pick cookies for a celebration over cake ANY day! And with all the colors from the M&M's these are begging for a celebration!
The toddler loves to help make these cookies, but ONLY with his favorite M&M's. He's informed me he doesn't like red, orange, or brown M&M's and will only eat a cookie with yellow, green, and blue M&M's and preferably mostly yellow because it's "mine favorite color!"
He always knows how to make cookie baking a little more interesting. ?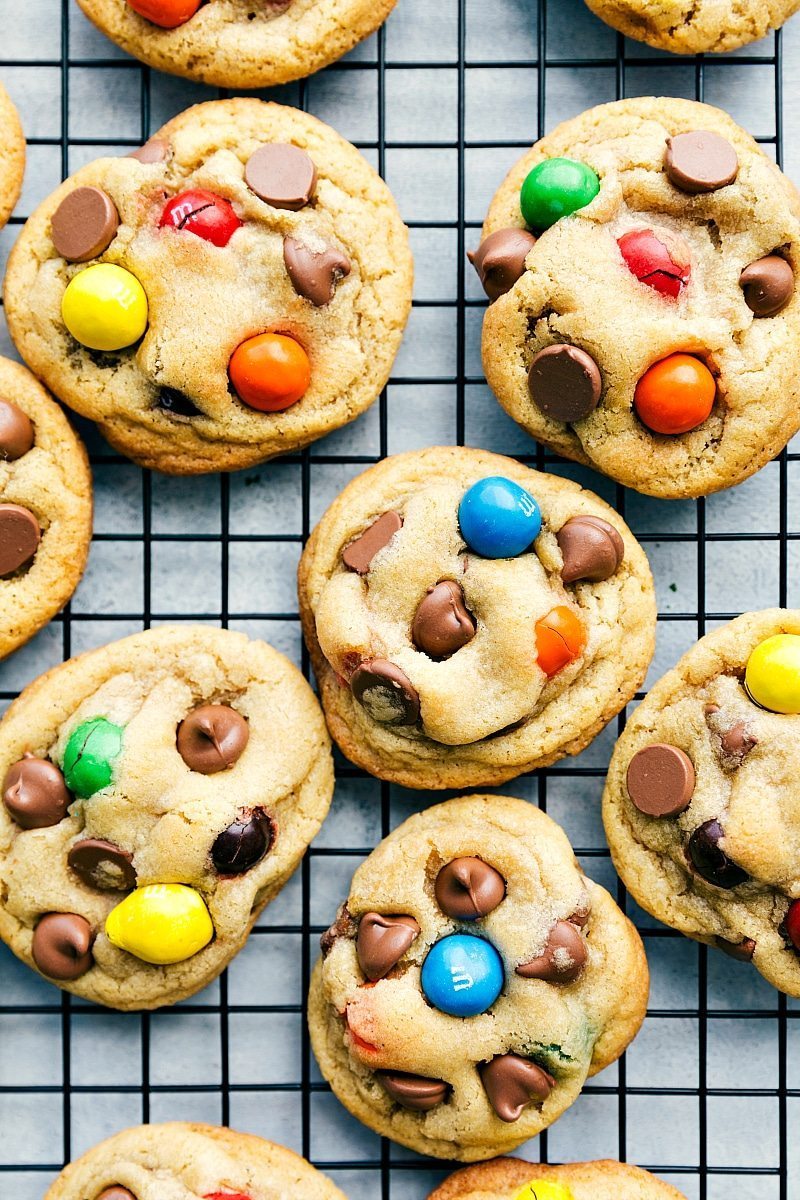 These cookies are super simple to make, but they do require a bit of chilling time in the fridge. Most of my cookie recipes take some chilling time because I love the texture and flavor a good chill yields. Much like marinating meat, cookie dough that has been chilled in the fridge just tastes better. It gives the ingredients time to settle and meld and the flavors to intensify. It also ensures your cookies won't be flat as a pancake. (Melted butter and no chilling time = super flat and greasy cookies!)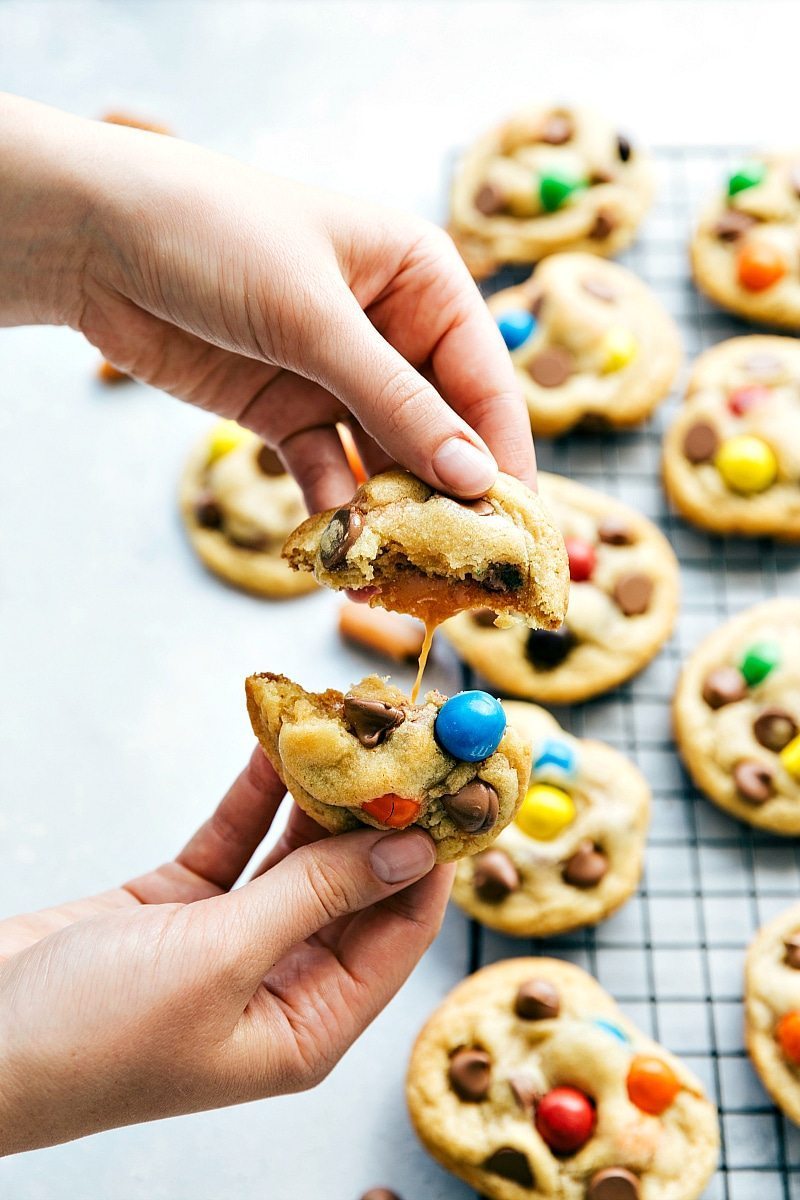 Details on stuffing these cookies:
Caramel: I prefer Wether's Chewy caramels in these cookies. Whichever caramels you use, make sure they are not super old and hard. Also note that the caramel hardens as the cookies cool. For a soft caramel, warm the cookies in the microwave for 8-12 seconds. Don't put in too much caramel or it will likely seep out. I use only 1/2 of an unwrapped caramel and ensure dough covers it COMPLETELY. Just in case some caramel does seep out, use parchment paper or a silpat liner when cooking.
Plenty of Chocolate: My favorite chocolate chips are either Ghirardelli or Guittard because of their size, flavor, and quality. I also like milk chocolate best, but use whatever type of chocolate is your favorite — semi-sweet, milk, or dark! (Or even white.)
M&M's: again, whichever M&M's you like the best! Peanut butter M&M's are my ultimate favorite and I love the combo of chocolate, peanut butter, and caramel! They add such a fun touch to these cookies. You can use extra chocolate chips in place of the M&M's if you'd like. Other ideas: peanut M&M's, plain milk chocolate M&M's, mini M&M's, pretzel M&M's, etc.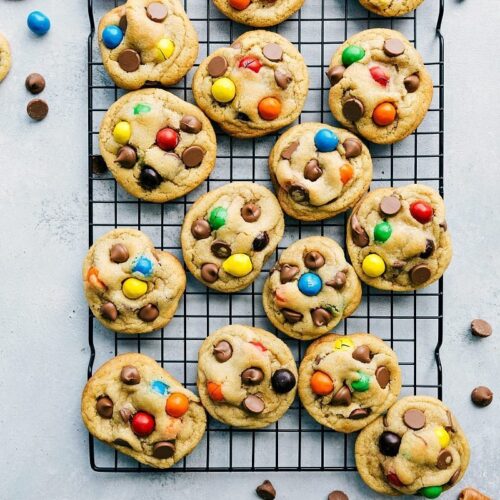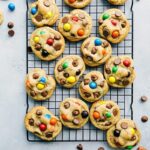 Caramel Stuffed Cookies
Loaded caramel stuffed cookies with big chocolate chips, gooey caramel center, and big M&Ms.
Servings
:
20
-22 large cookies
Ingredients
12

tablespoons

unsalted butter

3/4

cup

light brown sugar,

packed

1/2

cup

white granulated sugar

2

large eggs,

separated

1

teaspoon

vanilla extract

1/2

teaspoon

salt

3/4

teaspoon

baking soda

2 and 1/4

cups

white flour*

3/4

cup

milk chocolate chips

3/4

cup

M&Ms of choice

10

regular-sized

chewy caramels,

halved

Optional: coarse sea salt
Instructions
In a large bowl, place the butter and partially melt. There should still be chunks, but about 90% of the way melted. (It is important to not melt the butter all of the way!)

Add in the brown sugar and white sugar. Whisk together until just combined and smooth.

Add in 1 large egg and 1 egg yolk. (Discard the whites or save for another recipe.) Add in the vanilla extract and mix.

Add in the salt, baking soda, and white flour*. Mix until just combined being careful to not over mix.

Add in the chocolate chips and M&Ms of choice. Stir together and cover the bowl tightly. Place in the fridge and chill for 30 minutes to 2 hours.

Preheat the oven to 350 degrees F. Line a pan with parchment paper or use a nonstick liner.

Roll balls of dough into tall cylindrical balls (tall instead of squat/wide), positioning 1/2 of 1 full caramel into the center. Place 6-8 cookie balls on a sheet to give the cookies plenty of room to spread.

Bake for 8-12 minutes erring on the side of under-baking which keeps them soft and chewy! Remember the cookies will bake a little more out of the oven, so take them out as soon as the edges start to lightly brown!

Remove from the oven and **press a few additional chocolate or M&Ms on to the top if desired (makes them look pretty and ensures chocolate in every bite). Allow to cool on the baking tray for 5 minutes before transferring them to a cooling rack.

Best enjoyed within 2-3 days. Cover tightly and keep at room temperature. Note that once the cookies have completely cooled the caramel firms up. These are best warm or heated in the microwave before eating!
Recipe Notes
*When measuring the flour, do not press the measuring cup into the bag of flour as that packs in a ton more flour. Spoon the flour into the cup and then level. The flour should completely fill up the cup measurer without being packed in. Measuring the flour correctly is going to give you the most success with this recipe! If the cookies are spreading too much you likely didn't add enough flour; if the cookies are cakey and too thick, you have too much flour. **TOTAL TIME does not include chilling time.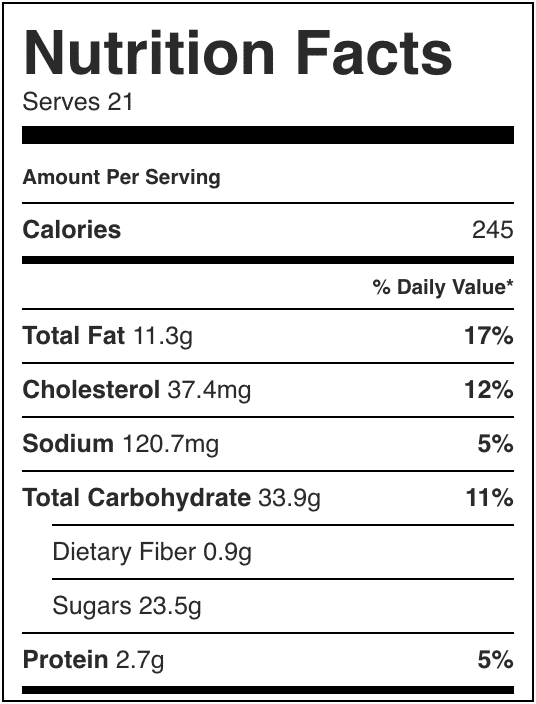 More Cookie Recipes: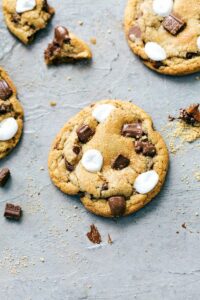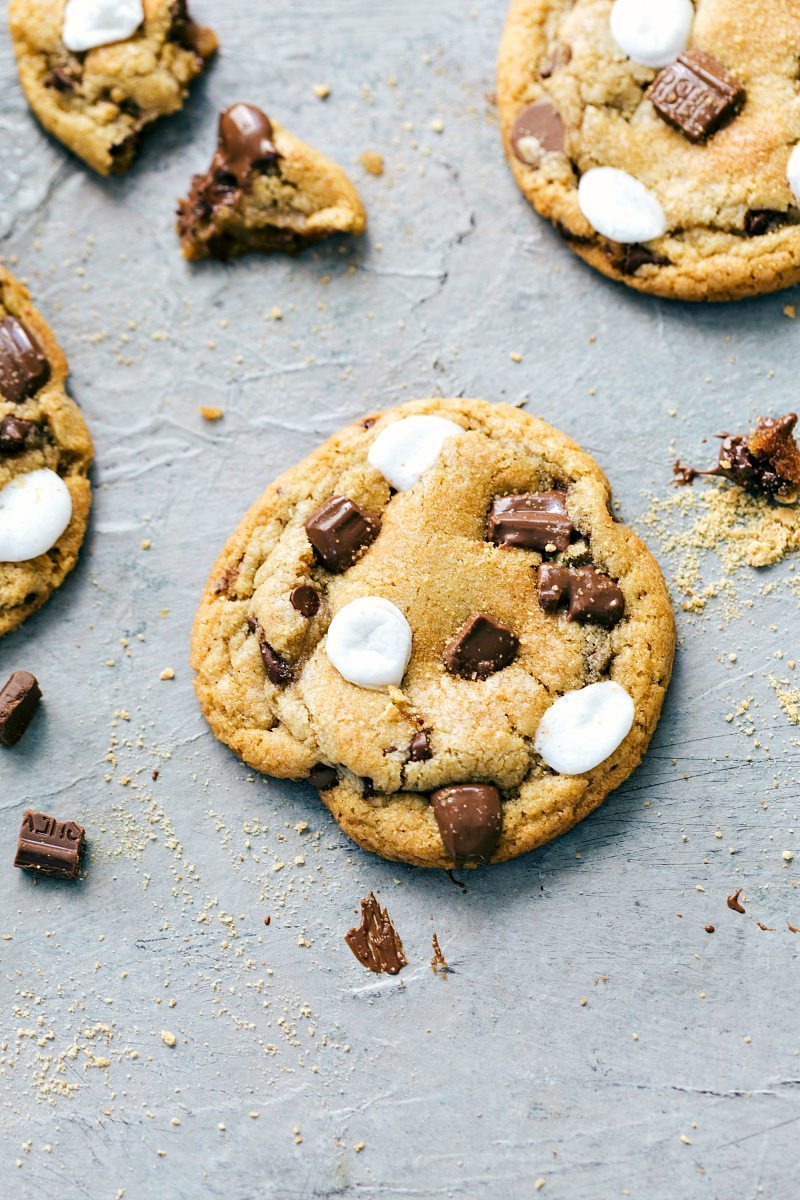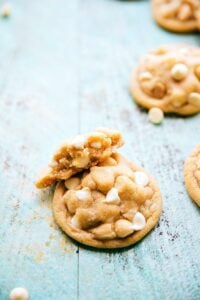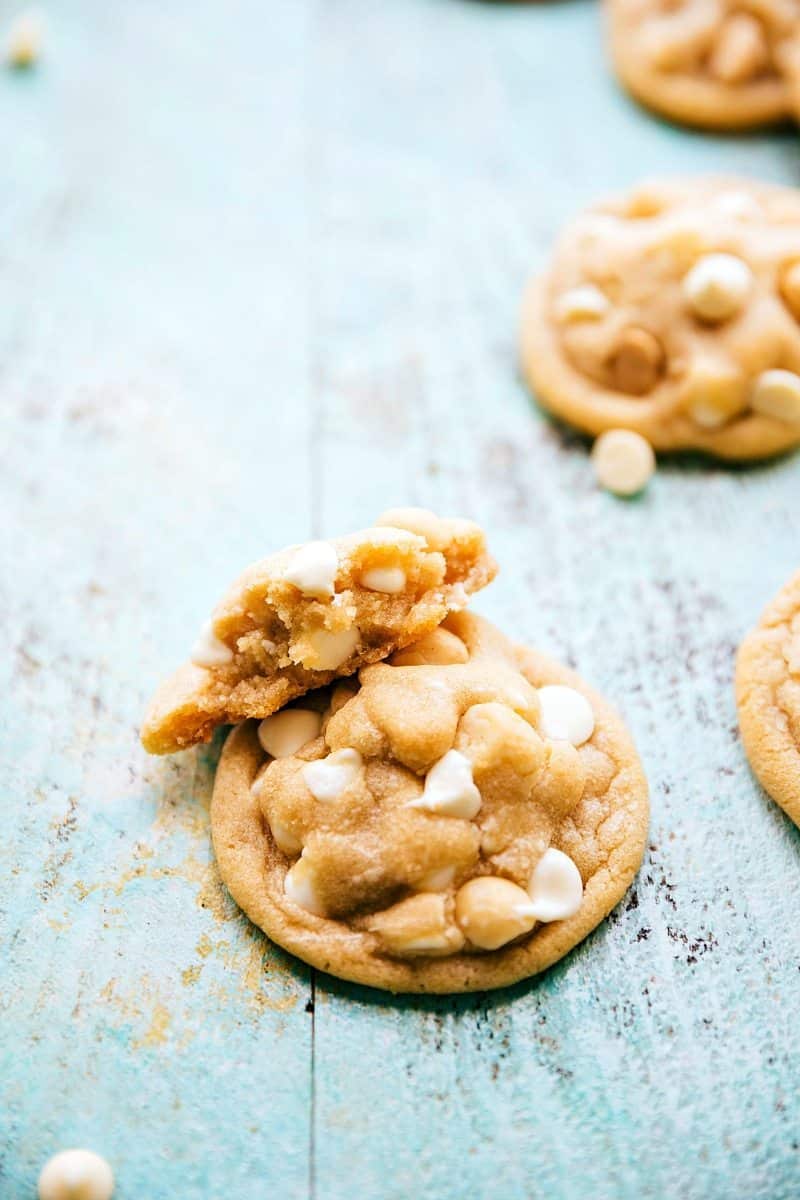 White Chocolate Macadamia Nut Cookies