A perfect mash-up of classically soft sugar cookies and funfetti flavor — these funfetti cookies are soft, chewy, and loaded with sprinkles!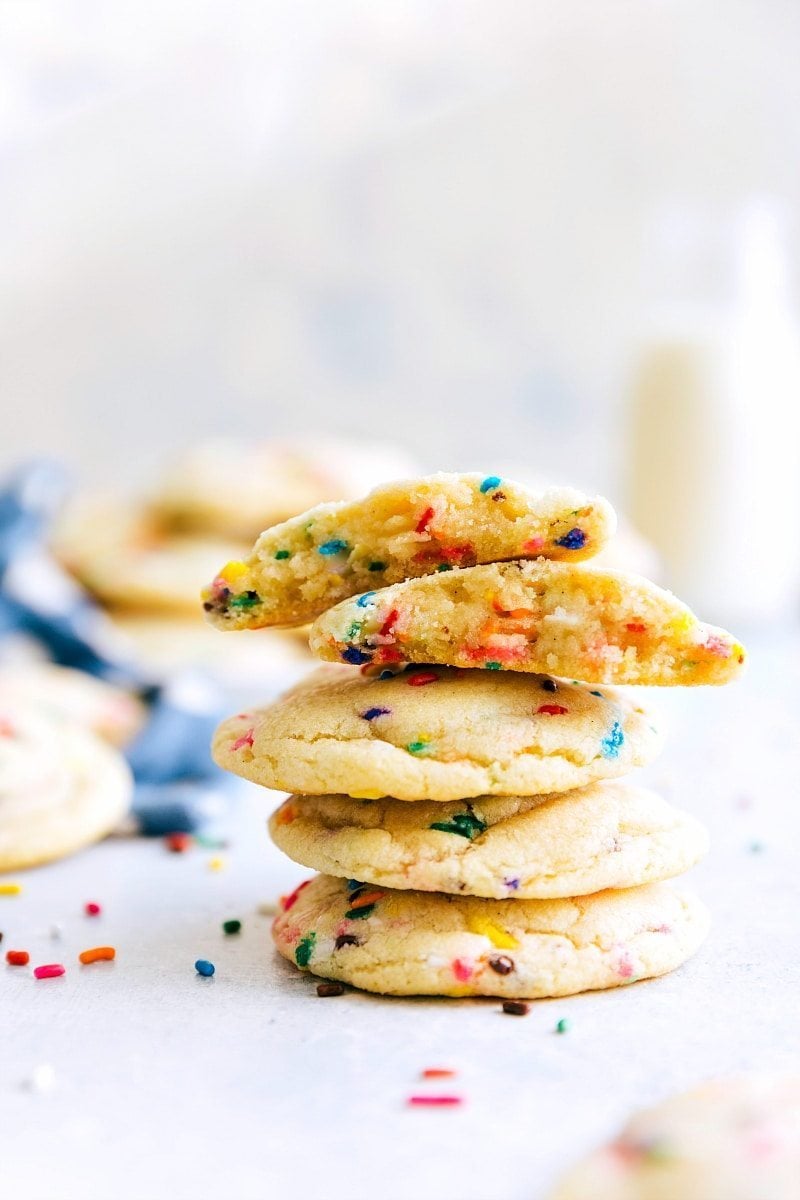 Soft, chewy, buttery, and stuffed to the brim with SPRINKLES! Sprinkles always make a dessert better in my opinion and they are definitely the star of these cookies! These from-scratch funfetti cookies are essentially a mash-up of soft sugar cookies with sprinkles and funfetti flavors. They've got a thick and soft center with chewy edges which I think is the best type of cookie texture you can have!
Be prepared to let the dough chill for a little, but know the chilling only makes these cookies that much better! It improves the texture drastically (they spread a ton without being chilled because the butter is melted in this recipe), and the flavors have good time to really meld and develop. These cookies are pretty straight-forward, but I've got my top tips for success below this picture to ensure you get the best possible funfetti cookies!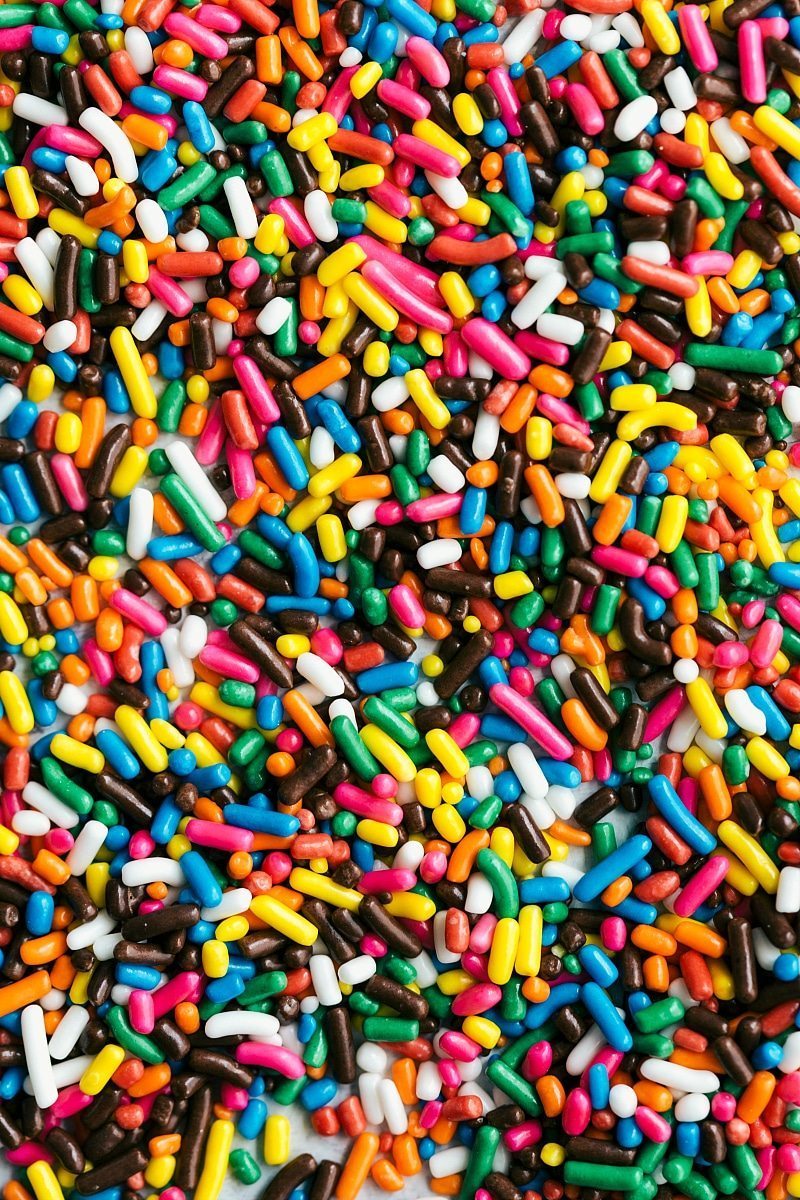 Here is a quick run-down of the my top tips for success when making these cookies:
No substitutions: I've made this recipe many times to perfect it and I can't guarantee success if you change out or leave out ingredients.
Under-bake: If you over-bake these cookies the taste and texture is off. Slightly under-baking these cookies keeps them soft, chewy, and flavorful. Remember they continue to bake for a couple of minutes even after they're pulled out of the oven.
Measure the flour correctly: if you pack in too much flour these cookies will puff up and end up being more of a cakey-cookie than a soft and chewy cookie. Spoon flour into the measuring cup and level with the back of a butter knife or your finger. If you press a measuring cup into a bag/container of flour you'll pack in a lot more than intended.
Let them cool completely: most cookies are the absolute BEST right out of the oven, but I think these are best after being completely cooled! These also taste great the second day when the flavors have gotten more of a chance to meld.
High quality extracts: the almond and vanilla extracts are very important to the flavor of these cookies. If you use imitation extracts you'll be missing out on a lot of flavor. I love Mexican Vanilla and I also love Neilson-Massey's vanilla bean paste in these cookies!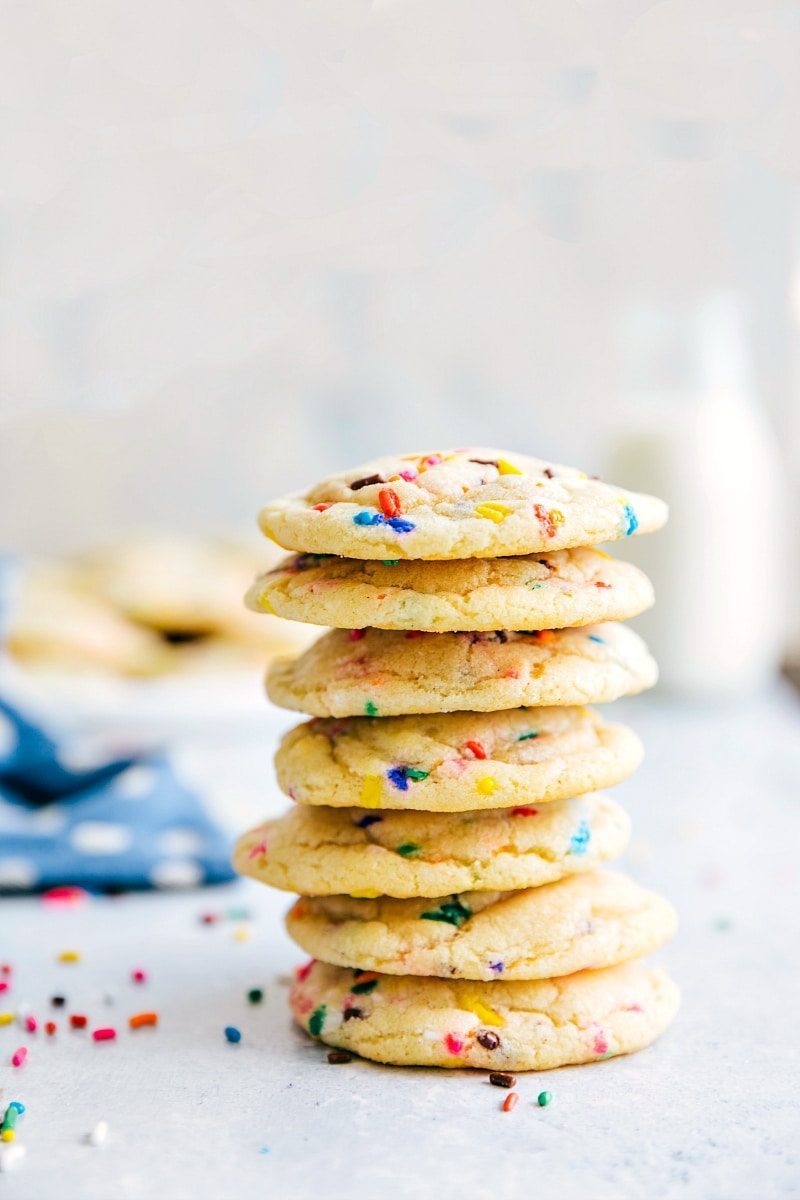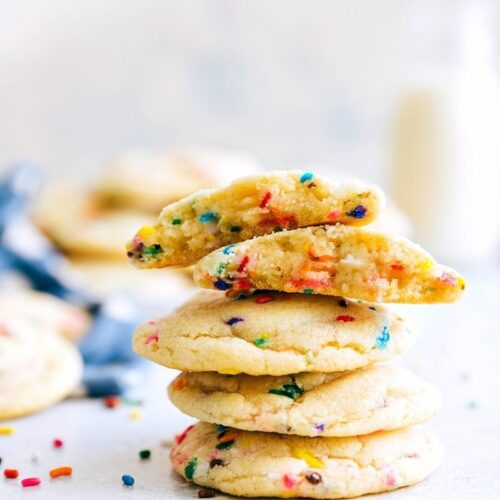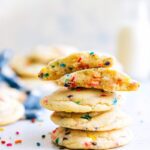 Soft-Baked Funfetti Cookies
A perfect mash-up of classically soft sugar cookies and funfetti flavor -- these cookies are soft, chewy, and loaded with sprinkles!
Ingredients
1

cup

unsalted butter

1 and 2/3

cup

granulated white sugar

2

large

eggs

1 and 1/2

teaspoons

vanilla extract,

or vanilla bean paste

1/4

teaspoon

almond extract

1 and 1/2

teaspoons

cornstarch

1

teaspoon

baking powder

1

teaspoons

baking soda

3/4

teaspoon

salt

3

cups

all-purpose flour

1/2

cup

jimmies sprinkles
Instructions
In a large microwave safe bowl, place your butter. Melt the butter in bursts of 15 seconds, stirring in between each burst until melted and smooth. Allow to cool slightly.

Once the butter is cooled slightly, add in the sugar and whisk until smooth. Whisk in the eggs, vanilla extract, and almond extract. Whisk until smooth.

In a separate bowl, whisk together the cornstarch, baking powder, baking soda, salt and flour.

Gradually stir the dry ingredients into the wet, until completely combined. Stir in the sprinkles gently with a wooden spoon.

Transfer bowl of dough to refrigerator and allow to chill for at least 30 minutes and up to 2 hours.

Preheat oven to 350 degrees F and line cookie sheet with parchment paper or use a silpat liner.

Roll the chilled dough in large cookie balls -- about 1 and 1/2 tablespoons to 2 tablespoons of dough.

Place at least 2 inches apart on cookie sheet and bake for 8-11 minutes. They may seem a little under-done, but it's best to slightly under bake these cookies so they remain soft and chewy.

Allow cookies to cool completely on cookie sheet before enjoying.
Recipe Notes
Scooping flour from the container or bag directly with the measuring cup will pack the flour into the cup and you'll end up with too much flour which will dry out your cookies. Scoop the flour into your measuring cup with a spoon and make sure not to pack it in!
More Cookie Recipes: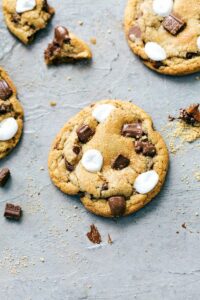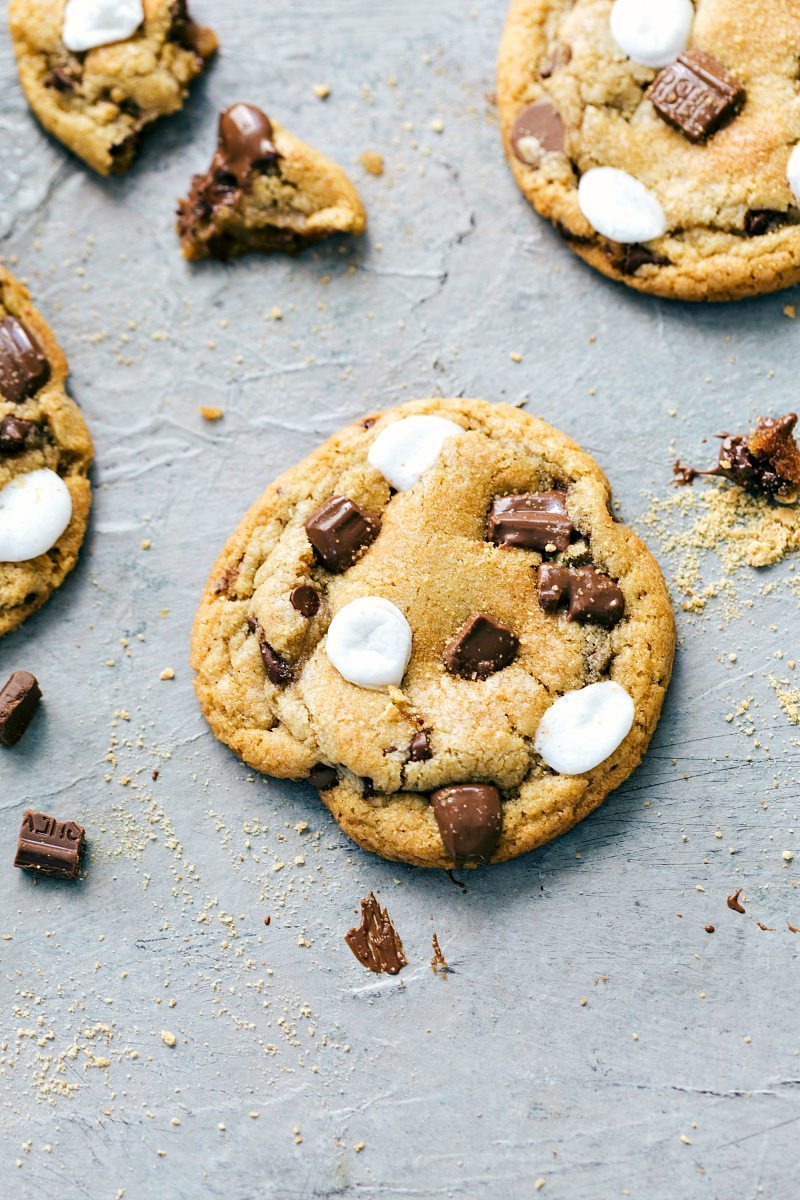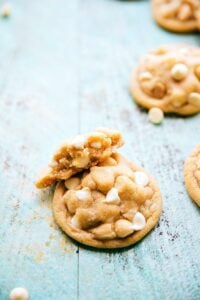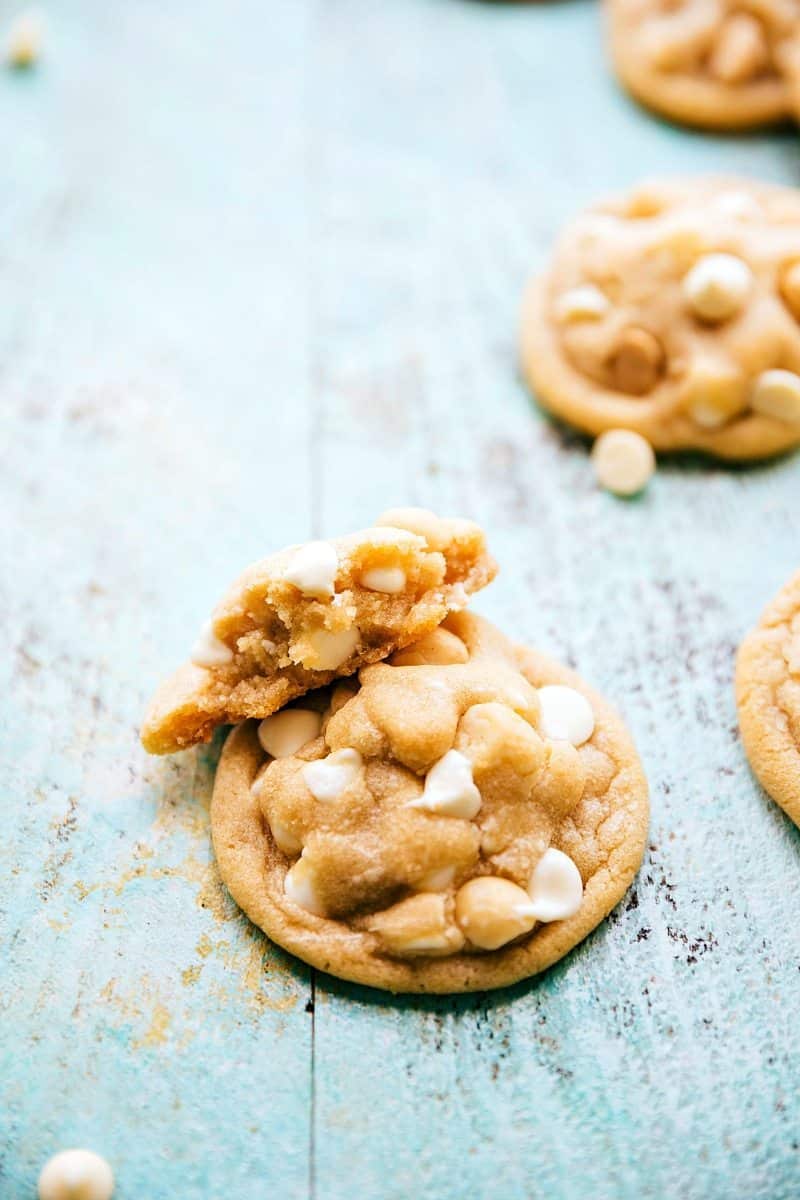 White Chocolate Macadamia Nut Cookies