A brussel sprouts salad mixed with with cherry tomatoes, shredded carrots, sliced almonds and Parmesan cheese.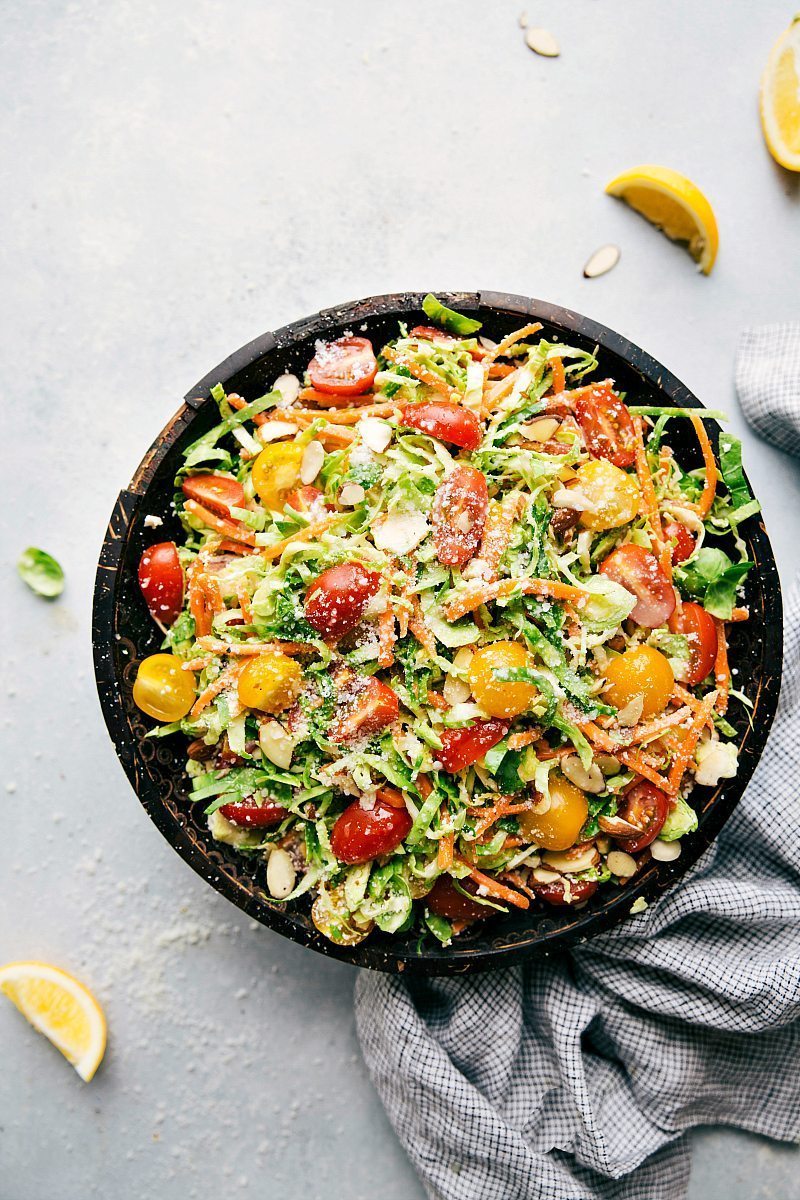 Brussel sprouts salad
Brussels spouts – do you love em or hate them? Personally I love them. But I guess that may be a little bit obvious since I created a salad revolving around them.
When making a salad, I tend to go way overboard and have about 18 million toppings to a bed of lettuce – nuts, fruits, veggies, more fruits, more veggies, cheese, more cheese… Oh and a few more nuts for good measure…
But this time we're keeping it super simple and I'm certain you'll love it that way! We've got cherry tomatoes, shredded carrots, sliced almonds, and Parmesan cheese all on top of a bed of shredded brussels sprouts. Super simple and totally tasty!
This salad can be changed up a bit and customized just how you like it. Generally most salads can be, but I can give a few suggestions — you can use just red cherry tomatoes instead of having both red and yellow. If you don't like tomatoes you could use sweet peppers. And same with carrots – you could replace those with julienned sweet peppers. You can switch out the almonds for toasted walnuts and last but not least, you can change the brussels out entirely for romaine lettuce!
Enjoy!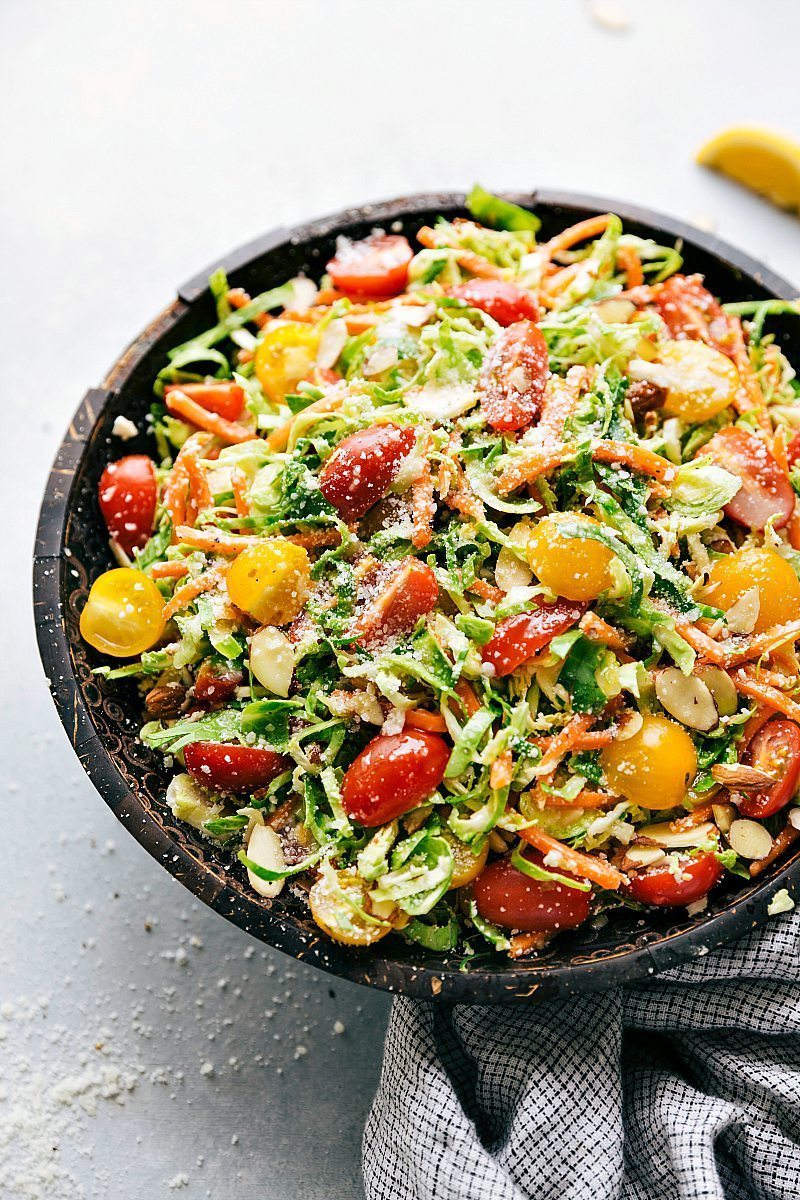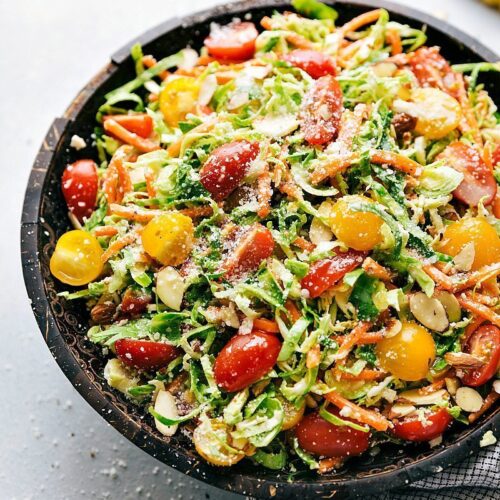 Brussels Sprouts Salad
A brussel sprouts salad mixed with with cherry tomatoes, shredded carrots, sliced almonds and Parmesan cheese. 
Keyword:
brussel sprouts salad
Ingredients
1

cup

sliced almonds

1

pound

brussels sprouts,

halved and thinly sliced

1

cup

shredded carrots

2

cups

cherry tomatoes,

I used red and yellow, halved

1

cup

freshly grated Parmesan cheese

2

large

lemons

(1/4 cup lemon juice, 1/2 teaspoon lemon zest)

1/2

cup

olive oil

1

tablespoon

Dijon mustard

2

tablespoons

finely chopped shallots

1

teaspoon

minced garlic

Salt and pepper
Instructions
In a skillet, toast the almonds by placing them in a dry skillet over medium heat and stirring until lightly fragrant watching them carefully to not burn them.

Remove the stems from the brussels and then halve and thinly slice them. Fluff the sprouts and place in a large bowl. Add in the carrots and halved cherry tomatoes.

Make the dressing by combining the lemon juice, lemon zest, olive oil, Dijon mustard, shallots, garlic, about 1/2 teaspoon salt, and 1/4 teaspoon pepper (or to taste) in a mason jar. Shake to combine. Pour over the salad.

Add the parmesan cheese and toss to combine. Let the salad sit at room temperature for at least 30 minutes (or up to an hour in the fridge) to allow the flavors to mesh and the brussels to soften.


Taste and adjust seasoning if necessary. Serve at room temperature, adding the almonds right before serving. Best enjoyed the same day.

More Salad Recipes: