This delicious winter pomegranate orange salad is topped with mandarin oranges, pomegranate arils, candied almonds, sliced avocado, and feta cheese.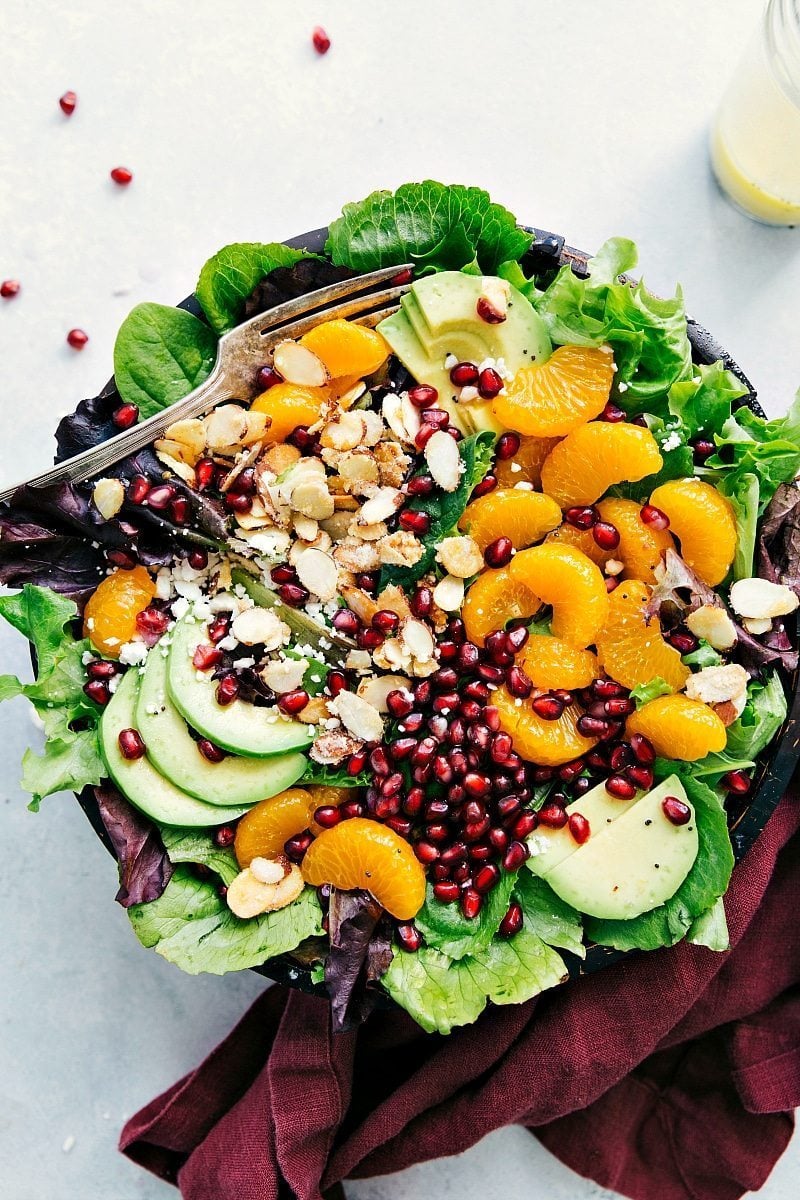 Christmas dinner salad anyone?! This pomegranate orange salad is already on our Christmas dinner menu. And probably on our dinner menu for every-night until Christmas because YUM.
Okay confession time…I look forward to Christmas dinner more than Thanksgiving dinner. I know, I know…crazy right? But truth be told, I am not the biggest turkey fan, but I go crazy over ham. And although ham is a popular Thanksgiving menu item, it's totally a Christmas dinner thing to me. Since I was a little girl we've always (or almost always) had a big Christmas ham on the actual day or on Christmas Eve.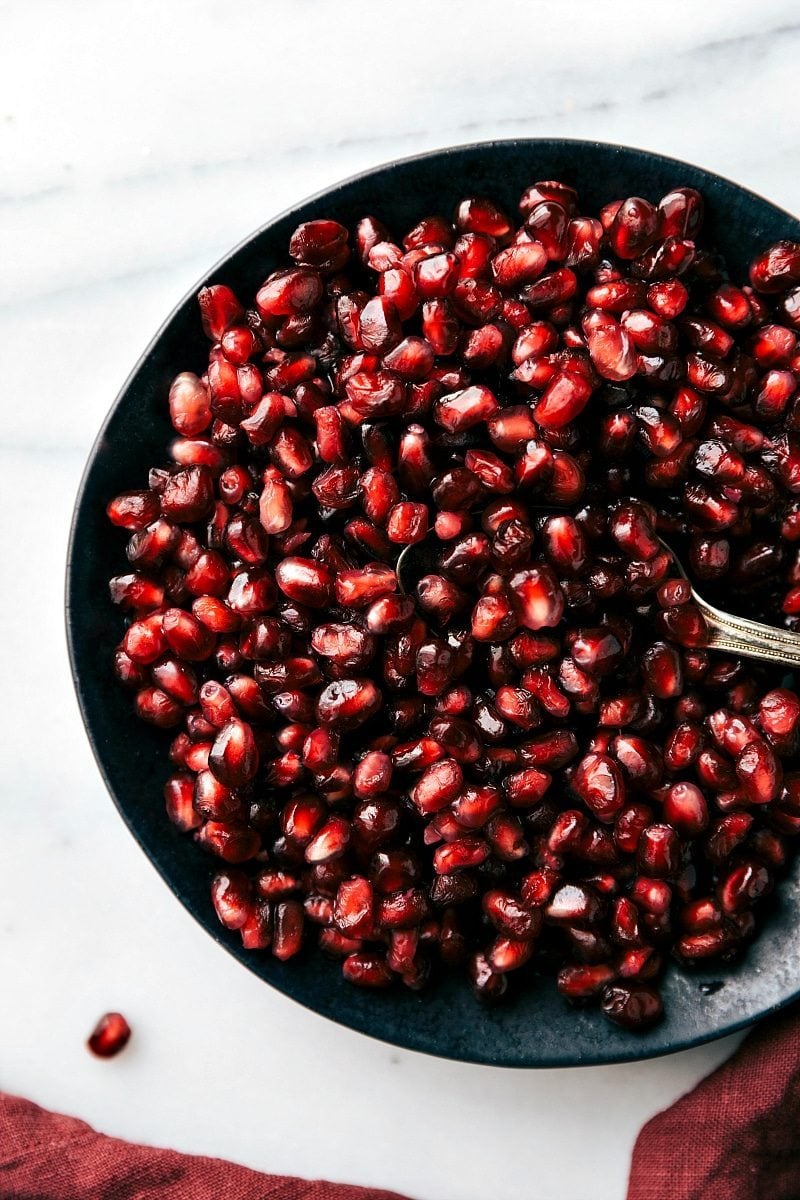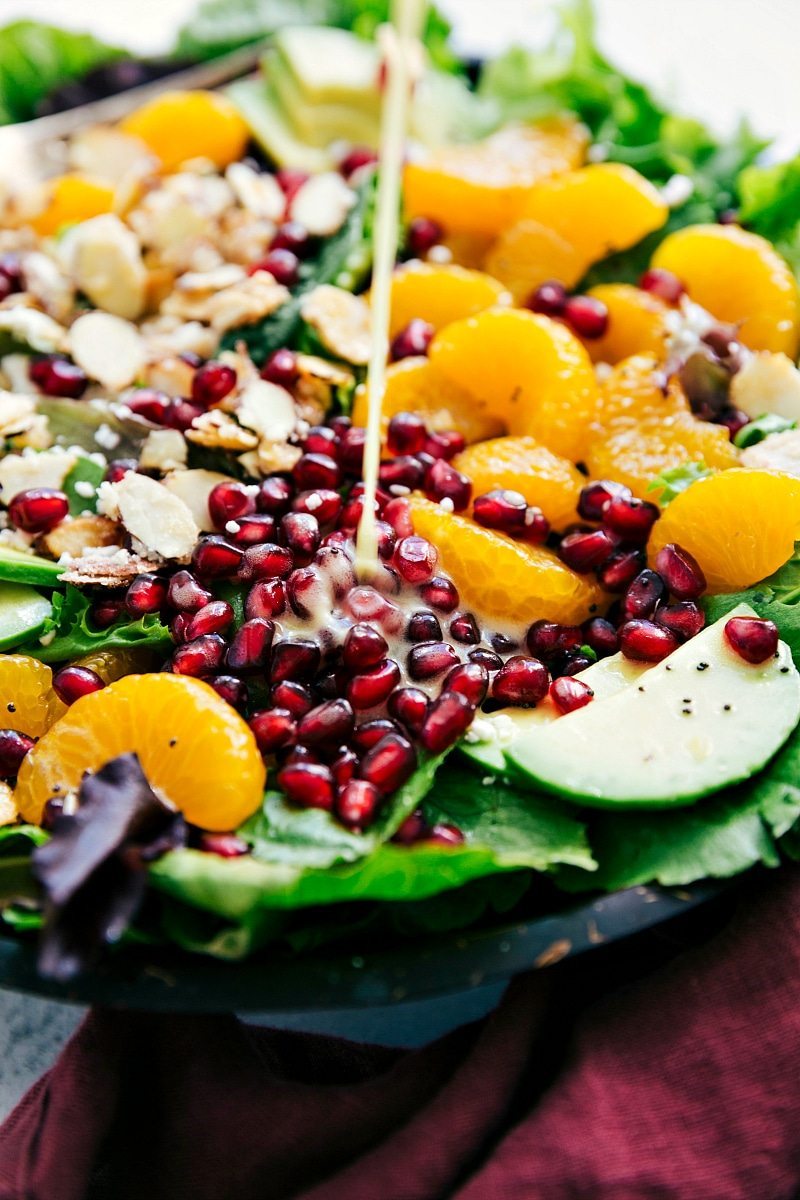 But salad. Back to this pomegranate orange salad, because ham is for another day coming up shortly…
This salad is absolutely fantastic and a great seasonal dish or side-dish. The dressing for this salad is an easy, throw the ingredients in the blender kind of deal. It's an orange vinaigrette and so-so good., but not the most ordinary dressing. What I mean by that — it's not thick and creamy by any means. Which honestly, it's best that way. The dressing when tossed in the salad adheres to every part of the lettuce and all the ingredients infusing the whole salad with tons of great and fresh citrus flavor.
Another wonderful alternative is poppyseed dressing or another fruity vinaigrette. The husband loved the poppyseed dressing on this one! The one caution with the dressing – wait to pour it on until you are ready to eat the salad. If you pour it on and eat it later you will get a not-so-great soggy salad. And that's never fun. But right before serving the salad, just toss all the ingredients in the dressing and it will be all ready to be delicious.
Nothing better than a Christmas ham with this on the side!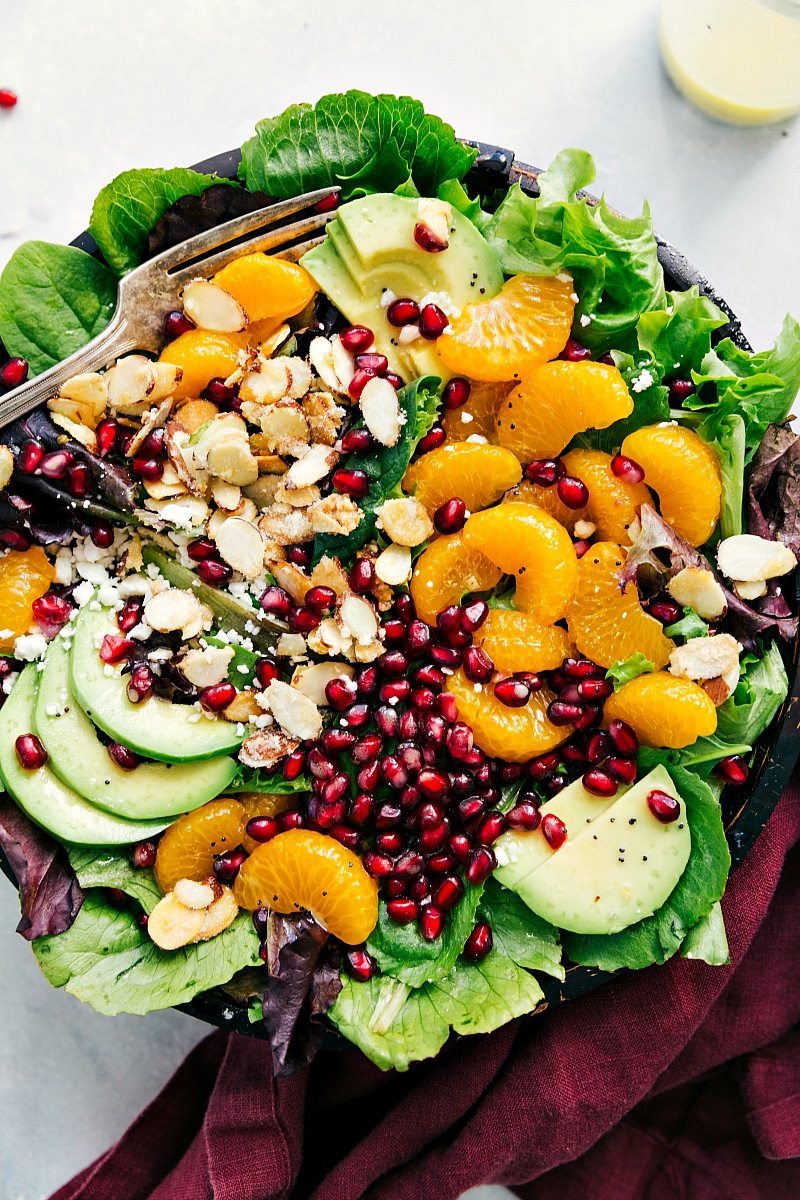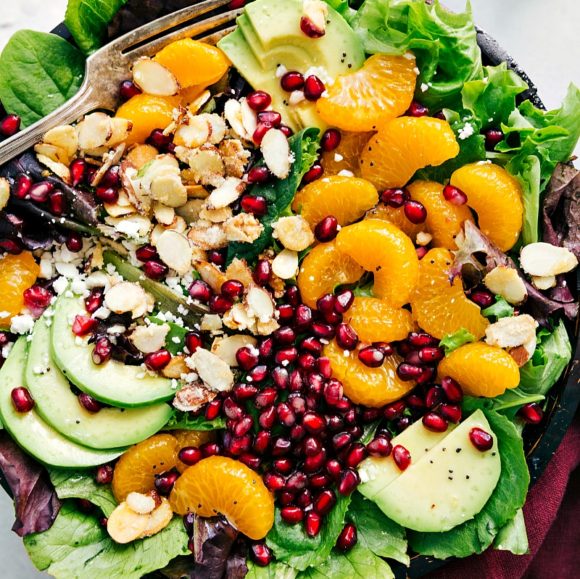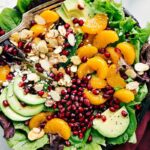 Pomegranate Orange Salad
This delicious winter salad is topped with mandarin oranges, pomegranate arils, candied almonds, sliced avocado, and feta cheese.
Ingredients
7-8

cups

mixed greens lettuce

(I used an Artisan blend)

2

cans (15 ounces EACH)

mandarin oranges

(or 2-3 regular sized oranges)

3/4

cup

pomegranate arils

1

large

avocado,

chopped or thinly sliced (or use 2 small avocados)

Optional: lemon or lime (to keep the avocado from browning too quickly)

1/2

cup

crumbled feta cheese

1

cup

sliced almonds

1/4 cup + 2 tablespoons

white granulated sugar
Dressing
Juice from 1 large orange

(~4 tablespoons)

3/4 - 1

teaspoon

finely grated orange zest

2

tablespoons

white wine vinegar

1

tablespoon

honey

scant 1/4

teaspoon

salt

1/4

cup

olive oil

Pinch of ground pepper

Optional: pinch of cayenne pepper, 1 teaspoon poppyseeds
Instructions
Chop the lettuce, wash, and dry.

Slice the peels off of the oranges and then cut into slices or smaller pieces. You can substitute clementines, but will need to increase the amount. Alternatively mandarin oranges can be used -- thoroughly drain them.

Remove the peel and pit of the avocado. Chop or finely slice. Squeeze some fresh lemon or lime juice over the chopped avocado to keep it from browning.

Gently toss together the lettuce, oranges, pomegranate arils, and avocado.

In a large skillet, add the sliced almonds and white sugar. Place the heat to medium-high and stir near constantly. The sugar will begin to melt and become a sticky liquid and then stick to the almonds. This takes about 3-4 minutes -- watch carefully and stir near constantly to avoid burning the nuts. Dump the candied almonds onto a sheet of parchment paper, slightly separate, and let harden. Break apart.

In a blender or food processor, blend all of the dressing ingredients together. The dressing will be runny, but it adheres to the lettuce really well! Increase the flavorings to personal preference - this may be a little more orange or perhaps some more honey...etc. (The cayenne pepper is optional, but a fun kick -- you can increase the amount if desired.) Stir in the poppyseeds if desired.

If you are eating the salad right away, toss it with the dressing, candied almonds, and feta cheese.

If you are eating it later, store the dressing, nuts, and feta separately and toss right before eating. If the dressing is added too early it tends to get soggy and not taste so well. Add the almonds and feta with the dressing.
Recipe Notes
How *much* of the toppings you add to the salad (feta, oranges, avocado, pomegranate, etc.) is definitely up to personal preferences. I've included the amounts we use, but add to your preferences!
Here are some more delicious recipes to add to your holiday menu:
The best crockpot sweet potato casserole
Roasted Sweet Potato and Wild Rice Salad
Traditional Southern Cornbread Dressing
No Bake Frozen Pumpkin Pie Cheesecake
Crockpot Double Mashed Potatoes (2 side dishes made in one crockpot!)
Easy Slow Cooker Potatoes Au Gratin