Brownie batter cheesecake ball is a no-bake dessert "cheeseball" perfect for entertaining, an easy dessert, game day, or a romantic night in! (Valentine's Day! ❤️??)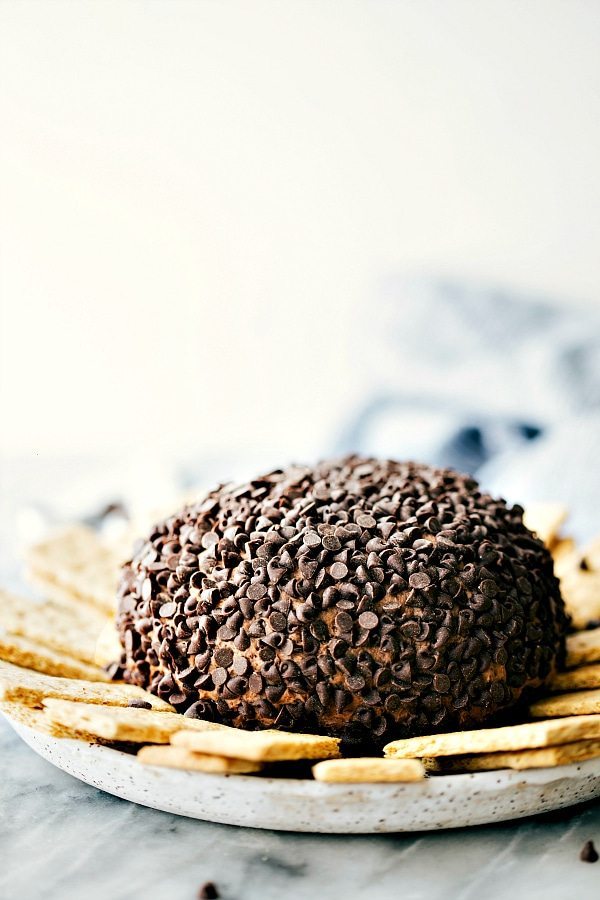 And it's time to take a break from the crockpot meals to bring you brownie recipe #2. I promised another one was coming soon, and here it is in all it's chocolate-y glory. And you probably aren't surprised that it's a brownie battered dessert, because "brownie batter" has made its appearance here on the blog time, time, and time again.
In fact, the inspiration from this recipe came when I was looking through some of my old football-related content to share on Facebook to prepare you all for the big game day. I saw my brownie-batter football and instantly started craving it.
So I thought it was time to make another brownie-batter recipe. However, since this recipe ended up quite different from that football dip, I think it's more appropriate for one of my favorite upcoming holidays — Valentine's Day! I mean,
look how pretty it is ??????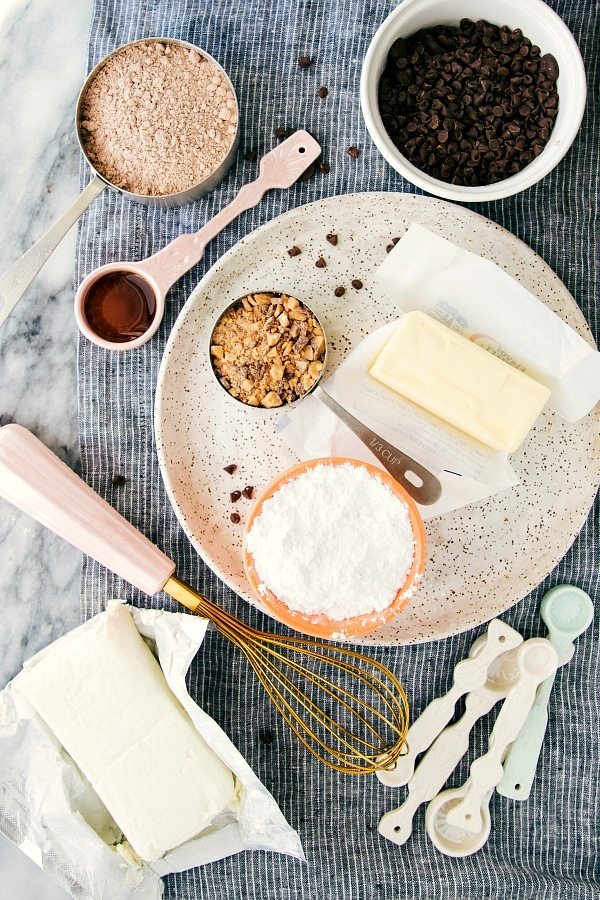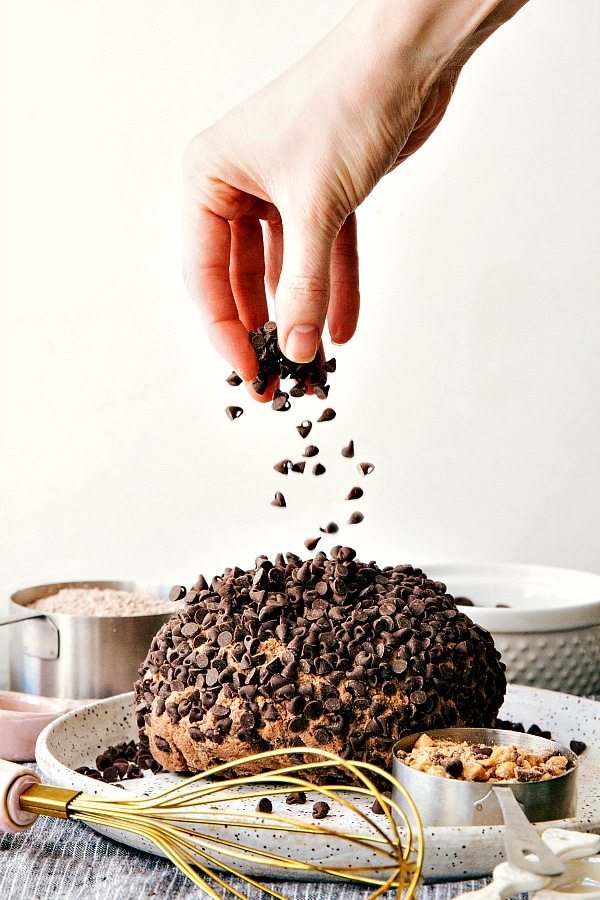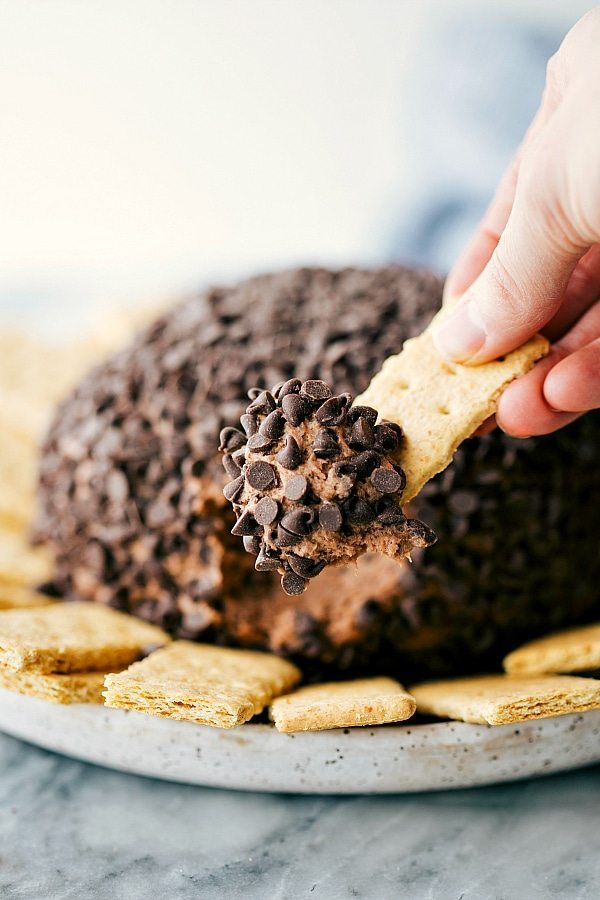 Pretty much any cheeseball I find as an attractive appetizer, but when it's a dessert cheeseball and covered in chocolate-chips, well I'm sold.
Not only will this make a gorgeous dessert, it also happens to be extremely easy to make. There aren't too many ingredients and it whips together very quickly. All you do is beat all the ingredients together and then wrap it up in plastic wrap to chill in the fridge.
Which brings me to the next great thing about this dessert; you can make it ahead of time! So, if you are planning to make a Valentine's dinner for a special someone, you can have this done in advance and not even have to worry about dessert. ??
So, let's talk actual ingredients! First off, the "cheese" part comes from cream cheese. I'd recommend full-fat cream cheese. When using lower fat cream cheese, it doesn't hold together as well and can actually get a bit water-y. Next is butter which I prefer to use unsalted since the brownie mix has salt in it.
And that brings us to the actual brownie flavor — I use a brownie mix for this cheeseball. It's absolutely delicious AND there is enough in one box to make 2 cheese-balls! ? The "chocolate-fudge" Pillsbury brownie mix is my favorite ❤️– it's got a very rich and fudge-like chocolate flavor. And that fudgy chocolate flavor really is the star of this cheesecake ball.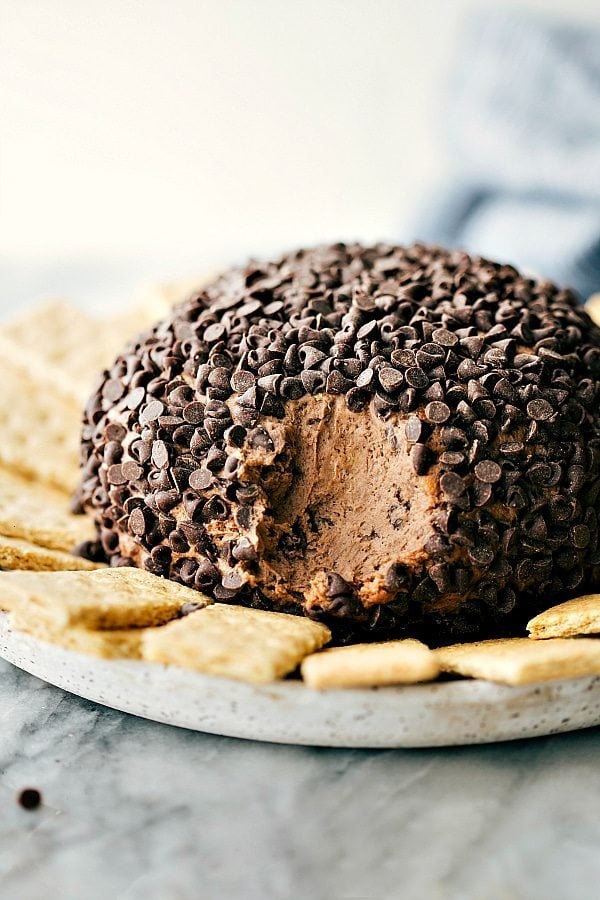 Next, some powdered sugar (make it a little bit sweeter), vanilla (flavor YUM), and finally some mix-ins. The first time I made this I just mixed in miniature chocolate-chips. Although delicious, it seemed like it was missing something. And so the next one got TOFFEE bits which are definitely a game changer. They add a whole new texture and flavor that perfectly complements the brownie batter taste.
The whole ball gets rolled in a delicious coating of miniature chocolate chips, but you could also roll it in the toffee bits if you prefer that!
And finally, DIPPERS. While I'm partial to a nice big spoon…, graham crackers, chocolate cookies, pretzels, vanilla cookies, or even some fresh fruit would be delicious with this cheese ball. Also, we tried some animal cookies and that was ??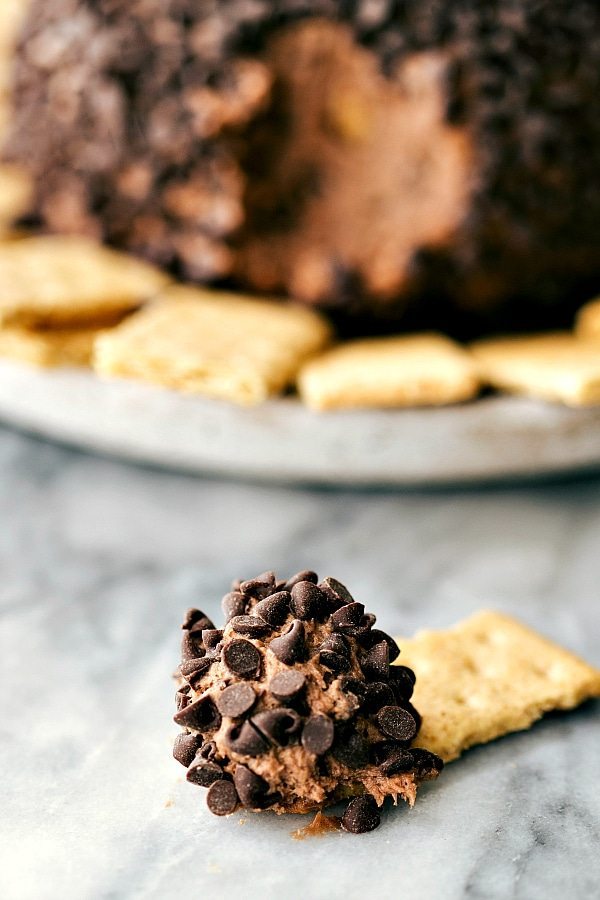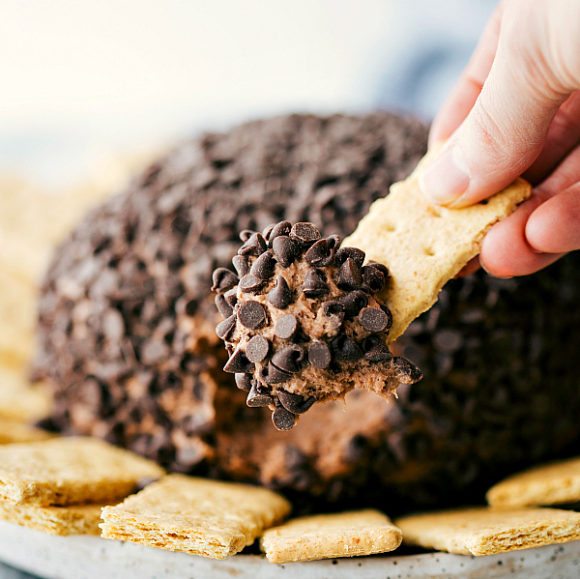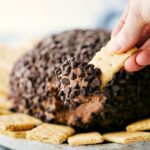 Brownie Batter Cheeseball
Ingredients
1 package

(8 ounces)

full-fat cream cheese

8

tablespoons (equivalent of 1/2 cup or 1 stick)

unsalted butter

1

teaspoon

vanilla extract

1

cup

powdered sugar

1 and 1/2

cups

chocolate fudge brownie mix

dry

1 and 1/2

cups

miniature chocolate chips

separated

1/2

cups

toffee bits
Instructions
In a large bowl, beat the room temperature cream cheese and room temperature (neither melted at all) until completely smooth.

Beat in the vanilla extract.

Add the powdered sugar and dry brownie mix and beat until smooth.

Stir in 1/2 cup miniature chocolate chips and the toffee bits.

Wrap tightly in plastic wrap and place in the fridge to chill for 3-4 hours or until completely firm.

Spread 1/2 cup miniature chocolate chips on a large plate. Unwrap the cheesecake ball and put on top of the chocolate chips. Use the remaining 1/2 cup chocolate chips to coat all the rest of the cheesecake ball.

Serve with "dippers" of your choice.
More delicious brownie desserts: