Delicious and simple-to-make chocolate fondue with lots of fun dipping ideas!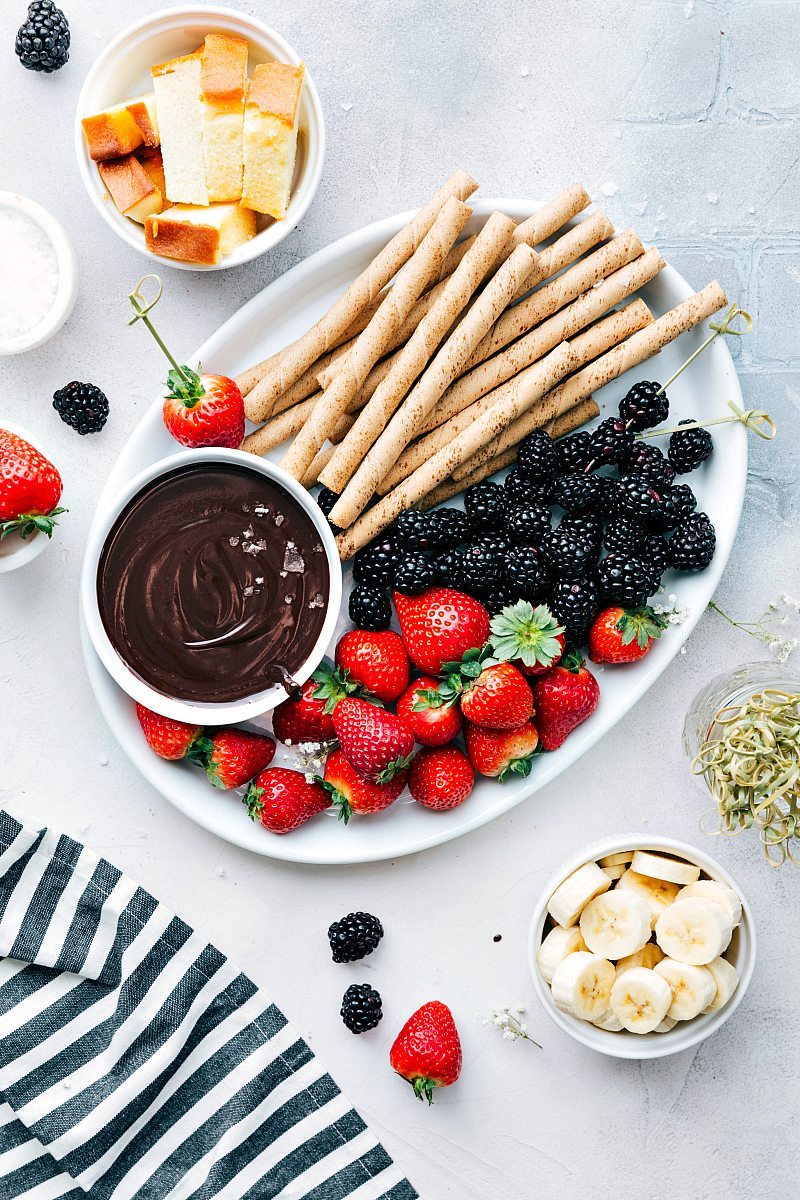 One of my mom's go-to desserts growing up was chocolate fondue. With a family as large as ours (9 total!), fondue was an easy treat that brought the whole family together. That, and my mom, was a self proclaimed chocolate addict. 🙂
Although my mom has always been a bit of a minimalist in the kitchen (very few gadgets/cookware), the one exception to that rule is her big fondue fountain. So when my boys had a night over with their grandparents and the fountain came out, they immediately fell in love with it. Once they came home they both kept asking incessantly that we get a chocolate fountain like their Grandma has.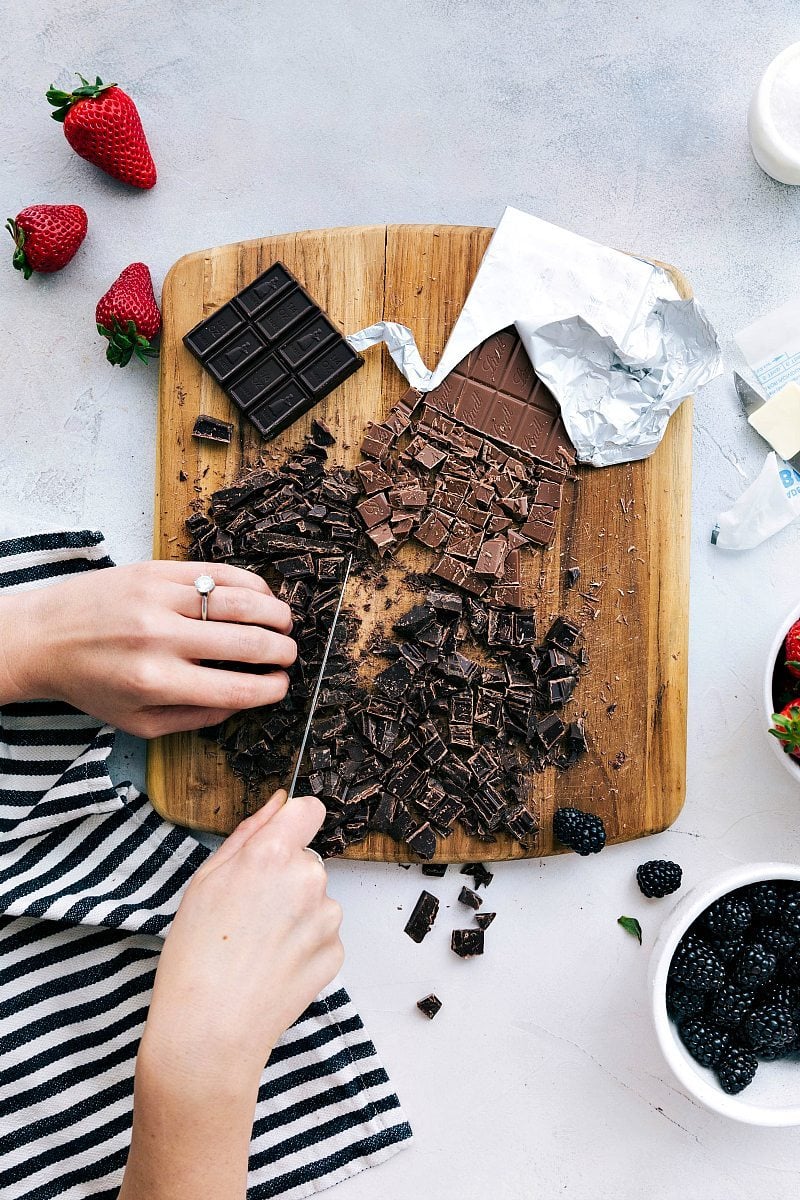 While we don't have fancy dipping tools or a cool 3-tiered fondue fountain, I have been able to please the boys with a simpler chocolate fondue and it's now becoming a fun tradition in our home. It's fun to take a longer time to eat a dessert and talk/laugh through the process of dipping and sampling. It's also a little very messy in my home, but you win some and you lose some I suppose.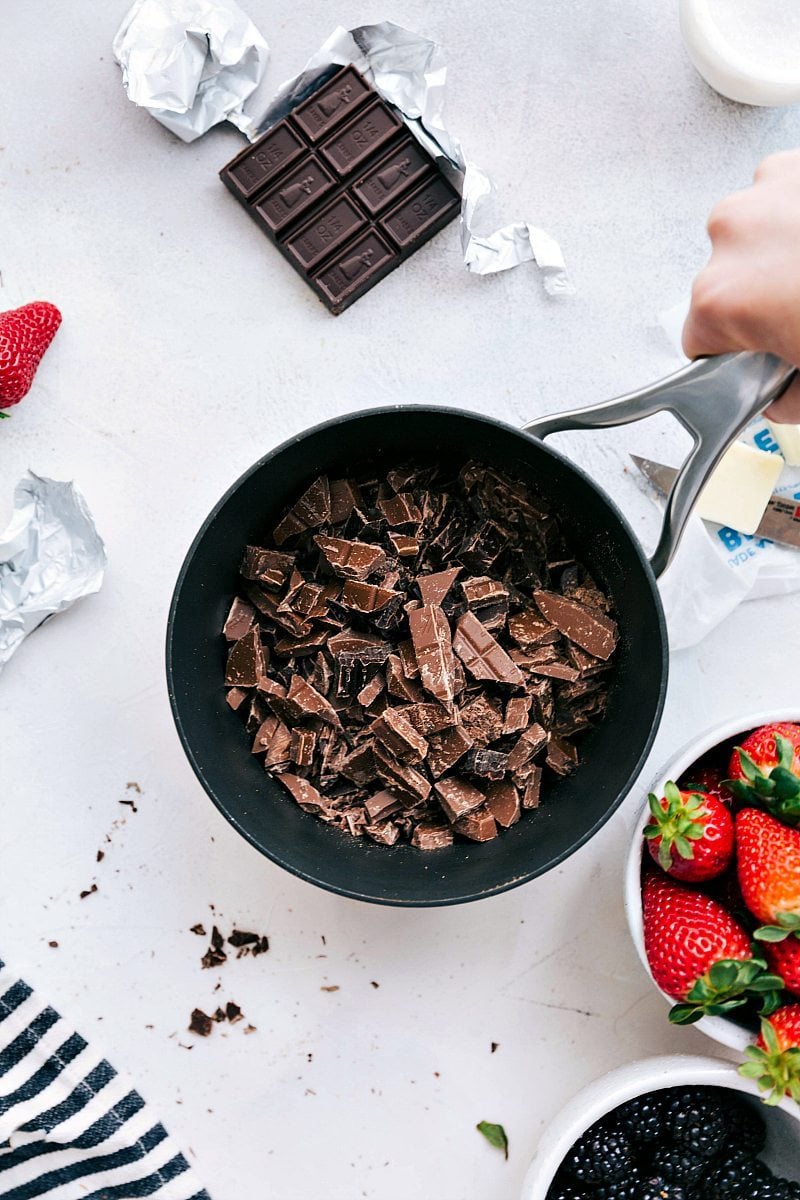 Speaking from experience, the recipe for this fondue is definitely kid-approved. Most fondue recipes use a lot of bittersweet and dark chocolate which I do love, but the kids? Not so much. This recipe is a mixture of semi-sweet and milk chocolate. It IS sweet, but not sickly so.
And the great news is, if you aren't serving this to kids and like a darker chocolate fondue mixture, the quantities in this recipe will work with whatever chocolate you decide to use! I like using two varieties of chocolate as it yields a richer and deeper final flavor.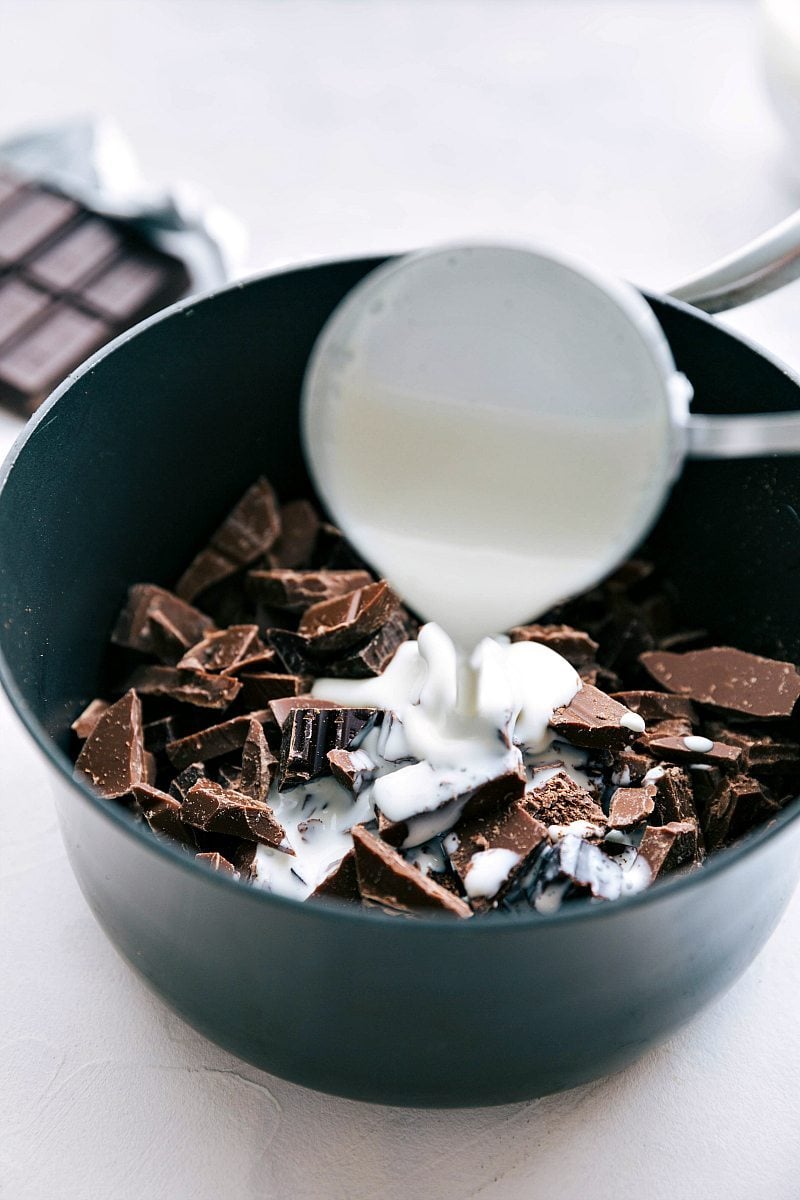 Quick tips
Use REAL, high quality chocolate bars. Simply put, the better the chocolate you use, the better your fondue will end up. Unfortunately chocolate chips do not work great in fondue — the flavor isn't quite right and they harden a lot quicker. Chocolate chips aren't pure chocolate either, and that's essential for a good fondue.
Make sure the fondue fountain, and any other dishes the chocolate comes in contact with are completely dry and free of any water. Water will cause the chocolate to seize and ruin the fondue.
Experiment! You can add a lot of fun variety to a fondue by experimenting with new chocolate flavors and types.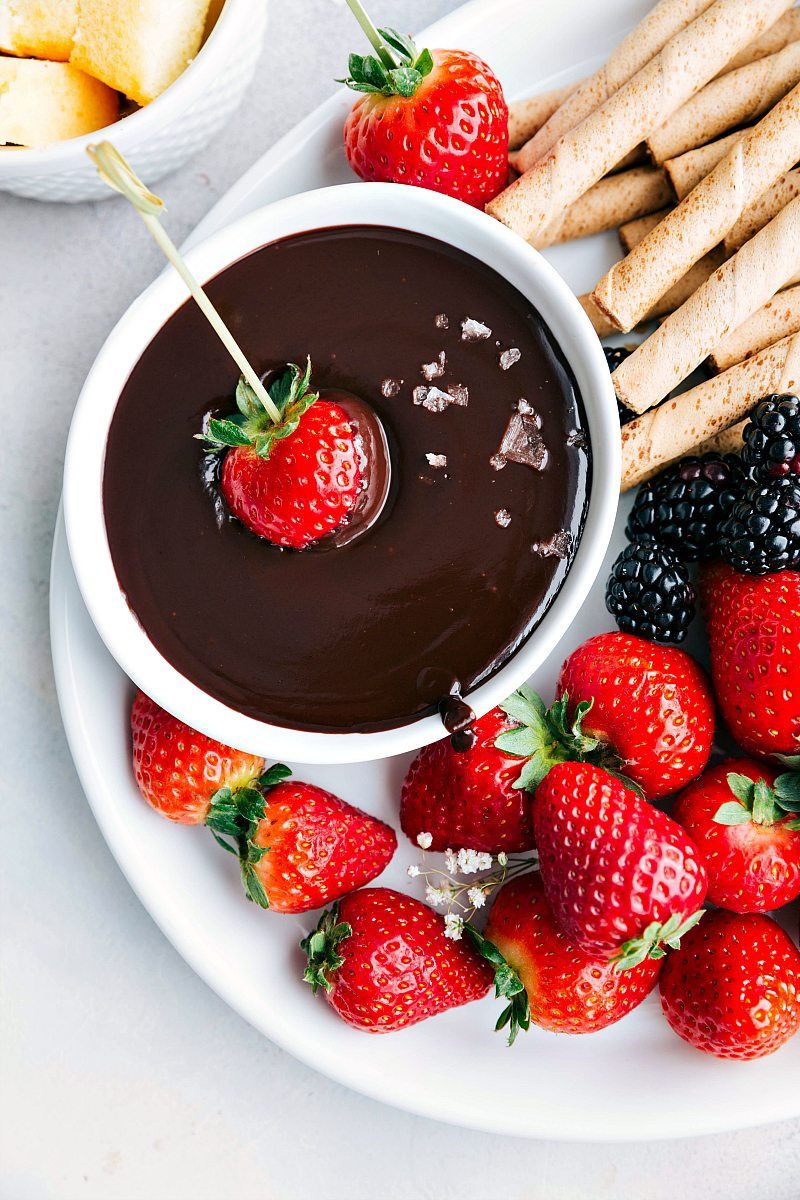 What can I dip in chocolate fondue?
A better question, what can you NOT dip in chocolate fondue? 🙂 I'm of the opinion that everything tastes better with chocolate on it, so get creative here! Here are some of our favorites:
Fresh fruit: strawberries, blackberries, raspberries, bananas
Store–bought cookies: Oreos, nutter butters, pirouettes (my favorite!), Milanos, girl scout cookies
Homemade cookies: these toffee pecan cookies are our favorite!
Other treats: poundcake (store-bought or homemade), Rice Krispies treats (our favorite recipe here; just leave off the white chocolate and sprinkles), brownie bites, large marshmallows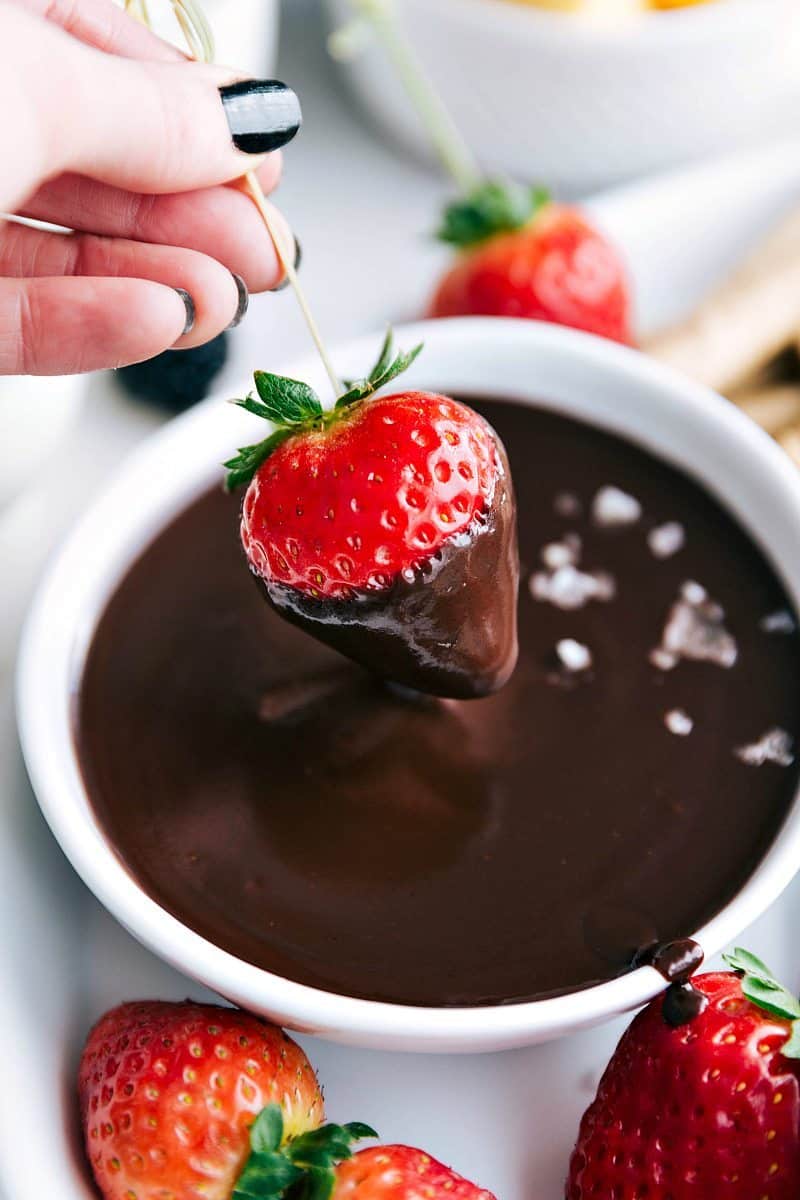 More Dessert Recipes:
For more delicious recipes, follow along on Pinterest, Instagram, Facebook, and YouTube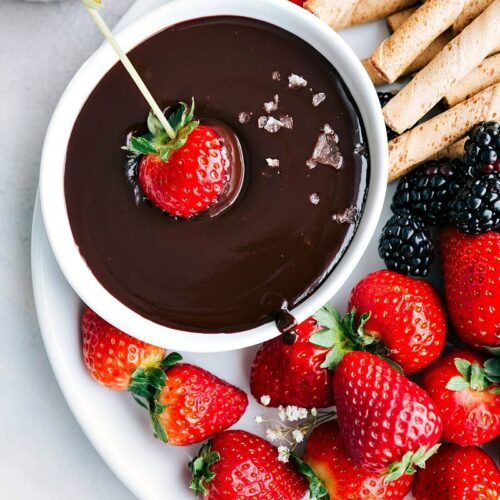 Easy Chocolate Fondue
Delicious and simple-to-make chocolate fondue with lots of fun dipping ideas!
Ingredients
6

ounces

semisweet chocolate,

chopped into small pieces

4

ounces

milk chocolate,

chopped into small pieces

1/2-

3/4 cup

whole milk

(depending on thickness preference, I use 1/2 cup)

1 and 1/2

tablespoons

unsalted butter,

optional (see note)

1/2

teaspoon

pure vanilla extract

1/8

teaspoon

fine sea salt

Flaky sea salt,

for topping, optional
Dipping Ideas
Fresh fruit: such as bananas, strawberries, raspberries, blackberries, clementines, etc.

Cookies: oreos, piroette cookies, milanos,
Instructions
Start by preparing all of the ingredients/treats you will be dipping in the fondue. The preparation of the fondue goes quickly so you want to have all the treats and skewers (if using) ready!

To make the fondue, in a small bowl, combine the chocolate, 1/2 cup milk or cream, and butter* and melt gently in a barely simmering water bath or microwave on Medium (50 percent) power for about 2 minutes.

Stir until completely smooth.

Add more milk if desired. Remove from the heat and stir in the vanilla and salt.

Serve this warm fondue immediately with whatever you've chosen to serve it with 🙂

If the fondue gets too thick (or starts to harden), reheat in the microwave in bursts of 15 seconds stirring in between each burst for 10 seconds until melted and smooth again.
Recipe Notes
Butter results in a more mellow chocolate flavor. For a more intense chocolate fondue, leave out the butter.