This post may contain affiliate links. Please read my disclosure policy.
Bringing back your favorite childhood treat! Cosmic brownies are a chewy chocolate fudge brownie with chocolate frosting and topped with candy-coated rainbow chocolate pieces on top. These Little Debbie copycats are amazing!
These cosmic brownies can be made gluten free, can be made ahead of time, and can be frozen.
Once you're hooked on these cosmic brownies try these other brownie inspired treats: brownie cookies, peanut butter cup brownie bites, or mint brownies.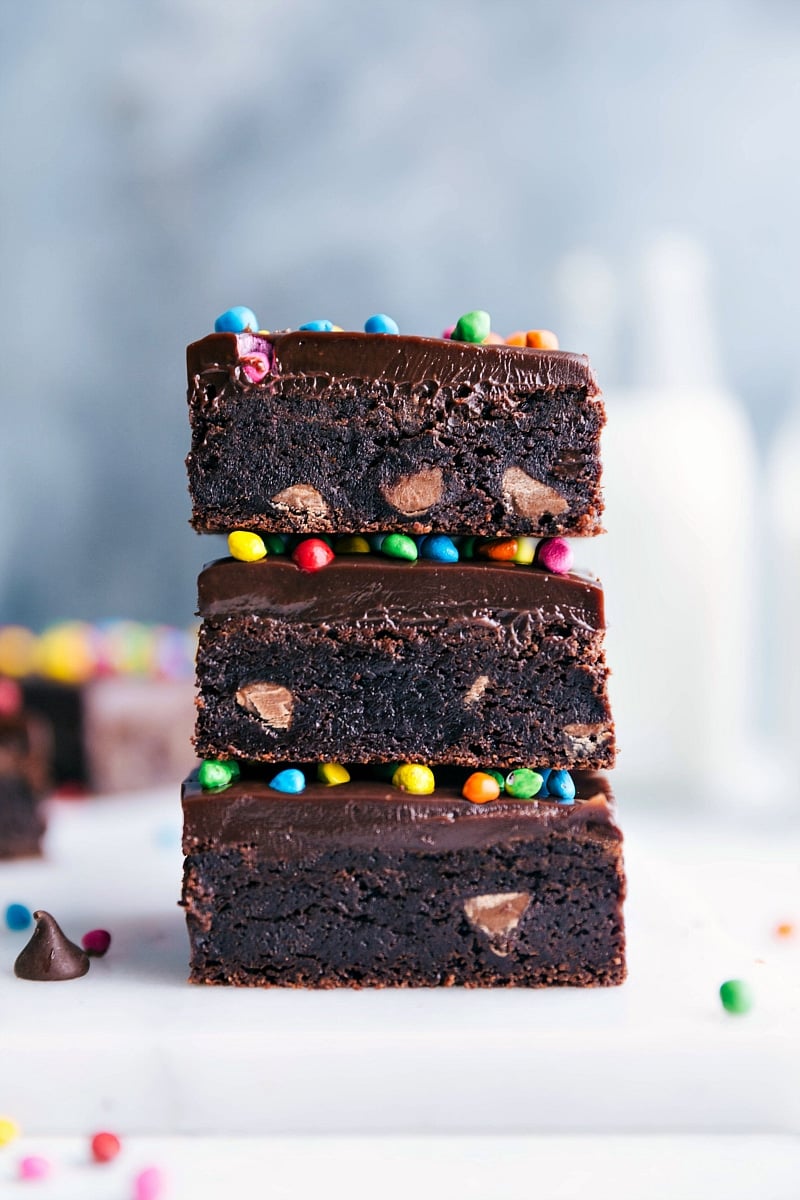 There are not a lot of things that can bring me back to my childhood quite like a cosmic brownie.
As a 3rd grader few things were more exciting than opening my lunch and seeing a cosmic brownie inside. Okay, if I'm honest that excitement continued through high school 🙂 Fast forward to today, however, and they are much less delicious than I remember… And not only that, but they contain a long list of ingredients that I can't pronounce. Hoping to rekindle my 3rd grade (ok high school) love for cosmic brownies, I decided to create my own cosmic brownie copycat recipe.
If you're not familiar with cosmic brownies, I'm sharing plenty of background on them today; starting with:
What are Cosmic brownies made of?
The original Cosmic Brownies were made famous by the Little Debbie Company. They're fudgy chocolate brownies topped with a thick chocolate ganache and rainbow coated chocolate candies. In this copycat recipe, we're keeping all the same elements — fudgy brownies, thick chocolate ganache, and rainbow candy topping!

A few more Cosmic Brownies FAQs
Are Cosmic Brownies kosher?
Yes and so are these homemade cosmic brownies 🙂
How many calories are in a Little Debbie brownie?
There are 290 calories in one Little Debbie brownie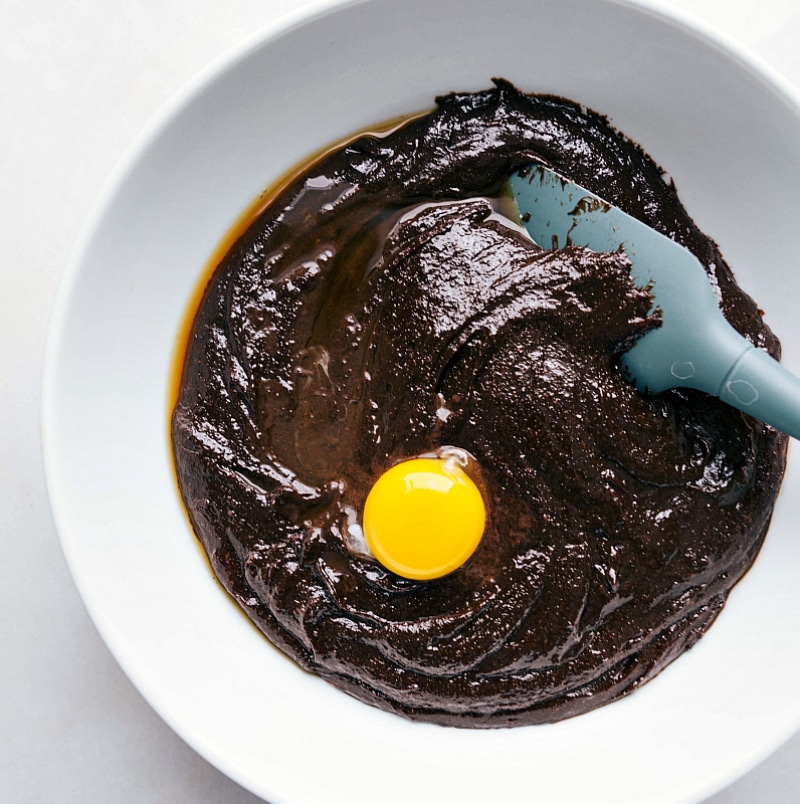 How to Make FUDGY Brownies
Lots of chocolate: there is A LOT of chocolate in these brownies making the texture very fudge-like.
Measure Properly: to make and keep a fudgy consistency it's important your measure all your dry ingredients properly. Make sure you're spoon and leveling the cornstarch and cocoa powder. Too much of either of these ingredients and the brownies will end up more cakey.
Extra egg yolk: this extra yolk also contributes to the fudgy texture (and the flavor).
Cornstarch: the cornstarch replaces flour in these brownies and keeps them thick, moist, and less cake-like.

How to store cosmic brownies
These brownies can be stored in an airtight container for 3 days at room temperature and for 1 week (covered tightly) in the fridge. These brownies do have a tendency to get hard and tough quickly if not packaged well for storage.
Cosmic Brownie tips
Good quality chocolate: use good quality chocolate for the best results and flavor on these brownies. I recommend Ghirardelli.
Carefully measure: be precise with measurements for best results. Make sure to only use large eggs, not medium. (Use leftover egg whites in these meringue cookies)
Dutch process: the better the cocoa powder you use, the better these brownies turn out! Dutch process cocoa is going to give you the most flavorful and moist brownies. This is my favorite cocoa powder (affiliate link). Hershey's dark cocoa powder is also dutch process.
Slightly under-bake: even a few minutes over bake time and these turn from perfectly dense and fudgy to more of a cake-like less flavorful version. Watch carefully and as soon as a toothpick comes out with moist crumbs, these brownies are ready. They also continue to set up as they cool.
Store in the fridge: the frosting on these have the tendency to get melty (especially on a hot day). I think the actual brownie base tastes better chilled as well.
Add sugar while chocolate & butter mixture is warm: this helps to reproduce the beautiful shiny brownie top for these cosmic brownies!
Don't over mix: mixing too much will introduce air into the batter which will yield more cake like instead of fudgy brownies.
Plenty more cosmic brownie tips here!
Where to find the candy topping
I found the candy sprinkles for these cosmic brownies amongst other sprinkles on the baking aisle (at my local Kroger store — Smiths). You can also find them at craft stores (such as Hobby Lobby or JoAnns) or on Amazon — search "Wilton's Rainbow Chip Crunch"
Alternatively you can use miniature M&Ms, sprinkles, or miniature chocolate chips.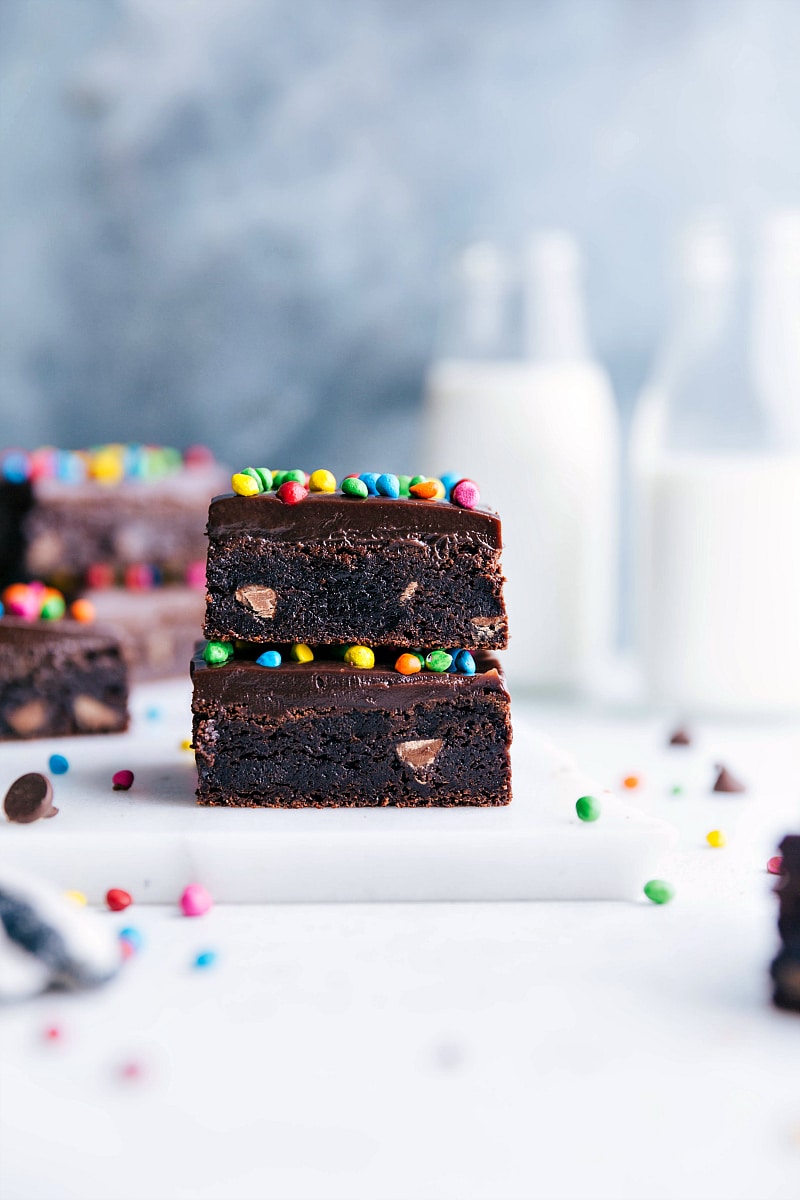 Can you freeze cosmic brownies?
Cosmic Brownies freeze well. Wrap each bar individually with plastic wrap and then place all the bars in a plastic bag in the freezer. Store for 2-3 months. Thaw frozen brownies at room temperature when you're ready to eat them.
There does tend to be some texture loss with frozen and thawed brownies.
More delicious dessert recipes: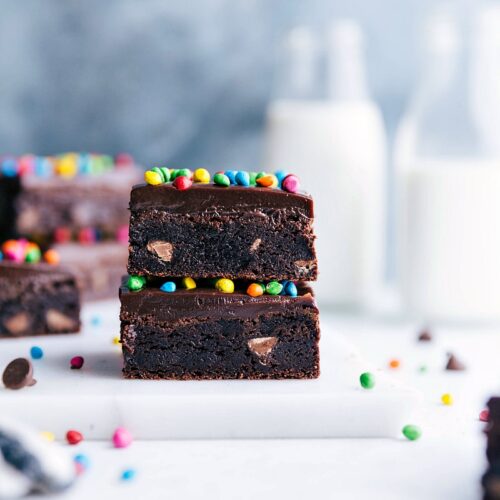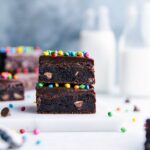 Cosmic Brownies
Bringing back your favorite childhood treat! Cosmic brownies are a fudgy chocolate brownie with chocolate frosting and rainbow candy sprinkles on top. These Little Debbie copycats are amazing!
Ingredients
18

ounces

good quality SEMI-SWEET chocolate chips

(~3 completely full cups or 1 and 1/2 (12 ounce) bags) I don't recommend a different type of chocolate.

9

tablespoons

unsalted butter,

cut into cubes

1

cup + 2 tablespoons

granulated white sugar

1/2

tablespoon

pure vanilla extract

4

LARGE

eggs + 1 large egg yolk

6

tablespoons

dutch process cocoa powder

(Hershey's dark cocoa powder is dutch process)

1/2

cup

cornstarch

3/4

teaspoon

fine sea salt

1 and 1/2

cups

milk, semi-sweet, or dark chocolate chips

(whatever you prefer, we like milk best)
For the frosting:
1 and 1/2

cups

good quality SEMI-SWEET chocolate chips

1/2

cup

heavy cream

Wilton rainbow chip crunch or mini M&M's (or sprinkles or mini chocolate chips)
Instructions
PREP: Line a light colored metal 9 x 13 pan with parchment paper leaving enough of an overhang to easily remove bars. Don't skip this step. Preheat the oven to 350 degrees F.

BROWNIES: In a VERY large microwave safe bowl, combine the chocolate chips and cubes of butter. Microwave in bursts of 15 seconds, stirring in between each burst, until completely melted and smooth. Be patient here and don't microwave too long at risk of burning chocolate. Remove from the microwave and immediately stir in the sugar. Add in the vanilla and one egg. Stir until completely incorporated. Add the remaining eggs and egg yolk, ONE at a time, stirring with a wooden spoon after each addition is completely integrated. It's thick but avoid hand/stand mixers as these will beat in too much air. In a separate bowl, stir together the cocoa powder, cornstarch, and salt. Add to the brownies along with the 1 and 1/2 cups chocolate chips. Stir until smooth. Transfer to prepared baking pan.

BAKE: Bake for 27-33 minutes watching very carefully near the end. As soon as a toothpick comes out with moist crumbs (make sure it doesn't hit a melted chocolate chip!) these brownies are done. This is almost always 29-30 minutes in my oven (calibrated). Differences will occur based on individual ovens, humidity, etc. Remove and allow brownies to fully cool at room temperature before topping.

FROSTING: Add chocolate chips to a large heat safe bowl. Place the cream in a small microwave-safe bowl and microwave on high for 1 minute. Pour over the chocolate chips. Cover bowl with the bottom of a cookie sheet or lid to a pan (whatever you have to keep heat in). Let stand for 4 minutes before stirring until smooth. (If chocolate won't melt completely, place in microwave for 15 seconds and then stir again). Once smooth, pour over the completely cooled brownies and smooth until even. Sprinkle bars evenly with the rainbow chips, sprinkles, or mini M&Ms.

SERVING: Place in the fridge, covered, for 1 to 2 hours, or until the frosting is completely set. To cut: remove brownies from pan using parchment paper overhang. Cut with a sharp knife. For clean cuts, run knife under hot water, dry, and make a cut. Repeat until all bars are cut out. Return leftovers to an airtight container in the fridge. Brownies are best served chilled.
Recipe Notes
Gluten free: brownies are naturally gluten free -- confirm with all packaging that products are processed in gluten free environment. Replace rainbow crunch sprinkles with miniature chocolate chips for gluten free.