The BEST white chocolate chex mix — cereal, pretzels, and M&M's all coated in white chocolate.
This white chocolate chex mix is my go-to for potlucks, parties, and holiday celebrations. You can change the colors of the M&Ms to match the holiday or event you're serving this addicting snack mix at!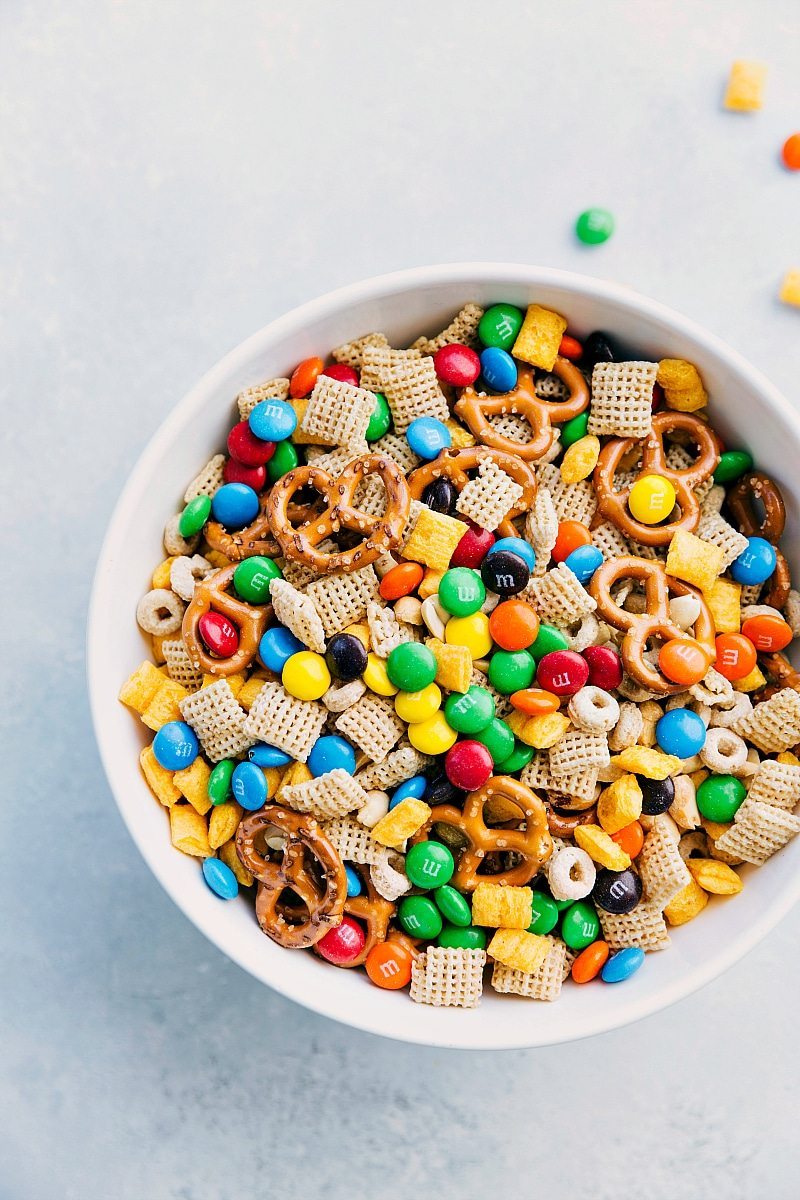 White Chocolate Chex Mix
One of the snacks my boys request the most is this white chocolate chex mix. I don't blame them either – it was one of my favorite snacks growing up (and still is)!
As I've made this chex mix over the years I've found two unique additions that put this mix over the top. Those two additions? Roasted peanuts and captain crunch cereal (without the berries)! It might sound odd, but trust me, those two ingredients make this mix.
Other great things about this mix? It's super fast to make (and the chocolate hardens quickly!) And another great thing about this mix is how versatile it is. You can change around quantities, ingredients, and colors of the candies to your heart's content!
Variation Ideas
I've written out the standard recipe in the recipe card at the end of this post. Below are a few fun ideas on how to modify the standard recipe for various occasions or different flavors.
Modifications for holidays:

Spring: Use Spring Pastel M&Ms in place of regular OR use Cadbury Eggs
St. Patrick's Day: Check out this adorable Leprechaun Bait
Christmas: Use red, green, and white

Popcorn snack mix: Try this white chocolate popcorn recipe; it's a family favorite!
Marshmallow snack mix: Replace the peanuts with 1 cup mini marshmallows
Adding sprinkles: Follow the recipe to step 7. As soon as the snack mix is spread on the tray, sprinkle with 2-3 tablespoons sprinkles
White chocolate cereal clusters: try this recipe
For a chocolate version with powdered sugar: try muddy buddies!
Now that you've got plenty of ideas to use this snack mix for EVERY occasion, I'm sharing a few tips below to ensure it comes out great every single time.
Chocolate Tips
Using high quality white chocolate will always result in a better melt and a richer taste. My favorite is Ghirardelli or Guittard.
White chocolate hardens very quickly so microwave it in batches – I'd recommend 2 batches for this recipe.
To avoid burned white chocolate, microwave the chocolate for 30 seconds at a time, and stir it for at least 20-25 seconds in between each microwave burst. Remember the chocolate is still melting even after it has been removed from the microwave.
Work quickly! White chocolate hardens quickly, so mix it with the ingredients immediately after it is fully melted.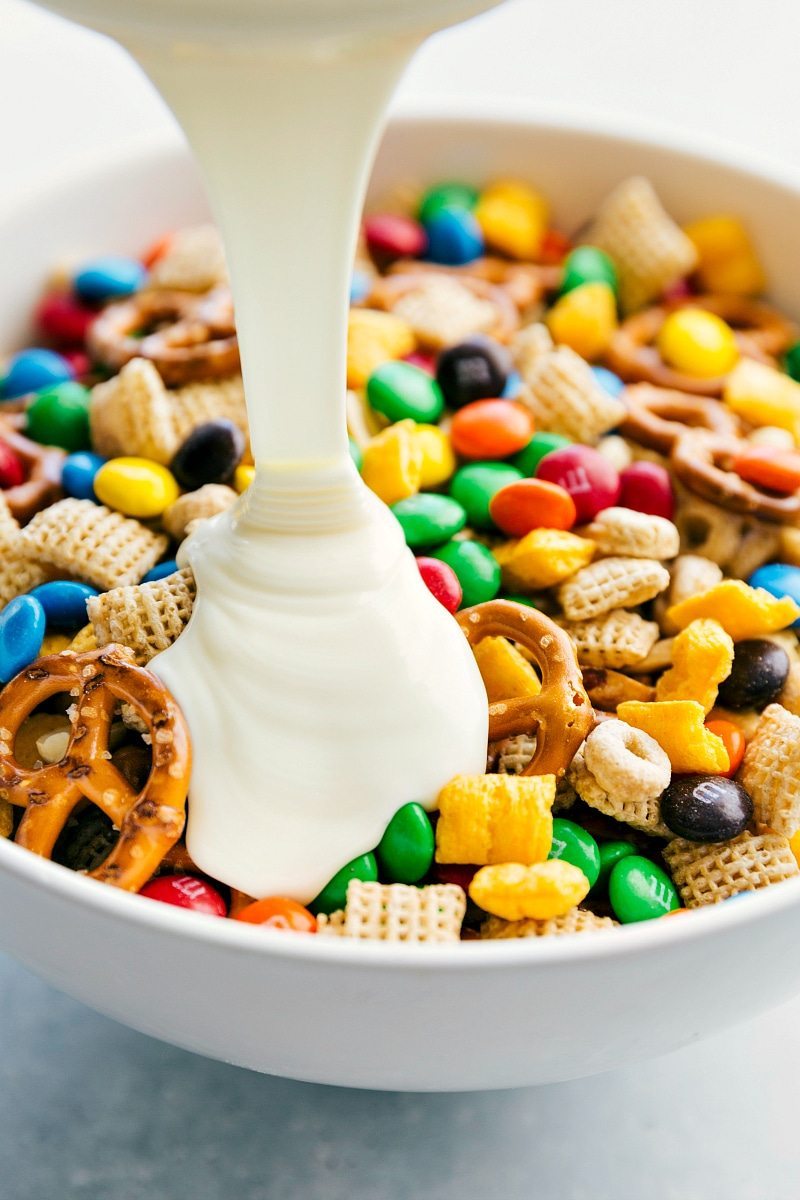 Storing Tips
Store in an airtight container at room temperature for up to a week. We like it best within 3-4 days.
You can freeze it in an airtight container/bag for up to 3 months; thaw at room temperature!
More desserts to share with a crowd: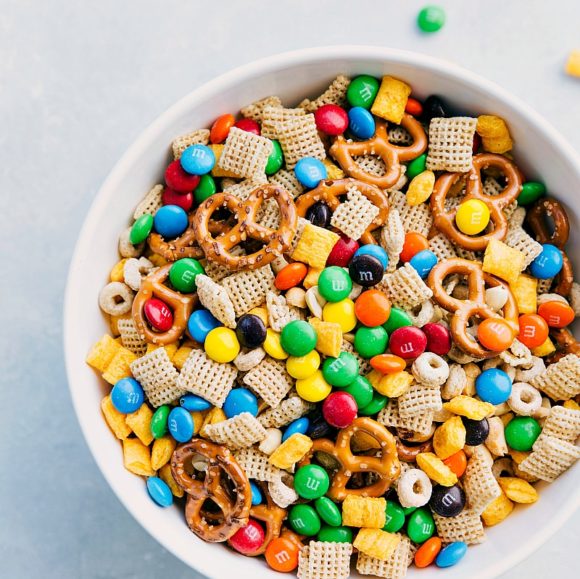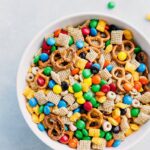 White Chocolate Chex Mix
The BEST white chocolate snack mix -- cereal, pretzels, and M&M's all coated in white chocolate.
Keyword:
white chocolate chex mix
Ingredients
2

cups

rice chex cereal

1

cup

captain crunch cereal

(without the "berries")

2

cups

miniature pretzels

1

cup

cheerios cereal

1

cup

dry roasted peanuts

1

cup

M&Ms

2

cups

white chocolate chips

(One 12-ounce bag)

1

tablespoon

vegetable oil
Instructions
Line a large tray with parchment paper. Set aside.


In a large bowl, combine the rice chex cereal, captain crunch cereal, miniature pretzels, cheerios cereal, dry roasted peanuts, and M&M's. Stir together gently.


In a medium sized bowl place 1 cup of white chocolate chips with 1/2 tbsp. vegetable oil in the microwave*. Microwave for 30 seconds, stir, and microwave for another 25 seconds. Stir until melted or return to the microwave for a little longer.


Add the white chocolate with the rice chex mix and stir together.


Melt the rest of the white chocolate and remaining 1/2 tbsp. vegetable oil in the microwave.


Add the remaining white chocolate to the rice chex mix.


Pour the white chocolate covered mix evenly onto the baking tray. Let the white chocolate harden.


Once hardened, break apart the pieces and enjoy!

Recipe Notes
*You don't have to separate the white chocolate into 2 batches, but I've found it easier to work with!