Addicting and perfect for tailgating — triple chocolate popcorn with chocolate-covered almond footballs
This chocolate popcorn with chocolate-covered almond footballs is a great treat to share for game day. Not only is the chocolate popcorn completely addicting, but it's also fun and festive!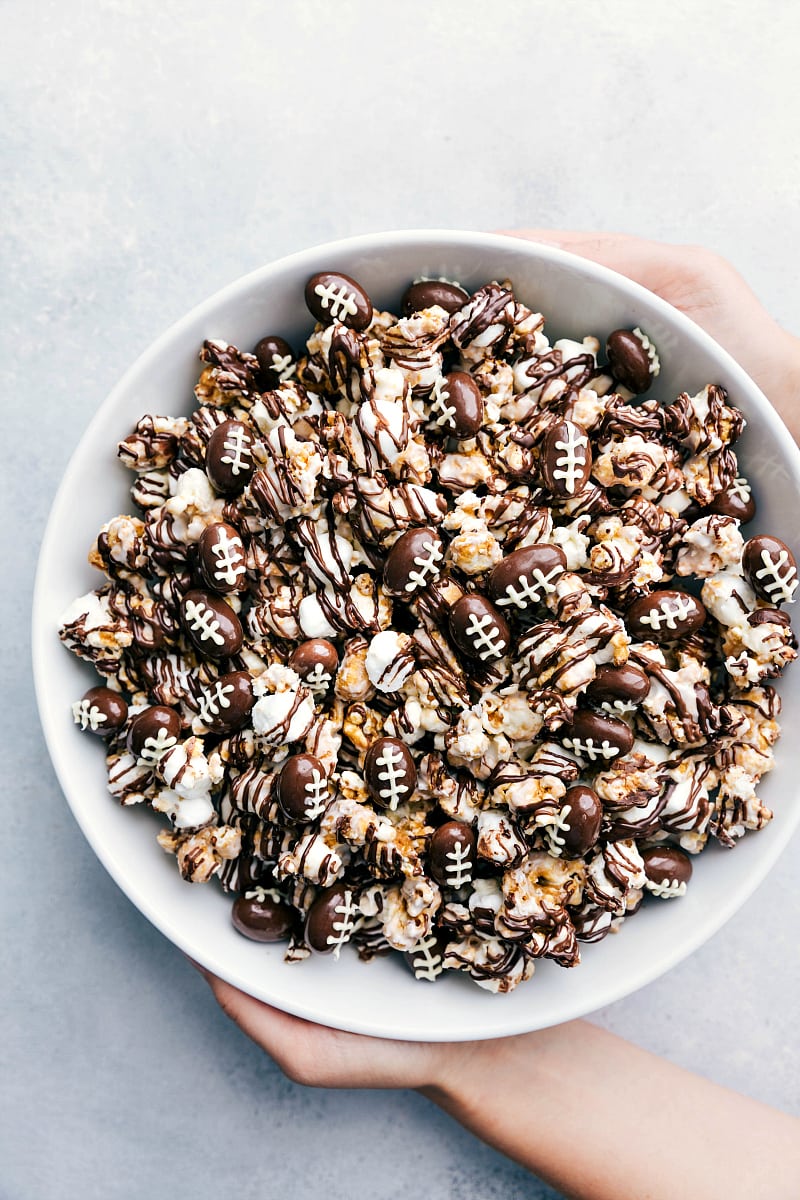 I'm so excited to be partnering up with Kroger this year to bring you delicious recipes including this triple chocolate football popcorn! This post is brought to you in partnership with Kroger, as always, all opinions are my own.
Throughout this past year I've shared many reasons why my family and I are obsessed with Kroger stores. There is so much to love about Kroger, and my local Smith's makes my life about a million times easier (have I told you about the parking spots they have for expecting moms? Game changer for me right now!)
And Kroger really makes it easy when it comes to comes to planning a party, or preparing an amazing spread of food for game season! And when I say an amazing spread, you really can create quite the table of snacks with very little work. We threw a small family party a couple of weeks ago and had quite the table of snacks put together in no time at all!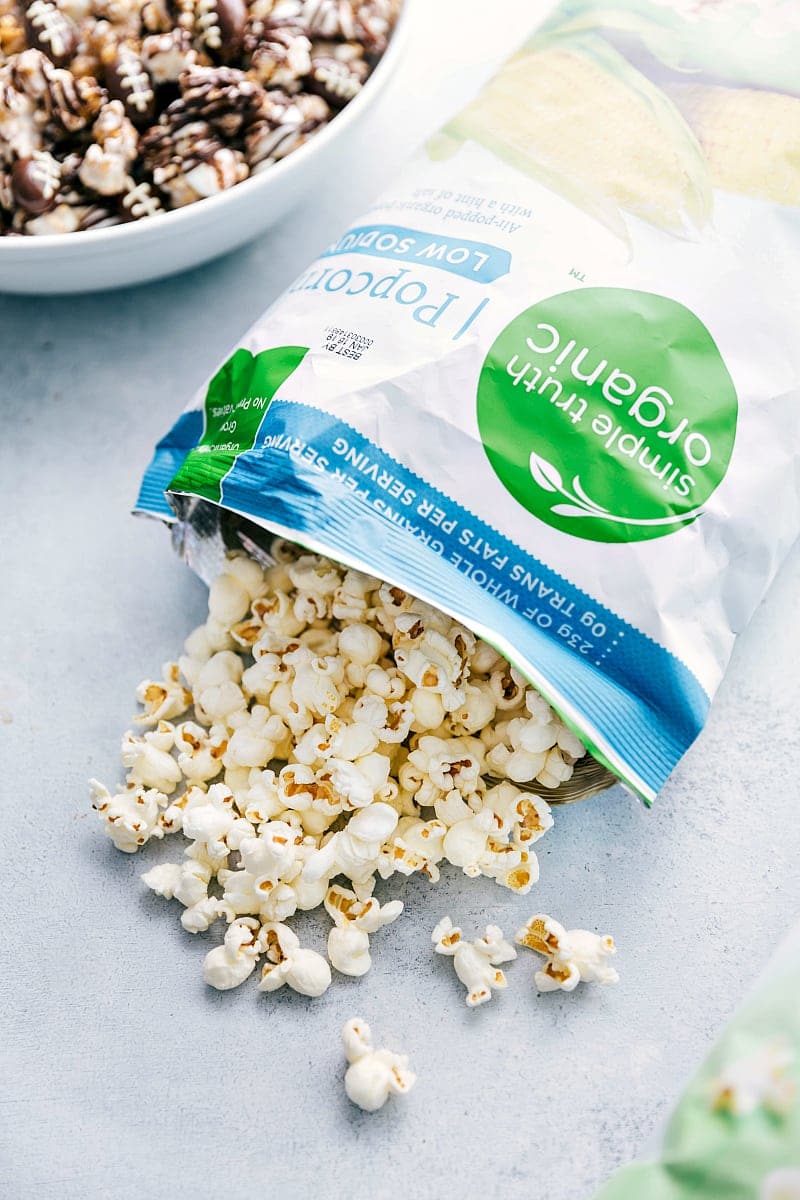 I love creating snacks for parties and family events, and with football season right around the corner, I wanted to make a fun football-themed treat. The result? A delicious concoction of popcorn, chocolate, and almonds. My family is obsessed with this treat, and lucky for us football season is just starting:)
If you're like me you like serving a variety of snacks, and this chocolate popcorn treat pairs perfectly with other traditional snacks.
What should you serve alongside this football-themed chocolate popcorn?
Salsa

with

tortilla chips

A big

Vegetable Tray

RITZ

crackers

Pizza

Shrimp Trays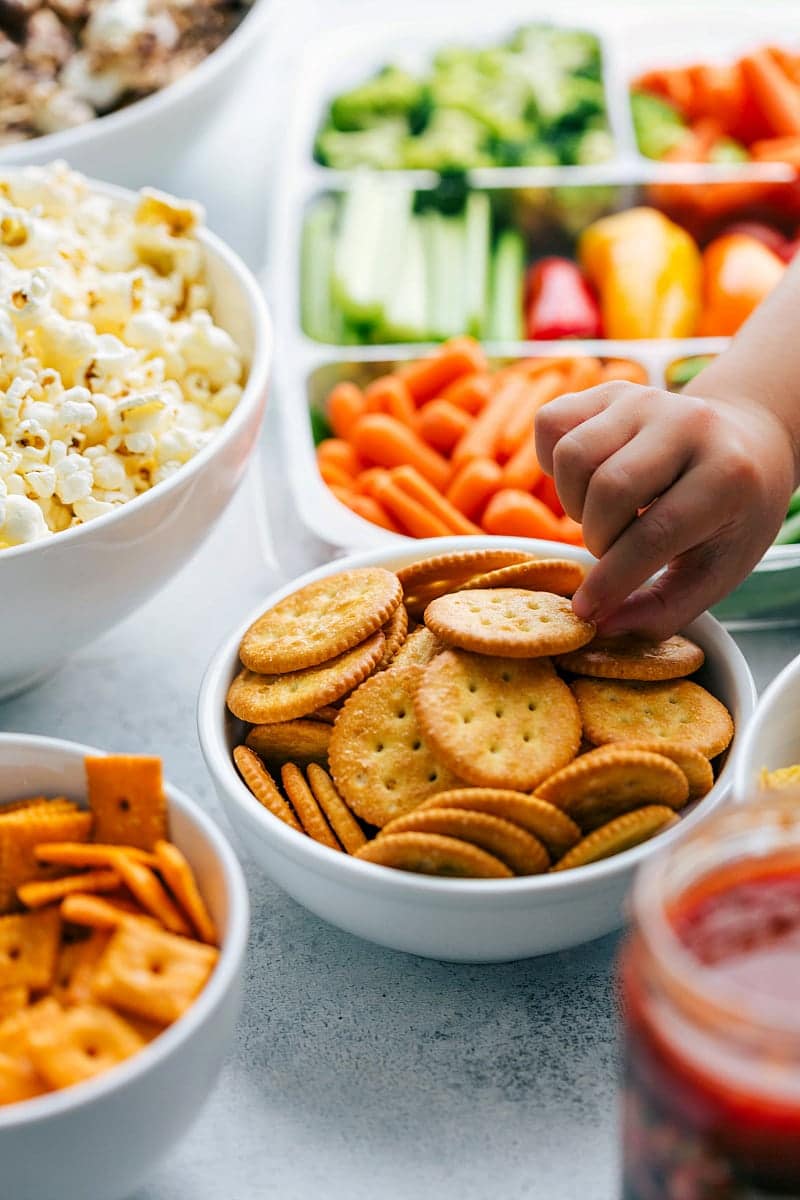 I really like how easy this popcorn is to prepare, which leaves me time to prep any other snacks I'm making at the same time. While there are a few more steps than you might be used to, it comes together easily and is well worth the effort!
Here are a few tips when making this easy chocolate popcorn:
Prep the ingredients before starting

. I like to grab all the required ingredients and lay them out on my kitchen counter to make sure I have everything I need. This recipe moves fast in some parts, so if an ingredient isn't immediately ready to go, the recipe may not turn out as good as it could have.

Use a really large bowl!

You'll toss the popcorn twice — first in the caramel-sugar mixture, and then again in the melted white chocolate. To make your life easy, grab a large bowl that can easily accommodate all the ingredients and allow you room to toss them without spilling. If you don't have one really large bowl just separate the mixture into two bowls.

Melt the chocolate slowly and stir it often

: To avoid burning your chocolate, don't rush the melting process! I like putting the chocolate chips (with a small amount of oil) in a microwave safe bowl and microwaving the chocolate in bursts of time. Just remember: the chocolate is still melting when you take it out of the microwave, so make sure to give the chocolate time to melt as you stir.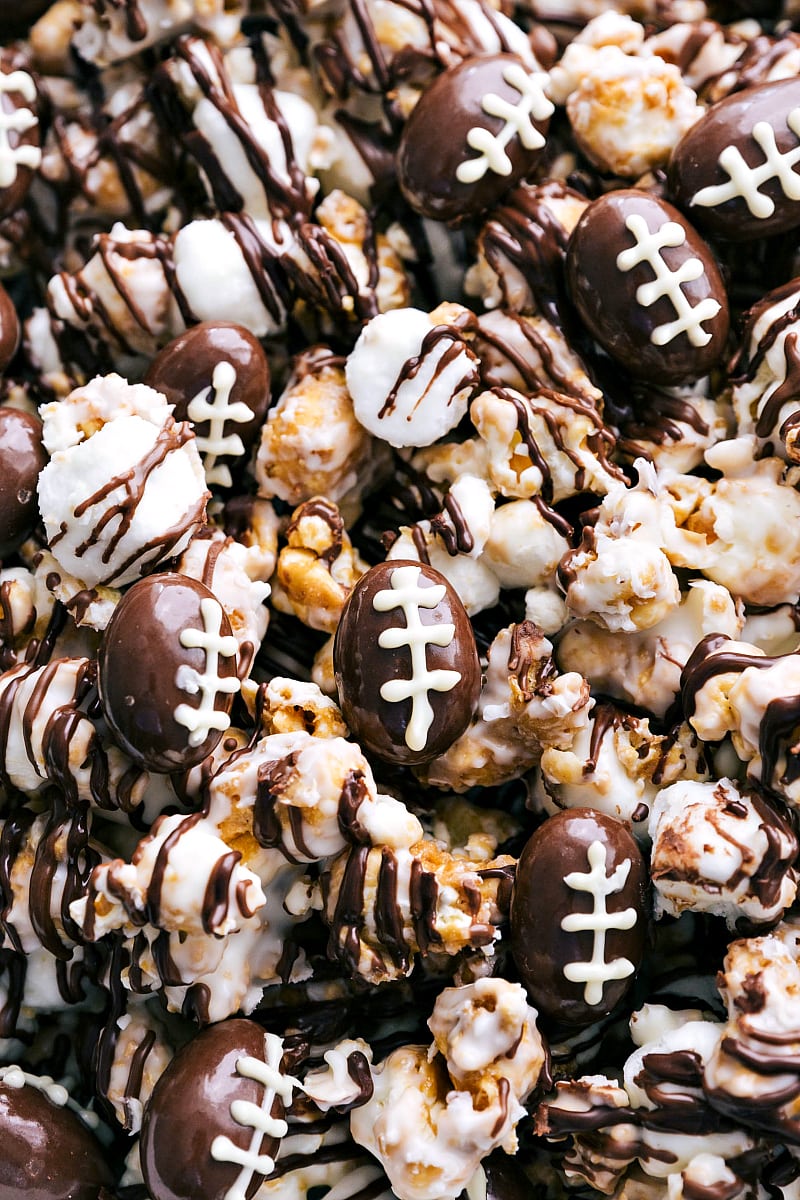 More Delicious Game Day Snacks: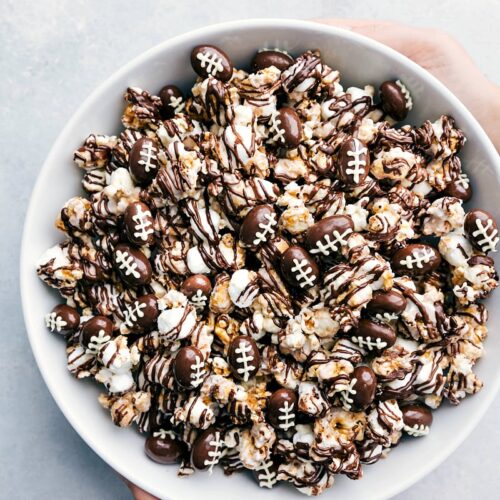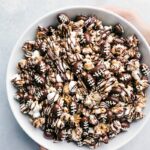 Football Triple Chocolate Popcorn
Addicting and perfect for tailgating -- triple chocolate popcorn with chocolate-covered almond footballs
Keyword:
chocolate popcorn
Ingredients
12

cups

Simple Truth Organic Popcorn

1/2

cup (8 tablespoons)

unsalted butter

1/4

cup

light corn syrup

1

cup

light brown sugar,

packed

1/2

teaspoon

salt

1/4

teaspoon

baking soda

1/2

teaspoon

pure vanilla extract

1/2

of 1 full

bag of miniature marshmallows

2 and 3/4

cups

white chocolate chips,

separated

2 and 1/4

teaspoons

vegetable oil,

separated

1/2

cup

dark chocolate chips

1/2

cup

milk (or semi-sweet) chocolate chips

1

cup

chocolate covered almonds
Instructions
Line two large cookie sheets with parchment paper or a silpat liner and set aside.

Pour the popcorn in a very large bowl.

In a pot over medium heat, add the butter, corn syrup, brown sugar, and salt. Stir until the butter is melted and then bring to a boil. Let boil for 5 minutes without stirring. Remove from the heat and stir in the baking soda and vanilla extract.

Pour this mixture over the popcorn in the bowl and gently toss to combine.

Spread the coated popcorn on prepared cookie sheets.

Bake for 1 hour at 250 degrees F, stirring every 15 minutes and rotating the pans from top rack to bottom rack. Remove the pans and allow to completely cool.

Once the popcorn is completely cooled add to a very large bowl. Add in the miniature marshmallows and stir.

Melt 2 and 1/2 cups white chocolate chips and 1 teaspoon vegetable oil in a microwave safe bowl in bursts of 30 seconds, stirring in between each burst for 15 seconds until the chocolate is melted and smooth. Pour over the popcorn/marshmallow mixture and stir until popcorn and marshmallows are coated in white chocolate.

Pour the popcorn back on the two sheet pans.

Melt the dark chocolate chips with 1/2 teaspoon vegetable oil and drizzle evenly over the popcorn (I put the melted chocolate in a small plastic bag and cut off the tip with scissors and then pipe it on)

Melt the milk chocolate chips with 1/2 teaspoon vegetable oil and drizzle evenly over the popcorn.

Let the popcorn harden and then slightly break up and put in a large bowl.

Meanwhile, while the popcorn is setting up, prepare the chocolate almond footballs. Place out the chocolate almonds in an even layer on a sheet pan. Melt the remaining 1/4 cup white chocolate chips with the remaining 1/4 teaspoon vegetable oil. Once chocolate is completely melted and smooth, pour into a small plastic bag, seal, and cut off the very tip. Pipe football laces on the chocolate almonds. Let harden.

Add into the popcorn bowl and enjoy!
Nutrition Facts for this Triple Chocolate Popcorn: