Shortbread Cookies are melt-in-your-mouth soft with crisp, sugared edges! Drizzle or dip your finished cookies with chocolate for the ultimate shortbread treat!
For more shortbread, try these thumbprint cookies (raspberry almond flavored), these lemon curd cookies, or these toffee shortbread cookies.

The best Shortbread Cookies!
This shortbread recipe is based off of one of my favorite cookie recipes from Alison Roman's "Dining In" Cookbook. Her Chocolate Chip Shortbread Cookies went viral a couple years ago and of course, I had to try it. I've yet to have a shortbread cookie I like as much, and so this recipe is adapted from hers.
I swapped salted butter for unsalted butter and then add salt which I think makes the flavor brighter. Next, I added some cornstarch to make these cookies just a little softer and to give them that "melt-in-your-mouth" quality. I also amped up the vanilla extract just a touch and then added just a few drops of almond extract for a very subtle nutty flavor. Instead of adding chocolate chunks, I melted chocolate and piped it over the cookies after they're baked and cooled. I also liked adding the flaked sea salt on top of the chocolate after baking instead of adding it to the unbaked cookies.
These cookies are ultra buttery, flavorful, and have perfectly crisp sugary edges. Adding a drizzle of chocolate and a sprinkle of sea salt makes these the best Shortbread Cookies ever!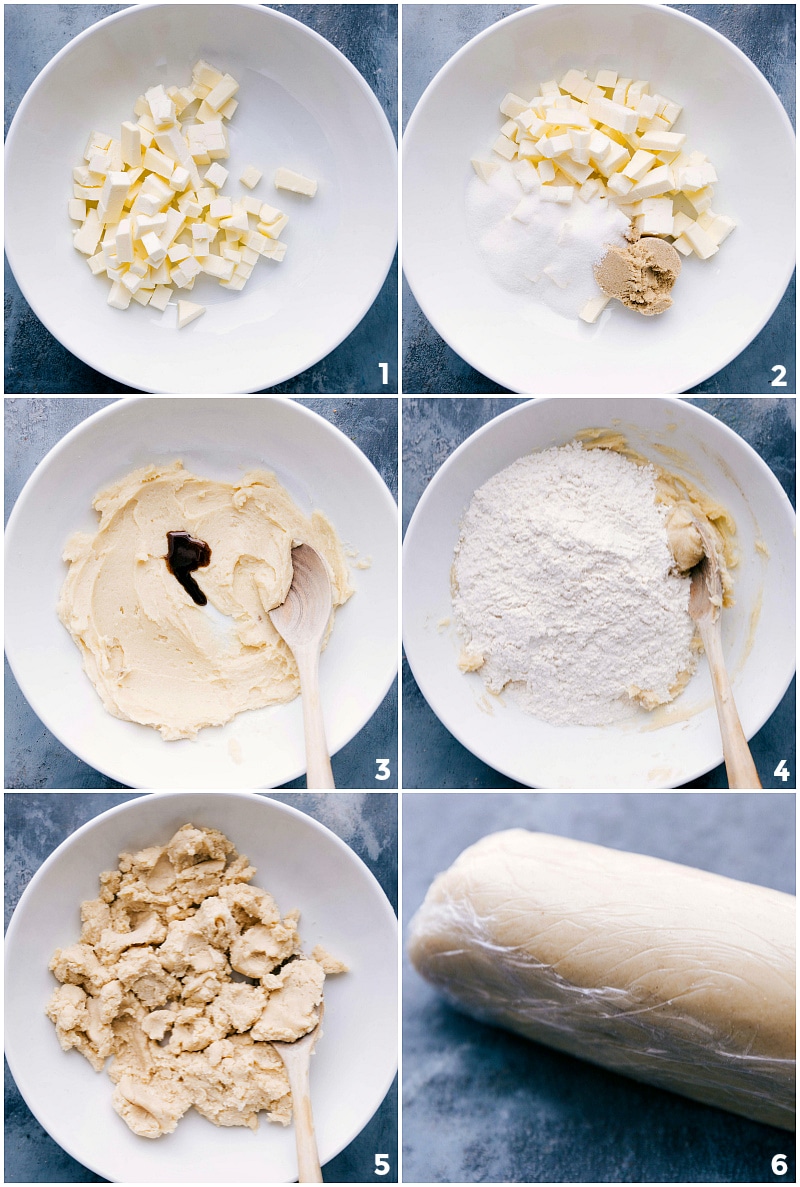 How to make Shortbread Cookies
The descriptions below correlate to the photo collages in this post.
Cube cold butter. Use butter straight from the fridge and cube it into small pieces.
Beat in sugars. We're adding mostly white sugar (crispier shortbread cookies) with a little brown sugar for a depth of flavor; cream the two together with the butter. Take your time here– we want to beat in lots of air.
Add flavor enhancers. Mix in the vanilla paste (or extract) and almond extract (if desired). I like using vanilla bean paste for the slightly more intense flavor and flecks of vanilla bean throughout the dough, but either will do the job! If you have a hard time finding the paste, here's the brand I use.
Mix in dry ingredients. Add in the cornstarch, salt, and flour. Mix until everything is just combined. You don't want to over-mix the dough.
Finish the dough. The dough might seem a little dry and crumbly, but this is fine. It should knead together easily with your hand (if it's so dry that the dough won't knead together, the flour was likely over-measured).
Gently shape the dough. The dough should make two cylinders, each around 9 to 9.5 inches long. Wrap the cylinders tightly and chill for at least 2 hours and up to 1 week.
Brush a beaten egg around the cylinders of cookie dough.
Roll the egg-covered dough in cane sugar (for crispy sugary edges), and cut the cylinder into 1/2 inch thick cookies.
Add unbaked cookies to a lined sheet pan. Either line the pan with parchment paper or a Silpat® liner.
Bake the cookies in a fully preheated oven for 9-11 minutes or until bottoms are very lightly browned and top is no longer glossy.
Add some chocolate. If desired, add a chocolate drizzle to completely cooled shortbread cookies.
Let the chocolate harden at room temperature and enjoy these delicious shortbread cookies!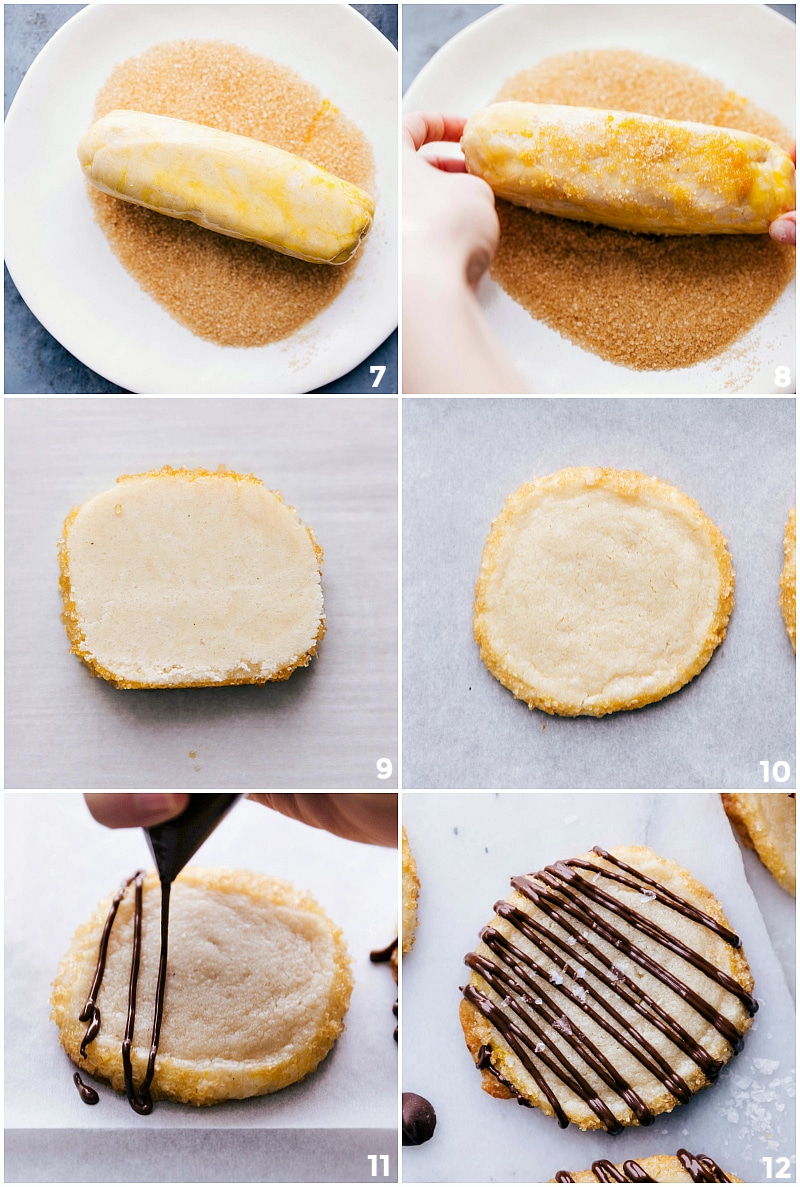 Tips for making Shortbread Cookies
Use high-quality butter. The main ingredient in Shortbread Cookies is butter — so use a good brand and avoid margarine or butter spread.
Don't skimp on the chilling time. Chilling Shortbread Cookies is vital to the end result as far as texture and flavor goes; don't rush this step! I personally think these cookies turn out best when chilled overnight.
Roll even logs of dough. The more even and uniform your cylinders of dough are, the better your final cookies will look.
Roll cookies in sugar before baking. This is one of the secrets to Alison Roman's famous cookies! She brushes a beaten egg on the edges of the cookies and then rolls in sugar which give you a deliciously crispy edge. I highly recommend this method, but as a quicker alternate, you can quickly toss cut cookies into regular granulated sugar (no egg or liquid needed).
Slightly under-bake. As soon as the edges and underside are a light brown, these Shortbread Cookies are done. They'll continue to firm up as they dry and harden. If you wait until all of the cookie is a light brown, they'll be over-cooked, more dry, and less flavorful.
Why cold butter?
Cold butter is ideal for baked goods you want to be crispy (not chewy). When you use cold butter straight from the fridge it never fully incorporates with the batter and instead is broken into tiny pieces throughout the dough. When you bake the dough, the steam released from the butter is going to create pockets in the baking which will create flaky layers — exactly what you want with Shortbread Cookies!
Storage Tips
Store cookie dough (tightly wrapped) up to one week in the refrigerator.
To freeze: Cut chilled dough into rounds and freeze individual rounds on a sheet pan in the freezer. Once dough is fully frozen, transfer to an airtight bag and store in the freezer for up to one month.
Store baked Shortbread Cookies in an airtight container at room temperature. Best enjoyed within 4 days.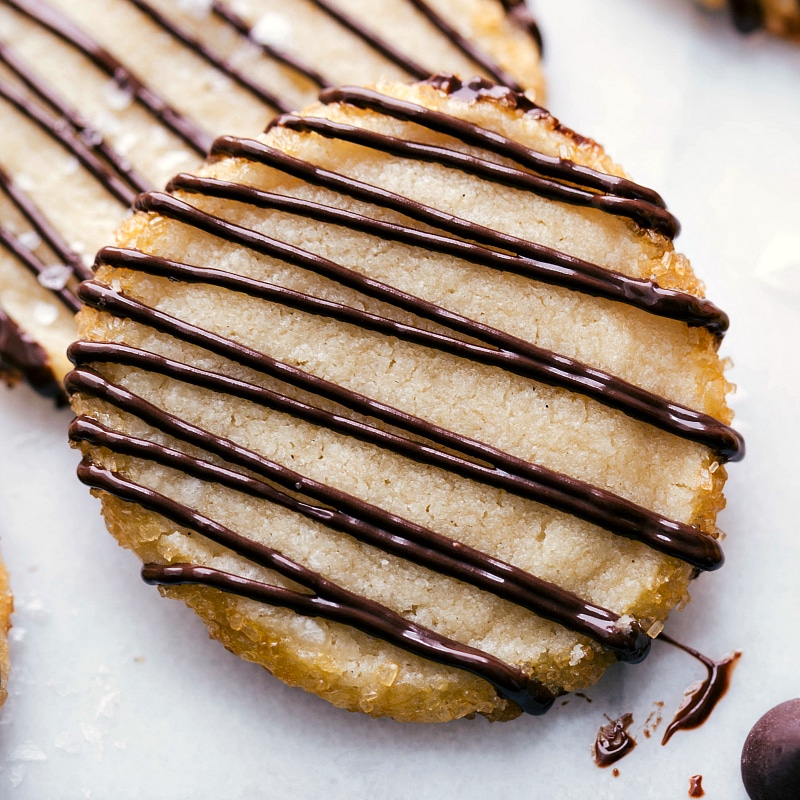 More delicious cookie recipes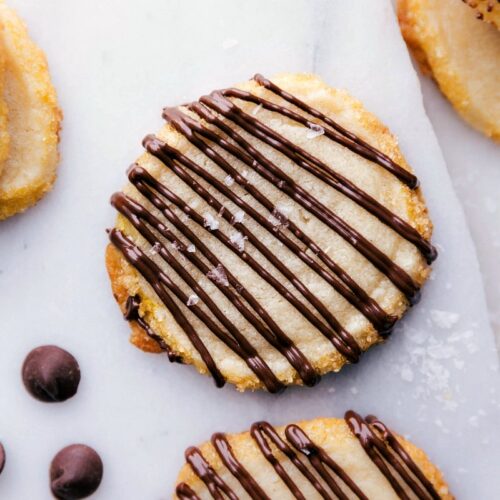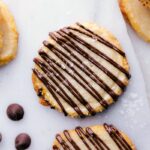 Shortbread Cookies
These Shortbread Cookies are melt-in-your-mouth soft with crisp, sugared edges. Drizzle or dip your finished cookies with chocolate for the ultimate shortbread treat!
Keyword:
shortbread, shortbread cookies
Ingredients
1

cup + 2 tablespoons

cold, unsalted butter,

cut into small cubes

1/2

cup (105g)

white granulated sugar

1/4

cup (50g)

light brown sugar,

packed

1/2

tablespoon

pure vanilla extract

1/8

teaspoon

pure almond extract,

optional

3/4

teaspoon

fine sea salt

1

teaspoon

cornstarch

2 and 1/4

cups (290g)

white, all-purpose flour

1

large egg,

lightly beaten

1/2

cup

cane sugar,

for rolling cookies in

1

cup

milk chocolate chips

or semi-sweet or dark chocolate; whichever you prefer
Instructions
BUTTER AND SUGARS: Using an electric mixer or a stand mixer (fitted with the paddle attachment), beat together the butter, white sugar, and brown sugar until light and fluffy, about 3 to 5 minutes (don't rush this!). Scrape the sides of the bowl as needed.

DRY INGREDIENTS: Beat in the vanilla extract, almond extract, salt, and cornstarch just to combine. Add in the flour and again beat to just combine. Don't over-mix.

SHAPE DOUGH: Divide the dough in two equal pieces. Form each half into a round log shape that is 9 to 9.5 inches long and about 2 inches in diameter. Roll it on the counter to help smooth out (use plastic wrap to avoid touching the dough with hands and warming the butter too much). Wrap tightly in plastic wrap and place in the fridge to chill for 2 hours. May be stored this way for up to a week of chilling.

BAKE: Preheat oven to 350 degrees F. Line a baking sheet with parchment paper or a Silpat liner. Pour the cane sugar onto a large flat plate and set aside. Remove one log at a time and remove the plastic wrap. Brush the outside of the dough with the beaten egg. Immediately roll the dough log into the cane sugar on the plate.

BAKE CONT.: Slice each log into 1/2-inch thick cookies. Place cookies on the prepared tray. Bake cookies until edges are *just* beginning to lightly brown, about 8-11 minutes. Watch carefully to avoid over-baked cookies.

COOL: Remove from the oven, let cookies stand on sheet pan for 2-3 minutes, and then use a metal spatula to transfer cookies to a cooling rack. Allow to cool completely.

CHOCOLATE DRIZZLE: Add chocolate to a bowl and microwave (at 50% power) in bursts of 20 seconds, stirring in between each bursts until the chocolate is melted and smooth. Transfer the chocolate to a plastic bag and snip off the tip with scissors. Drizzle completely cooled shortbread cookies with chocolate and allow the chocolate to harden at room temperature.

STORAGE: Baked cookies are best when used within 2-3 days; store at room temperature in an airtight container.