Flavorful toffee shortbread cookies with crisp sugared edges dipped or drizzled in chocolate. The perfect holiday cookie!
For similar shortbread cookies, try these thumbprint cookies (raspberry almond flavored), these coconut thumbprint cookies, or my ultimate "plain" shortbread cookies!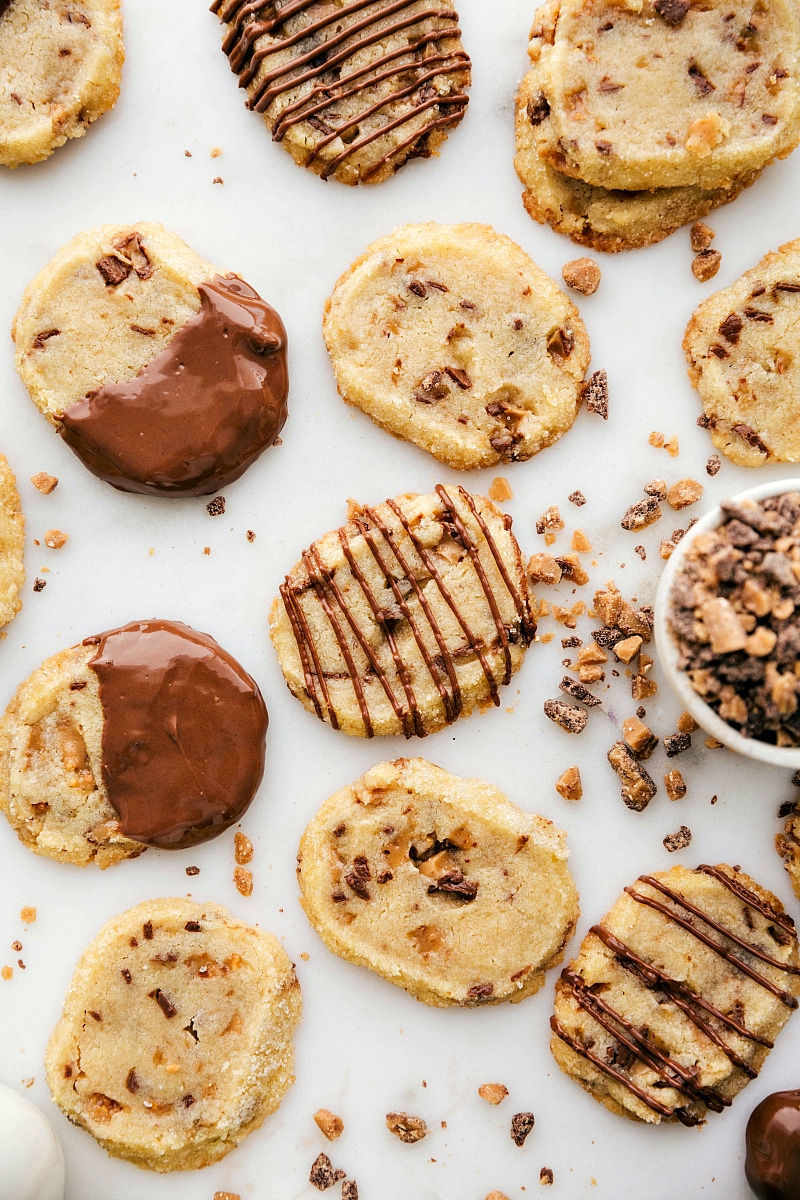 And we're to the final day of Christmas cookie recipes! Today's cookie: toffee shortbread cookies! To me, any kind of shortbread cookie is a Christmas classic and these are perfect for the holiday season. This shortbread recipe is based off of one of my favorite cookie recipes ever — from Alison Roman's "Dining In" Cookbook. Her chocolate chip shortbread cookie went viral a while back and of course I had to try it. I've yet to have a shortbread cookie I like as much and so this recipe is adapted from her cookie. It's super buttery, flavorful, and stuffed to the brim with toffee! And a drizzle of chocolate over these cookies takes these cookies to a whole new level.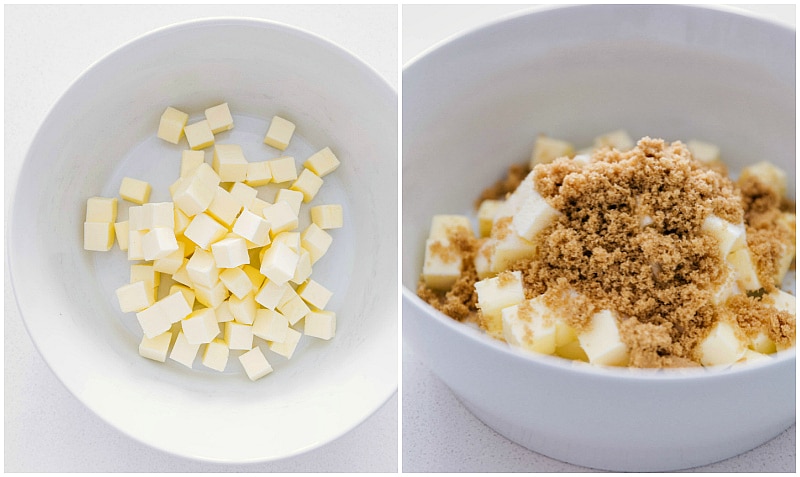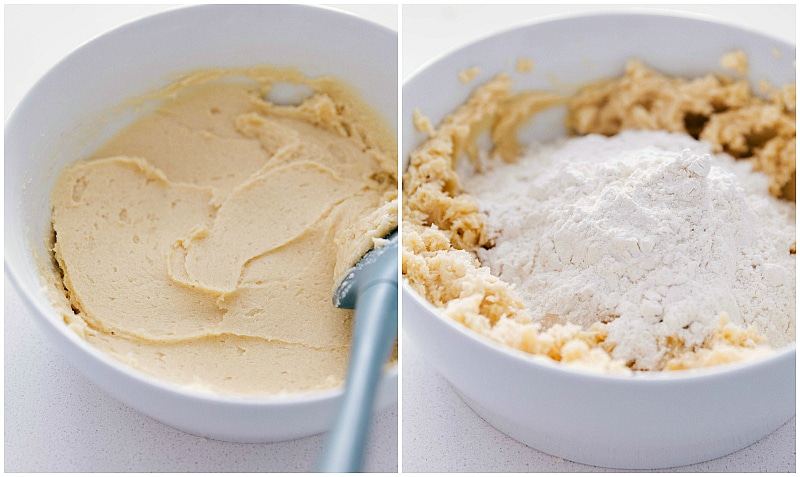 How to make toffee shortbread cookies:
Cube COLD butter: grab your butter straight from the fridge and cube it into small pieces. Cold butter is ideal for baked goods you want to be crispy (NOT chewy). When you use cold butter straight from the fridge it never fully incorporates with the batter and instead is broken into tiny pieces throughout the dough. When you bake the dough, the steam released from the butter is going to create pockets in the baking which will create flaky layers — exactly what you want with shortbread!
Beat in sugars: we're adding mostly white sugar (crispier cookie) with a little brown sugar for a depth of flavor: cream the two together with the butter!
Add other ingredients: add in everything else except the flour: vanilla extract, almond extract (if desired), cornstarch, and salt for flavor balance.
Mix in flour: add in the flour and mix until everything is *just* combined. You don't want to overmix these cookies with the flour. Gently fold in the chopped toffee to your dough.
Gently shape the dough (avoid getting that butter too warm!) into two long cylinders. Each cylinder should be around 9 to 9.5 inches long. Wrap the cylinders tightly and chill for at least 2 hours and up to 1 week.
Bake: Brush a beaten egg around the cylinders, roll in cane sugar (crispy, sugary edges!), and cut into 1/2 inch cookies, bake in a preheated oven.
Add some chocolate: if desired, add a chocolate drizzle to completely cooled toffee shortbread cookies!
Tips for making toffee shortbread cookies:
Use HIGH quality butter: the main ingredient in shortbread cookies is butter — use a good brand and avoid any margarines/butter spreads.
Don't skimp on the chilling time: chilling shortbread cookies are vital to the end result as far as texture and flavor; don't rush this step!
Roll even "logs" of dough: the more even and uniform your logs of dough are, the better your final cookies will look.
Roll cookies in sugar before baking: This is one of the "secrets" to Alison Roman's famous cookies! She brushes a beaten egg on the edges of the cookies and then rolls in sugar which give you a deliciously crispy edge. I highly recommend this method, but as a quicker alternate, you can quickly toss cut cookies into regular granulated sugar (no egg or liquid needed).
Storage Tips:
Store cookie dough (tightly wrapped) up to 1 week in the fridge.
To freeze: cut chilled dough into rounds and freeze individual rounds on a sheet pan in the freezer. Once frozen, transfer to an airtight bag and store in the freeze for up to 1 month.
Store baked cookies: in an airtight container or in plastic wrap at room temperature.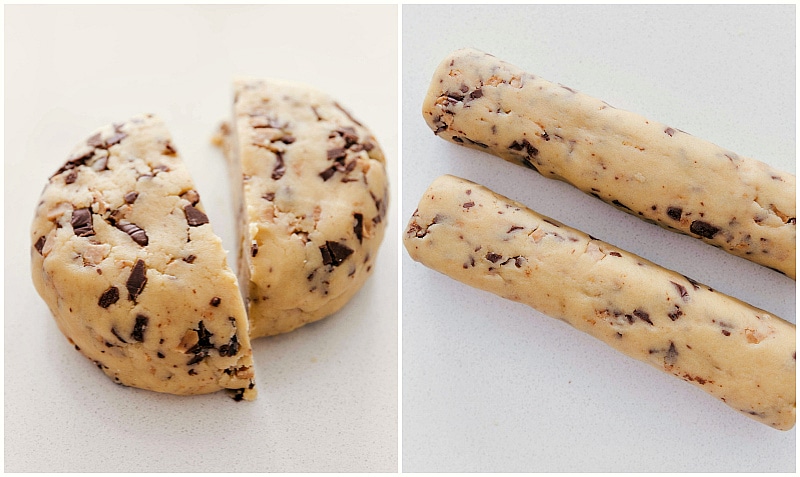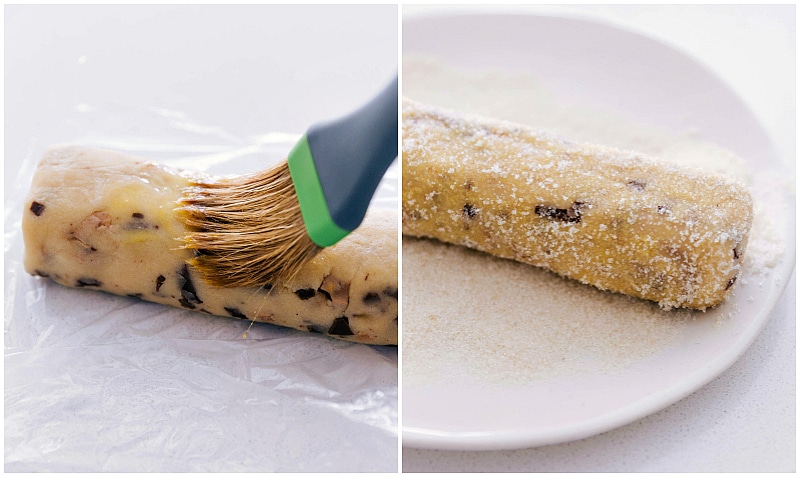 And that's a wrap for these cookies! While I still seem to make cookies just about every day in December, I've already begun photographing and wrapping up the final tests for some amazing (and HEALTHY!) recipes come January. I can't wait to share with you what we've been making and hopefully we can all get a (delicious) detox from maybe a few too many cookies. (I know i need it!)
But, until then, I'm relishing every single Christmas tradition and cookie that comes with it 🙂
I'd love to hear what cookies you've tried so far this holiday season! What have been your favorites?
Obviously I love chatting cookies, they're my favorite treats!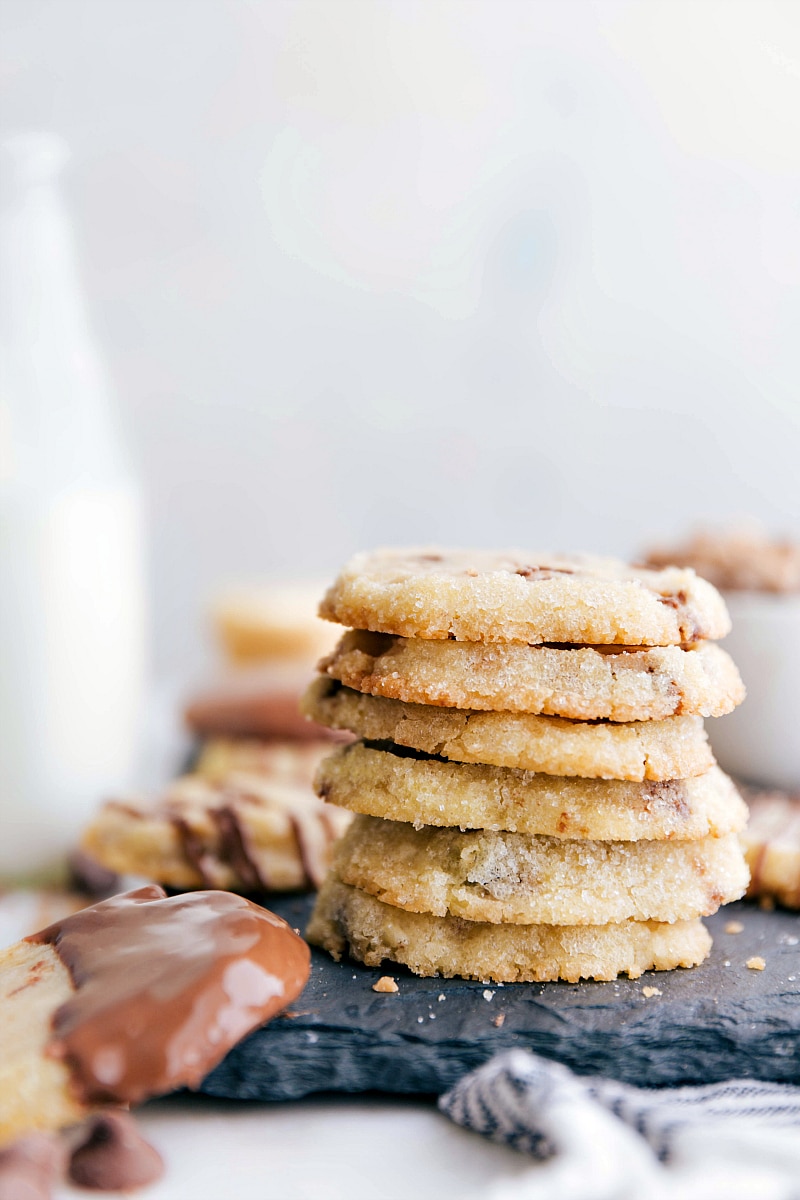 More delicious cookie recipes: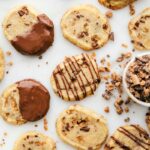 Toffee Shortbread Cookies
Flavorful toffee shortbread cookies with crisp sugared edges dipped or drizzled in chocolate. The perfect holiday cookie!
Keyword:
toffee shortbread cookies
Servings
:
40
shortbread cookies
Ingredients
1

cup + 2 tablespoons

COLD unsalted butter,

cut into small cubes

1/2

cup (106g)

white granulated sugar

1/4

cup (52g)

light brown sugar,

packed

1/2

tablespoon

pure vanilla extract

1/8

teaspoon

pure almond extract,

optional

3/4

teaspoon

fine sea salt

1

teaspoon

cornstarch

2 and 1/4

cups (286g)

white all-purpose flour

1

cup

Heath Milk Chocolate Toffee Bits

(or 5-6 chopped Heath Toffee bars)

1

large

egg,

lightly beaten

1/2

cup

cane sugar,

for rolling cookies in

1

cup

milk chocolate chips

(or semi-sweet or dark chocolate; whichever you prefer)
Instructions
Using an electric mixer OR a stand mixer (fitted with the paddle attachment) beat together the butter, white sugar, and brown sugar until light and fluffy, about 3 to 5 minutes. Scrape the sides of the bowl as needed.

Beat in the vanilla extract, almond extract, salt, and cornstarch just to combine. Add in the flour and again beat to just combine. Don't overmix.

Fold in the chopped toffee and gently knead the dough together. It will seem crumbly!

Divide the dough in two equal halves. Form each half into a log shape that is 9 to 9.5 inches long and about 2 inches in diameter. Roll it on the counter to help smooth out (use plastic wrap to avoid touching the dough with hands and warming the butter too much). Wrap tightly in plastic wrap and place in the fridge to chill for 2 hours.

Preheat oven to 350 degrees F. Line a baking sheet with parchment paper or a silpat liner. Pour the cane sugar onto a large flat plate and set aside. Remove one log at a time and remove the plastic wrap. Brush the outside of the dough with the beaten egg. Immediately roll the dough log into the cane sugar on the plate.

Slice each log into 1/2 inch thick cookies. Place cookies on the prepared tray. Bake cookies until edges are *just* beginning to lightly brown, about 8-11 minutes. Watch carefully to avoid over-baked cookies!

Remove from the oven and transfer to a cooling rack. Allow to cool completely.

To drizzle in chocolate: add chocolate to a bowl and microwave (at 50% power) in bursts of 20 seconds, stirring in between each burst for 15 seconds until the chocolate is melted and smooth.

Transfer the chocolate to a plastic bag and snip off the tip with scissors. Drizzle COMPLETELY cooled shortbread cookies with chocolate and allow the chocolate to harden at room temperature.

Cookies best within 2-3 days; store at room temperature in an airtight container.