These southwestern-inspired stuffed sweet potatoes are delicious, simple to make, and healthy all at the same time (something that's hard to achieve!). Baked sweet potatoes are topped with a delicious southwestern mix of black beans, corn, radish, red onion, and cilantro.
These stuffed sweet potatoes come together in about 30 minutes – and the best part is they're easy to make, healthy, and packed with tons of flavor. This recipe is vegetarian, but you can always add a side of grilled chicken (using this chicken marinade) or grilled steak (using this steak marinade).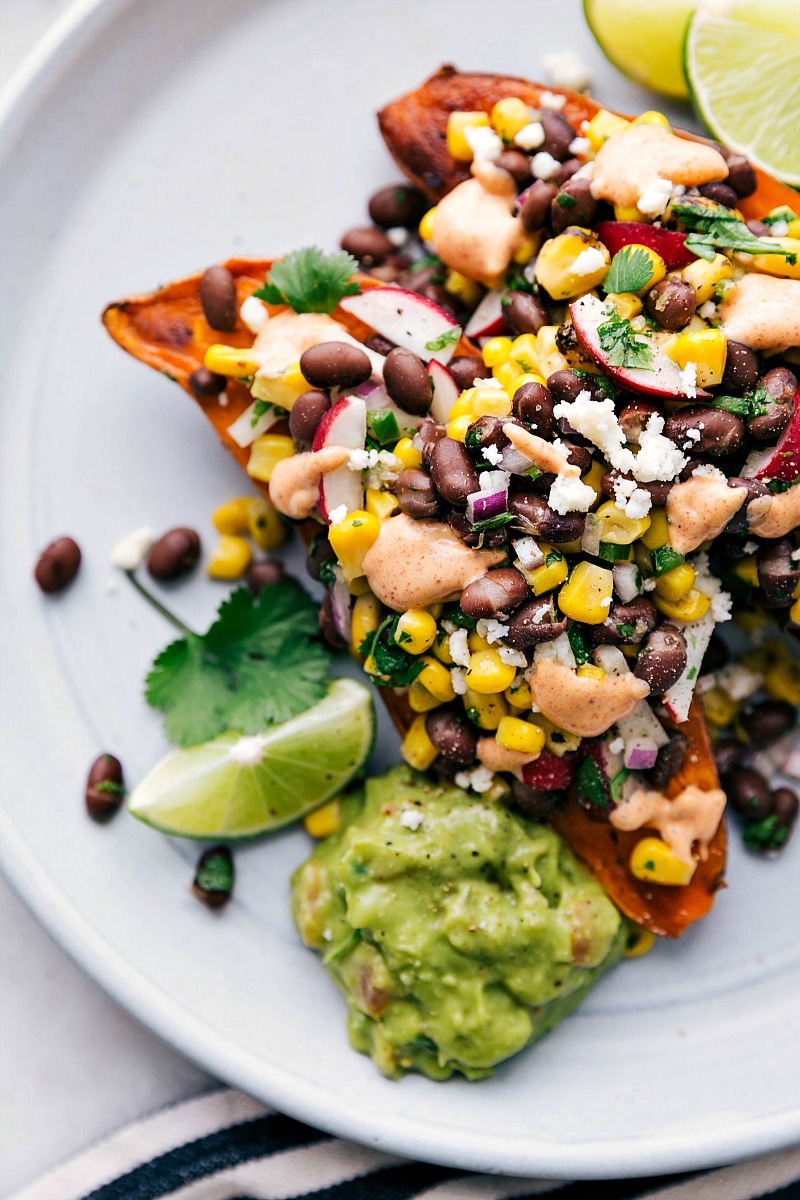 One of the questions I frequently get in my inbox is how to create healthy meals that are both filling and inexpensive. Eating healthy often has the stereotype of being more expensive and less filling. Honestly, it often can be, but it doesn't have to be.
My response is generally something to the effect of "eat more vegetables and beans." Vegetables and beans are generally inexpensive, are obviously healthy, and it's easy to make them taste good. Plus, you can make a TON of recipes with just vegetables and beans.
And while we're talking vegetables, sweet potatoes are one of my favorites. They're very filling and taste so good! Over the next couple of months I'll be sharing 3 different versions of stuffed sweet potatoes starting, of course, with these southwestern inspired sweet potatoes.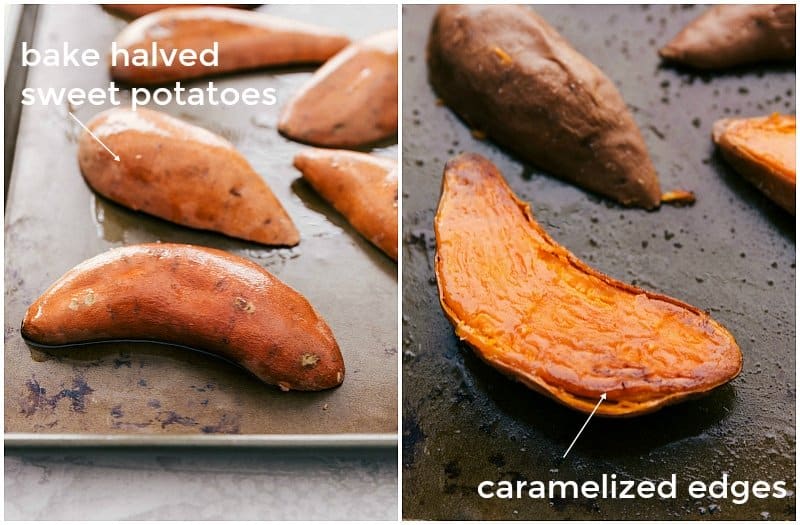 So with that, let's jump into these southwestern stuffed sweet potatoes!
How to make stuffed sweet potatoes
Bake the potatoes: wrapping potatoes in foil and cooking in the oven can take 1+ hours. Ain't nobody got time for that! Today we're slashing that bake time in half. We do that by cutting the potatoes in half, and placing them directly in the oven (no foil). The exposed flesh of the sweet potato gets deliciously caramelized as it bakes face down on the tray. You'll be amazed how much better the potatoes taste AND they're easier/quicker.
Assemble the topping: while the potatoes are baking, we'll assemble the topping mix & sauce making. This comes together quickly, making this meal a true 30-minute prep and cook time (yay!).
Make the sauce: this delicious chipotle mayo is simple to make and can be prepped right after the topping is assembled. It's also very easy to make this sauce as hot or mild as you'd like!
Eat: Break up the baked sweet potatoes a bit with a fork, spoon on some topping, and finish with ridiculous amounts of the chipotle mayo. Add any of your favorites: fresh lime, a spoonful of guacamole, or some fresh pico de gallo.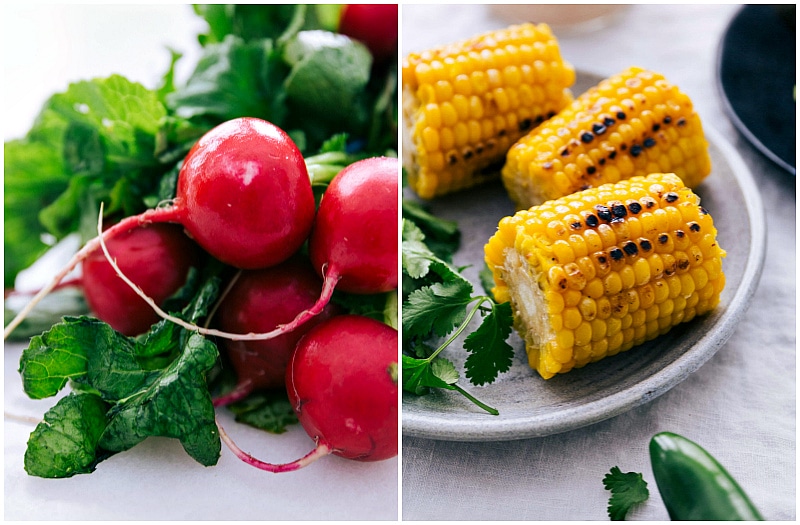 Variation Ideas
It's very easy to add in some variation to these stuffed sweet potatoes. Here are a few suggestions:
Beans: swap out the black beans for pinto beans or even white beans
Corn: fresh is always best, but canned/frozen works great too. If you have fresh corn I'd recommend grilling it! For canned/frozen, try pan roasting it. In the winter I buy frozen corns on the cobs (pictured above) and grill those on a gas grill or on a grill pan.
Additions: it's easy to add (or replace other ingredients) with some chopped roma or cherry tomatoes, a chopped roasted red pepper, and/or a diced poblano, green, or sweet bell pepper. (See how to cut a bell pepper here).
Dietary Modifications
Dairy free: to make this a dairy free recipe omit the cheese
Vegan: to convert this to a vegan recipe, omit the cheese and use vegan mayo in place of the regular mayo.
Whole 30: make this without the chipotle sauce. Instead top with a good spoonful of guac!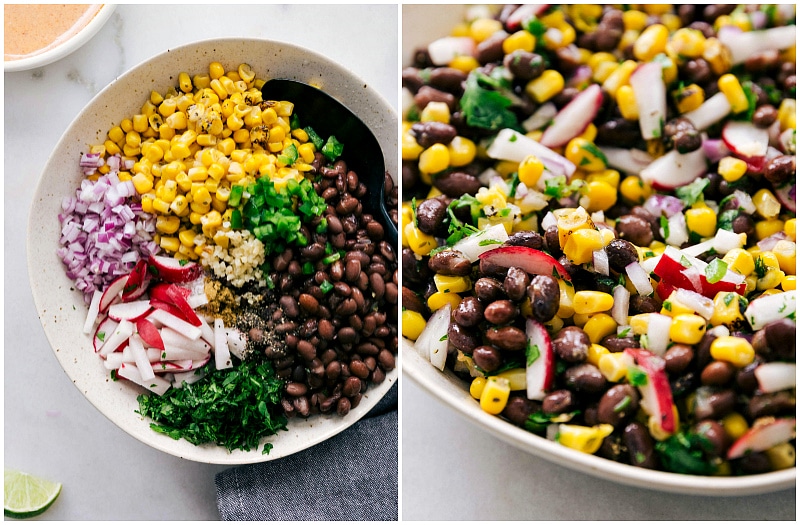 How to meal prep
Bake enough sweet potatoes for the week: This of course is based on how many you'd like to eat that week (I wouldn't recommend keeping baked potatoes past a week). Let the potatoes completely cool and package in separate containers.
Prepare the topping and sauce: depending on how many servings you'll be prepping, you might want to double both the topping and sauce. Store the topping and sauce in separate containers. If using the cheese, store it separately from the topping and sauce. If using guacamole, I'd recommend buying individual pre-made guacamoles (like wholly avocado) and adding one container into your packed lunch a day.
Assemble the stuffed sweet potato: warm the sweet potato again, add the topping, cheese, sauce, and enjoy!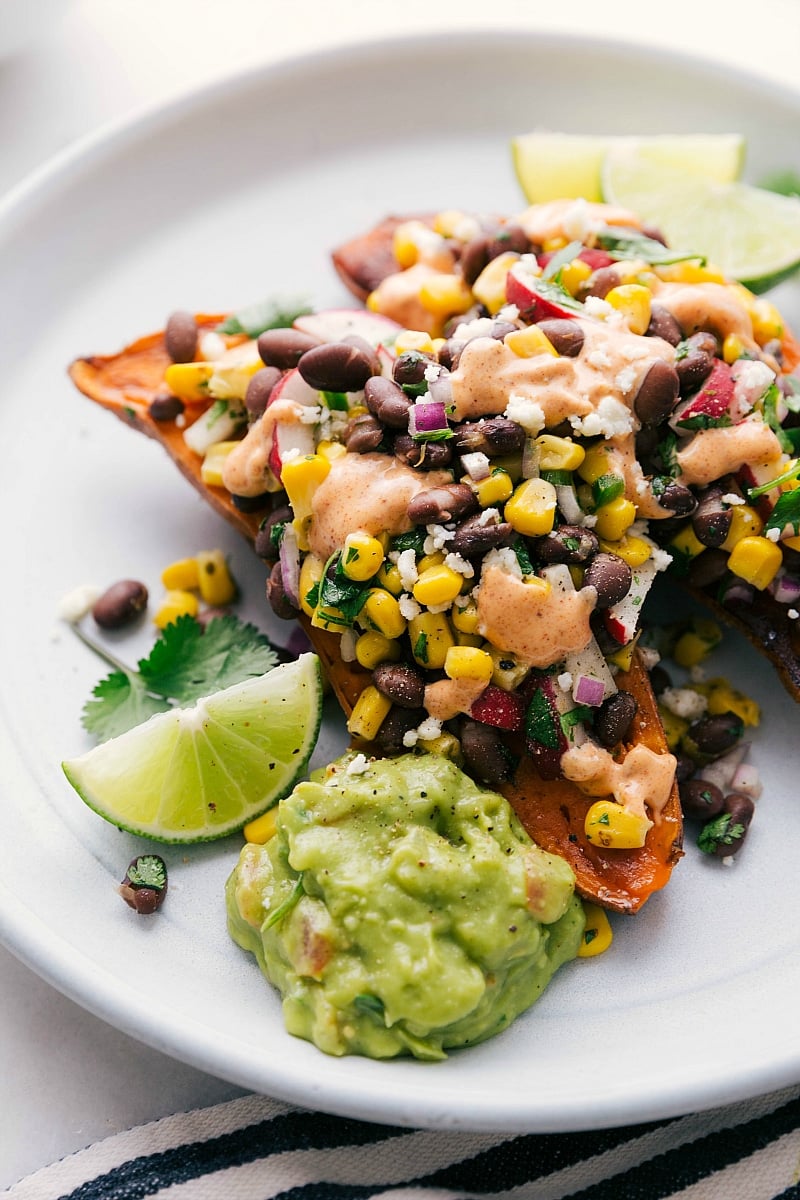 Serve these stuffed sweet potato alongside
Note on serving sizes: the actual serving sizes of this recipe greatly depends/varies on a few factors: the size of your sweet potatoes, how much topping you're adding to each potato, and of course individual appetites (I find these extremely filling, so one heavily loaded half is enough for me!)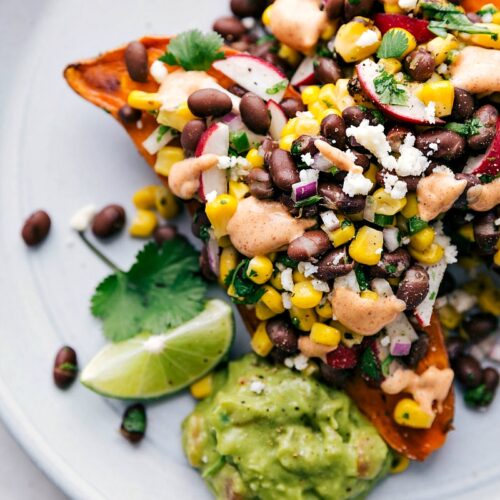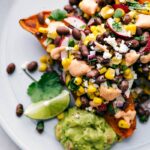 Southwestern Stuffed Sweet Potatoes
These southwestern-inspired stuffed sweet potatoes are delicious, simple to make, and healthy all at the same time (something that's hard to achieve!). Baked sweet potatoes are topped with a delicious southwestern mix of black beans, corn, radish, red onion, and cilantro. Note on prep time: while the total time indicates 50 minutes, you can prepare everything else WHILE the potatoes bake for about 30 minutes, so it really is closer to a 30 minute meal 🙂
Keyword:
stuffed sweet potatoes
Servings
:
6
filled sweet potato HALVES
Ingredients
3

medium (10-11 ounces EACH)

sweet potatoes,

washed and cut in half lengthwise

1

tablespoon

olive oil

1/4

cup

diced red onion

(Note 1)

1

teaspoon

minced garlic

1

can (15 ounces)

fire-roasted corn,

drained (Note 2)

1

can (15 ounces)

black beans,

drained and rinsed

1

tablespoon

finely chopped jalapeno,

optional

1/2

cup

thinly sliced radish

1

tablespoon

lime juice

1/3

cup

finely chopped cilantro

1/4

teaspoon EACH:

ground cumin, fine sea salt, freshly cracked pepper

Optional: guacamole, additional fresh lime juice, sprinkle of queso cotija cheese
Sauce
1/2

cup

full-fat regular mayo

1

tablespoon

freshly squeezed lime juice

1

teaspoon

smoked paprika

1-2

teaspoons

adobo SAUCE (from a can of chipotles)
Instructions
SWEET POTATOES: Preheat the oven to 400 degrees F. While oven is preheating, prep the sweet potatoes. Scrub the potatoes, cut them exactly in half (lengthwise), and place on a large sheet pan. Drizzle olive oil over the potatoes and then rub the oil onto both sides of the potatoes. Sprinkle about 1/2 teaspoon of salt evenly over the flesh side of the potatoes and then place the potatoes flesh side DOWN. Sprinkle about 1/4 teaspoon salt evenly over the skin of the potatoes. Bake for 30-37 minutes (depending on size of potatoes/personal preference for tenderness) or until skin looks shriveled and potatoes are tender. A 5-6 ounce potatoes will cook in around 25-27 minutes, 6-8 ounce potatoes around 30 minutes, and 9-11 ounce potatoes around 33-37 minutes.

TOPPING: In a large bowl, combine the diced red onion, minced garlic, corn, black beans, jalapeno, radish, lime juice, cilantro, cumin, salt, and pepper. Stir to combine. Taste and adjust salt/pepper to personal preference. Set aside.

SAUCE: In a small bowl, whisk together all of the sauce ingredients. Start with only adding 1 teaspoon of the SAUCE (liquid surrounding the actual chipotles) from the can of chipotles. Add more of the sauce until you've reached your desired heat preference. You can even add a half or full chipotle pepper from the can if you like a lot of heat. Just chop it up and then blend with the other ingredients. Season sauce to taste with salt (I add 1/8 teaspoon salt).

ASSEMBLE: once sweet potatoes are fork tender, remove from the oven. Flip the potatoes flesh side up and smash down the insides a little bit with a fork. Then add the filling, plenty of sauce, and any other optional additions (guacamole, additional fresh lime, small sprinkle of queso cotjia). Serve immediately.
Recipe Notes
Note 1: to take away the "bite" of red onions, soak them in a cup of cold water for about 10 minutes. Drain well and add to the mix.
Note 2: if you have fresh corn you can use it here! Grill up 2 ears of corn (grill pan or grill) and cut off the cob and then add. OR roast regular canned corn or frozen corn in a skillet. Let cool completely before adding to the other ingredients.