These classic stuffed shells are made with cooked pasta shells, a cheesy ricotta filling, a few Italian herbs, and plenty of marinara! This cheesy pasta dish is pure comfort food and couldn't be simpler to make.
Pair this stuffed shells recipe with crusty bread, an easy Italian salad, simple bruschetta, or roasted brussel sprouts.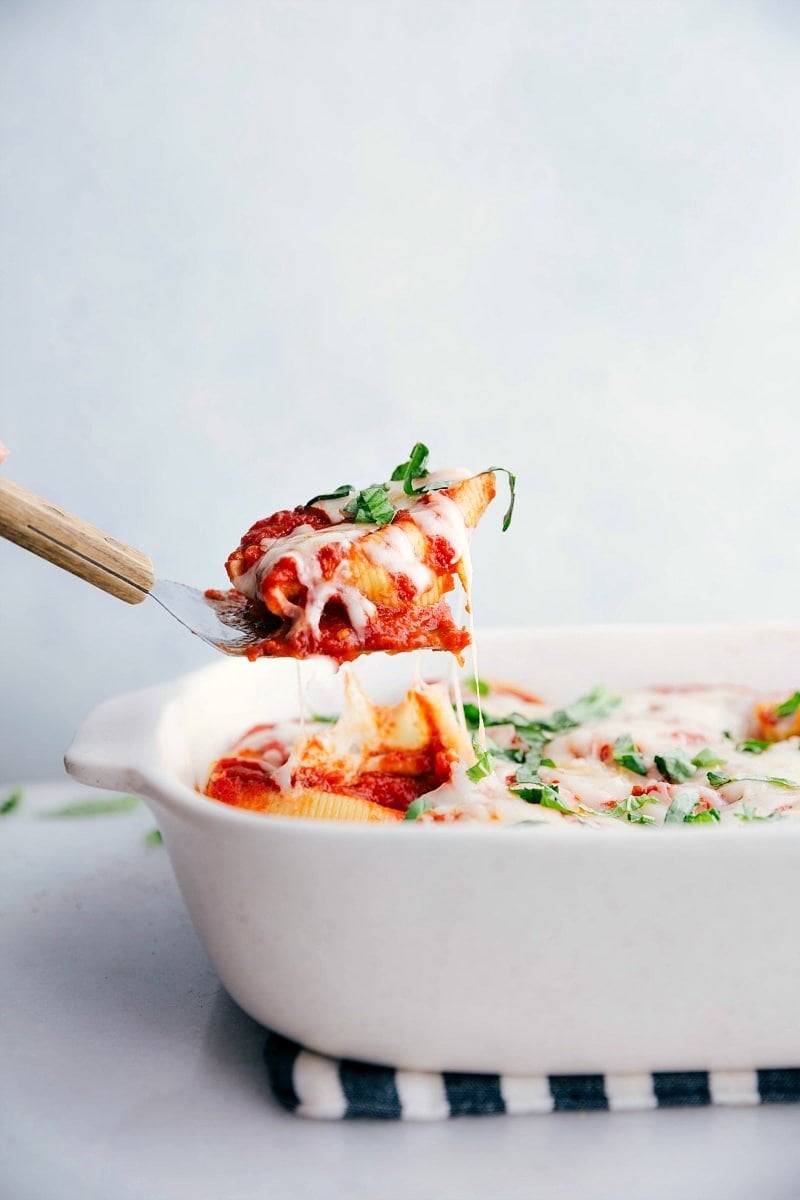 The many uses of stuffed shells
A few weeks ago my husband surprised me with a fun date: dinner and a concert. The only problem was that I'd told my friend I'd bring her dinner that same night. I thought about what meal I could prepare ahead of time and quickly landed on these stuffed shells as they're so easy to prepare, and also keep so well.
I made the shells in the morning and had my sitter throw them in the oven as my husband and I were out for dinner. After dinner I ran home, (quickly nursed the baby), picked up the shells, and dropped them off. Phew.
These stuffed shells are truly the perfect meal to make ahead of time (if needed) as you can prepare everything, but hold off on baking them until you're ready to eat.
These stuffed shells are also a great meal to double and make one batch for dinner and freeze the other batch for another night. (More directions on freezing/thawing below.)

First things first, what are stuffed shells and how are they different from manicotti?
Manicotti vs stuffed shells
Stuffed shells are exactly what they sound like — pasta shells stuffed with meat, cheese, and/or vegetables and covered with a tomato sauce and cheese.
Manicotti is also a stuffed pasta generally stuffed with meat, cheese, and/or vegetables as well. So the difference? Not much beyond the different pasta shapes. Both generally have a seasoned cheese filling, are baked with a tomato sauce, and covered with mozzarella cheese.
How to make stuffed shells
Partially cook the shells: we under-cook the shells to keep them firm enough to stuff. It's also important they are under-cooked so when they're baked again they don't get soggy.
Prepare the cheese filling: the cheese filling is as simple as grating cheese and mixing it together. Use freshly grated cheese for the best flavor and texture (pre-grated cheese has a cellulose coating to keep it from clumping together.) See below for cheese filling ideas!
Stuff the shells: transfer the cheese mixture to a bag and pipe the filling right in the shells
Bake: cover the shells in marinara, bake, and then add MORE cheese on top. I'm telling you, total comfort food 🙂

Now that we've talked the general process of making these shells, below I have a few variation ideas and tips.
Stuffed shells variation ideas
Spinach: a lot of ricotta-cheese filled shells have spinach in them. Personally I leave out spinach in mine because I don't find it really adds much flavor for the effort required to chop, cook, and add it to the shells.

To add spinach: heat a large pan over medium heat. Add 1 tablespoon olive oil. Once the oil is shimmering, add in 4 cups of loosely packed chopped baby spinach. Cook, stirring occasionally, until the leaves have wilted and become bright green, about 2-4 minutes. Remove from heat and allow to completely cool. Stir into the cheese mixture.

Homemade marinara: try a delicious homemade marinara in place of store-bought marinara if you're feeling ambitious! The marinara sauce from this recipe is my favorite.
Different herbs: use whatever herbs you like best. I've included my favorites in the recipe card, but don't add an herb you don't like. If you have fresh herbs, feel free to use those instead of the dried.
Different cheese: try using romano cheese in place of Parmesan, or provolone in place of mozzarella.
Stuffed shells with chicken: check out this chicken parmesan stuffed shells recipe.
Stuffed shells with sausage: check out this recipe (it also has cream cheese if that's your jam!)

Stuffed shells tips
"Stuff" the shells more efficiently: Add the cheese/ricotta mixture to a gallon sized plastic ziploc bag. Press the cheese mixture to one side of the bag and using scissors, cut off a 1-inch opening in the corner. Squeeze the cheese mixture into each shell and gently press the mixture down to make sure the cheese is even with the top of the shells. (I've measured the exact cheese filling several times and it perfectly fills 25 shells with about 1 tablespoon leftover. Knowing this, you can eyeball how much cheese you put in each shell making sure the cheese evenly fills at least 25 shells.)
Cook a few extra shells: occasionally a shell will break, so boil a few extra shells to use just in case. Eat leftover shells with some of the leftover marinara sauce!
Completely cover the shells: aim to cover every part of the shells with marinara sauce so you don't get crispy/overcooked edges.
Stuffed Shells FAQS
How to freeze stuffed shells
Fill all the shells with cheese and place on a large sheet pan. Tightly cover with plastic wrap and then foil and allow to freeze completely. Once frozen, transfer the shells to large freezer bags. Remove any air and return to the freeze. You can freeze these stuffed shells for up to 3 months.
When ready to eat: Add 1/2 cup marinara to a baking dish. Place the frozen shells on top and add an additional 2 and 1/2 cups sauce. Bake at 400 degrees F (UNCOVERED). Check that the shells are hot and cooked through at about 30 minutes. Add additional time as needed and make sure to add the grated mozzarella about 5 minutes before they're done.
Should I cook stuffed shells before freezing?
I wouldn't recommend cooking the shells before freezing. Freeze them right BEFORE cooking (see instructions above).
How long can you keep uncooked stuffed shells in the refrigerator?
This entire meal can be assembled ahead of time! Follow the recipe right up until the point of baking. Tightly cover the uncooked stuffed shells with foil, and keep in the fridge for up to 3 days. To cook: place in the oven and cook according to the directions in the recipe below (you may need to add an additional 5 minutes to the bake time).
Properly stored, cooked pasta shells will last for 3 to 5 days in the refrigerator. More info here.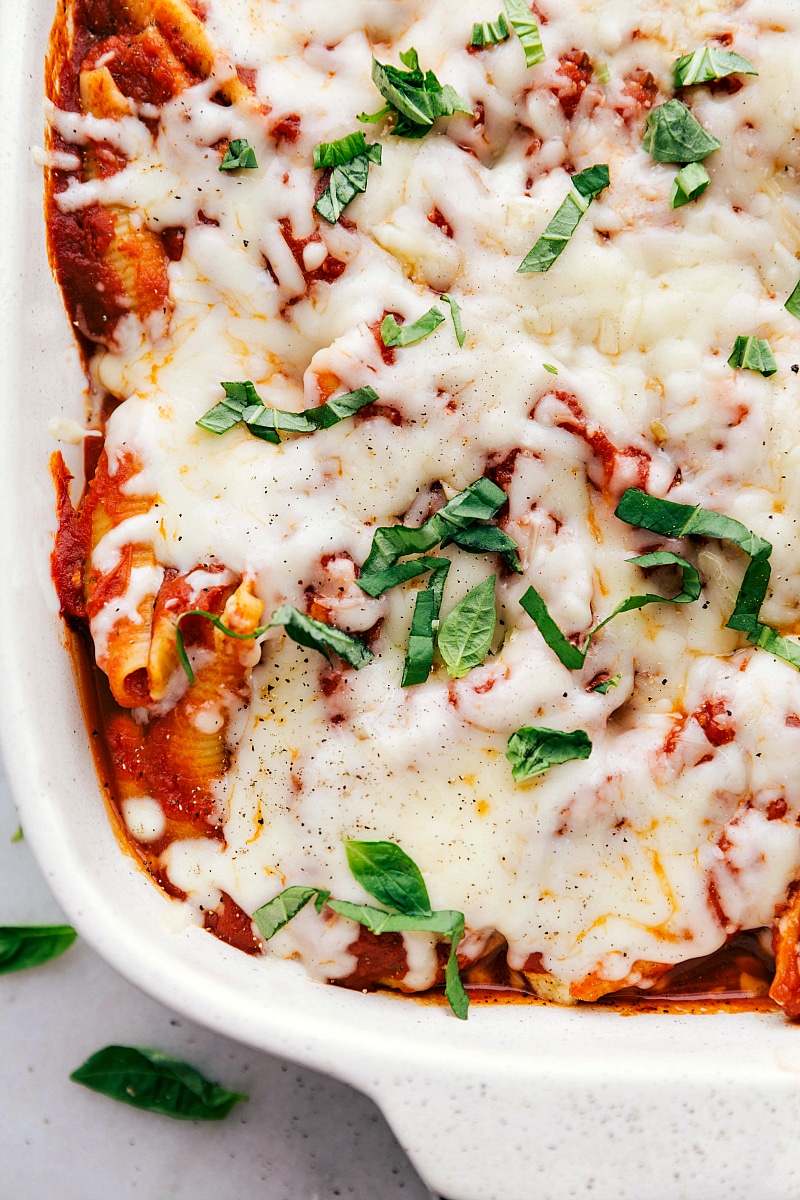 Serve these stuffed shells with one of the following sides: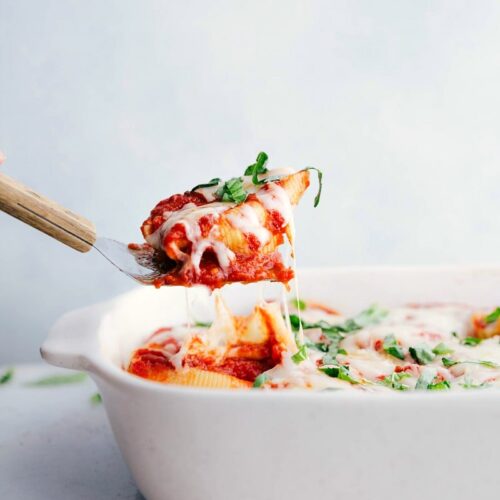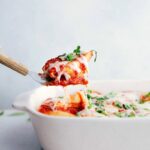 Stuffed Shells
These classic stuffed shells are made with cooked pasta shells, a cheesy ricotta filling, a few Italian herbs, and plenty of marinara! This cheesy pasta dish is pure comfort food and couldn't be simpler to make.
Keyword:
stuffed shells, stuffed shells recipe
Ingredients
Fine sea salt and freshly cracked pepper

25-26

uncooked jumbo pasta shells

1

large

egg,

lightly beaten

1

container (15 ounces)

whole milk ricotta cheese

1/4

cup

fresh basil,

chopped (OR use 1 teaspoon dried basil)

1/2

teaspoon EACH

dried oregano, dried thyme, dried parsley

1/2

teaspoon

minced garlic

3

cups

freshly grated mozzarella cheese,

separated

1

cup

freshly grated parmesan cheese

1 and 1/2

jars (~3 cups)

good quality jarred marinara sauce

OR about 3 cups homemade marinara sauce

Optional: fresh basil or parsley for topping shells
Instructions
Bring a large pot of water to a boil. Add a generous amount of salt and then add in the pasta shells. I usually cook a few extra in case some fall apart. Cook for HALF of the time indicated on the package PLUS one minute. (About 5-6 minutes depending on the package you use). Drain the shells and rinse under cold water to stop the cooking and allow them to be easily separated. Drain off any water and separate onto a sheet of parchment paper on the counter.

Preheat oven to 350 degrees Fahrenheit. In a large mixing bowl whisk the egg with a fork. Add in the ricotta cheese and mix together until completely combined. Add in the basil, oregano, thyme, parsley, minced garlic, and salt + pepper to taste. (I use about 1 teaspoon salt and 1/2 teaspoon pepper). Stir gently.

Finely grate the mozzarella and parmesan cheese. Add two cups of the mozzarella and all of the parmesan cheese into the cheese mixture. Gently stir to completely combine.

Transfer this cheese mixture to a large (gallon sized) ziplock bag. Snip off 1-inch of the corner of the bag and "pipe" the cheese mixture into each of the shells. Each shell should get about 2 tablespoons of the cheese mixture (which should fill 25-26 shells).

Grab a 3-quart (9 x 13 inch) baking dish and spread 1/2 cup of marinara sauce evenly across the bottom.

Place stuffed shells in the baking dish with the open side facing up. Pack the shells in close together.

Cover shells evenly with remaining 2 and 1/2 cups marinara sauce. Aim to completely cover all of the shells to avoid hard parts of the shells. Cover with foil and bake for 30 minutes.

Remove foil and add remaining 1 cup of mozzarella evenly over the shells. Return to the oven for 5-7 more minutes or until cheese is melted. Serve warm with freshly chopped basil if desired. I also like to add a little more cracked pepper to the top!