Flavorful, nutritious Fried Rice can be ready in 20 minutes or less! It's easy to make, packed with veggies, loaded with perfectly cooked eggs, and coated with a delicious yet simple sauce.
Enjoy this recipe on its own or pair it with steak bites (or black pepper chicken) and this Asian cucumber salad for a satisfying meal.

My husband has affectionately named this the best Fried Rice recipe in the world. And since all three kids (even the babe) inhale this meal, we've been making it a lot lately. It's the perfect meal to make on busy days or those days when we need to clear out leftovers from the fridge. There are so many ways to make fried rice and today I'll share plenty of variations to customize your fried rice.
What type of rice is used for Fried Rice?
Typically, medium to long grain rice works best in Fried Rice. Jasmine rice is another common choice. You want sturdy grains that will produce fluffy Fried Rice instead of becoming mushy and clumpy (like short grain or sushi rice).
While perhaps nontraditional, I love using basmati rice — it never gets mushy and it tastes delicious. Here's how I cook the rice:
Measure the rice and rinse it in a fine-mesh sieve until the water runs clear
Place that rice in a bowl and cover it with water to soak for about 5-10 minutes.
While the rice is soaking, fill a large pot with water and set to boil.
Once the water is at a rolling boil, drain the rice and add it to the pot.
Cook without reducing the heat, for 5 minutes and then drain and fluff with a fork.
It might seem like a few extra steps, but I promise it is quick and the rice is perfect every time. I also prefer this method because it always feels like it goes quicker than cooking rice according to the package instructions.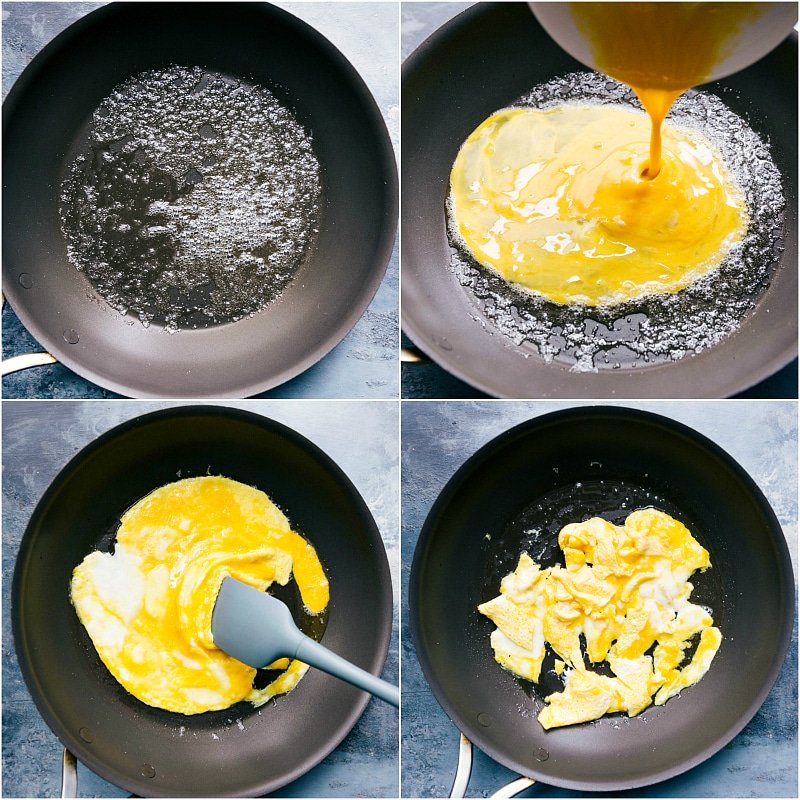 Can you make Fried Rice with fresh rice?
Fried Rice is best with cold, refrigerated, leftover rice. But if you're in a pinch and wanting fried rice without having leftover rice, you can make it with fresh rice.
Here's how you do it:
Spread the freshly cooked rice out on a sheet pan (lined with
parchment paper
for quick cleanup) while it's still hot and let it stand for a few minutes. Place the pan in the fridge (or better, the freezer), until chilled through to use in this recipe.
Variation ideas
For more heat: Add some red pepper flakes to taste, or drizzle on some Sriracha at the end.
Add some crunch: Chop some cashews to sprinkle of top of your Fried Rice.
Add meat: Stir in some cooked and diced meat, like leftover leftover ham or leftover pork. You can also fry up some chopped bacon alongside the veggies. You may also want to try using some cooked seafood.

Chicken fried rice: Dice some leftover cooked chicken or leftover rotisserie chicken and toss in at the end to warm through. You can also sauté some chicken in a separate skillet while making the fried rice.
Beef fried rice: Add thinly sliced cooked steak or browned and crumbled ground beef to the fried rice.
Shrimp fried rice: Sauté about half a pound of peeled and deveined raw shrimp in a separate pan. Add to the finished rice.

Change up the veggies: Any stir-fry friendly veggie will go well in this vegetable fried rice recipe. I recommend using smallish sized frozen veggies. Simply cook the veggies until they're no longer frozen and the water from them has evaporated.

Some other ideas: Broccoli florets, edamame, sugar peas, snap peas, celery, cabbage, etc. are great choices.

Vegetarian fried rice: To make this recipe vegetarian friendly, use a vegetarian oyster sauce and leave out the chicken bouillon powder.

How to make Fried Rice
Start by scrambling the eggs (see photo collage above this one). Once they're scrambled, transfer them to a plate and keep warm.
Add oil and the onion to the skillet or wok and sauté with garlic and ginger until tender and fragrant.
Next come in the veggies: We use frozen (straight from the freezer — no need to thaw!).
Cook and stir the veggies until hot and the moisture has evaporated.
Add in the cooked leftover rice and stir fry it with the…
Sauce! This sauce has just a few quick ingredients whisked together and is poured on top of the rice. Mix to coat.
Add the eggs back in and fresh green onions and the fried rice is ready!
Fried Rice Seasoning
Fried Rice is seasoned with a simple sauce. We use:
Oyster sauce: This is the "secret" ingredient to a delicious fried rice. A little goes a long way and gives such a great depth of flavor to the rice.
Sesame oil: A great flavor enhancer, sesame oil adds a nice nutty flavor to the dish.
Soy sauce: Every soy sauce is different, and there are drastically different tolerances for soy sauces and sodium levels, so add this ingredient to your personal preference. I've listed how much we love in the recipe, but you may want slightly less or to add an extra drizzle at the end.
Chicken bouillon powder: While you don't have to add this, I feel like it adds an extra punch of flavor and a bit more saltiness.
Rice vinegar: Acid makes any meal better, and rice vinegar is the perfect addition to this fried rice.
Number one tip:
Use high heat while cooking. This will help cook everything quickly, and will thaw and lightly brown the veggies, and keep the rice from steaming (which will make it sticky and gummy).

More easy dinner recipes: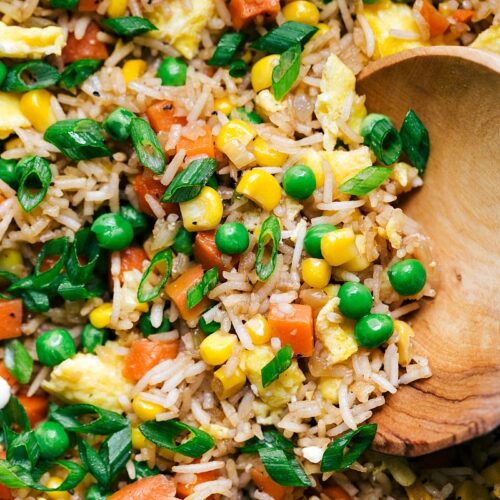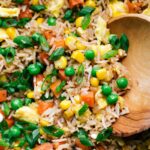 Fried Rice
This fried rice recipe can be ready in 20 minutes or less! It's easy, hearty, packed with veggies, filled with perfectly cooked eggs, and coated with a delicious (simple) sauce.
Keyword:
fried rice, fried rice recipe
Ingredients
1

tablespoon

unsalted butter

3

large

eggs

2

tablespoons

olive oil

1/2

cup

diced yellow onion

1/2

tablespoon

minced fresh garlic

(~2 cloves)

1/2

tablespoon

minced fresh ginger

(~1/2 inch piece)

1

cup

frozen diced carrots and peas

1/2

cup

frozen corn

2

cups

cooked day old rice,

from the fridge (Note 1)

3/4

cup

green onions,

thinly sliced
Sauce
1

tablespoon

oyster sauce

1/2

teaspoon

chicken bouillon powder

1

tablespoon

low sodium soy sauce

1/4

teaspoon

white pepper

(or black pepper)

1

teaspoon

rice vinegar

1

teaspoon

sesame oil

(or toasted sesame oil)
Instructions
SAUCE: Start by whisking together all of the sauce ingredients EXCEPT the sesame oil in a small bowl. Set aside until needed. You might also want to prep all the veggies here now too because the cooking goes FAST (dice onion, mince garlic, mince ginger)

EGGS: Add butter to a large nonstick skillet over medium high heat. While the butter is melting, add all three eggs to a small bowl and whisk together. As soon as the butter is melted, pour all the whisked egg mixture into the skillet. Swirl the skillet to get the eggs in one layer covering the bottom of the pan. Let stand for 30 seconds. Grab a silicone spatula and press one side of the eggs to the other side. Tilt the skillet to get any uncooked eggs to now fill that section of the pan. Continue to press the eggs gently to the other side of the pan and tilting the pan to move any uncooked eggs to touch the hot skillet. Barely break up the eggs with the spatula and then transfer to a plate and tent with foil.

FRIED RICE: Add the oil to the skillet and increase the heat to high. Add diced onion and stir for about 3-4 minutes or until beginning to turn translucent. Add garlic and ginger and stir for about 20 seconds. Add in the frozen peas, carrots, and corn (no need to thaw). Stir around and cook for about 2-3 minutes or until veggies are defrosted and the excess water has evaporated completely. Add in the cooked and cold rice and then the prepared sauce. Cook for 1 and 1/2 - 2 minutes or until the sauce coats all the ingredients.

SERVE: Add in the cooked and reserved egg and the green onions. Stir together, taste and season with salt if needed (I usually add a big pinch) and remove from heat. Drizzle the top with sesame oil and enjoy hot!
Recipe Video
Recipe Notes
Note 1: if you don't have leftover rice, that's fine! Here's what to do: spread freshly cooked rice out on a sheet pan (lined for quick cleanup) while it's still hot and let it stand for a few minutes. Stick the pan in the fridge (or better, the freezer), until chilled through to use in this recipe.
Health concerns