A simple icebox cake made with graham crackers, chocolate fudge pudding, and miniature marshmallows. This cake is topped with toasted marshmallows, chocolate curls, and graham cracker bits. A delicious dessert that takes less than 20 minutes to prepare!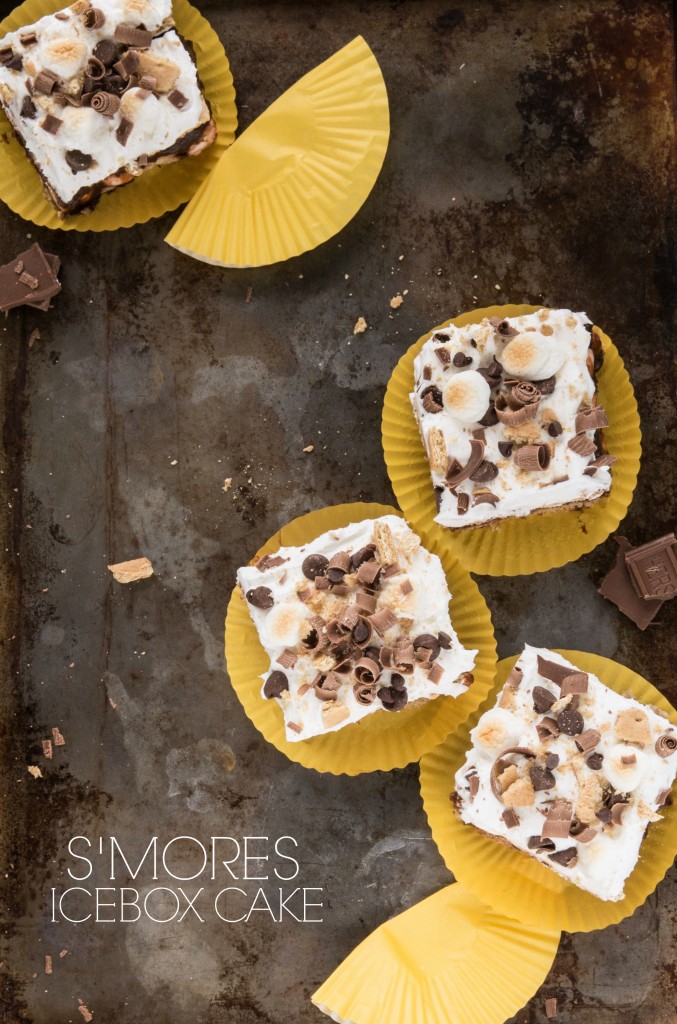 Lisa over at Wine & Glue had the awesome idea to make this week "S'mores Week."
A bunch of bloggers and I have all teamed up to bring you a whole week of delicious summa-time treats in the form of S'mores.
But, let's be honest, I'm totally one of those people eating S'mores in the middle of December. Because they are that good.
To kick off this week, I decided to start with a super simple (and way yummy) icebox cake – S'mores style.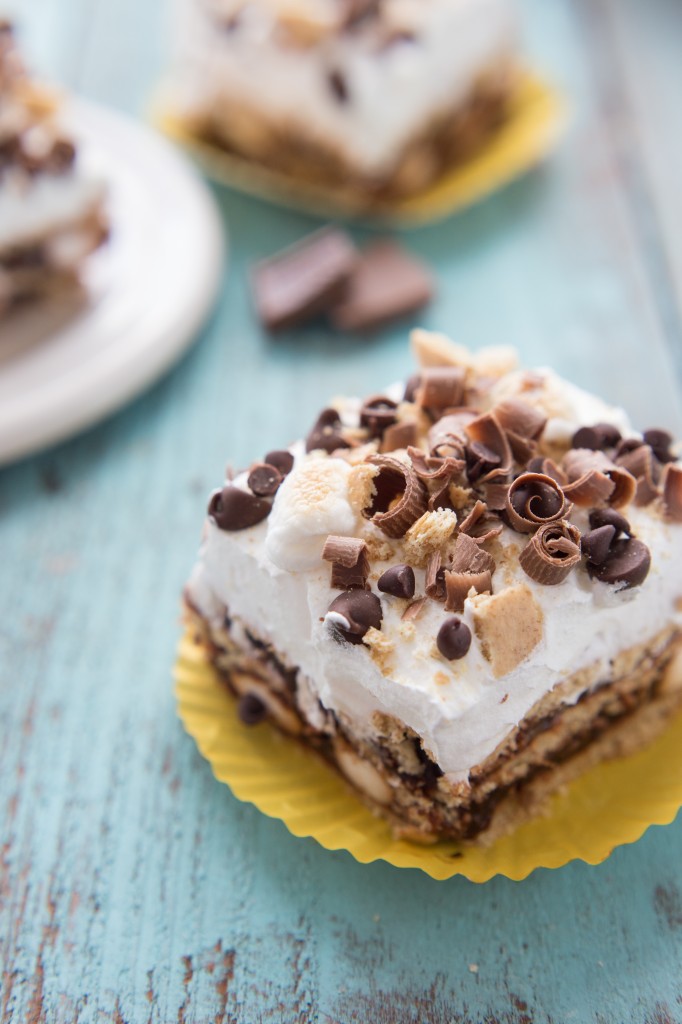 These bars aren't the hot, ooey-gooey, just pulled-the-marshmallow-out-of-the-fire kind of treat, instead they have all the great flavors of S'mores (ooey gooey marshmallows – check, lotsa chocolate – check, graham crackers – check) without the use of a campfire. Or even an oven.
That's right, this icebox cake is NO-BAKE!
All it is – a little bit of layering. Layer graham crackers, then the pudding and marshmallow mix, more graham crackers, and more pudding. On top of it all goes some whipped topping and then it chills for about 5-7 hours in the fridge. I wasn't kidding when I was saying less than twenty minutes prep. This dessert is as easy as they come.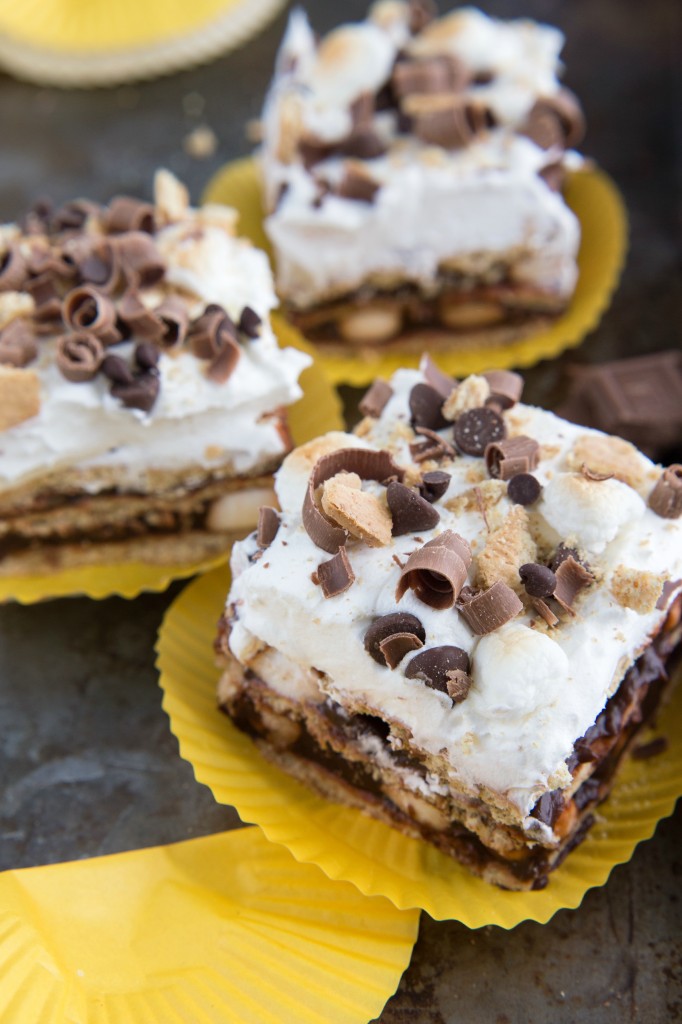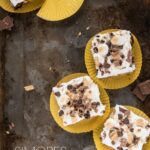 S'mores Icebox Cake
Ingredients
17

graham crackers

separated

1

package (3.9 ounces)

chocolate fudge pudding

instant pudding and pie filling

2

cups

2% milk

1 and 1/2

cups

miniature marshmallows

separated

3/4

cups

whipped topping

completely thawed

Optional: 1 chocolate bar, miniature chocolate chips
Instructions
Line an 8 x 8 baking pan with parchment paper or foil. Make it so the parchment paper (or foil) hangs over the pan for easy removal of these bars. Set aside.

Whisk together the pudding and milk until combined. Place in the fridge to set up for 5-10 minutes.

Cover the bottom of the lined pan with graham crackers. It will take five graham crackers per layer (you will need to break some up). Make sure that graham crackers completely cover the bottom.

Remove the pudding and stir in 1 and 1/4 cup miniature marshmallows.

Pour half of the pudding mixture over the graham cracker layer.

Create another graham cracker layer on top of the pudding.

Pour the remaining pudding on top of the graham cracker layer.

Place a final graham cracker layer on top of the pudding.

Spread the thawed whipped topping on top and place in the fridge for 6-8 hours or overnight.

When ready to serve, optionally garnish with the remaining two graham crackers (crushed up with your hands), miniature chocolate chips, and toasted marshmallows.*

OPTIONAL STEPS: To create chocolate curls, make sure the chocolate bar has been at room temperature, unwrap it, and "peel" it with a vegetable peeler from top to bottom directly over the top of the icebox cake.

*To toast the marshmallows spread the remaining 1/4 cup on a parchment lined baking tray. Preheat the oven to broil (temperature of 550 degrees F). Place the oven tray at the top and put in the marshmallow pan leaving the oven door slightly ajar. Watch the marshmallows carefully and pull out when lightly browned. Allow to cool and then pull off and place on icebox cake.