A healthier lemon-blueberry sweet bread. Filled with better-for-you ingredients such as Greek yogurt, coconut oil, oats, blueberries, and eggs.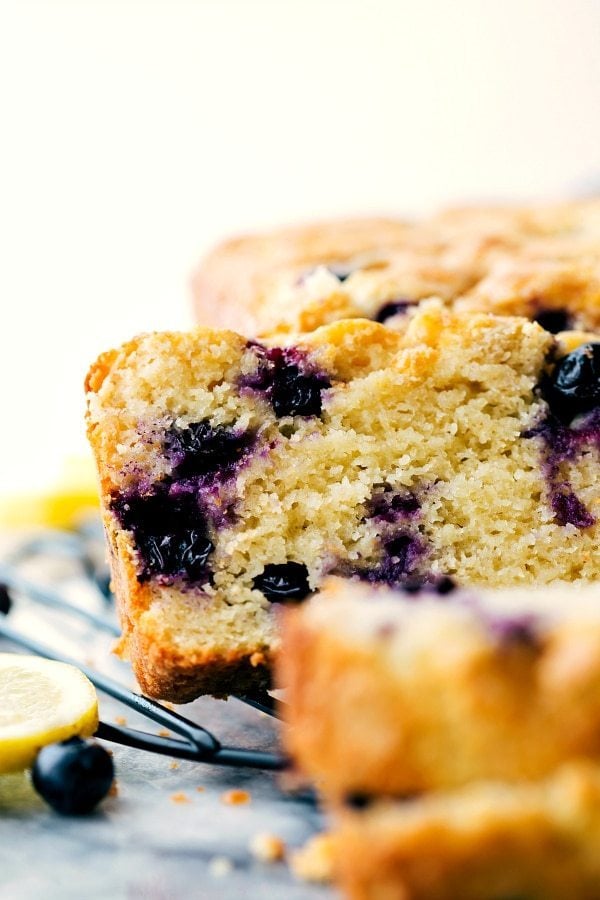 I have to admit I was pretty surprised with the winning vote! If you are following along on either Facebook or Instagram, you got to pick which healthier sweet bread was shared first. Lemon-blueberry or chocolate-banana. And obviously because you are seeing lemon-blueberry, it was the one that won out!
But, being totally honest, when I posted the two I was so certain that chocolate banana bread would win that I started editing the video for that one first! That shows you just how obsessed I am with anything chocolate — I couldn't even comprehend that one losing. ?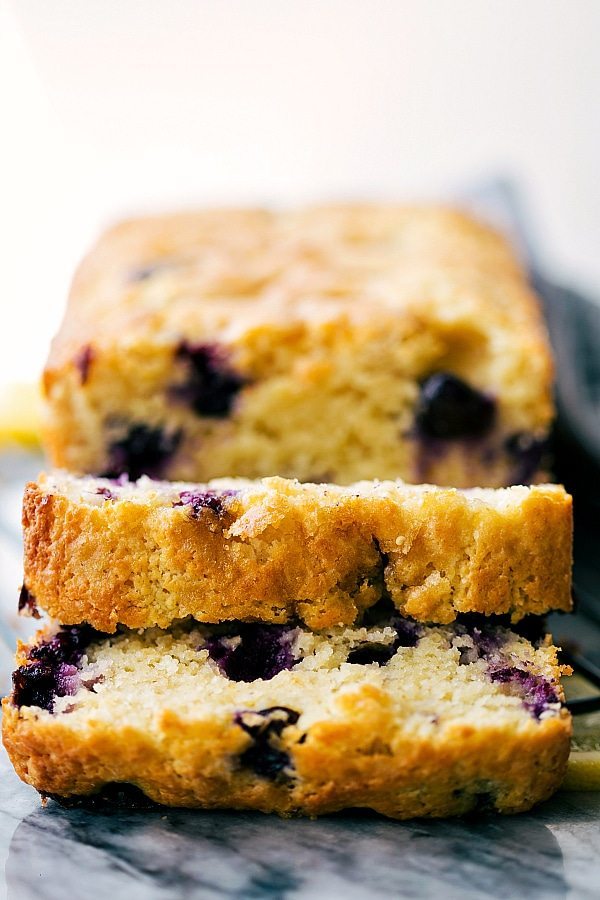 Although I am a chocolate lover through and through, the honest reason I asked you guys is we are EQUALLY obsessed with these two breads and I couldn't decide which to post first. They are both some of my favorite ever baked goods to be created and I am so anxious for you to try them out and fall in love with these recipes!
This bread is ultra tender and very soft. It's a bit tangy, but mostly sweet, and its got plenty of blueberries rippled throughout. The "secret" to the perfectly balanced lemon flavor without having a soggy loaf of bread? Lemon Greek yogurt. It is unreal what lemon Greek yogurt does in this bread! I know having lemon Greek yogurt is a little bit of a harder ingredient find, so I did try vanilla Greek yogurt and it will also work. It's less lemony overall, but still a great treat.
SO. Lemon Greek yogurt. I don't think there are big tubs of the stuff (at least I haven't seen any), but you can get 2 small containers which are the exact perfect amount for this bread. Two containers that are 5.3 ounces each measure out to 1 cup which is what you'll need for this bread. I've used Chobani because that was the first brand I could find (and stocked up on for testing of this bread!), but any type of lemon Greek yogurt will work!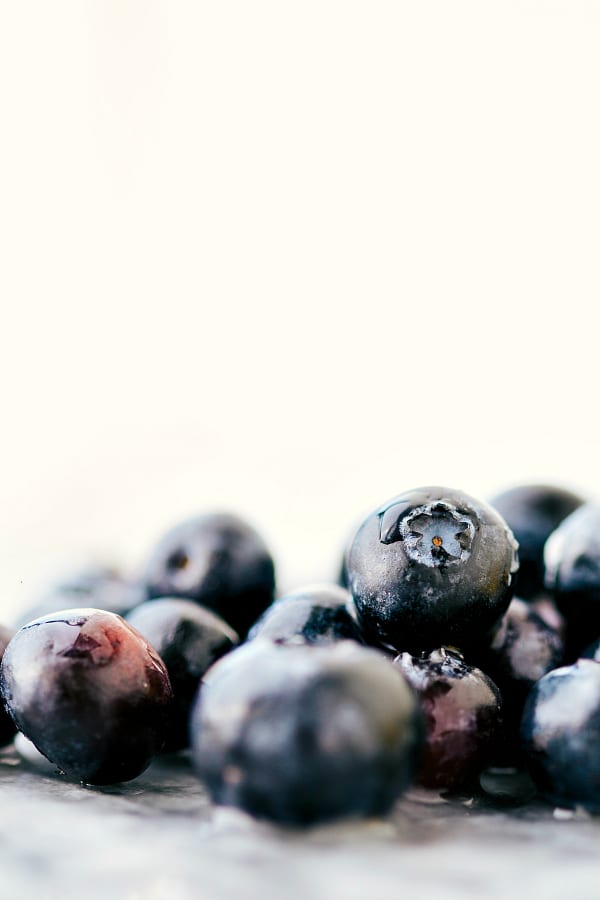 Real quick though let's talk about getting blueberries throughout your entire sweet bread. Because we all hate when blueberries end up in just the bottom, right?!
First off, fresh blueberries always work best. Not only do they not turn your bread a funky color, but they also distribute more evenly throughout the bread. However, frozen blueberries will work too! If you use frozen I recommend NOT mixing them in the batter. Simply spoon 1/3 of the batter in the bread pan and then place the frozen blueberries on top. Add another 1/3 of batter and place more blueberries on top. Finally spoon the last 1/3 of the batter in the pan and place the final blueberries on top of that and slightly push under the batter. And there you will have evenly distributed/non-dyed bread.
If you are using fresh blueberries, you can use the same technique if you have problems with the blueberries sinking. I'll do that trick a lot of the time, but sometimes I'm a little lazy and will just make sure to get the blueberries coated in flour as I mix them in the batter. If the blueberries are coated in some flour they will pretty evenly distribute themselves in the bread. Reserve a few blueberries to press into the top of the bread and you should be good to go!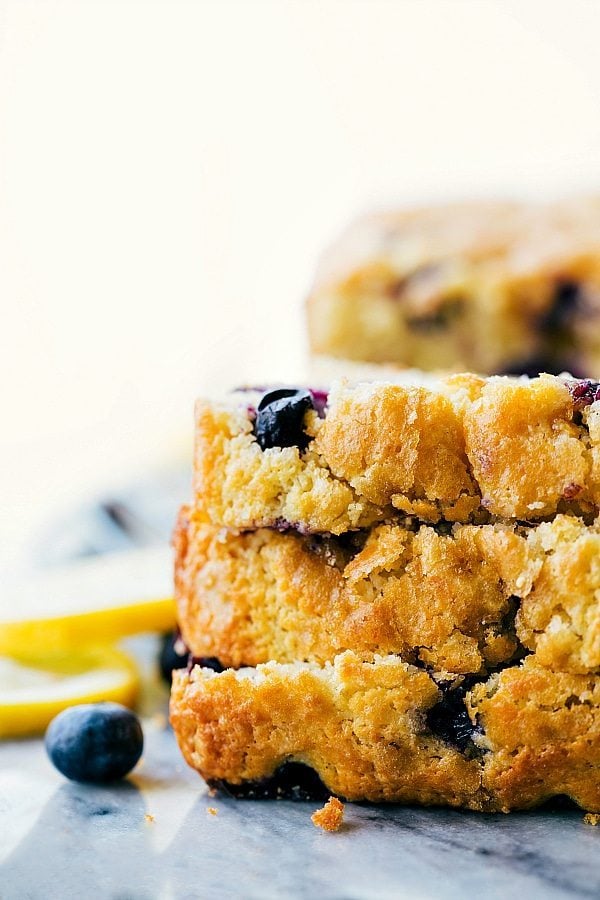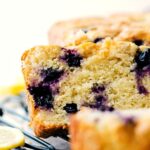 Healthier Greek Yogurt Lemon Blueberry Bread
Ingredients
Wet Ingredients
3

large eggs

(you will use 2 large eggs, 1 egg yolk)

1

cup (2 5.3 ounces each)

containers lemon Greek yogurt

1

teaspoon

vanilla extract

1/2

teaspoon

almond extract

1/2

cup

coconut oil

1

large lemon

3/4

cup

white sugar
Dry Ingredients
1/2

cup

old fashioned oats

1

cup

white or white whole wheat flour

1

tablespoon

cornstarch

2

teaspoons

baking powder

3/4

teaspoon

salt

1

cup

blueberries

separated
Instructions
Preheat the oven to 350 degrees F. Generously grease and then light dust a bread pan with flour and set aside.

I use an 8 and 1/2 x 4 and 1/2 bread pan.

In a large bowl, whisk 2 large eggs and 1 large egg yolk (discard or save the whites for another recipe). Add in the lemon Greek yogurt (1 cup total), vanilla extract, almond extract, and coconut oil. Make sure to measure the coconut oil in LIQUID (melted) form. Melt the coconut oil, measure, and then allow to slightly cool so you don't cook your eggs.

Briskly whisk in the coconut oil with the other ingredients to get them to be well combined.

Get the zest and juice of 1 large lemon. About 2 teaspoons zest and 2 tablespoons lemon juice is perfect! Add in the sugar and again mix until all ingredients are completely combined.

In the same bowl, add the oat flour (measure oat flour AFTER blending the oats; to make oat flour, put old fashioned or quick oats in a blender and pulse them until they resemble flour).

Without mixing yet, add the white or white whole wheat flour, cornstarch, baking powder, and salt. Pour 3/4 cup of blueberries on top of the flour mixture and lightly fold the blueberries into the flour on top and then mix everything together.

Mix together, very gently, until just combined (over-mixing will yield a denser bread).

Spoon 1/3 of the batter in the bread pan and then place some of the reserved blueberries on top. Add another 1/3 of batter and place more blueberries on top. Finally spoon the last 1/3 of the batter in the pan and place the final blueberries on top of that and slightly push under the batter.

IF desired, sprinkle 1-2 tablespoons white sugar on top of the bread for a nice "crust"

Bake for 55-65 minutes or until a fork when inserted into the center comes out clean or the bread starts to pull away from the edges. If needed, tent the top with tin foil if the top of the bread is baking faster than the rest.

Remove from the oven and allow to cool. Remove from the bread pan.

Store in an airtight container in the fridge.
More delicious healthier snacks: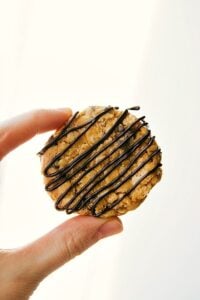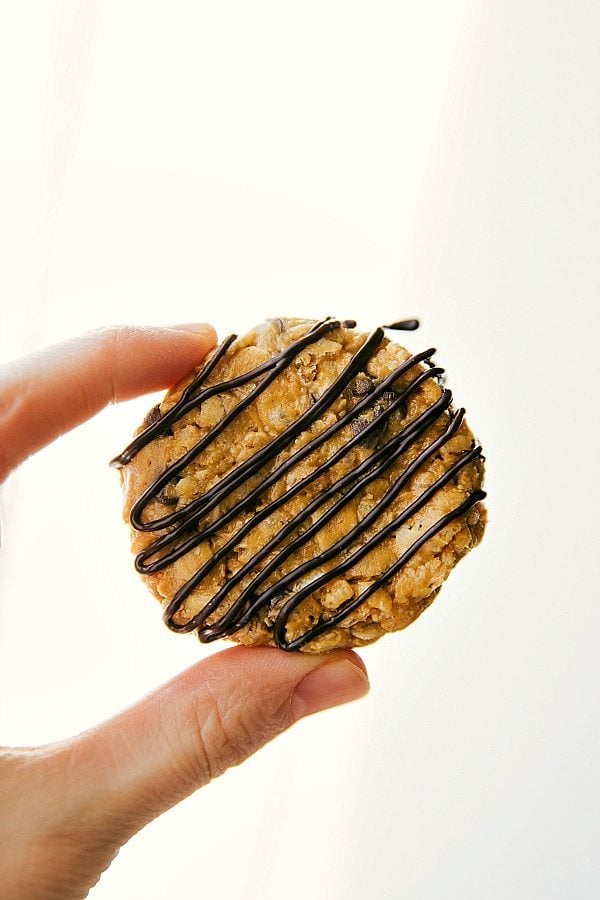 No bake, healthy, and easy breakfast cookies
Delicious energy bites — flavored like a chocolate-covered almond