A healthier version of the famous monster cookies.
I know I've said it before (it has even been mentioned on my "about" page), but a spoonful of peanut butter with dark chocolate-chips on top is one of my favorite go-to snacks. Anyone else? Other variations include (but are not limited to) raisins on a spoonful of peanut butter, crushed oreos on a spoonful of nutella, apple slices dipped in cookie butter, milk chocolate-chips on top of cookie butter AND nutella, crushed nuts on a spoonful of peanut butter (nut overload!), and a new favorite – M&M's topped on a big spoonful of peanut butter. If you haven't had a huge spoonful of peanut butter topped with M&M's, you are definitely missing out! Most of those examples are rare occasional splurges, but the chocolate-chips on peanut butter is a very frequent snack for me. Oh, and the little guy now too — he's obsessed with the combo.
Well monster cookies are like the best possible combination — tons of peanut butter with chocolate AND M&M's. Yeah it's safe to say I'm obsessed with the combination and especially when it's in cookie form. Plus, these monster cookies are made healthier! I mean, they do have M&M's and some brown sugar in them, so they clearly aren't the picture of perfect health, but the rest of the ingredients are pretty dang good for you.
Instead of flour, the base for these cookies are peanut butter and quick oats. Quick oats are a "signature" ingredient for monster cookies. I wouldn't recommend any other kind of oat in these cookies. If you don't have quick oats, but you do have old fashioned oats, you can pulse the oats in a blender or food processor for a couple of seconds to get the consistency of quick oats. Just be careful to not over blend/pulse or you'll have an oat flour instead of quick oats. 🙂
These cookies do not spread very much when they are baked. If you like a super thick and almost cake-like cookie then roll the ball how you like it and leave it. The cookies will be quite thick! Otherwise, roll the ball of dough (or use a cookie scoop) and then flatten the cookie a bit. I press my hand over the cookie and push it down. I slightly press it down further when I add some chocolate chips and M&M's to the tops. Adding chocolate chips and M&M's to the tops of the cookies before baking is purely for aesthetics. The cookies will look prettier once they are done baking. It's totally optional, but since I'm a huge believer in the fact that we eat with our eyes first, I love the little touch of adding the candies to the tops of cookies 🙂
Healthier Flourless Monster Cookies
Ingredients
1

cup

creamy peanut butter

1

large

egg

1

teaspoon

vanilla extract

1

tablespoon

coconut oil

melted

1

cup

quick oats*

1/8

teaspoon

salt

3/4

teaspoon

baking soda

1/4

cup

brown sugar

lightly packed

1/4

cup

dark chocolate chips

1/4

cup

M&M's
Instructions
Preheat the oven to 350 degrees F.

In a large bowl, mix together the creamy peanut butter (note: this recipe has not been tested with a natural or homemade peanut butter, only a store-bought creamy version), organic large egg, vanilla extract, and melted coconut oil (measure when melted).

In another bowl, mix together the oats, salt, baking soda, and brown sugar.

Combine wet and dry and mix until well combined. It may be thick and tough to stir, but resist the temptation to warm up the peanut butter or mixture as this will cause less optimal baking results.

Stir in the dark chocolate chips and M&M's.

Using a cookie scoop or your hands, roll out balls of dough and flatten (otherwise they will be very puffy; these cookies do not spread much while being baked). Place the dough balls on the cookie sheet and press some extra chocolate chip cookies or M&M's on top if desired (just for looks if you want!)

Bake for 7-10 minutes or until lightly golden at the edges. Be careful to not overcook these and watch them closely so the bottoms do not burn. Slightly undercooking will yield softer cookies.
Recipe Notes
*Make sure your oats are certified gluten-free if gluten intolerant. Do NOT use old-fashioned or steel cut oats in this recipe.
Recipe adapted from my recipe for Healthy Breakfast Oatmeal Cookies.
More healthier dessert recipes:
Flourless and Healthy Chocolate Chip Cookies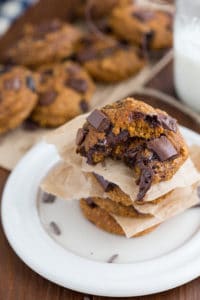 Healthy Pumpkin Chocolate Chip Cookies
{No Bake & Healthier} Chocolate Peanut Butter Cup Bars
Healthy Cookie Dough Breakfast Cereal
Healthy Oatmeal Breakfast Cookies (with peanut butter)