A delicious blueberry mandarine-lime beverage. This spritzer is non-alcoholic made with a sugared blueberry base and a mandarine-lime sparkling water.
I have to admit, this has been my favorite drink of the summer!! There have been some great ones made (and the best of those have shown up here on the blog), but it has been decided that this one is my absolute favorite.
It's basically a super jazzed up sparkling water with tons of good flavors PLUS it's super simple to make. And that color! It's absolutely stunning — I love the deep purple. It's the perfect non-alcoholic celebration drink (especially for something like a baby shower or kid's birthday).
With the blueberries on a skewer, a sugar-rimmed glass, some fresh mint and lime, you'll feel pretty fancy with this beverage. And that's before even tasting it…then you'll see exactly what I mean. This is one delicious drink.
I know I've said it before, but I have been majorly craving good fruity drinks and slushes this pregnancy. It must be the summer heat or something! A requirement is the drink be SUPER cold and simple to make. Both of those apply with this drink.
It all starts with some fresh blueberries made into a simple blueberry syrup. Just water, blueberries, and sugar all mixed into a pot and simmered until nice and syrup-like. As that's cooling a little you can prep the rest for this drink.
Rim the glasses in some sugar if you want. I like it because it's pretty and makes me feel fancy even when I'm still in my yoga pants and it's 3:00 PM. Am I the only one that is in yoga pants until about 6 PM when I quickly change into jeans to welcome the husband home and pretend I had gotten dressed at a reasonable hour?… Ahem. Anyways…
Then add a sprig of fresh mint because I know your gardens are HEAVING with this stuff…right?! And blueberries on a small skewer if you have one. It's nice to have to stir up the drink as you sip it down. Fill up your glass with crushed ice from an ice machine (or even better, grab some pebble ice at the store!) and this glass is ready to be filled.
Pour that simple blueberry syrup on top of the ice and next comes the sparkling water. I used the new IZZE Sparkling Waters for this drink which I am crazy about. The sparkling water is the latest Izze product and there are three different flavors that have been released — Blackberry Pear, Mandarin Lime, and Raspberry Watermelon. This drink uses the Mandarin Lime.
The great news is it's a low calorie drink without fake sweeteners. An entire 12 ounce bottle is only 10 calories and uses organic pure cane sugar. So with those organic natural flavors and delicious taste it's totally a win in my book. And a win in this drink!
Once the glass is filled to the top with the sparkling water, give it a good stir, and it's time for a taste test. Adjust by adding more syrup or more sparkling water, squeeze on some lime, and then ENJOY! 🙂
Frosted Lime-Berry Spritzer (Flavored Water)
Ingredients
Blueberry "Syrup"
1

cup

fresh blueberries

1

cup

water

1

cup

white sugar
Flavored Water Beverage
Lots of crushed ice

4

Izze Mandarine-Lime Sparkling Waters

3-4

fresh limes

Optional: extra blueberries

fresh mint
Instructions
Place the fresh blueberries, water, and sugar in a saucepan over medium high heat.

Bring to a boil and then reduce the heat and simmer for about 15 minutes.

Mash the blueberries and then strain the liquid discarding the solids or using in a smoothie/different recipe. (I blended the remaining blueberries up in a smoothie the next day)

If desired, rim the glasses in sugar (I LOVE this simple addition to the flavor of the drink!) Simply press the top of the glass in a bowl of water and then the wetted top of the glass into a small bowl of sugar. Shake off the excess.

Fill up 4 glasses to the top with crushed ice - really pack in the ice!

Fill up the glass with the blueberry syrup. Allow the syrup to "settle" into the ice and then fill up the glass with Mandarine-Lime Sparkling Water.

Stir and add in some freshly squeezed lime.

Taste and adjust the drink to personal preference (adding more syrup, more sparkling water or more lime.)

If desired garnish the glass with fresh mint and a small skewer with blueberries.
Other delicious beverages:
3-ingredient Raspberry Sprite Slush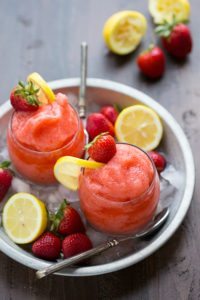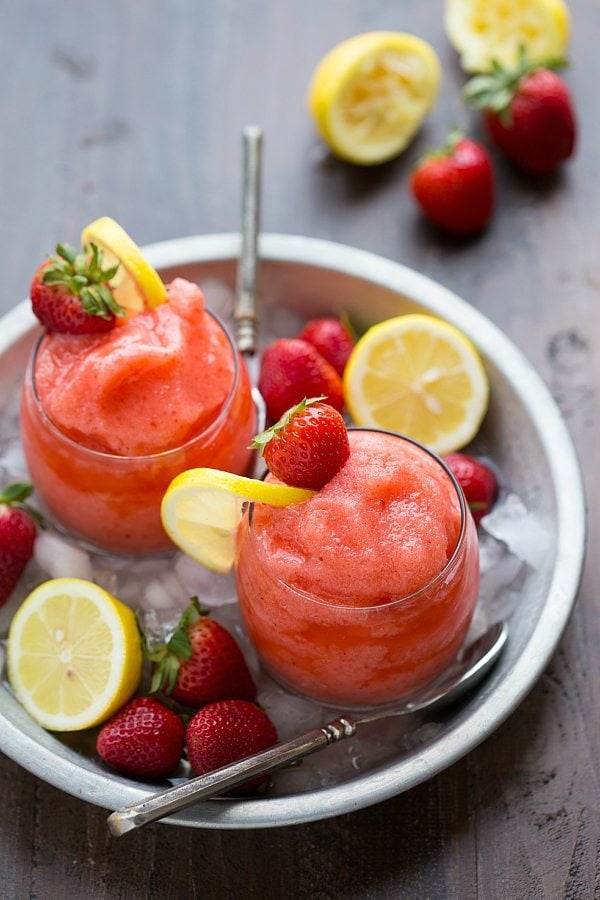 Easy (Blender) Lemon-berry slushies