An easy and healthy dish – everything is combined in one pot, simmers, and is ready to eat in under 30 minutes. Lots of options for vegetable substitutions included.
That's right everyone. I've got another meal that is under 30 minutes and only uses one pot!
I love when dinner comes together like that. Super easy, and no fuss. Plus minimal dishes. I mean – one pot and a cutting board + a few measuring cups is what you're looking at if you make this meal.
Oh and did I mention how healthy it is? Last selling point on this dish: if you aren't a fan of some of the vegetables listed above (or the meat) read on, because I have plenty of substitutions for you to try out!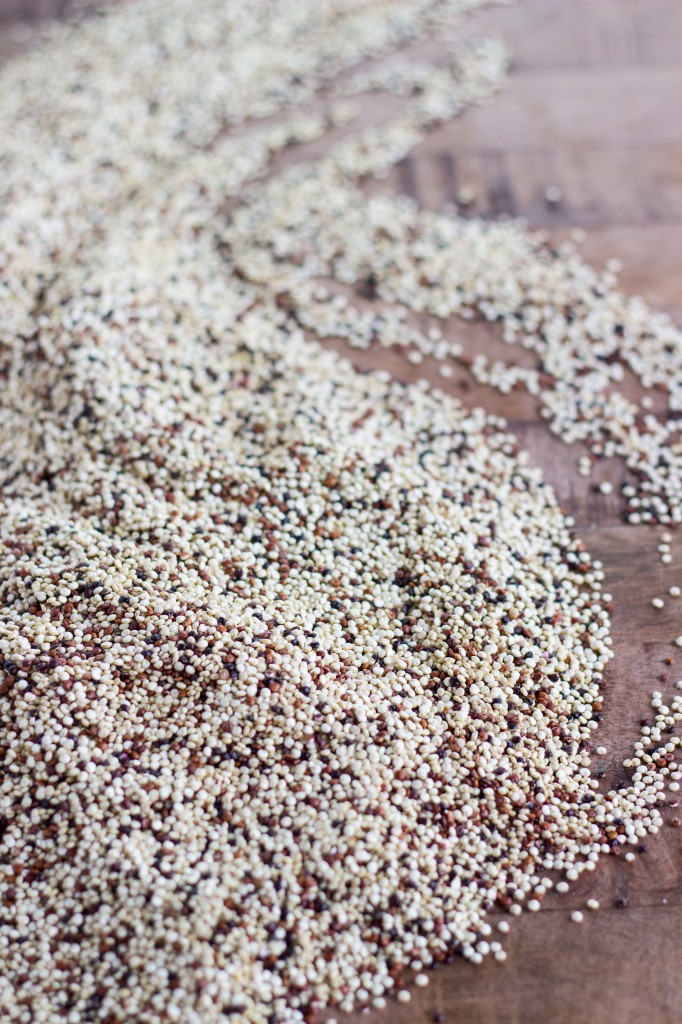 Tri-colored quinoa – have you tried this stuff? When I saw it in the store I was intrigued and now I'm totally a new fan of this healthy lil' grain. Plus the colors – so. much. fun. And the different colors look so pretty when this dish is all finished.
Regular quinoa will work just fine as a substitution if that's what you have around. Just make sure to thoroughly wash out your quinoa before using it. I wash mine out in a round mesh sifter sieve. None of the quinoa gets lost that way and it's so easy to throw it in the mesh sifter and rinse it. I usually scrub it a bit by rubbing the quinoa in my hand as it's getting rinsed under the water. Quinoa will taste much better (and cook better too) if you wash it really well first.
Next…the vegetables. And there are plenty of substitutions you can make. In this dish I used some onion, shredded zucchini, and two bell peppers (red and orange). You could substitute in corn, red pepper, snap peas, asparagus, eggplant, or whatever else you think goes well together. Just make sure to have the same amounts as listed in the recipe and to chop them up into small-ish pieces.
I chopped up the peppers, but you could cut them in thin strips if that's quicker. Also shredding the zucchini was super quick since you don't even need to peel it. I chopped up a small onion which adds a lot of flavor to this dish.
And finally, if you were hoping for a vegetarian or vegan option, you can replace the chicken with beans. I'd recommend black beans, but you can definitely experiment with other ideas.
Also I cooked this in chicken broth, but also tried it in a tomato broth which I loved. I get tomato bouillon and add two teaspoons to two cups of boiling water for an easy tomato broth that is vegetarian/vegan.
The last step is the "seasoning" which includes salt, pepper, finely chopped cilantro, and lime juice. No cream or unhealthy ingredients and so much flavor!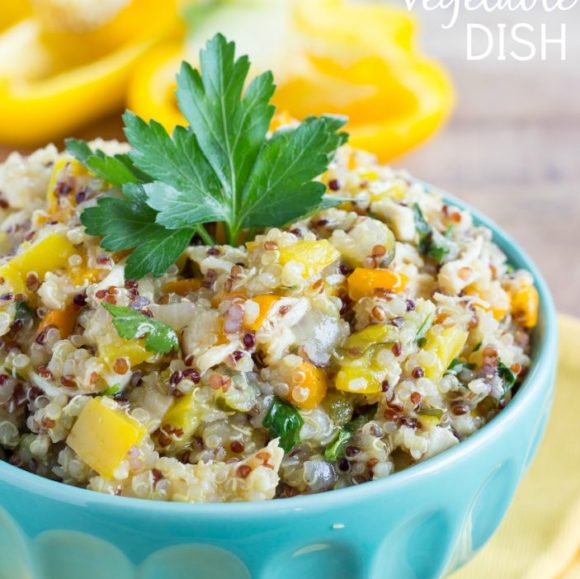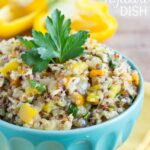 Quinoa and Vegetable Dish
An easy and healthy dish - everything is combined in one pot, simmers, and is ready to eat in under 30 minutes. Lots of options for vegetable substitutions included.
Keyword:
Quinoa and Vegetable Dish
Ingredients
2

tablespoons

extra virgin olive oil

2

cloves

minced garlic

(1 teaspoon)

1/2

cup

onion

chopped, 1 small

1

cup

zucchini

shredded

2

bell peppers

chopped, I used an orange and yellow one

1

cup

tri-colored quinoa

2

cups

chicken broth

16 ounces

1 and 1/2

cups

prepared rotisserie chicken

or leftover grilled/cooked chicken, chopped

Salt and Pepper

to taste

2-3

tablespoons

cilantro

finely chopped

2-3

tablespoons

lime juice
Instructions
In a large pot over medium heat, heat up the olive oil and add in the garlic and onion. Cook until fragrant and tender or about 2-3 minutes.

Add in the shredded zucchini and chopped bell peppers. Stir for about 1 minute.

Add in the quinoa and chicken broth. Bring to a boil and then turn to low and cover with a lid.

Let cook until all of the broth is evaporated into the quinoa about 10-15 minutes.

Stir in the chopped rotisserie chicken and add in salt and pepper to taste.

Let cool for a minute and then stir in cilantro and lime juice to taste. (Add 2 tbsp. of each and then more if desired)

Serve immediately.
Recipe Notes
*If you don't want to use canned chicken and still want this to be a one-pot meal, Cook 1 chicken breast in boiling water until cooked through. Drain and let cool. Shred the chicken. Quickly rinse out the pot and continue with the first step.
Check the post for lots of substitutions and ideas to make this dish vegetarian
Hungry for more quinoa?