This Thai Yellow Chicken Curry with baby gold potatoes is comfort food at it's finest! This easy to make curry can be ready in about 45 minutes or less.
Serve this curry over basmati rice with a side of naan bread for a delicious meal.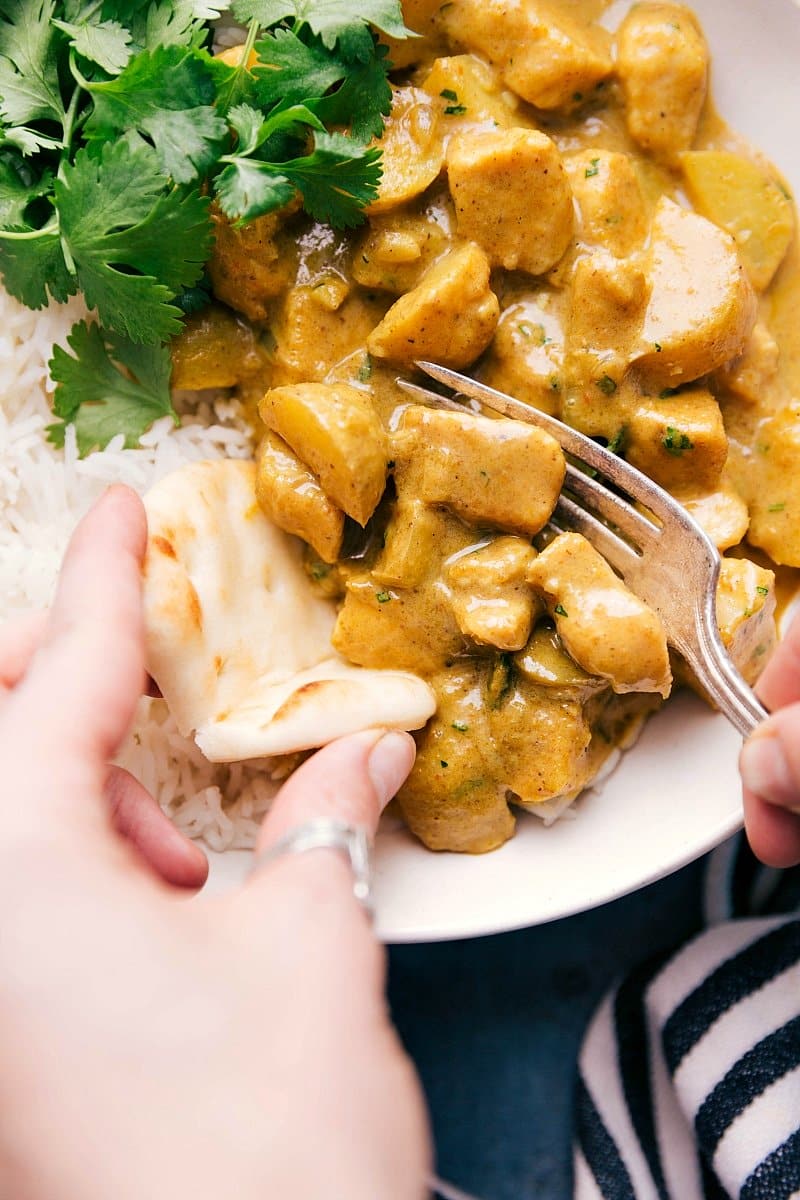 Yellow chicken curry
This may just be my favorite curry recipe ever and I can't wait to share it with you all!
My sister brought some of the leftovers from this yellow chicken curry to her husband and his exact text to me read, "That curry was frickin awesome. I have been reborn. I am a new man." If that doesn't have you convinced to make this asap, I don't know what will 😉
One thing to get out of the way first, it is spicy! This curry definitely packs some heat which makes me love it all that much more. However, if you aren't a spice-lover, I'd recommend trying this coconut curry chicken instead. It is a somewhat similar recipe, but very mild 🙂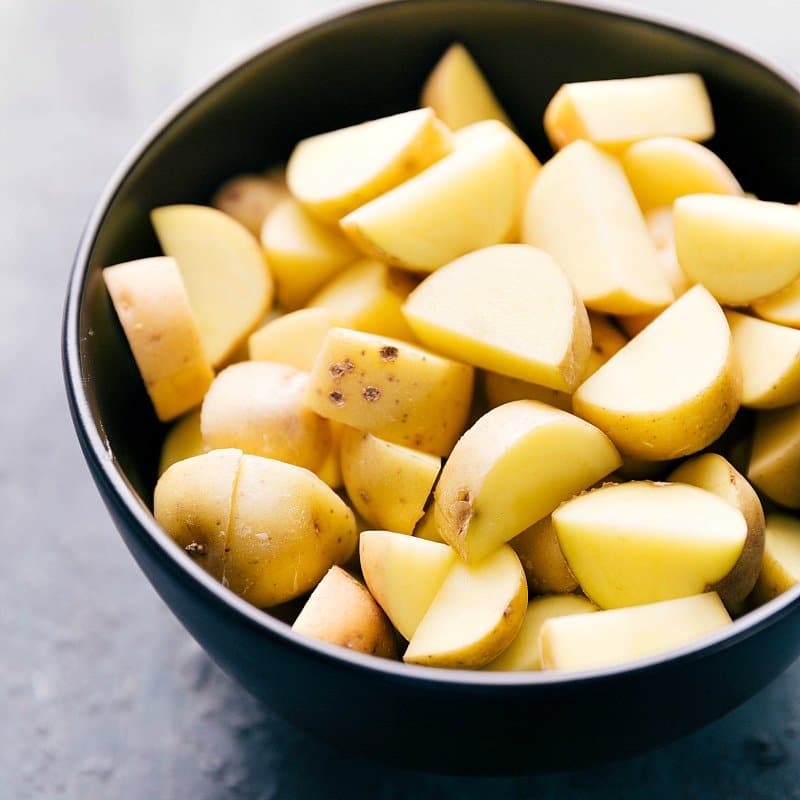 How to make yellow chicken curry
Saute the onion in coconut oil. Add in the fresh minced ginger and garlic (fresh is best here, so it doesn't burn)
Bloom the spices: the yellow curry paste, curry powder, and coriander. It's important to take time your time here to really unlock the full flavor potential of the spices and curry paste.
Add the diced potatoes and stir to coat in the seasonings
Add in the coconut milk
And next the chicken stock. Stir and ensure the potatoes are fully covered in liquid
The potatoes will get rapidly simmered until tender and the sauce will reduce to a nice thick consistency. While this is happening, it's time to season and cook the chicken! Toss the chicken in curry powder, salt, and pepper.
Brown the chicken in a separate skillet
Add the chicken into the curry to finish cooking through. Add the finishing touches to your yellow chicken curry and dinner is served!
What is yellow curry paste?
The true star of this recipe is yellow curry paste. The paste is generally made up of ginger, garlic, curry powder, turmeric, cilantro, lemongrass, cumin, and dried red chiles to deliver a flavor packed (spicy) sauce.
It can, however, be difficult to find. I'd recommend calling your store in advance to see if they carry it. You can also make your own, OR order if off of Amazon.
I grab it off of Amazon; here's the exact paste I get.
Freezing the leftover yellow curry paste
If you get a big container of yellow curry paste, you'll probably want to freeze the leftovers if you aren't making this yellow chicken curry every night (and if you are, I don't blame you!).
To freeze leftover curry paste, spoon it into ice cube trays and freeze until solid. Transfer your curry "cubes" into a freezer safe container and freeze for up to 3 months. Thaw cubes as needed overnight in the fridge.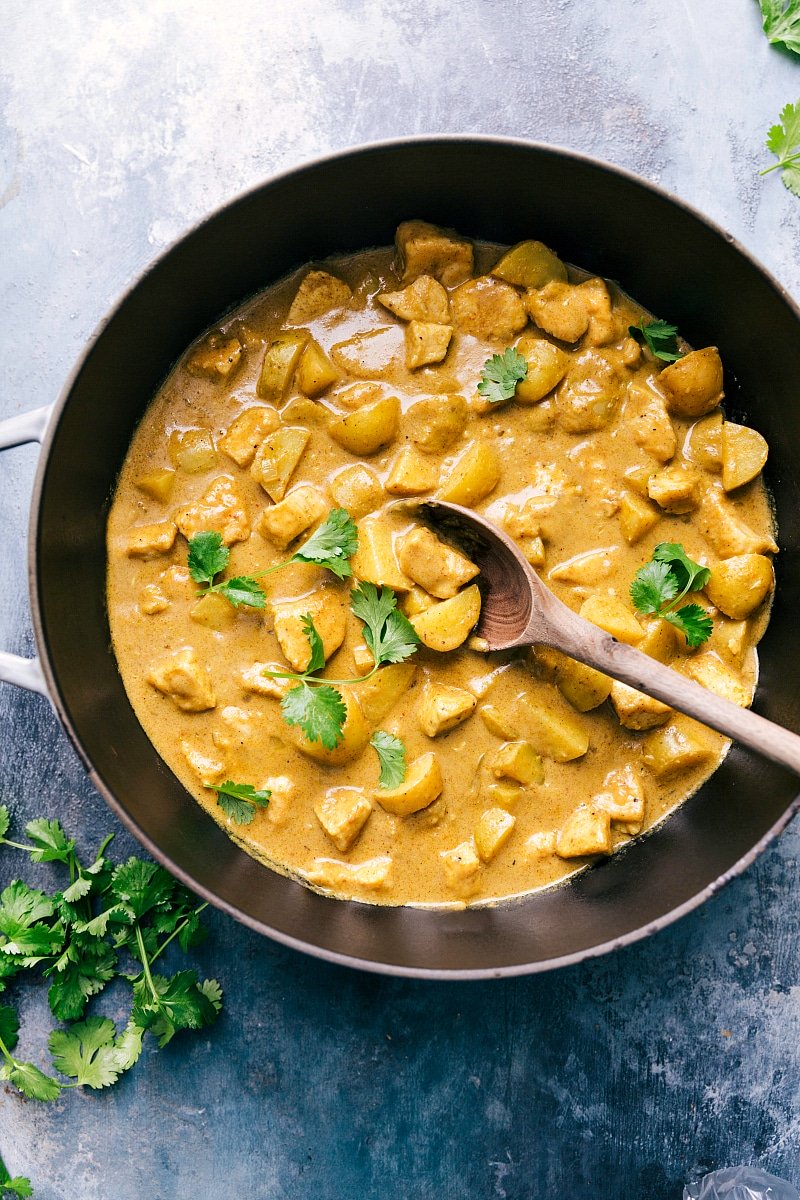 Yellow chicken curry FAQs
What makes curry yellow?
The yellow curry paste mainly gets its color from the turmeric powder. That curry paste colors the entire dish a beautiful deeply golden color.
Is yellow curry spicy?
It definitely depends on the curry paste you use and how much of it. I would say this dish is medium+ spicy. Of course spice tolerances vary greatly from person to person. You can reduce the amount of yellow curry paste, but the dish won't be as flavorful.
Is Thai yellow curry healthy?
I would consider this a much healthier alternative to ordering take out Thai food (plus it's cheaper!). This curry uses real ingredients, plenty of health promoting spices (especially in the curry paste), and lean chicken breast.
Do I have to use full-fat coconut milk?
For a creamy and restaurant quality yellow chicken curry, I recommend a
good full fat coconut milk
. If you do use light coconut milk, the curry will still work, but lack a bit of flavor, creaminess, and thickness.
Can this yellow chicken curry be made ahead of time?
Yes! In fact, curries get more and more flavorful as they sit! This yellow chicken curry is a great proponent for meal prep or leftovers. It can last (stored properly) for up to 5 days in the fridge. Note that you might need to add an extra splash of chicken stock to leftovers since it continues to thicken as it sits.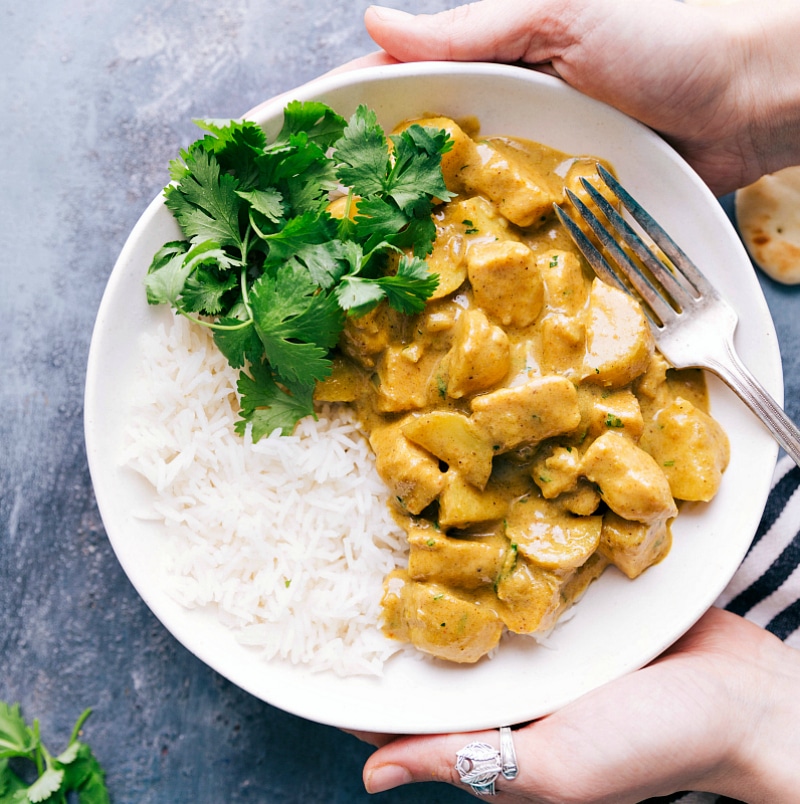 Serve this curry alongside
In my opinion, there is nothing better than serving this yellow chicken curry over cooked basmati rice with a side of warmed naan bread.
You can also serve this Asian cucumber salad, these roasted brussels sprouts, or a big green salad on the side for extra veggies.
More curry recipes: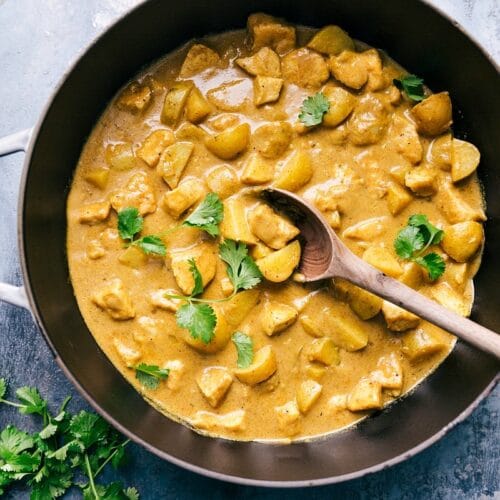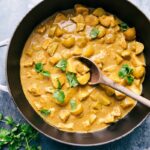 Yellow Chicken Curry
This Thai Yellow Chicken Curry with baby gold potatoes is comfort food at it's finest! This easy to make curry can be ready in about 45 minutes or less. 
Keyword:
yellow chicken curry
Ingredients
3

tablespoons

coconut oil,

separated

1/2

cup

diced yellow onion

diced (~1/2 medium onion)

1 and 1/2

teaspoons

minced garlic

(~3 cloves)

1

tablespoons

finely minced ginger

(from a 1 and 1/2 inch piece)

2

teaspoons

yellow curry powder,

separated

1/4

cup

yellow curry paste

Note 1

2

teaspoons

ground coriander

1

pound

baby gold potatoes

(cut into bite sized pieces, 6-8 pieces per baby potato)

1

can (13.6 ounces)

full fat coconut milk

(lite not recommended)

1

cup

chicken stock

1

pound

boneless skinless chicken breast or thighs,

cut into 1 inch pieces

1/2

teaspoon

cornstarch

Fine sea salt and freshly cracked pepper

1 and 1/2

teaspoons

white sugar

1/4

cup

cilantro

diced

1

tablespoon

lime juice

2

teaspoons

fish sauce,

optional

Serve over/with: cooked basmati rice and naan bread
Instructions
PREP: Start by prepping ingredients: dice the onion, mince the garlic, and mince the ginger. I peel the ginger with a spoon or vegetable peeler and then finely mince it. Chop the potatoes into bite sized pieces. I cut each baby Yukon Gold potato in 6-8 pieces depending on the size of the potato. You want fairly small sizes so they'll cook at the right time.

COOK: Heat 2 tablespoons coconut oil in a large deep skillet over medium-high heat. Add the onion and saute for 3-5 minutes or until onions are beginning to get golden. Add the garlic and ginger. Stir to coat everything with the oil. Lower the heat to low and add in 1 and 1/2 teaspoons of curry powder, yellow curry paste, and coriander. Stir often for 2-3 minutes or until lightly toasted and fragrant. Add in the potatoes and stir to coat for 1 minute.

COOK CONT: Pour in the coconut milk and chicken stock. Scrape the bottom of the skillet as needed. Stir and press all potatoes below the liquid. Bring to a rapid simmer. Simmer rapidly (over medium heat; it should be bubbling at the edges but not rapidly boiling) for 20-30 minutes, stirring occasionally. The potatoes should be fork tender and sauce reduced; this always happens around 20-22 minutes for me. Add additional chicken stock if needed if sauce is reducing too quickly and potatoes aren't getting tender (this means you may need to lower your heat a little. Alternatively, increase the heat slightly if potatoes aren't getting tender/sauce isn't reducing). Add sugar, cilantro, and lime juice to sauce (feel free to adjust these three ingredients to personal preference). If desired add fish sauce.

CHICKEN: Meanwhile, cube chicken into small bite-sized pieces. Toss chicken with cornstarch, remaining 1/2 teaspoon curry powder, 1/2 teaspoon salt, and 1/4 teaspoon pepper. In a separate skillet, add remaining 1 tablespoon coconut oil and heat over high heat. Add chicken and cook, stirring occasionally, until mostly cooked through, about 4-7 minutes depending on the size of the chicken chunks. Watch carefully to avoid overcooking and ending up with dry/bland chicken. Add the mostly cooked chicken pieces in the curry and finish cooking through for the last 1-2 minutes.

FINISHING: Remove curry from heat. Taste and adjust to seasonings (more salt and pepper IF needed). Serve over cooked rice with warmed naan bread if desired. (Rice and naan bread definitely help curb some of the "heat" from this curry).
Recipe Video
Recipe Notes
Note 1: yellow curry paste is surprisingly difficult to find in the store; call ahead to your store. You can always make your own curry paste, or buy in on Amazon (what I do). I get Mae Ploy Yellow Curry Paste