A delicious cream cheese pound cake stuffed with red velvet cake hearts. This pound cake is coated with a creamy sugared glaze.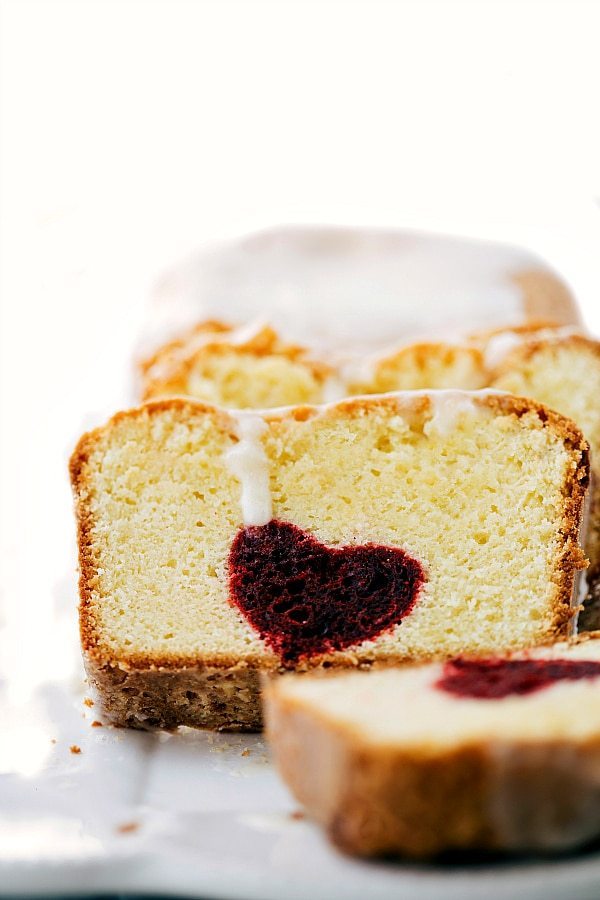 Valentine Treat NUMBER 3, So far we've had lovebirds in a nest and a white chocolate snack mix. And today is one of my favorites! I know, you are probably thinking I have lots of favorites. And you are completely right!
But seriously, how fun is this cake?!
This cake is far easier than it looks. It takes a bit of time to bake, but it takes seconds to assemble. Okay, maybe more than seconds, but not too bad.
Oh, and want to hear the great news? After cutting out the hearts, there is PLENTY of red velvet cake leftover. I basically loved that part of this. Here I was in my kitchen cutting out hearts, eating the crusts (the best part!) of the cake, and then eating everything else that wasn't a part of the heart cut out.
And then I had the idea to save the red velvet cake to make cake pops with! That idea was both great and sad. Great, because HELLO, red velvet cake pops = amazing. But sad because, well, that meant I needed to stop eating shoveling the leftover cake down. But okay, save your leftover red velvet cake and any extra hearts that this cake makes because you will want to use them to make some adorable cake pops! 🙂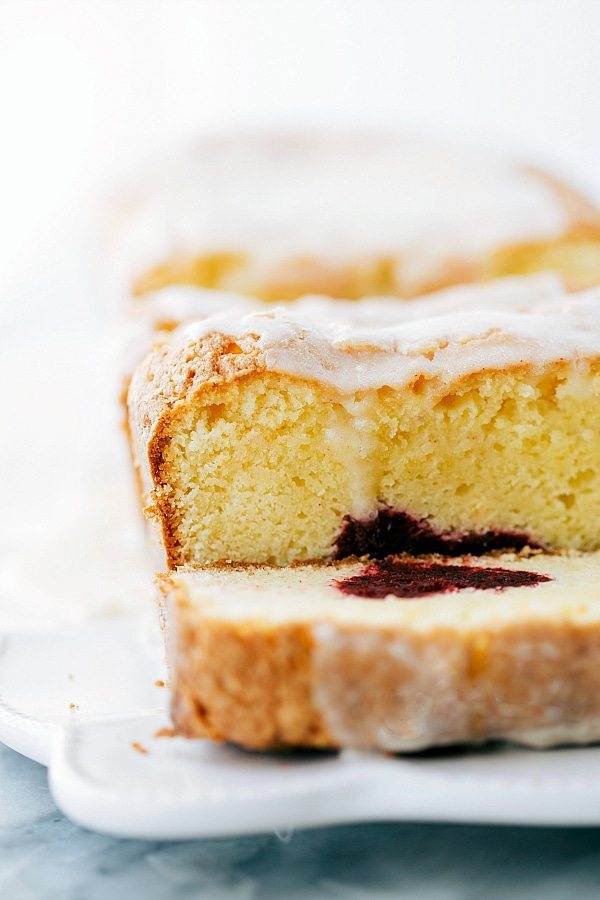 Okay anyways, after the hearts are cut out of the cake, you just stick them inside of another pound cake and bake. Make sure to pack in the hearts close together and super tight or else the other pound cake will seep in and you won't have the greatest heart center. I was able to gettwo hearts per slice of the red velvet cake and had a lot more hearts than fit in the cake. Save those hearts for heart cake pops or crumble them with the rest of the leftover cake for regular cake pops.
When the cake is finished and cooling, it's time to whip up the glaze and before you know it, this cake is ready to wrap up and gift away. Or just eat away!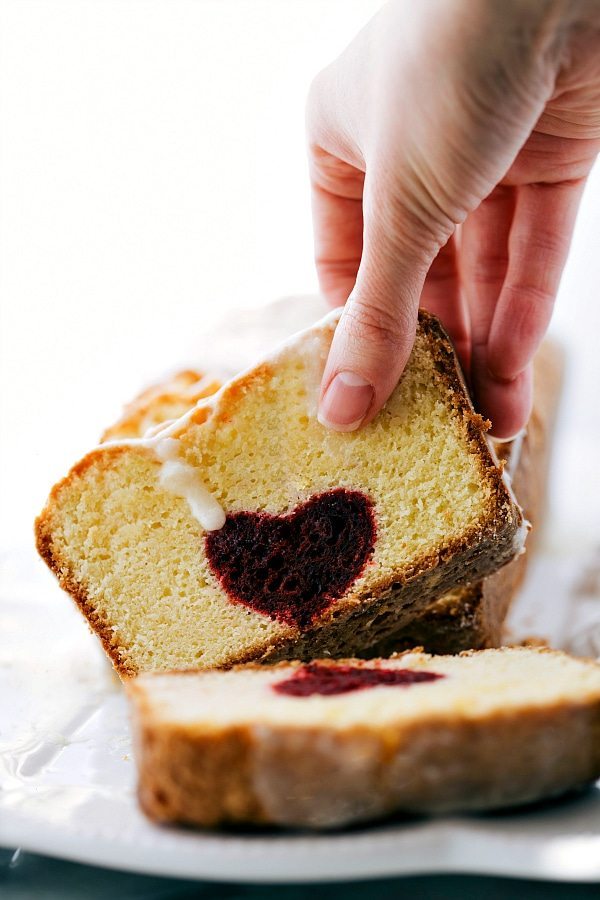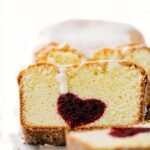 Heart Pound Cake
Ingredients
Heart Layer
1

package (14.5 ounces)

Red Velvet Cake Mix + ingredients that go with the mix
Pound Cake Layer
4

ounces

cream cheese

softened, use full-fat

3/4

cup (12 tablespoons)

salted butter

softened

1 and 1/2

cup

white sugar

3

large eggs

at room temperature

1/2

teaspoon

vanilla extract

1 and 1/2

cup

white flour

1/2 - 1

teaspoon

salt

depending on preference
Glaze *
3/4

cup

powdered sugar

2

teaspoons

heavy cream

1/4

teaspoon

vanilla extract

or less depending on taste preference

1/2

teaspoon

butter

melted
Instructions
Prepare the red velvet cake according to package instructions. Bake in a well-greased and floured bread loaf pan.

Let cool for about 10 minutes and then remove from pan.

Cut into slices and let slices continue to cool while you prepare the next layer.

In a large bowl, combine the cream cheese and butter. Using hand mixers, beat for about 2 minutes or until soft and creamy.

Add in the sugar and eggs and continue to beat.

Sift the flour and salt in another small bowl and then slowly mix in with the wet ingredients. Continue to beat and add in vanilla extract.

Set aside and preheat the oven to 350 degrees F.

Using a cookie cutter, cut out the heart in the sliced red velvet cake.

Grease and flour the bread pan very well.

Pour a bit of the pound cake layer into the bottom of the pan and then stick the red velvet heart pieces from the back of the pan to the front. Pack the hearts in tightly so cake can't seep between the layers.

Pour the remaining pound cake on top so that all the hearts should be completely covered.

Cook for about 60-90 minutes or until a toothpick (stuck in only the pound cake layer) comes out clean. This time variance is so large because of altitude differences.

Watch the cake and make sure the top and sides aren't burning. If they seem to be browning too quickly, cover with a tin foil tent,

Let the cake cool for about 10-15 minutes and then remove onto a large plate or platter.

While the cake is cooling, whisk together the powdered sugar and heavy cream. Add in vanilla extract and melted butter to meet your taste preferences.

Spoon the glaze over the cake and let the glaze drip down the sides.

Using the cookie cutter as a guide for how thick your pieces should be cut, cut and serve.
More fun Valentine's Day Recipes: