Make Lemon Berry Slush in a blender in a matter of minutes. A delicious drink to cool down with or a fun drink to serve at a party!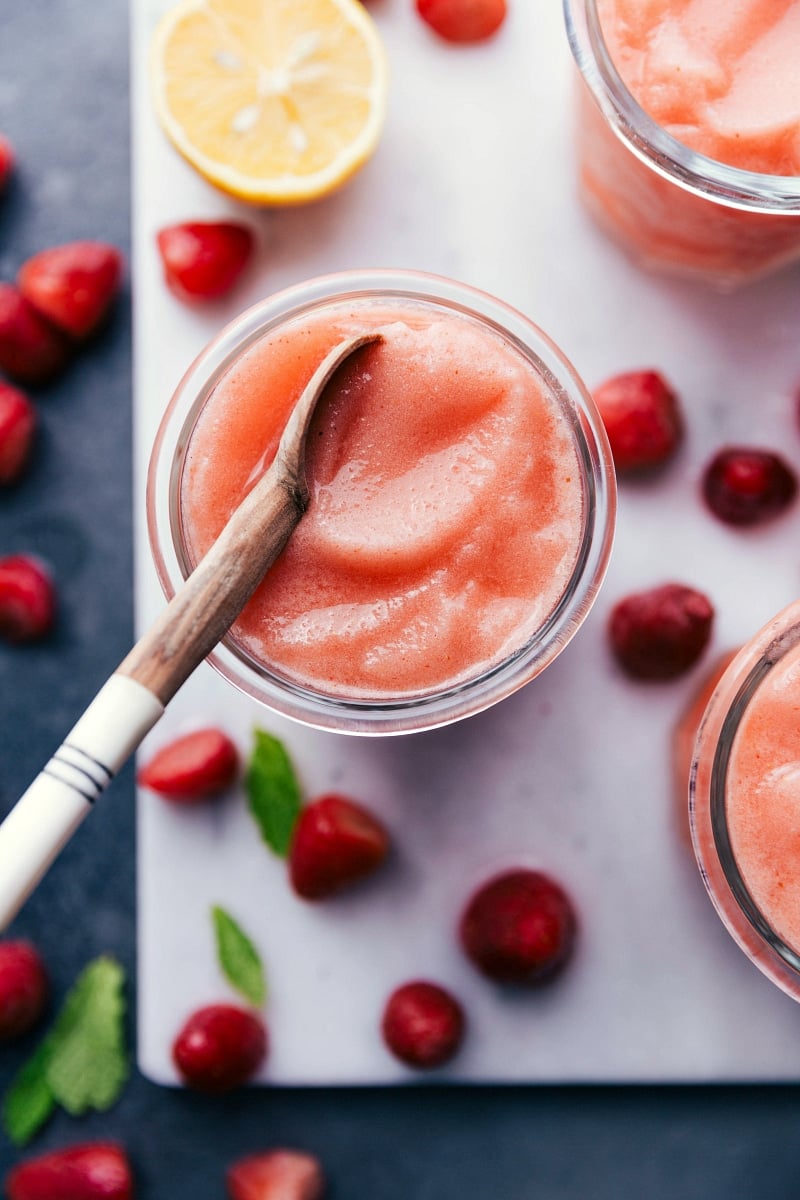 Lemon Berry Slush
Growing up, my sister and I were obsessed with Sonic's® Lemon Berry slushes. We'd always time our outings or trips for happy hour to make sure we'd get a slush for half price. And while I'll admit I still love a taste of them, they're a bit too sugary for me to finish nowadays.
So the best thing about making your own slush is that you can perfectly control the amount of sugar and exactly what you add to your drink.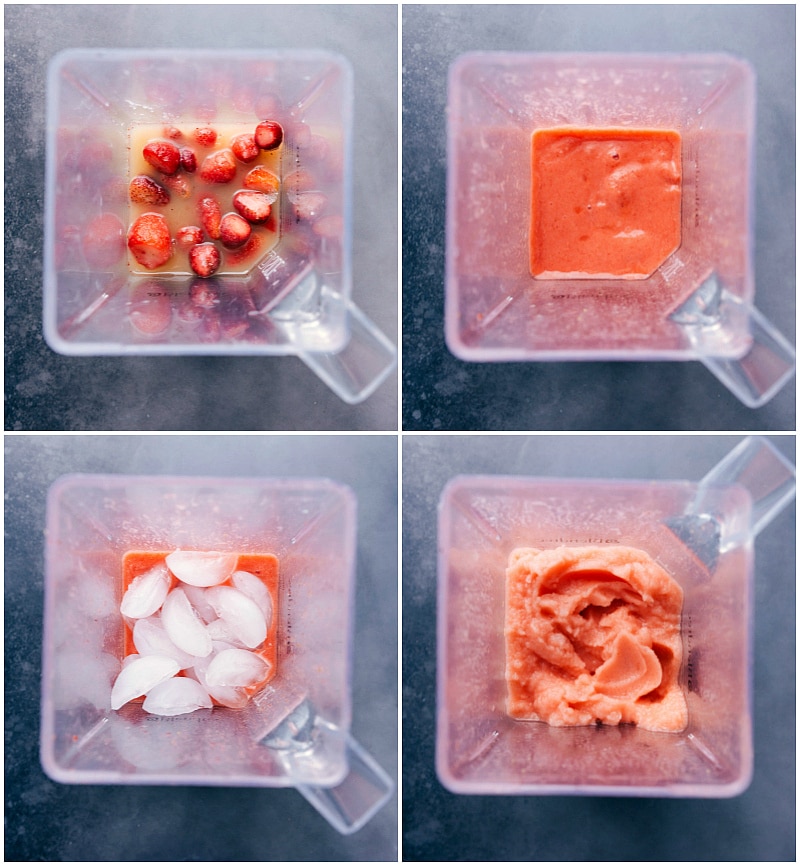 How to make a slushy drink
Initial blend: Combine frozen strawberries with freshly squeezed lemon juice, water, orange juice, and sugar. Blend for 20-30 seconds.
Add ice: Add crushed or full ice cubes to the blender
Blend again: Blend again, stopping the blender as needed to stir everything up again. Blend until you reach a smooth, ice-less consistency.
Enjoy: Pour into glasses and enjoy!
Adjusting the sugar
Everyone's sweet tooth is a bit different, so as you make this, keep that in mind. Increase the amount of sugar for a sweeter Lemon Berry Slush, or decrease or add slowly for a less-sweet slush.
The type of orange juice you use will affect the amount of sugar required. I use a store-bought orange juice (we love Simply Orange®; not sponsored). My brand has quite a bit of added sugar, so it needs less additional sugar than if you squeeze your own oranges. Sweetness can also vary depending on the frozen strawberries used; some are sweeter than others.
Lemon Berry Slush tools
Lemon Berry Slush is very simple to make, but you do need a good, powerful blender (think Blendtec or Vitamix). Make sure to use a high powered blender or you may need to blend ingredients in batches at a slight sacrifice to consistency.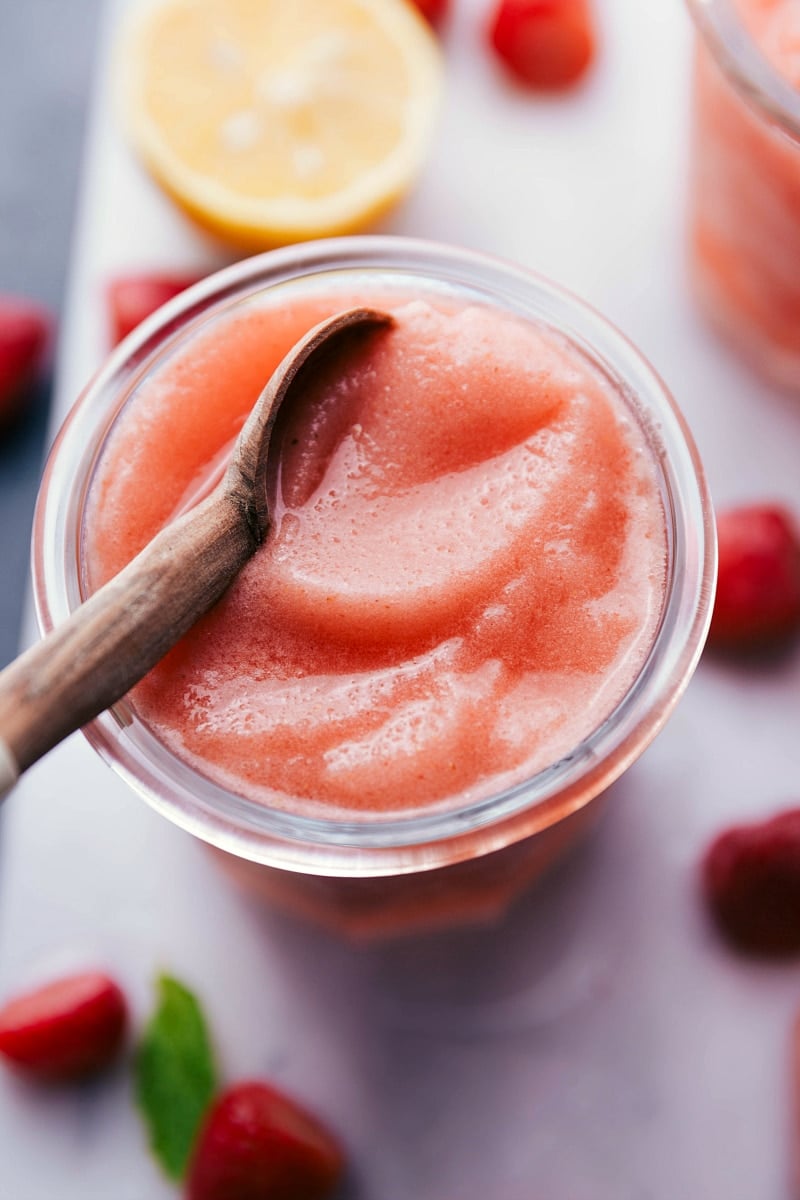 Quick tips
Use real, freshly squeezed lemon for Lemon Berry Slush. If you juice a lot of citrus, I recommend a small juicer or citrus reamer — you don't need anything special or crazy expensive. This one is inexpensive and a great investment!
Make sure to thoroughly blend all the ingredients; ice chunks are no good in a slush! If needed, stop the blender a few times and stir everything up with a spoon before resuming the blend.
Give the slush a taste test before serving and increase sugar or any other flavors as desired.
More delicious drinks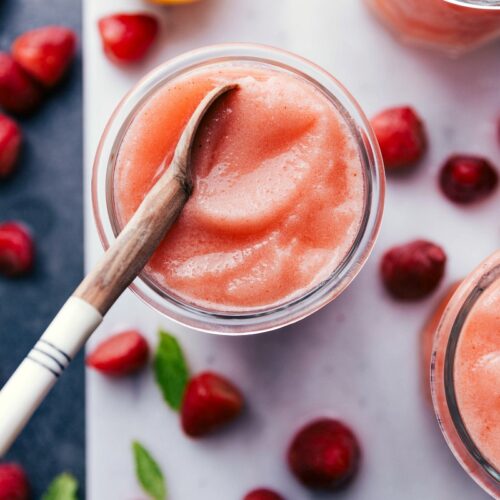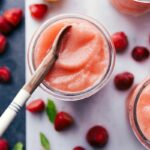 Lemon Berry Slush
Make Lemon Berry Slush in a blender in a matter of minutes. A delicious drink to cool down with or a fun drink to serve at a party!
Course:
Dessert, Drinks, Snack
Cuisine:
American, Vegan, Vegetarian
Keyword:
lemon berry slush
Ingredients
2

cups (275g)

frozen strawberries

1/2

cup (115g)

prepared orange juice

(See Note 1)

1/2

cup (110g)

water

1/4

cup (54g)

freshly squeezed lemon juice

1/4

cup (47g)

white granulated sugar

2

cups (268g)

ice
Instructions
INITIAL BLEND: Place the strawberries, orange juice, water, lemon juice, and sugar in a large high-powered blender. Blend for 15-20 seconds, or until large chunks are gone.

ADD ICE: Add in the ice and blend or pulse until all of the ingredients are well incorporated and no ice chunks remain. (The more crushed the ice is prior to blending, the easier it will blend and the better the end result). Blending will take a bit of patience and some stirring in between. Blend until smooth, but don't over-blend. This will result in a watery beverage.

ENJOY: Pour into glasses and enjoy immediately.
Recipe Notes
Note 1: If you use a fresh-squeezed orange juice, you may need to add more sugar. I used a store-bought orange juice that had added sugars in it (I used Simply Orange® Orange Juice).