Bright, crisp, and fresh corn salsa recipe with fresh corn on the cob, herbs, onions, and a bit of kick from jalapeños. Serve this salsa with chips for the ultimate summer appetizer!
If not serving with chips, pair this salsa with one of these chicken dinners: honey lime chicken, pineapple chicken, or cilantro lime chicken.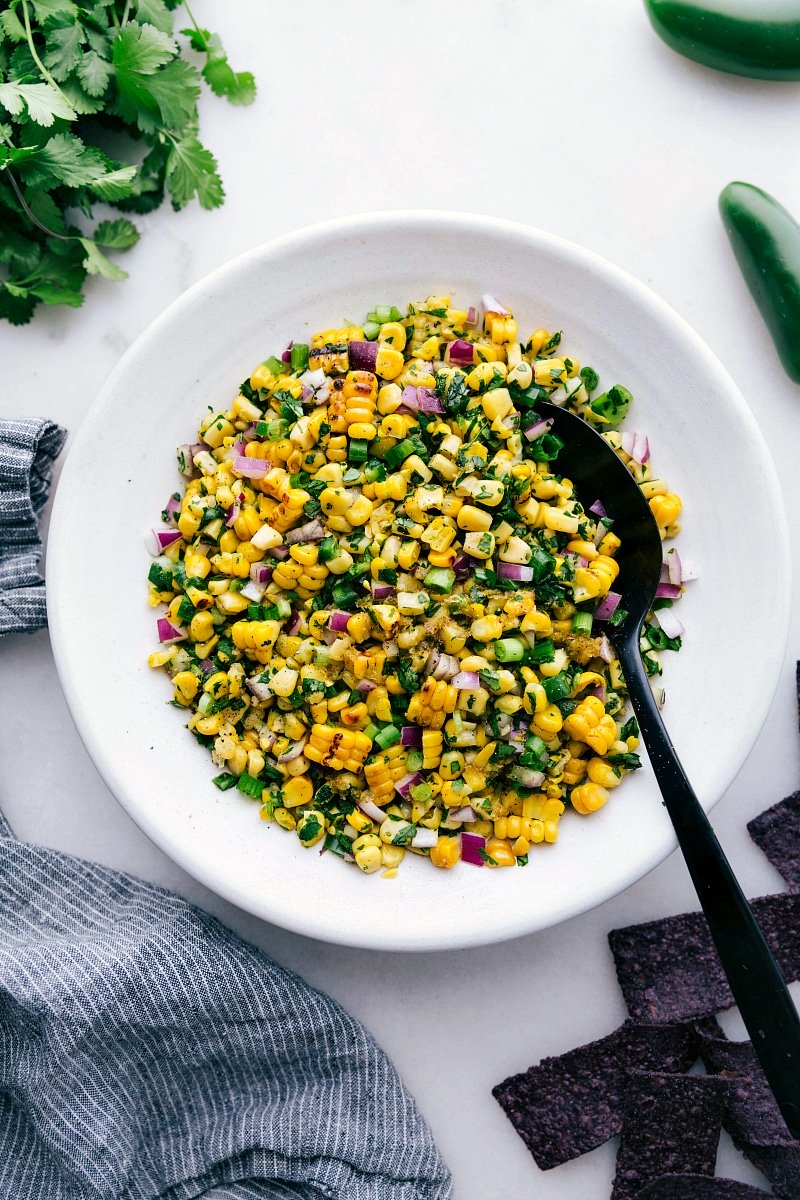 Welp it must be the week of corn recipes because I started the week sharing this creamy corn salad, sharing this grilled corn salsa recipe today, and later this week I'll be sharing an avocado chicken salad (updated to add the link) with — you guessed it — corn!
But if you're not a fan of corn on the cob, don't worry I have a few more summer recipes coming up and in the meantime, enjoy a teriyaki burger or the best taco lettuce wraps I've ever had!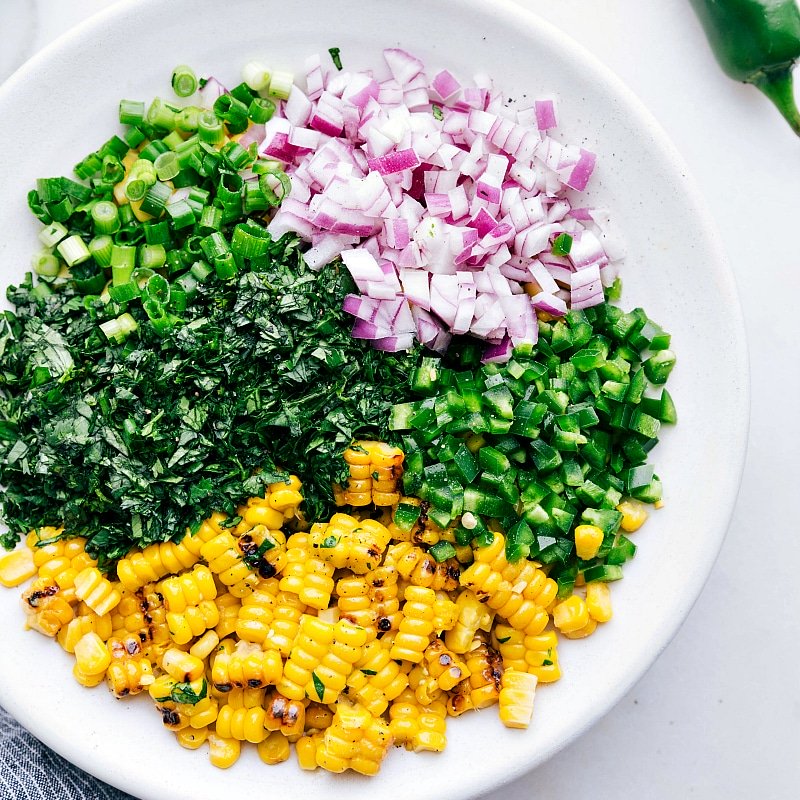 This corn salsa recipe is easy to make and the perfect appetizer or side on a hot summer day. I made a similar corn salsa to top this taco chicken and it's remained one of the most popular recipes on the site. While this salsa is easy to make, I have a few tips (as always :))
Corn salsa recipe tips
Fresh corn: fresh corn is always going to be the best option for corn salsa; it's fresh tasting and has a great crispness. I personally like to grill the corn first (see directions below), but you can cut the kernels off the cob and add them to this salsa raw. If you're grilling the corn you can also grill the jalapeno and green onions for a smokier flavor.

If you do choose to grill the corn or saute it, be sure to allow the corn time to fully cool down before adding to the salsa.

Even sizes: aim to cut each ingredient into similar sizes for uniformity and the best texture.
Chill: after assembled, chill this corn salsa recipe in the fridge so the flavors have time to meld and intensify.
Grill the corn: while you don't have to grill the corn on the cob, it is incredible grilled!
To grill corns on the cob: peel back husks and remove silk (discard both). Rub vegetable oil on all sides of the corn and sprinkle lightly with salt and pepper. Place on heated, cleaned, and greased grill (400 degrees F) and rotate every 3-4 minutes or until charred. Remove let cool and then slice off the cob. You can also use this same method for a grill pan.
Alternatively, you can sauté corn in a skillet. Cut kernels from the cob and add in an even layer in a hot (heat to high heat) large cast-iron skillet 3 to 5 minutes, stirring constantly, until kernels are lightly charred over high heat. Remove to let cool completely before adding to the salsa.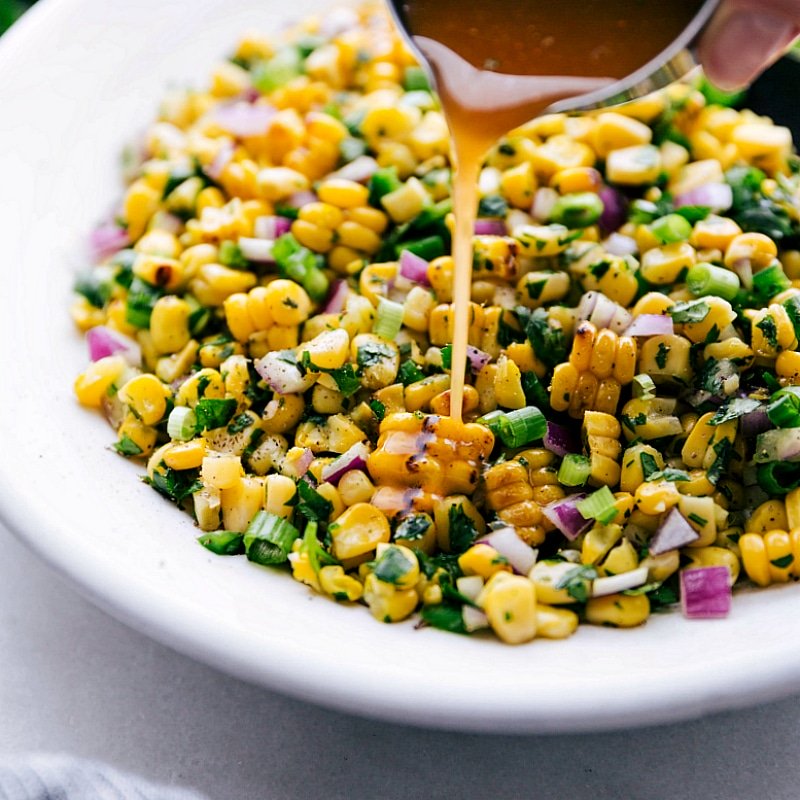 Variation ideas
Spicy corn salsa recipe: as is, this salsa is a medium to mild heat (depending on who you ask). To amp up the heat, add in some more diced jalapeños and increase the amount of chili powder in the dressing.
Canned corn salsa recipe: while I don't recommend canned corn for this salsa, it can work in a pinch. Canned corn isn't as crisp or fresh tasting, so you may want to amp up seasonings in the dressing.
Corn salsa for tacos: if you want to add this salsa to tacos, this chicken tacos recipe has basically the same salsa on top with a creamy dressing instead of the vinaigrette in this recipe.
For more acidity: increase the lime juice (1 or so tablespoons) and/or add up to 1 more teaspoon of vinegar.
Corn salsa with avocado: we LOVE adding a ripe diced avocado to this salsa — chop up a ripe medium-sized avocado and stir it into the salsa — no other changes necessary!
Creamy corn salsa: for more of creamy dressing on this corn salsa, try the dressing on this Mexican street corn pasta salad — it's a reader favorite!
Other addition ideas: chopped roasted red bell peppers (or fresh peppers), cooked and crumbled bacon, drained and rinsed black beans, chopped/diced tomatoes, fresh basil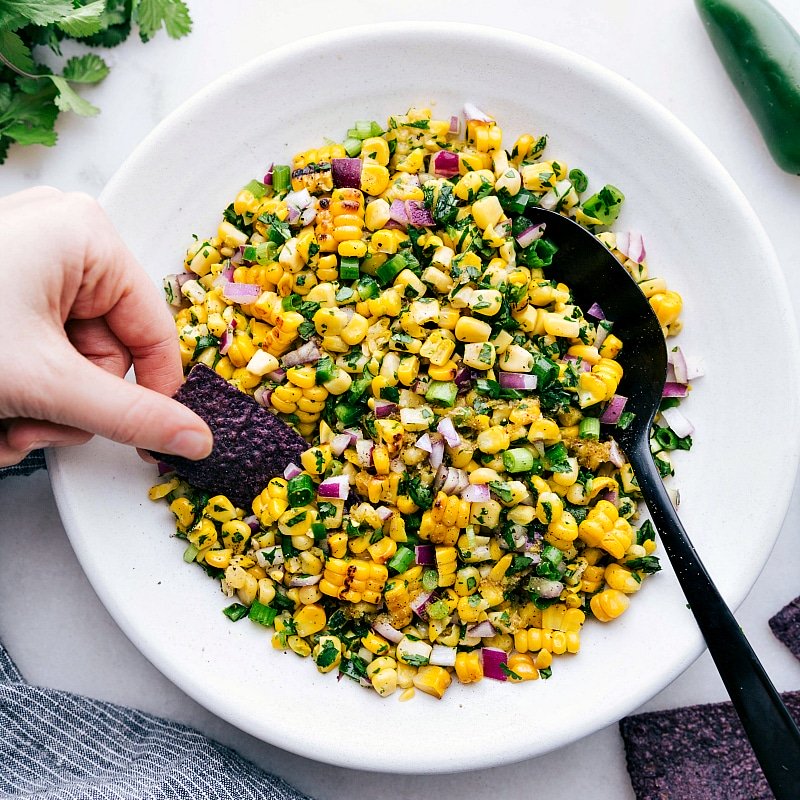 More salsa recipes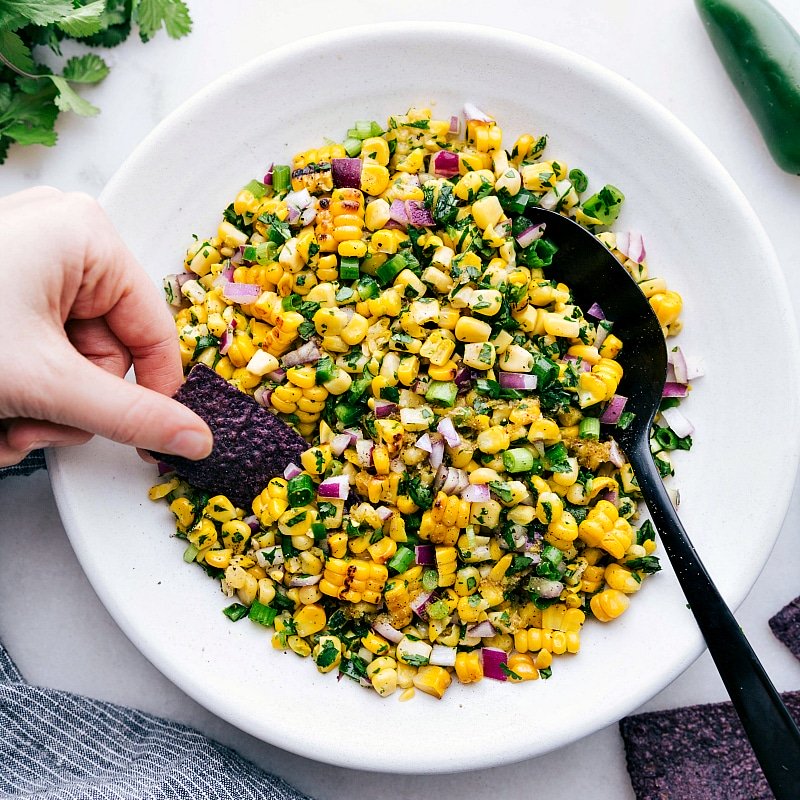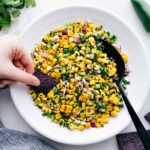 Corn Salsa Recipe
Bright, crisp, and fresh corn salsa recipe with fresh corn on the cob, herbs, red onion, and a bit of kick from the jalapeños. Serve this salsa with chips for the ultimate summer appetizer!
Keyword:
corn salsa recipe
Servings
:
4
-6 as an appetizer
Ingredients
4

fresh

corn on the cobs

(~ 3 cups)

1/2

medium

red onion,

diced (~ 3/4 cup)

1/2

bunch

fresh cilantro,

finely chopped (~ 1/2 cup, loosely measured after chopping)

1 to 2

medium jalapeños

finely diced (use 1 for mild-to-medium salsa or 2 for more spicy salsa; ~1/4 cup for mild)

3

green onions,

thinly sliced

2

juicy large

limes

(1 teaspoon zest, 1/4 cup juice)

1

tablespoon

white wine vinegar

1/4

teaspoon EACH:

chili powder, ground cumin, paprika, white sugar

Fine sea salt and freshly cracked pepper

Optional OPTIONAL additions: feel free to add in a diced avocado, 1 cup rinsed/drained black beans, diced red pepper -- whatever you'd like that's around 1 cup!
Instructions
OPTIONAL GRILL: Preheat grill to medium heat (400 degrees F). Shuck corns and discard silks. Drizzle corn (option to also grill the green onions and jalapeños -- Note 1) with olive oil and then lightly sprinkle with salt and pepper. Rub the oil and salt/pepper into all sides of the corn. Prepare the fully preheated grill by cleaning and then generously oil the grill (I drench a rolled-up paper towel in vegetable oil and, holding it with tongs, rub it over the grill grates). Add the corn to the heated grill over direct heat. Grill corn about 10-12 minutes total, rotating every 3-4 minutes until bright yellow and lightly charred. (Alternatively, cut raw kernels of the cob and use in salsa) Let grilled corn cool completely before cutting it off the cob.

CHOP: add kernels to a large bowl (if you grilled them, allow to cool completely). Add in the finely diced red onion (Note 2), finely chopped cilantro, finely diced jalapenos, and thinly sliced green onions. Toss gently to combine.

DRESSING: in a mason jar combine the lime zest, lime juice, vinegar, chili powder, cumin, paprika, white sugar, and salt & pepper (to taste; I add about 1/2 teaspoon of each; DON'T add salt to dressing if you salted the corn). Shake to combine. Pour over ingredients and gently stir to combine. Cover and place in the fridge to marinate (allow flavors to intensify and meld) for 15-20 minutes. Stir and then serve!

STORAGE: store in a bowl, covered, for 2 days. We like this salsa best the same day its made. Gently stir before serving any leftovers.
Recipe Notes
Note 1: drizzle jalapenos and green onions with olive oil and then lightly sprinkle with salt and pepper. Rub the oil and salt/pepper into all sides of the veggies. Grill green onions 1 minute, flip, and grill another minute or until lightly charred. Grill jalapeños 1-2 minutes, flip and grill another 1-2 minutes or until lightly charred. Remove veggies from grill and onto a plate to cool to room temperature.
Note 2: to take away the "bite" of red onions, submerge them in a bowl or cup of ice cold water. Let the onions sit for at least ten minutes (stir 1-2 times) and then thoroughly drain and add to recipe.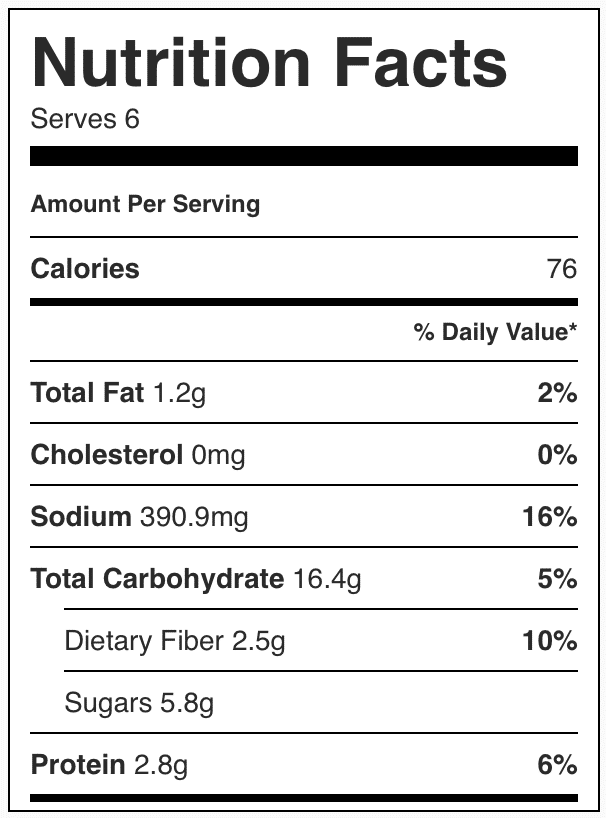 Adapted from Food Network and my Loaded Sweet Potatoes