Grilled teriyaki chicken over a coconut lime rice with grilled pineapple and onion. If you don't have a grill, try making this chicken in a grill pan or in a George Foreman!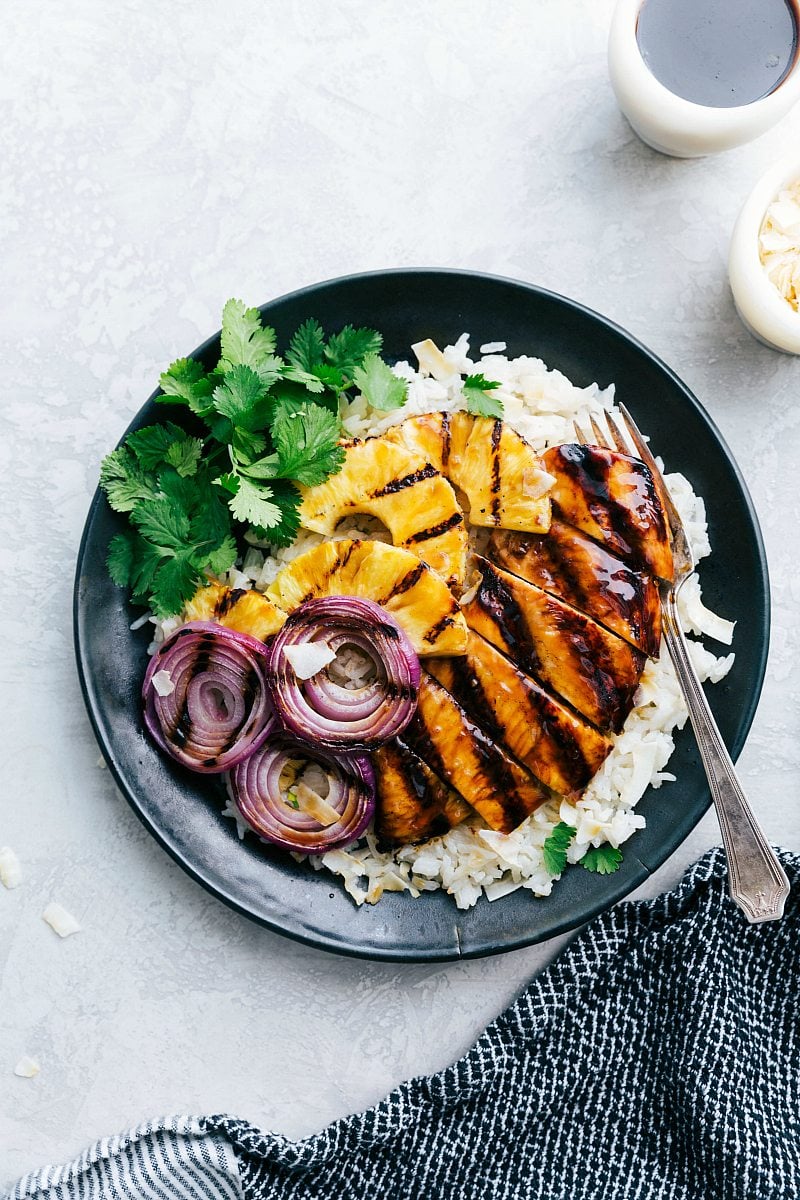 Teriyaki Chicken over Coconut Rice
Over this last year I've become addicted to grilling fresh fruit. I LOVE the soft texture and smoky flavor grilling gives the fruit. Grilled peaches with ice cream is absolutely delicious. Grilled pineapple and mangoes are some of my other favorites.
I also LOVE grilled pineapple paired with grilled chicken or salmon. These salmon mojo bowls or these chicken bowls with a mango salsa are some of my favorite recipes.
I've taken those recipes to the next level by pairing grilled pineapple with chicken teriyaki. And the family is certainly grateful I did, because they can't get enough of it! Anytime teriyaki sauce is involved, my boys can pull their weight in eating it.
How to make Grilled Teriyaki Chicken:
We start off with the chicken. I use chicken breasts, but you can use chicken thighs or chicken tenders as well. Prepare the chicken by either slicing the breasts in half horizontally, and/or pounding them to an even thickness. Doing this helps the marinade absorb better, and come cooking time, the meat will cook much more evenly.
The sauce in this recipe will double as a chicken marinade and a sauce to serve over the entire meal. To marinate the chicken, first place the prepared breasts in a large bag and then pour a small amount of COOLED sauce over the chicken. You want just enough sauce to coat the chicken, but not too much so the chicken is swimming in the sauce. This will help keep down the saltiness of the chicken. You do not want the sauce to be hot when pouring it over the breasts because it will begin to very slightly cook the chicken and you'll end up with drier meat.
The grill time will vary depending on what type of meat you use — longer for thighs and quicker for tenders. Chicken breasts take about 4-6 minutes per side in a medium heat grill (depending of course on their size).
Once the chicken is grilled, serve it over some delicious coconut lime rice and add your favorite fruits/veggies to the side! Use that same sauce you used for the marinade and you'll have the perfect grilled chicken teriyaki!
You can make this grilled teriyaki chicken recipe without a grill! Use a grill pan or a George Foreman.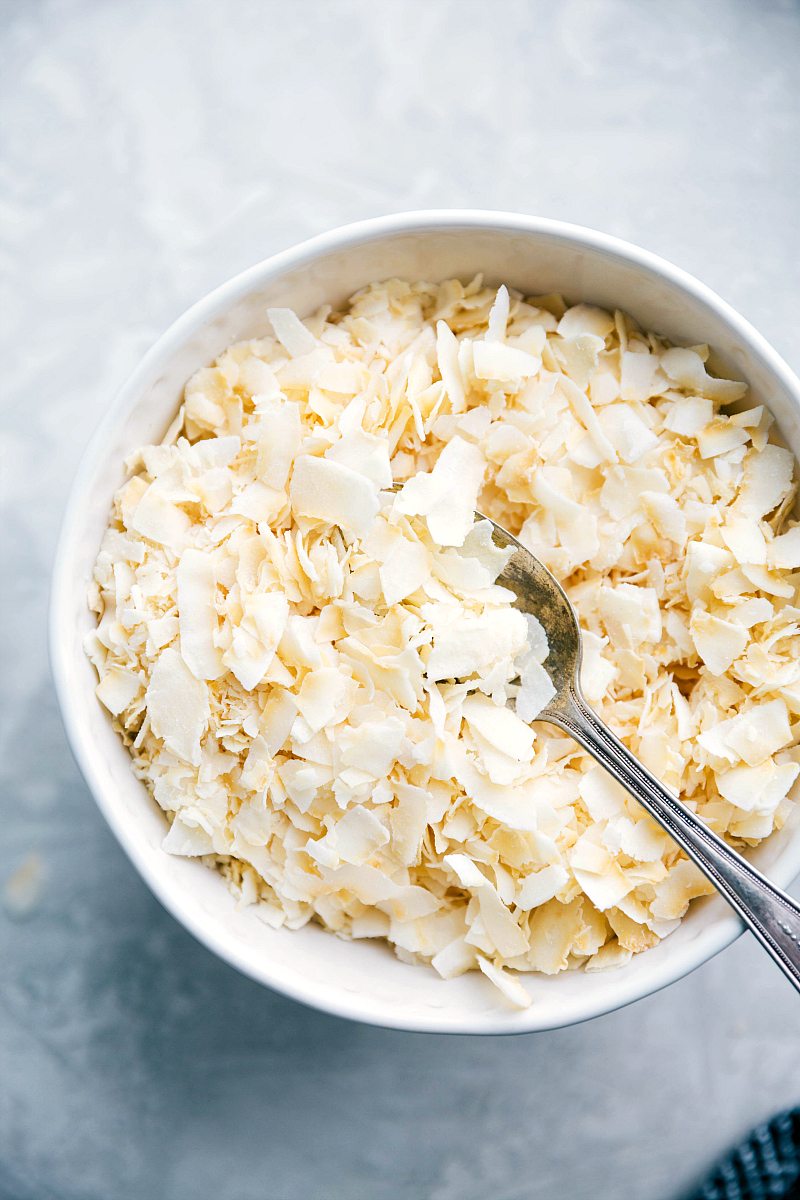 How to make a delicious Teriyaki Chicken Sauce:
The teriyaki chicken sauce is so simple to make and once you try it, you'll never want to go back to store-bought 🙂 It also only takes one pot and a few minutes to make:
You'll combine all of the sauce ingredients except for the cornstarch and water in a small pot over medium heat. Once they are all combined, you'll bring the mixture to a boil and keep it boiling (stirring constantly) for just one minute.
Separately whisk together the cornstarch and water (you want to dissolve the cornstarch first so it doesn't make your sauce clumpy) and then slowly drizzle that into the sauce while whisking constantly. And that's it!
The sauce will thicken as it cools and then it's ready to be used. As I already mentioned, the chicken will marinate in part of this sauce and then the rest of the sauce is served with the meal — drizzle it over the chicken, whatever fruits/veggies you use, and the delicious coconut lime rice.
What are some good side dishes for Teriyaki Chicken?
I've mentioned the pineapple quite a bit, but it really is a great pair for the teriyaki chicken. I like to very lightly coat the thick pineapple slices in canola oil (both sides) and then add sea salt to both sides. This really intensifies the sweetness of the pineapple without changing the flavor.

If you're in a time crunch, you can usually buy fresh pineapple that has already been cored. You'll typically find it in the produce or deli section of your grocery store (I find it at my local Smith's near the vegetable trays and use it whenever I'm in a pinch for time!)

Vegetables also make a great side to this chicken teriyaki — really any vegetables will work! You can grill some fresh vegetables or add them to a grill basket if you want to keep everything cooked on the grill. Alternatively you can saute, steam, or roast them in the oven. Our favorite vegetables to serve alongside this chicken teriyaki: a thinly sliced (and grilled) red onion, broccoli, carrots, zucchini, and peppers!
Lastly, I think rice is a must have side for chicken teriyaki. My husband and kids are completely obsessed with the coconut lime rice I serve with this chicken teriyaki and it's so simple to make! It hardly takes any extra effort from making regular rice and I highly recommend it as an accompaniment to the chicken!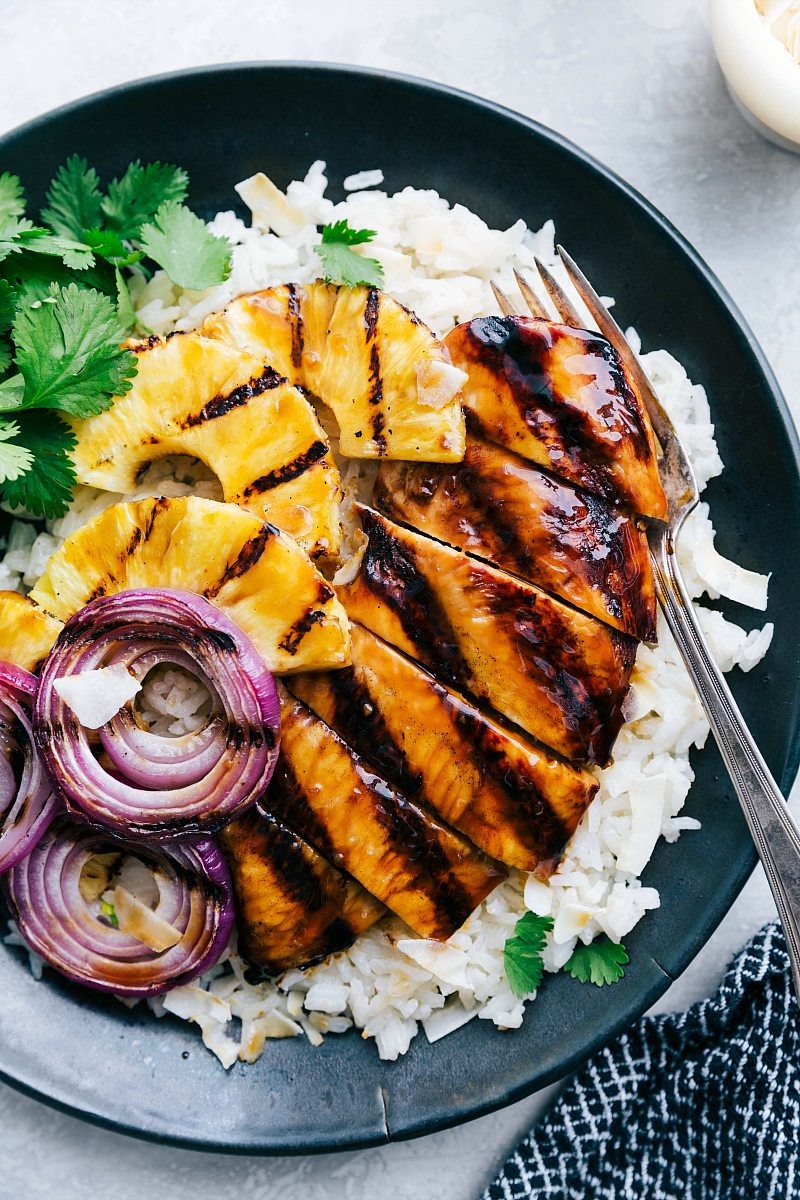 More Delicious Chicken Dinners: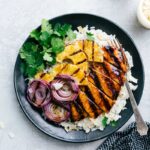 Teriyaki Chicken over Coconut Rice
Delicious marinated and grilled teriyaki chicken over a coconut rice with grilled pineapple and onion
Keyword:
teriyaki chicken
Ingredients
2

large

boneless skinless chicken breasts (~1.5 pounds),

sliced in half and pounded to even thickness

Vegetable or Canola oil,

for grilling

1/2

of a large

pineapple,

core removed and cut into thick coins

1

small

red onion,

sliced into thick coins

Optional: toasted coconut flakes, fresh cilantro
Rice
1

can (13.5 ounces)

unsweetened coconut milk

2

cups

water

2

cups

Jasmine rice

1

teaspoon

brown sugar,

packed

1

teaspoon

fine sea salt

Zest and Juice of 1 lime
Teriyaki Sauce
1/2

cup

lite soy sauce

1/4

cup

light brown sugar,

packed

1

tablespoon

honey

2

tablespoons

rice vinegar

1

tablespoon

sesame oil

1

teaspoon

ginger paste

1

teaspoon

garlic,

minced

1/4

teaspoon

red pepper flakes

1/2

tablespoon

cornstarch + 1/2 tablespoon water,

mixed together separately
Instructions
For the Coconut Rice:
Add the can of coconut milk, water, salt to taste (I add 1 teaspoon), and brown sugar to a pot. Bring to a boil and then stir in the rice. Return to a boil. Reduce the heat to low, cover the pot, and cook for 15 minutes stirring every 5-6 minutes. Remove from heat and let stand (covered) for 10 minutes. Uncover, fluff the rice, and add in the lime juice and zest.
For the Teriyaki Sauce:
In a small saucepan over medium heat, add the soy sauce, brown sugar, honey, rice vinegar, sesame oil, ginger paste, minced garlic, and red pepper flakes.

In a small separate bowl, whisk together the cornstarch and water until smooth. Drizzle into the pot slowly while whisking constantly. Bring mixture to a boil, stirring constantly, and boil for about 1 minute. Reduce the heat to low and allow to thicken.

Slice the chicken breasts in half widthwise and pound to even thickness to get 4 even pieces of chicken. Set aside in a large ziplock bag and pour 1/3 of the teriyaki sauce over the chicken beasts in the bag. Marinate for at least 30 minutes up to 6 hours.

Make sure your grill grates are clean and greased. To grease, dredge a paper towel in vegetable oil and holding it with tongs rub it all over the grate. Preheat the grill to medium heat about 375-450 degrees F. Don't go hotter than 450 to avoid drying out the chicken. Grill the chicken until completely cooked through (about 4-6 minutes per side depending on heat of the grill) Chicken should be at 165 degrees F at its thickest part. Remove 2 tablespoons from the reserved teriyaki sauce and brush that over the chicken as it grills. Reserve the rest of the teriyaki sauce for enjoying over the dinner.

Drizzle some olive oil and salt (to taste) to both sides of the sliced red onions and sliced pineapple rings. Grill the onion and pineapple (again, on a well greased grate) for 1-3 minutes per side and then remove to a plate.
To serve:
Divide the coconut lime rice evenly among 4 bowls/plates. Add the grilled chicken, grilled pineapple, and grilled red onion (you can chop up the onion if desired). Add fresh cilantro and toasted coconut as desired. Serve with remaining teriyaki sauce lightly drizzled on top of the meals or in a side dish (avoid adding too much!). Enjoy!
Recipe Video