Grilled peaches make for the ultimate summer treat! These peaches are prepared in sundae form with brown sugar cinnamon rubbed peaches, vanilla bean ice cream, and a delicious graham cracker crumble.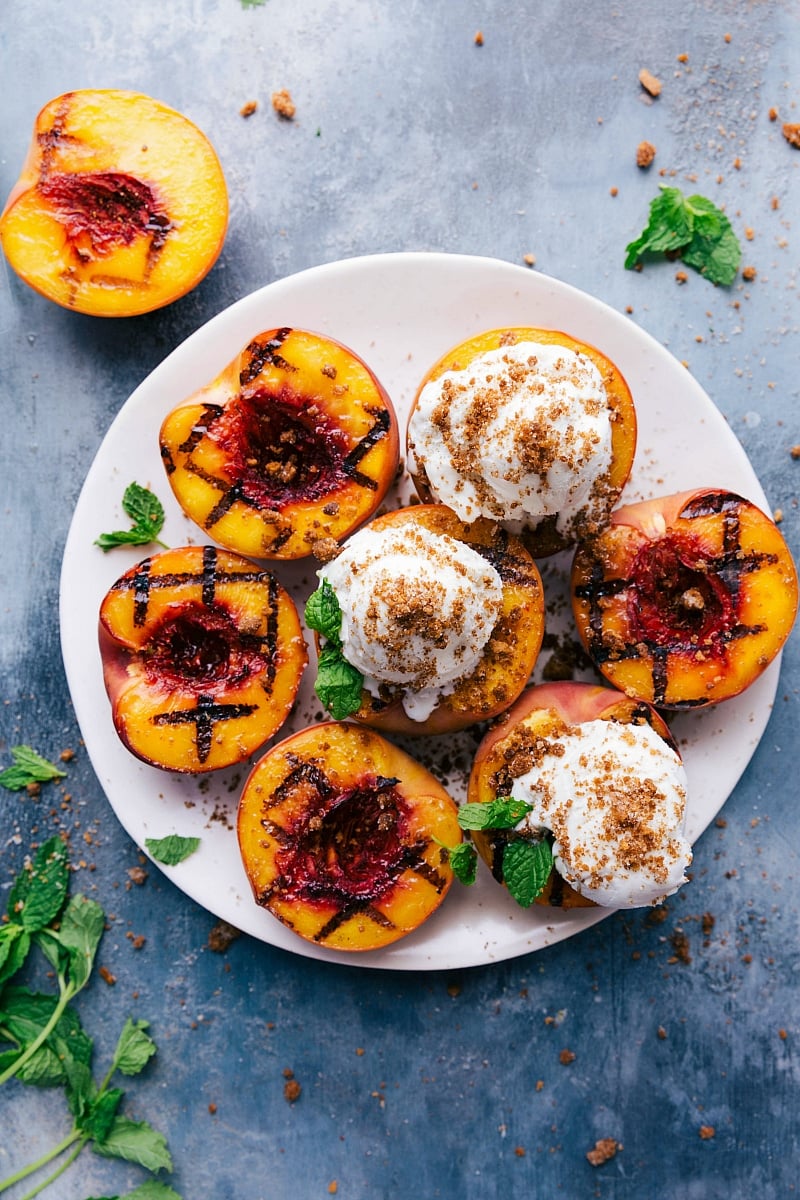 After making these grilled pineapple sundaes for the family quite a few times, I thought it would be fun to switch up the fruit and use peaches. And everyone has become equally obsessed with this peach version! In my opinion there are few things better than ripe summer peaches that have been grilled. Top it with some good vanilla bean ice cream and a flavorful crumble and it makes for the best dessert.
These peaches are such an easy dessert that don't require too much prep time.
So let's get started talking about all things grilled peaches!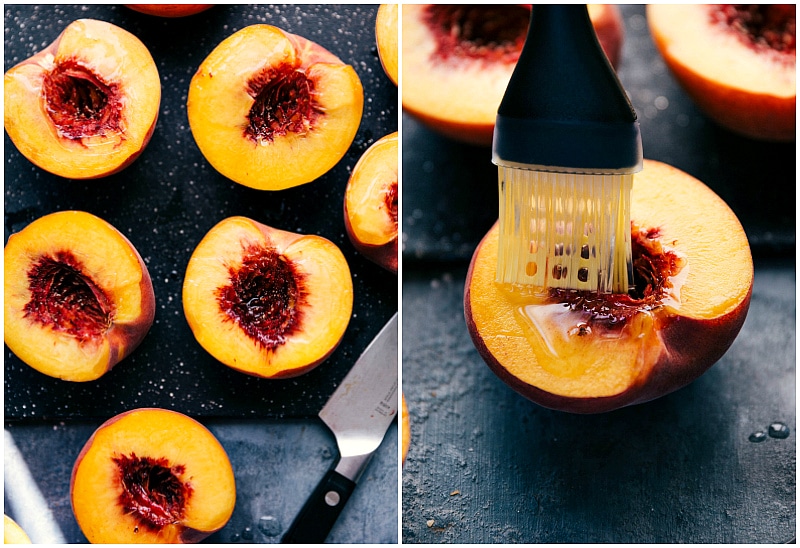 Picking the perfect peach to grill
The key to finding the perfect peach is finding one that is firm but also ripe. A firm/ripe peach will be sturdy enough to grill without falling apart or disintegrating.
How to tell if a peach is ripe? Give the peach a firm yet gentle squeeze. If there is a little bit of give the peach is likely ripe or close to it. Next you want to check the color. The perfect ripe peach will be deep golden/yellow, not pale. Lastly, look for the texture of the peach. A ripe peach will have shriveled skin around the stem. The wrinkles are a great sign of a ripe peach.
How to cut a peach in half
To cut a peach run a knife around the natural seam of the peach from end to end and then twist the peach to open. Remove the pit from the half that holds it by scooping it out with a spoon or pinching the pit with two fingers and pulling it out.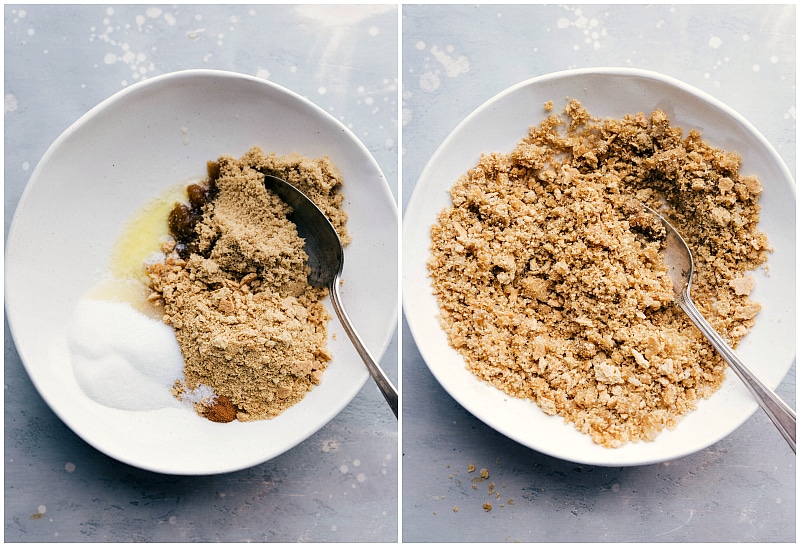 How to grill peaches
Preheat the grill to about 400 degrees and clean the grates with a grill brush. (Oil the grates to ensure the peaches don't stick to them.)
Prepare the peaches by halving them and removing the bit. Brush the cut sides with oil.
Grill the peaches cut-side down for 3-4 minutes. (For cross grill marks: leave the peaches undisturbed for 2 minutes and then rotate 90 degrees for another 2 minutes). Then flip the peaches upside down and cook for another 2-4 minutes or until skins are lightly charred and peaches are soft. Cook time will vary greatly depending on the size of peaches, actual heat of grill, ripeness of peaches, etc.
Remove the grilled peaches and let stand until cool enough to cut.
How to serve grilled peaches
We love these peaches with vanilla bean ice cream and a graham cracker crumble on top. Some other variation ideas are:
Cinnamon sugar rub: mix 1 teaspoon ground cinnamon to 2 tablespoons brown sugar and rub it over the peaches
Make peach s'mores: cut 1/2 inch slices of peaches and throw them on the grill for about 30 seconds per side. Put the grilled peach in the center of your graham cracker, marshmallow, and chocolate.
Add a sweet sauce: drizzle caramel, chocolate, or vanilla sauce on top of the peaches and ice cream
Grilled peaches with mascarpone: stir together 3 tablespoons mascarpone and 1 teaspoon maple syrup and serve into the middle of the peaches.
Grilled peaches with cheese: gently stir together 6 ounces soft goat cheese, 2 tablespoons milk, and 1 tablespoon honey and serve in the middle of peaches.
Add toppings: put shredded coconut, miniature chocolate chips, granola, or fresh berries on top.
Savory grilled peaches: rub brown sugar on top, then add fresh Ricotta, drizzle with honey, and throw crispy Prosciutto on top.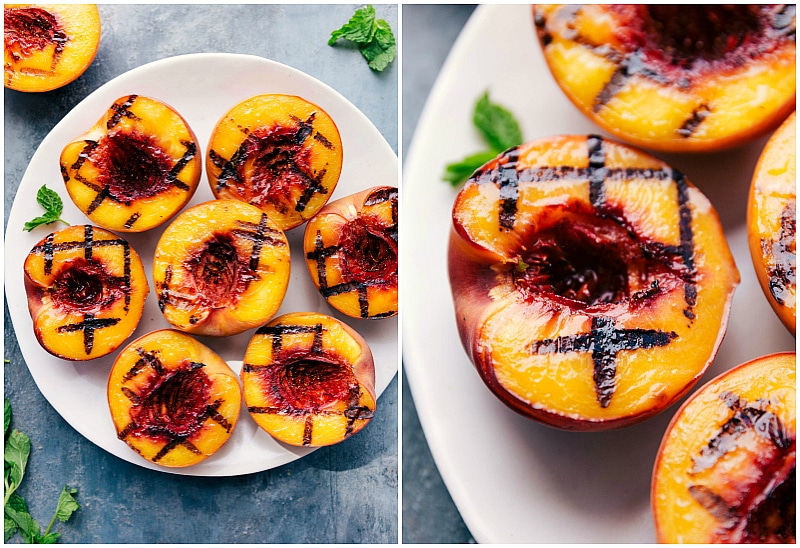 Quick tips
Use an oil that has a high smoking point. Good oils that will compliment the taste of peaches are canola or coconut oil.
Make sure to clean and oil the grill grates before grilling. This will allow the peach to cook properly.
More delicious desserts: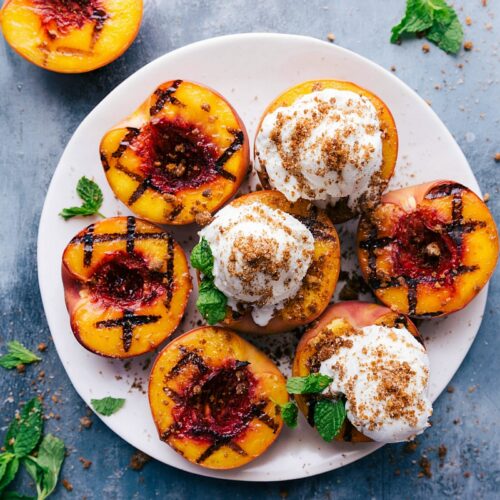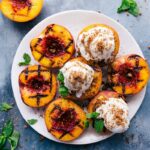 Grilled Peaches
Grilled peaches make for the ultimate summer treat! These peaches are prepared in sundae form with brown sugar cinnamon rubbed grilled peaches, vanilla bean ice cream, and a delicious graham cracker crumble. 
Ingredients
Peaches
2

tablespoons

unsalted butter,

melted

1/4

teaspoon

ground cinnamon

2

tablespoons

light brown sugar,

packed

Tiny

pinch

fine sea salt

4

large ripe peaches,

halved and pitted

Canola or vegetable oil

Mint leaves,

for garnish (optional)
Graham Cracker Topping
3

sheets graham crackers,

crushed

1/4

cup

light brown sugar,

packed

2

tablespoons

white sugar

2

tablespoons

unsalted butter,

melted

1

tsp

vanilla extract

1/8

teaspoon

ground cinnamon

Small pinch fine sea salt

Vanilla bean ice cream,

for serving
Instructions
CINNAMON SUGAR BUTTER MIXTURE: In a small bowl add the butter and melt. In another small bowl, stir together the cinnamon, light brown sugar, and salt. Stir until combined and set aside.

GRILL PEACHES: Meanwhile, preheat a grill or grill pan to medium-high heat (about 400-450 degrees F.) Generously oil the grill (I drench a roll-up paper towel in vegetable oil and, holding it with tongs, rub it over the grill grates. Don't skip this step.) (Grill pan: brush 1 tablespoon oil over the pan) Halve the peaches and remove the pits. Lightly brush the cut sides and the skins with oil. Grill peaches until tender and lightly charred, but still slightly firm (you don't want them overly soft/mushy), about 6-10 minutes total (Note 1), flipping from 1 side to the other halfway in between. Top each with a few brushes of the melted butter and then sprinkle on the cinnamon sugar mixture.

GRAHAM CRACKER CRUMBLE: Preheat oven to 350 degrees F. Spray an 8 x 8 pan with cooking spray or line with parchment paper and set aside. Crush the graham crackers into crumbs (using a powerful blender or food processor OR crush in a bag using a rolling pin) and add to a bowl. Add the brown sugar, white sugar, melted butter, cinnamon, salt, and vanilla to the bowl. Stir until combined. Pour mixture into prepared pan and spread evenly into one layer. Bake for 7 to 10 minutes or until lightly browned. Allow to cool.

ASSEMBLE: Place grilled and sugared peach halves on plates and top each slice with a large scoop of vanilla bean ice cream. Add the crumble on top and enjoy immediately. Garnish if desired with fresh mint leaves.
Recipe Notes
Note 1: the total cooking time will greatly vary based on the size of peaches, actual ripeness of peaches, actual temperature of grill and type of grill, etc. Watch carefully and remove once peaches are easily pierced with a sharp paring knife