Our favorite chicken pot pie with a flaky (and simple) pie crust, perfectly seasoned cream sauce, and robust filling.
This chicken pot pie can be prepared ahead of time, frozen and reheated, and is easy to adapt with what you have on hand.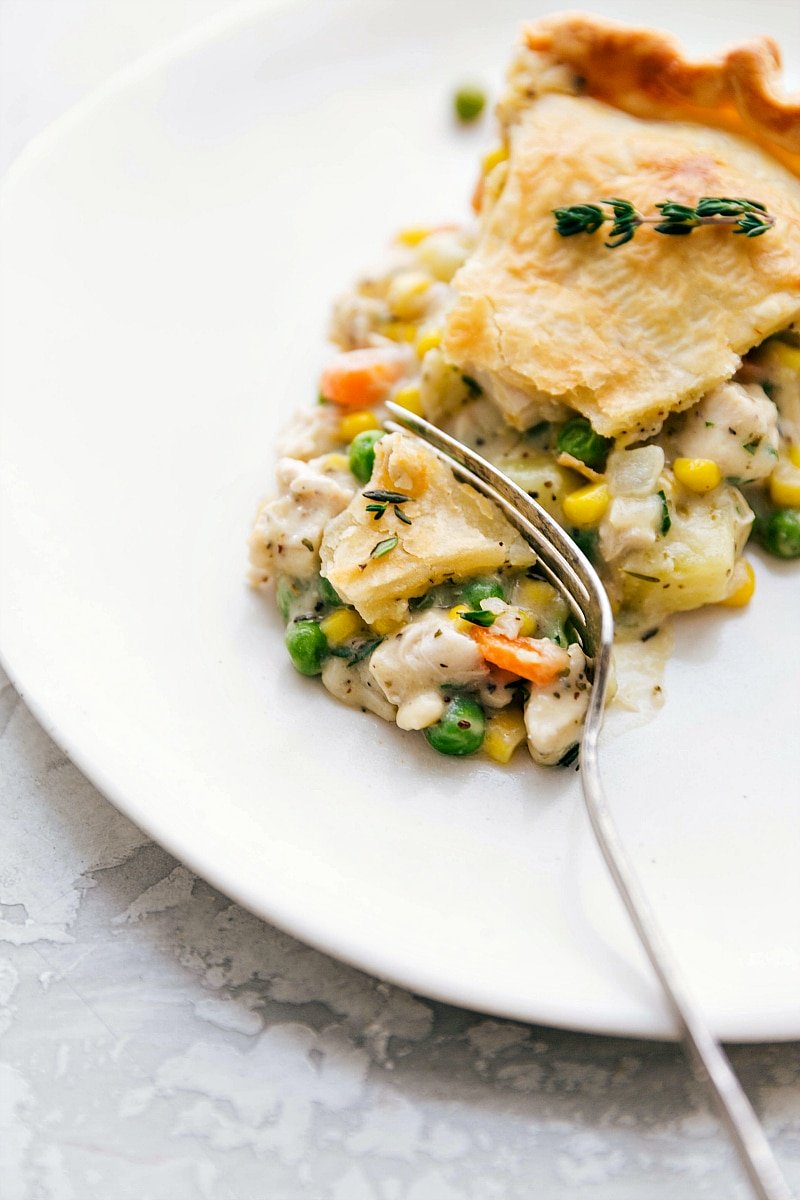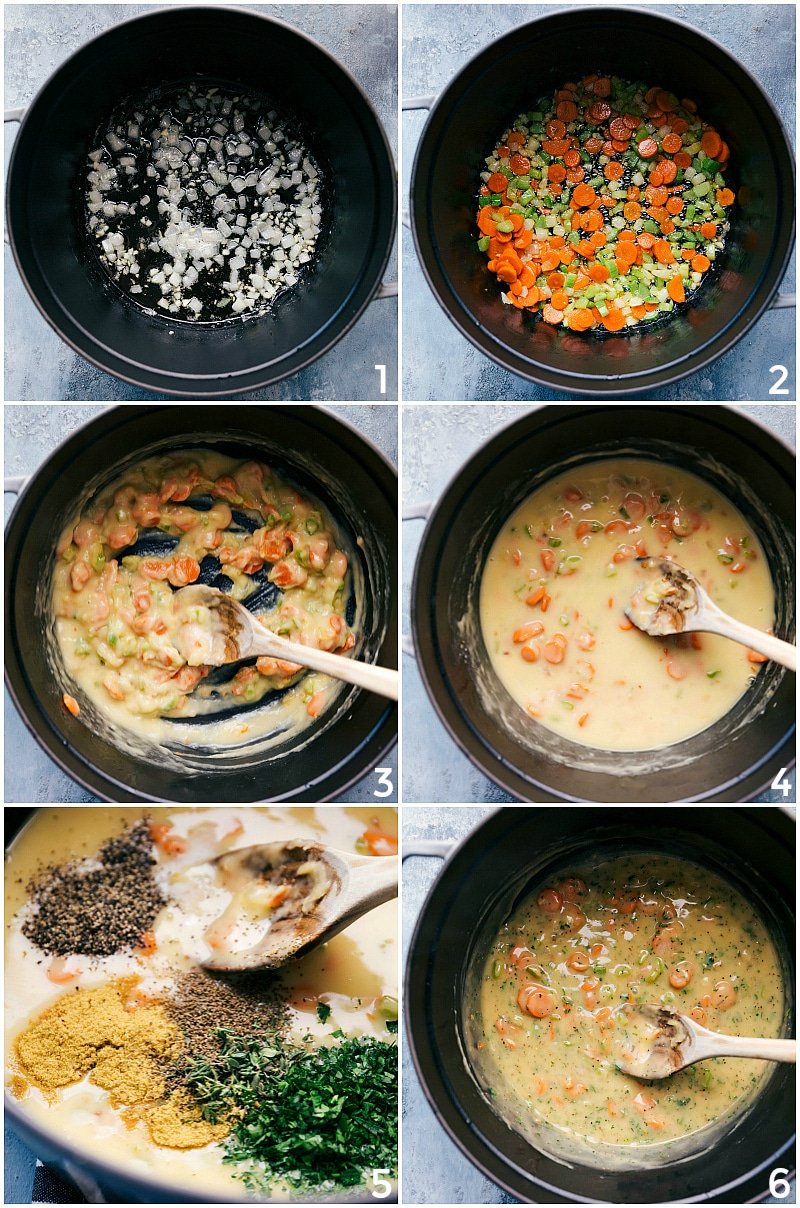 What is chicken pot pie made of?
Typical chicken pot pies are filled with diced/shredded chicken (or a similar meat) and plenty of veggies in a creamy seasoned sauce. This mixture fills a deep dish pie with a pie crust on bottom and one on top.
Cooked and shredded (or diced) chicken, turkey, or ham (I like using rotisserie chicken for this recipe)
Unsalted butter
Diced onion
Minced garlic
Thinly sliced carrots
Diced celery
Flour
Heavy Cream
Chicken stock (or chicken broth)
Seasonings/Herbs: chicken bouillon, thyme, parsley pepper, salt, celery seed
Frozen corn
Frozen peas
Yukon gold potato
Pie crust
Egg white to create an egg wash for the crust
How to make chicken pot pie
Throughout this post I've broken down the steps for making this pot pie in picture form, and below is a description of what's happening in each of the numbered photos.
1: Saute the onion and garlic in melted butter
2: Add thinly sliced and diced celery. Be patient here to ensure all these veggies get softened
3: Thickening the pie with flour, make sure to "cook off" the flour for 1-2 minutes — you don't want this chicken pot pie to taste like flour!
4: Gradually add in chicken stock and then heavy cream until thickened
5: Add in the seasonings and fresh herbs
6: Everything mixed together
7: Add in cooked potatoes, frozen corn, frozen peas, and diced chicken or turkey
8: Filling all combined and thickened
9: Add filling to pie crust (no need to blind bake this crust)
10: Add top pie crust and crimp the edges
11: Vent the top pie crust to give room for steam to escape
12: Brush the crust with an egg wash and bake!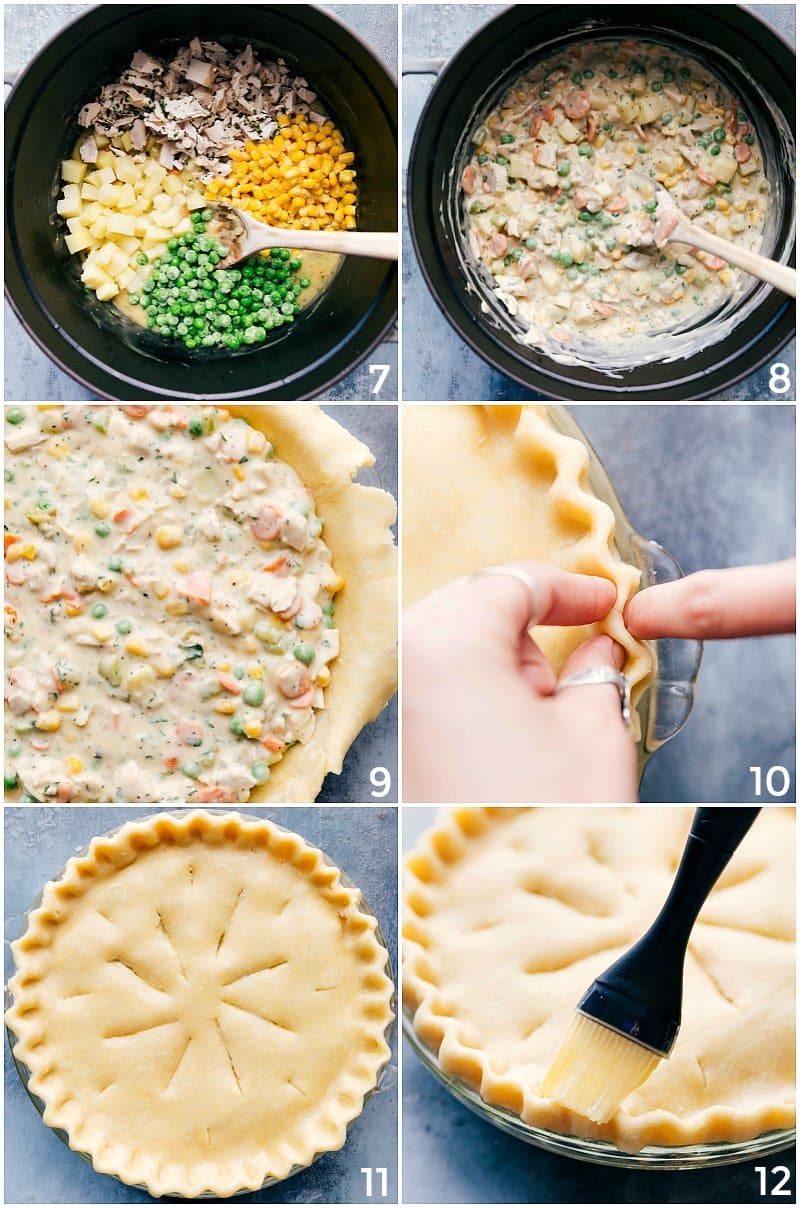 Chicken pot pie FAQs
First a few questions on the origins of chicken pot pie, some serving suggestions, and finally how to freeze/reheat this chicken pot pie.
What nationality is chicken pot pie?

Variation/Shortcut ideas
Use store-bought crust instead of homemade (no changes necessary)
Change up the meat: replace the chicken with turkey (if you have leftovers from this crockpot turkey breast recipe). You can also replace the chicken with ham (or make this ham pot pie). To save time use rotisserie chicken.
Swap veggies: if you aren't sure about one of the veggies in the recipe, replace it in the same amount with a frozen veggie you like better (just make sure to chop down the veggies if they are large before adding).
Shortcut veggies: skip the step for cooking celery and carrots and instead use an additional 1 cup of mixed frozen veggies (add with the frozen corn and peas)
Swap out herbs: use dried thyme and parsley instead of fresh in a pinch (1/2 teaspoon dried thyme and 1 teaspoon dried parsley)
Replace the heavy cream with half and half or whole milk (I wouldn't suggest other substitutions). You'll need to simmer the mixture a little longer to get it thicker if not using heavy cream.
Add parmesan: a little freshly grated Parmesan inside the pie adds a nice flavor; I add about 1/4 cup (grated with a microplane) occasionally into the filling
For a fresh flavor try some lemon herb pepper in place of regular pepper!
Quick tip
Cut everything the same size: you want small and even pieces of chicken, potato, and veggies. The more consistent the sizing of your cuts, the better the pot pie.
More comfort food favorites: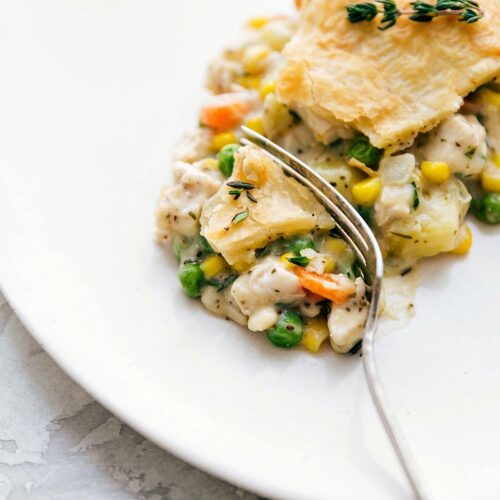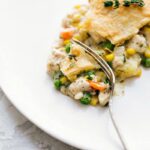 Chicken Pot Pie
Our favorite chicken pot pie with a flaky (and simple) pie crust, perfectly seasoned cream sauce, and robust filling.
Servings
:
1
pot pie (8-10 slices)
Ingredients
2

pie crusts

(Note 1)

1

cup

diced yukon gold potatoes,

(~2 small or 1 large)

4

tablespoons

unsalted butter

1/3

cup

yellow onion,

diced

1

teaspoon

minced garlic

(~2 cloves)

1

cup

thinly sliced carrots

(~2-3 medium carrots)

1/2

cup

thinly sliced celery

(~1-2 stalks)

1/3

cup

all purpose flour

1 amd 3/4

cup

chicken stock (or broth)

1/2

cup

heavy cream

1

teaspoon

fine sea salt

1/2

teaspoon

cracked pepper

(Note 2)

1/2

tablespoon

fresh thyme,

finely minced

1

tablespoon

fresh flat leaf parsley,

finely minced

1/4

teaspoon

celery seed,

optional

2

teaspoons

chicken bouillon powder

2 and 1/2

cups

shredded/chopped rotisserie chicken

3/4

cup EACH:

frozen peas, frozen corn

1

large

egg white,

beaten
Instructions
CRUST: (NOTE 1) In a large bowl, combine the flour and salt. Stir. Add in the butter and using a pastry cutter (or two butter knives), cut it into the dry ingredients until the mixture resembles coarse bread crumbs. In a separate bowl whisk together the egg yolks and water (start with less add more AS needed) until smooth. Pour into the center of the dry ingredients and stir with a wooden spoon until combined as much as possible. Gently knead with your hands to form a crust (add extra tablespoon or two of water IF needed). Handle the dough as little as possible and once it's formed into dough, gently flatten into a disc. Cut the disc exactly in half and form each half into a small disc. Wrap each disc tightly in plastic wrap. Refrigerate for (at least) 30 minutes to allow the gluten to relax before rolling. You can make the crust ahead of time and refrigerate for 1-5 days.

POTATO: Preheat the oven to 400 degrees F. In a pot add the diced potatoes (you can peel if desired). Cover with water and bring to a boil. Boil until tender, about 10-15 minutes. Remove from heat, drain and set aside.

FILLING: Meanwhile, heat the butter over medium-high heat in a large skillet or wide pot. Once the butter is melted, add the onions. Cook for 2-3 minutes and then add in the garlic. Next add in the carrots and celery and cook until tender, stirring occasionally, about 6-8 minutes. Don't rush this or you'll have hard pieces of carrot/celery in the pot pie; they don't get much more tender throughout the rest of the process. Whisk in the flour and cook for about 1 minute to cook off the raw flavor. Gradually add the chicken stock and then the heavy cream whisking constantly while adding. Whisk until the sauce is smooth. Next add in the salt, black pepper, thyme, parsley, celery seed, and chicken bouillon powder. Simmer sauce over medium-low heat for 6-8 minutes or until sauce has thickened. Gently stir in the diced chicken, frozen peas, frozen corn, and the drained cooked potato. Remove from heat and set aside while you roll out the pie dough.

ASSEMBLY: Roll out the pie crust on a lightly floured surface. Turn the dough about a quarter turn after every few rolls until you have a 12 inch circle of dough. Use the rolling pin to lift up the dough and gently place place into a 9-inch pie pan (preferably glass or ceramic; avoid metal). Pour the chicken pot pie filling into the crust. Add top crust. Gently tuck it in with your fingers, making sure it is smooth and crust is fully sealed and then crimp the edges of the crust.

BAKE: With sharp knife, slice a few small slits in the center of the top crust. Using a pastry brush, brush crust and edges with beaten egg white. Bake for 45 minutes, or until crust is golden brown. (Use a pie shield to protect the edges from browning too much too soon if needed). Cool for 10-15 minutes, cut into slices and serve.
Recipe Notes
Note 1: Make your favorite pie crust or use this recipe:
2 and 2/3 cups all purpose flour
1/2 teaspoon fine sea salt
14 tablespoons unsalted butter, cubed and chilled
2 large egg YOLKS
4-6 tablespoons (28g) very cold water
Note 2: if you love lemon, try lemon pepper here instead. We usually will do this 🙂