This post is sponsored by the California Walnut Board, but all opinions are my own.
This black bean burger recipe is nutritious, flavorful, and simple to make! Sandwich these amazing black bean patties with your favorite hamburger bun and load them high with veggie toppings.
These black bean patties are easy to whip together, store well, make for great meal prep, and can be frozen and reheated. I'm also sharing my absolute favorite burger sauce that pairs perfectly with the patties. Load your black bean burger with all your favorite veggie additions and you'll be craving these all summer and yearlong!

While I'm not a vegetarian by any stretch of the word, (I blame this crockpot roast, crockpot chili, and shepherd's pie…) I am obsessed with veggies. I love taking "regular" meals and packing them with veggies or trying to replace at least some animal proteins with veggies or plant-based proteins. So I thought it was about time I created a powerful but meat-free black bean burger.
And as good as regular burgers are, you can't beat the feeling of knowing you're eating a burger that is packed with good ingredients and great fuel for your body. A TASTY AND NUTRITIOUS burger? Yes please. We're reviving lunchtime with these black bean burgers and I hope you get a chance to try them!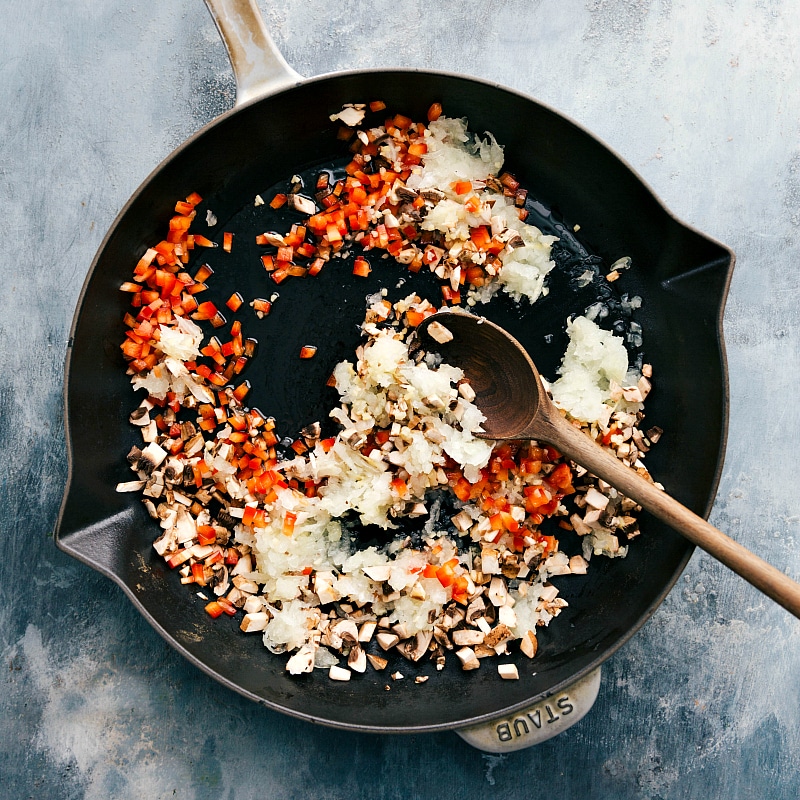 Black bean burgers are incredibly nutritious and packed with good ingredients. They can be frozen and reheated. They can be enjoyed in a myriad of ways and with plenty of topping variations. And today we're going to talk about all of those things. But let's start with ingredients.
What is a black bean burger made of?
Veggies

: saute a grated

onion

,

red pepper

,

mushrooms

, and

garlic

in olive oil. Not only are we adding nutrition, these veggies add flavor! The mushrooms add a really nice "meaty" texture and flavor.

Black beans

: I mean, it is a black bean burger 🙂 We'll toast the beans in the oven to fully dry them out — no mushy burgers here!

Flavor additions

: tons of seasonings, Worcestershire sauce, and ketchup really amp up the flavor

Nutrition and flavor

: and the secret to these black bean burgers? WALNUTS. Walnuts offer good fats (13g/oz polyunsaturated and 2.5g/oz monounsaturated fat), protein (4 g/oz), and fiber (2 g/oz). They also add a great flavor to these patties.

Binders: last but not least, we make sure these burgers won't be falling apart by adding in 2 eggs.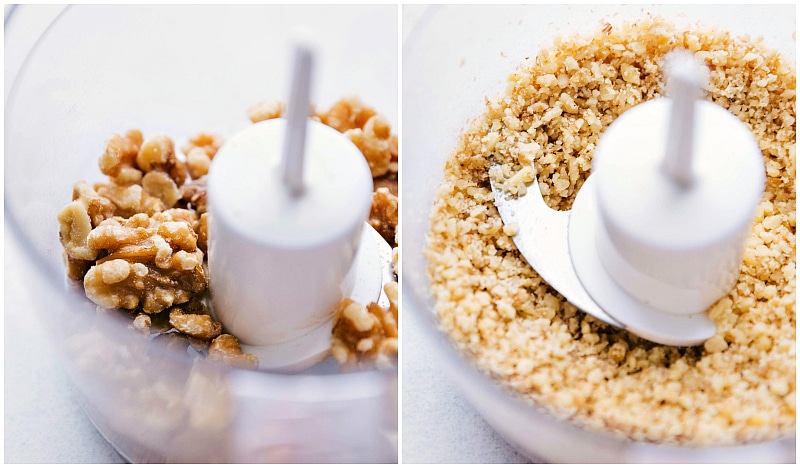 How do you make black bean burgers stick together?
As mentioned above, we use eggs to bind these burgers together. The ketchup also helps to bind everything together. If you're unsure of the ketchup, you can use a good BBQ sauce in its place.
Now that we've talked ingredients, let's talk about health benefits for one minute.
Are Black Bean Burgers good for you?
Yes! This black bean burger is an incredibly nutritious and well-rounded alternative to your typical beef burger. Below are a few of the health benefits associated with some of the ingredients in this recipe.
Walnuts

have a variety of

potential health benefits

,

and are also a natural source of antioxidants.(

1)
Black beans

are

an affordable option for plant-based protein

and are a good source of fiber (7.5g per ½ cup serving) and protein

(8g per ½ cup serving)

.

Black beans are also an good source of

magnesium

(60mg per ½ cup serving), which is associated with improved blood pressure and protection for your bones!

Mushrooms

are low in calories but

offer a lot of important nutrients. In fact, mushrooms are one of few natural food sources of

vitamin D

(16 IU per 85g).

So, what exactly goes on a black bean burger? All of your favorite burger toppings! I do have a few recommendations (and variation ideas) below!
What toppings do you put on a black bean burger?
Start with a

bun

: Hands down,

brioche buns

are my favorite for these black bean burgers. If you're looking to reduce carbs, try them in a

lettuce wrap

or on a

low carb tortilla.

Load up on

veggies

: if you like veggies on a beef burger, you'll likely love it with a black bean burger patty. My favorites:

bread and butter pickles

,

lettuce

,

tomato

, and red

onion

. Other ideas:

avocado

or

guacamole

,

bacon

,

jalapeno slices

.

Cheese

please: my favorite on this burger is

pepper jack cheese

, but any cheese will work. You can even leave off cheese just fine 🙂 Alternatively, you can grate about 1/2 cup cheese and stir it into the black bean patty.

Secret

sauce

: and no black bean burger is complete without the sauce (I'm obsessed). It's basically a mash-up of all good burger sauce toppings: mayo, ketchup, pickle, onion, and for a bit of a kick: sauce from a can of chipotle chiles. While you don't

have

to make this sauce, you'll probably want some kind of sauce. Here are some other ideas:

BBQ sauce

,

sriracha

,

mayo

,

mustard

,

ketchup

,

seasoned butter

, etc.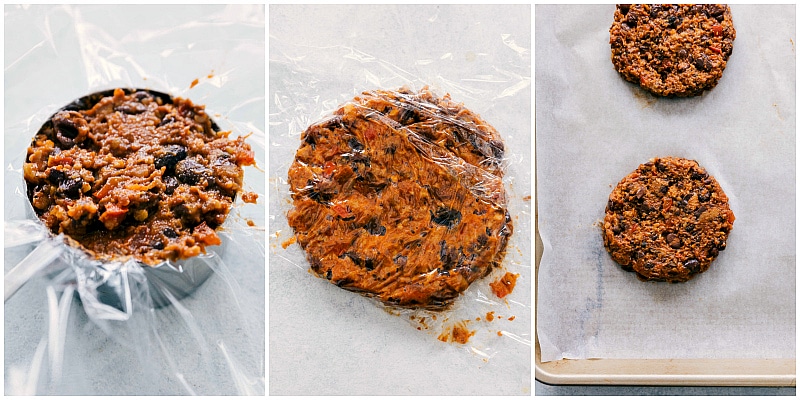 And if you're not sure about the black bean patty on a typical burger, below are some other ideas.
Recipe variations
Make a

burrito

: grab your favorite tortilla, add two halves patty inside, rice, and cheese. Fold it up and cook for a few minutes per side in a skillet to get the tortilla crispy.

Lettuce wrap

: add a crumbled patty, rice, veggies, and cheese inside the lettuce. Add the secret sauce right on top.

Make a

southwestern salad

: break up the black bean patty over a bed of lettuce and other southwestern veggies. Add a chipotle dressing to the salad!

Vegetarian

nachos

: crumble the patty on top of some tortilla chips, add plenty of cheese, and bake. Add your favorite nacho toppings such as pico de gallo, guacamole, fresh lime, etc.

Add to

chili

: make this

vegetarian chili

and crumble a black bean burger patty into it.

Storage: freezing and reheating
Cooked or uncooked black bean burgers freeze and thaw really nicely.
Freeze

: Stack completely cooled or uncooked patties between parchment paper in a freezer safe container or bag.

To thaw cooked patties

: thaw overnight in the fridge and reheat before adding to your burger/lunch.
Thaw uncooked patties: thaw overnight in the fridge and cook according the instructions below. You can skip the overnight thaw and just bake for about 2-3 minutes longer per side.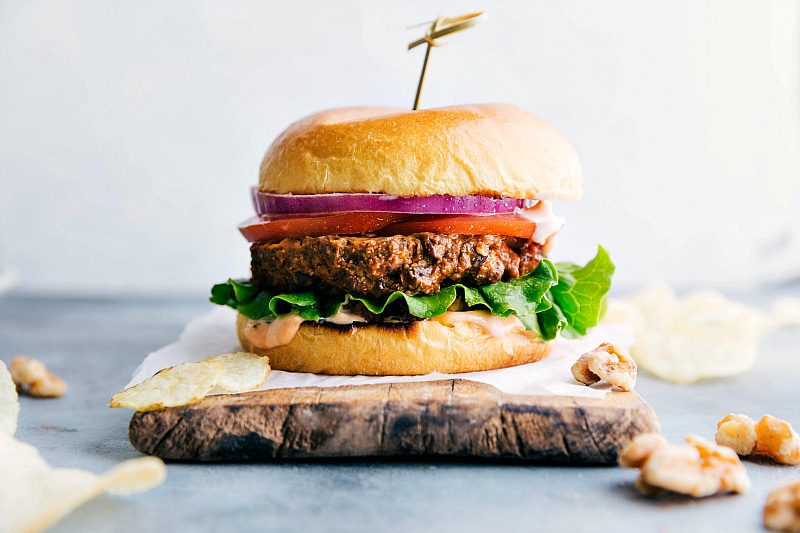 More amazing vegetarian meals: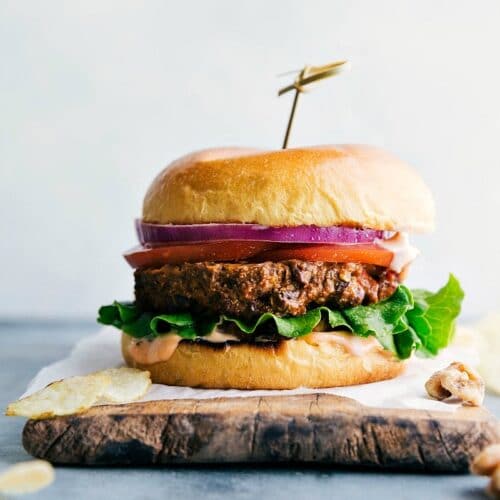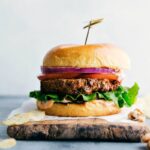 Black Bean Burger
My favorite vegetarian meal as of late is this black bean burger recipe! The black bean patties are nutritious and have tons of flavor.
Keyword:
black bean burger
Ingredients
Black Bean Burgers
1

tablespoon

olive oil

1/2

cup

grated yellow OR red onion

(1 small onion)

1/2

cup

finely diced red pepper

(measured after grating)

3/4

cup

finely chopped baby bella mushrooms

1

tablespoon

minced garlic

2

cans (15.25 ounces EACH)

black beans,

drained and rinsed

1

tablespoon

Worcestershire sauce

1/4

cup

good quality ketchup

(OR use BBQ sauce)

2

large eggs

1/4

cup

Panko

(next to breadcrumbs)

1/2

cup

walnuts

(measured before pulsing)

2

and 1/2 teaspoons EACH:

chili powder, cumin, and paprika

1/2

teaspoon

garlic powder

1/2

teaspoon

each of salt and pepper
Serve with
Cheese, Brioche buns, bread and butter pickles, red onion, tomato, and sauce recipe below
Sauce
1/2

cup

good quality full fat mayonnaise

2

tablespoons

ketchup

1

tablespoon

finely grated onion

1

tablespoon

sweet pickle relish

1

teaspoon

adobo sauce from canned chipotle chiles in adobo

(increase for spicier)

1/4

teaspoon

salt
Instructions
Preheat the oven to 325 degrees F. Place rinsed and drained black beans on a large sheet pan in an even layer. Bake for 10 minutes and then remove to a large bowl. Set aside to cool. Increase the oven temperature to 375 degrees F.

Grate an onion on the large holes of a cheese grater. Finely dice a bell pepper and finely dice mushrooms. Place a large skillet over medium high heat and add olive oil. Add in the diced mushrooms, diced red peppers, grated onions (measure full 1/2 cup after grating), and minced garlic. Stir until vegetables are tender and all the liquid is absorbed, about 5-6 minutes. Add in spices and stir for another 1 minute. Remove and add to the large bowl with the beans to allow to cool.

Add walnuts (measured in full form) to a food processor and pulse until chopped. You want them in fine crumbs, but not to begin forming a walnut paste/butter. Transfer pulsed crumbs to the large bowl with the beans and veggies. Add panko, eggs, Worcestershire sauce, and ketchup. Stir until combined.

Remove half of this mixture to the same food processor you used for the walnuts. Pulse to break down the beans. Return to the bowl and stir everything together.

Line a 1/3 cup measuring cup with plastic wrap. Press the mixture to fill up the cup and level it off. Use the plastic wrap to form a patty the size of the burger buns. Place on a parchment paper lined baking sheet. Bake at 375 degrees F for 8 minutes on one side. Remove, flip, and return for another 8 minutes.

Alternatively: generously grease a piece of heavy duty foil. Grill the burgers on the well oiled foil for about 4-5 minutes on each side.

SAUCE: combine all of the sauce ingredients in a small bowl. Stir until combined and smooth. Taste and adjust seasonings to personal preference. Feel free to add a teaspoon or more of the sauce from the chipotles to increase the heat.

ASSEMBLE: if desired, lightly brush softened butter on the insides of the buns and grill over indirect heat for 15-30 seconds. Assemble your burger by adding a warm black bean patty, cheese right on top of the patty to partially melt, any desired veggie toppings, and plenty of the sauce.
Nutrition facts are for the patty only as the bun and toppings will greatly vary.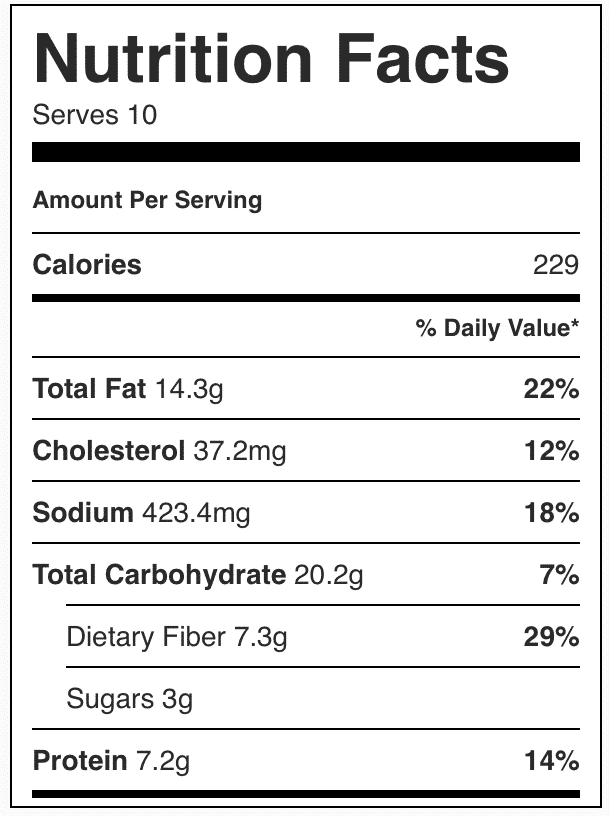 1
Walnuts offer a variety of antioxidants (3.721 mmol/oz), including polyphenols (69.3 ± 16.5 μmol catechin equivalents/g) and gamma tocopherol (5.91 mg/ounce). The data for antioxidant capacity of foods generated by test-tube methods cannot be extrapolated to human effects. Clinical trials to test benefits of dietary antioxidants have produced mixed results.