Four simple fruit-based treats that don't require any baking. Greek yogurt berry pops, sugared jell-o grapes, chocolate-covered mandarin oranges, and jell-o filled oranges.
video tutorial
Right above this text is a quick (1 and 1/2 minutes!) video overview of these four fruity-themed treats and below are individual recipes.
PIN THESE Fruity Treats to your Pinterest boards.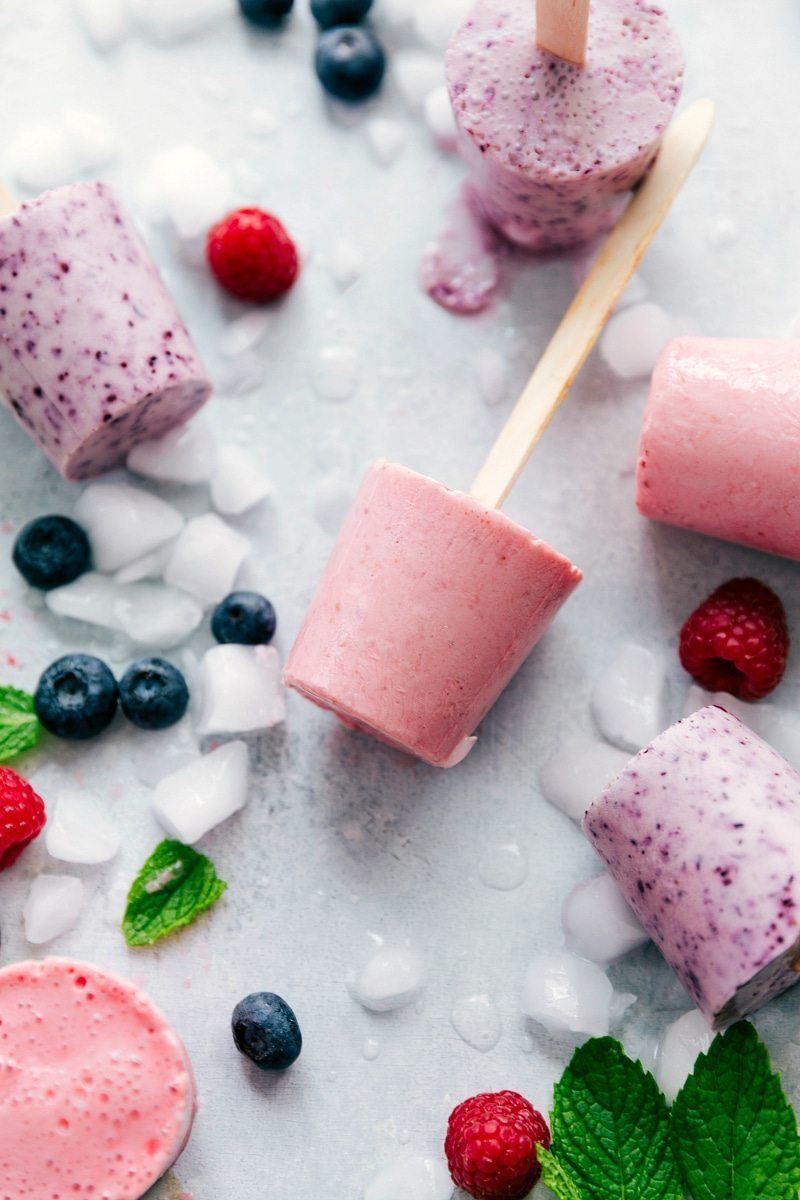 GREEK YOGURT BERRY POPS
My kids eat these all summer long and we all love them. We make these pops in either popsicle molds or in small paper ("bath") cups. Whatever mold you have or small paper cup will work for these.
As far as the popsicle sticks, you can use actual popsicle sticks, wooden spoons, or whatever else is sturdy enough to hold them up!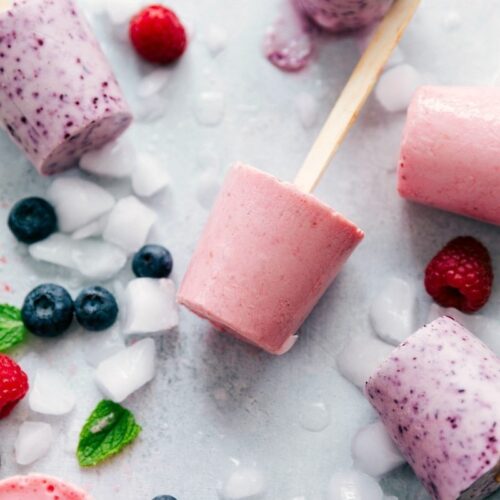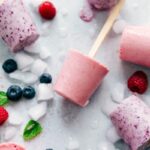 Greek Yogurt Berry Pops
3-ingredient berry fruit popsicles. Pick your favorite berry to customize!
Ingredients
1 and 1/2

cups (~12 ounces)

honey vanilla Greek yogurt

(We use Greek God's yogurt in these)

2

cups

fresh berries -- raspberries, blueberries, strawberries, blackberries, etc.

1

tablespoon

honey

Popsicle mold or small cups, popsicle sticks
Instructions
Combine all of the ingredients and blend in a high powered blender until smooth. (If using strawberries, remove stems first.)

Once the mixture is smooth, pour into popsicle molds or small paper cups.

Cover the pops with plastic wrap or foil and then insert a popsicle stick or small wooden spoon into the center.

Place in the freezer and freeze until firm, about 6-8 hours.
Recipe Notes
Total time does not include mandatory freezing/chilling time for these pops.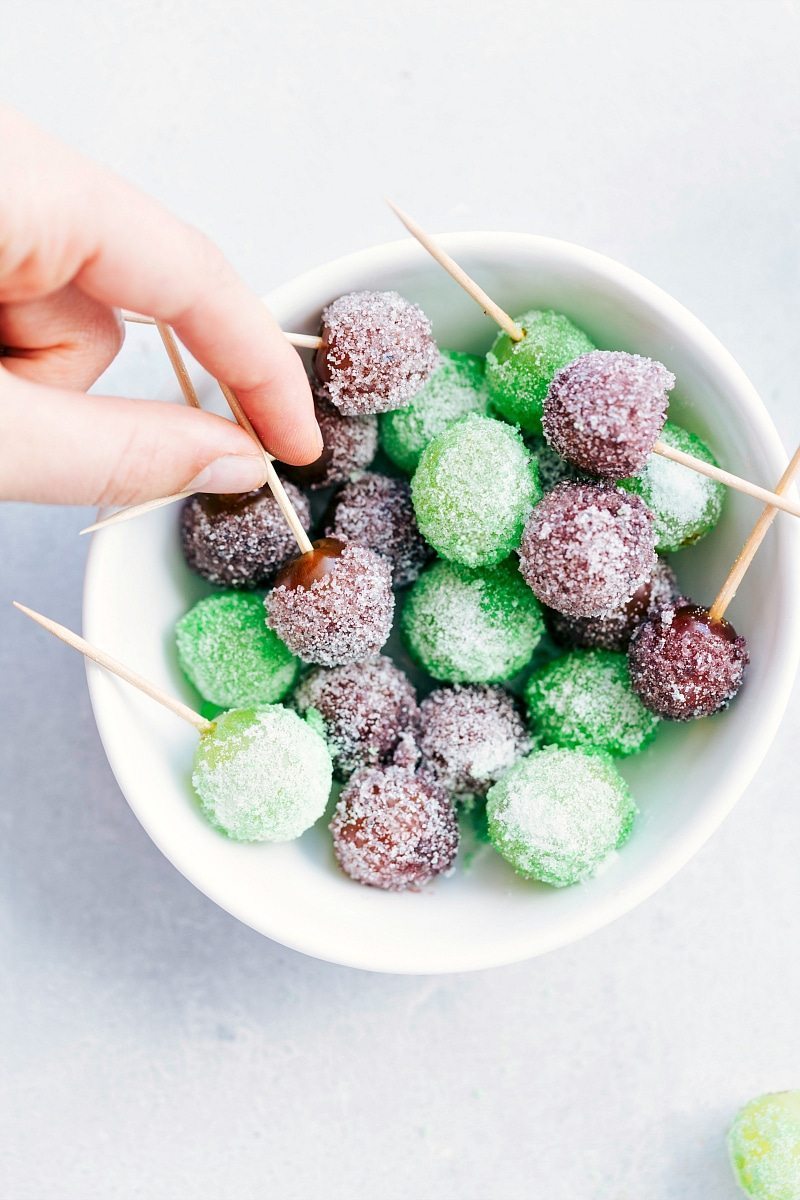 SUGARED JELL-O GRAPES
These jell-o coated grapes have been all over the internet for years so I'm not really sure who the original creator is, but hats off to them because these are so fun! I've slightly changed the original recipe (from grapes, water, and jell-o mix) adding one more ingredient that I think really "makes" these grapes! Instead of coating the grapes in water and then in the jell-o, I dip them in lemon-lime soda. It adds another fun element of flavor and sweetness. You can use diet or regular soda for these and pretty much whatever flavor jell-o mix.
With the light coating of jell-o you'll get a bit of a tangy-sour flavor AND a slight crunch of sugar. With the sweetness of the soda and of course the grapes, these treats are unbeatable!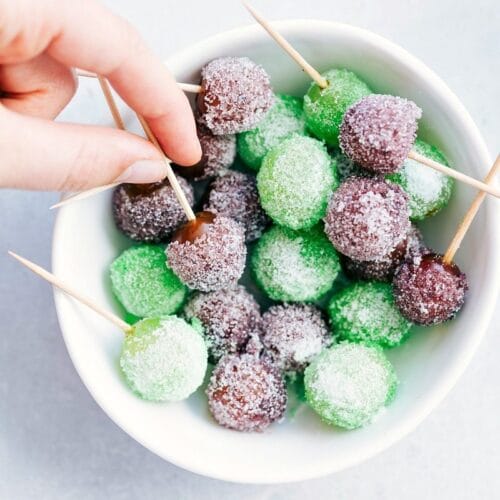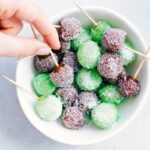 Sugared Jell-o Grapes
Ingredients
2

pounds

grapes (red or green or an assortment of both)

1-2

packages

Jell-o Mix (you'll use about 1 (3 ounce) package of jell-o mix for that many grapes, but you can use 1/2 of one flavor and 1/2 of another if desired

(do not prepare the jell-o; you use the package DRY)

1/3

cup

lemon-lime soda (diet or regular)

Toothpicks
Instructions
Prepare the grapes by removing from the stems, washing, and then drying.

Set out the jell-o mix (or mixes) in a small bowl (or bowls). Pour the soda in another small bowl.

Using a toothpick, piece halfway through a grape and then dip it all the way in the soda.

Remove and gently tap the grape on the side of the bowl and then roll it in the (dry) jell-o mix.

Place in the fridge to allow the gelatin to set up a bit, about 20-30 minutes.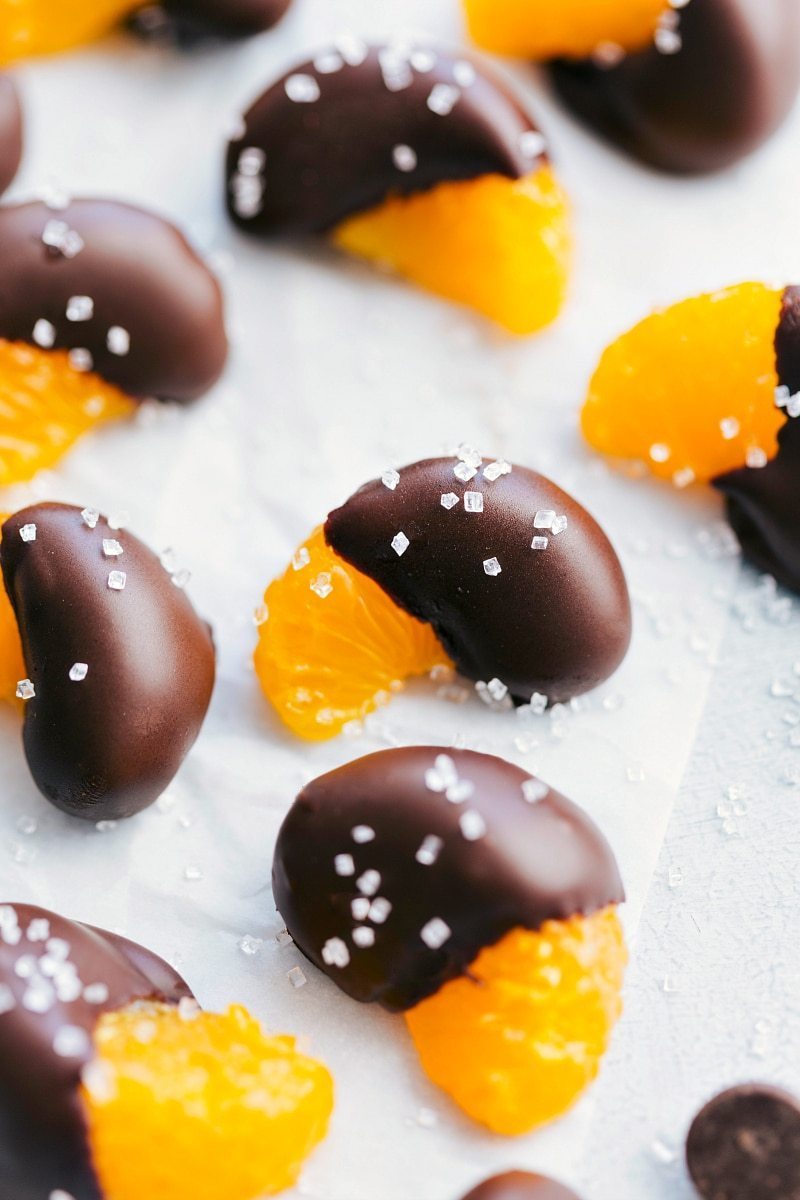 CHOCOLATE-COVERED MANDARIN ORANGES
These are a personal favorite treat of mine and one my sister and I made all the time growing up. My mom ALWAYS had canned mandarin oranges in the pantry, and of course we couldn't just eat them plain. ? We loved dipping them in melted chocolate (dark, milk, even white chocolate sometimes) and eating them straight out of the fridge.
You can of course use fresh clementines, but the canned oranges are a bit faster to make (and I love that they're totally free of any peel.)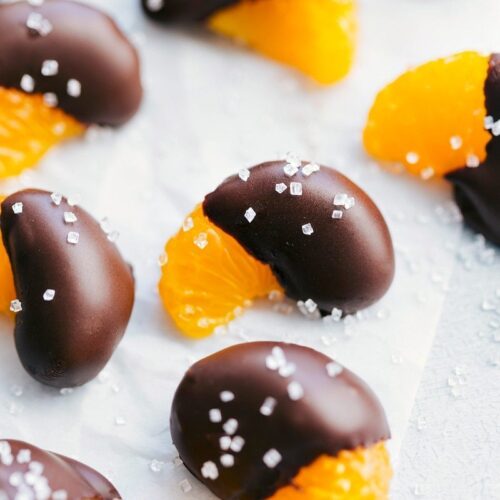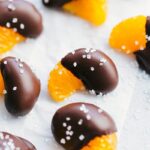 Chocolate-Covered Mandarin Oranges
3-ingredient quick and easy mandarin oranges covered in your favorite flavor of chocolate!
Ingredients
1

can (15 ounces)

mandarin oranges

1/3

cup

chocolate: milk, dark, semi-sweet, white -- whatever is your favorite!

(I like milk best, but use dark for a healthier treat)

1

teaspoon

coconut or vegetable oil

Optional: coarse sea salt or sparkling sugar
Instructions
Thoroughly drain the Mandarin oranges and place on a parchment paper covered plate. Allow to dry a bit more at room temperature and then freeze for 8 minutes.

Meanwhile, combine the chocolate chips and coconut oil in a microwave safe bowl. Microwave in increments of 15 seconds, stirring in between each increment for 10 seconds until the chocolate is melted and smooth.

Remove the oranges from the freezer and gently dip one end halfway in the chocolate and transfer back to the plate.

If desired sprinkle the mandarin oranges (before the chocolate fully hardens) with coarse sea salt (salty-sweet) or sparking sugar (crunchy sweet). Place in the fridge until the chocolate is set up, about 10 minutes.

Enjoy when chocolate has fully set up. Best enjoyed within 1-2 hours of making.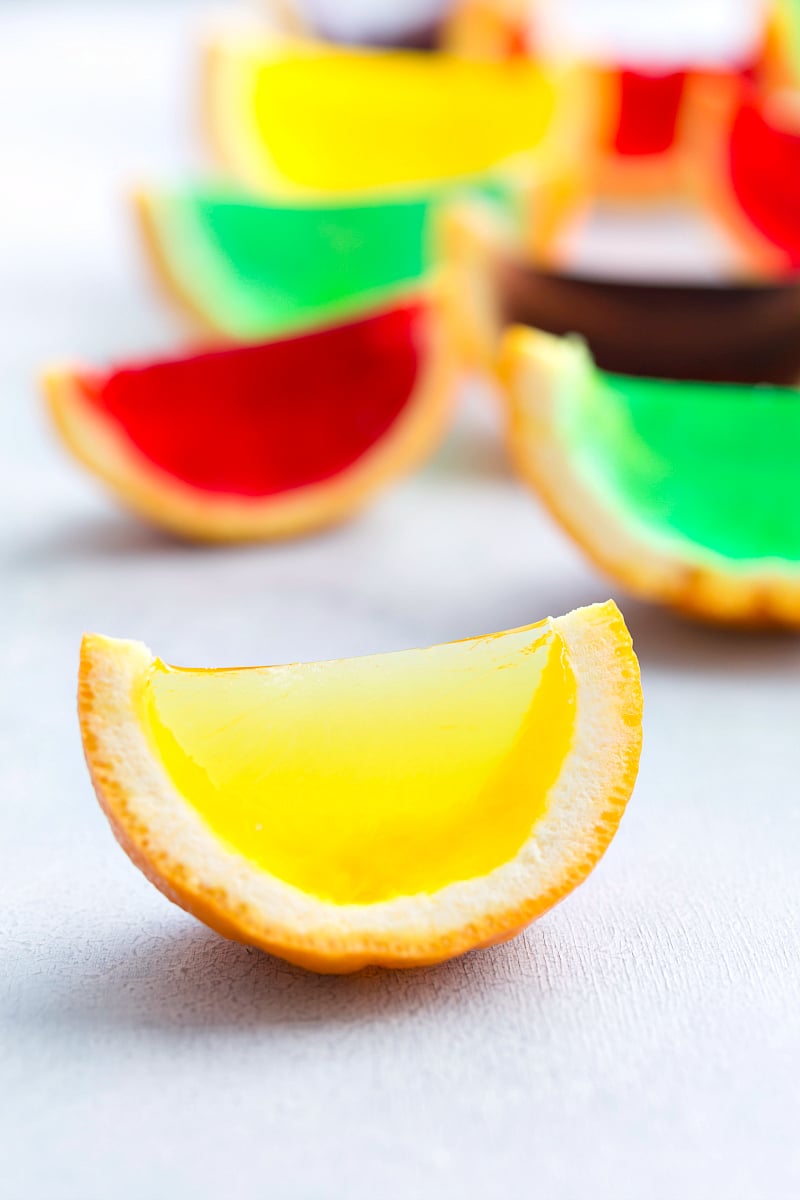 JELL-O ORANGE SEGMENTS
These fun treats are slightly adapted from Tablespoon.com — I saw them a few weeks ago and knew I had to make these for the boys! They were a massive hit and I'm definitely going to be bringing them to the next party I go to!
I changed the original recipe to make a slightly quicker set jell-o AND I swapped out the water for lemon-lime soda. It gives these such a fun and different flavor. You can use diet or regular soda.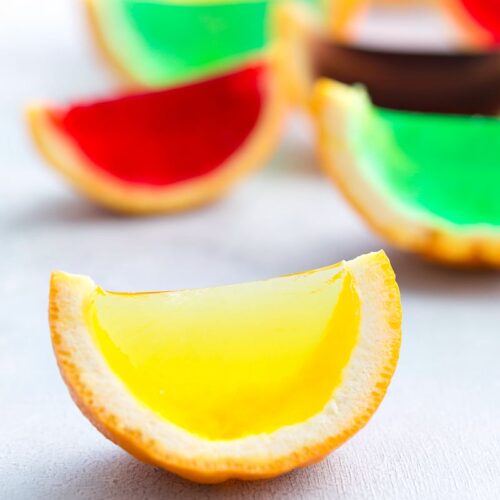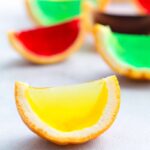 Jell-o Orange Segments
Orange segments filled up with different flavors of jell-o.
Servings
:
12
jell-o filled orange halves (about 48-60 wedges depending on how thick you cut them)
Ingredients
6

small-medium

oranges

5

(3 ounces each)

jell-o mixes (grab your favorite flavors/colors; I used raspberry, grape, lime, orange, and lemon jell-o)

2

liter bottle

lemon-lime soda (diet or regular),

cold
Instructions
Slice the oranges in half. Juice the oranges (drink the juice or save for later) and then using a small metal spoon, scrape around the edges leaving the peel intact.

Place the oranges halves upright in a muffin tin.

Prepare the jell-o flavors. Boil 3/4 cup soda and then stir in 1 (3 ounce) jell-o packet and whisk to combine. Add in another 3/4 cup COLD soda and whisk.

Fill the oranges with the jell-o (as many oranges as you want in that color) and add the leftover jell-o to an 8 x 8 baking dish (optional for leftover jell-o snack!)

Repeat with the other jell-o flavors until all the oranges are filled up.

Place in the fridge and chill for 6 hours to overnight (overnight is best).

Remove and using a very sharp knife, slice the oranges into individual segments.
Recipe Notes
Prep time does not include chilling time.