Swapping the beef for ground turkey to make these flavorful, and better-for-you turkey tacos! The ground turkey has a killer seasoning mix and can be whipped up in 15 minutes or less in one skillet. Add some delicious taco toppings and dinner is served!
We're obsessed with tacos — try some of our other "famous" taco variations: these chicken tacos, shrimp tacos, or healthy tacos.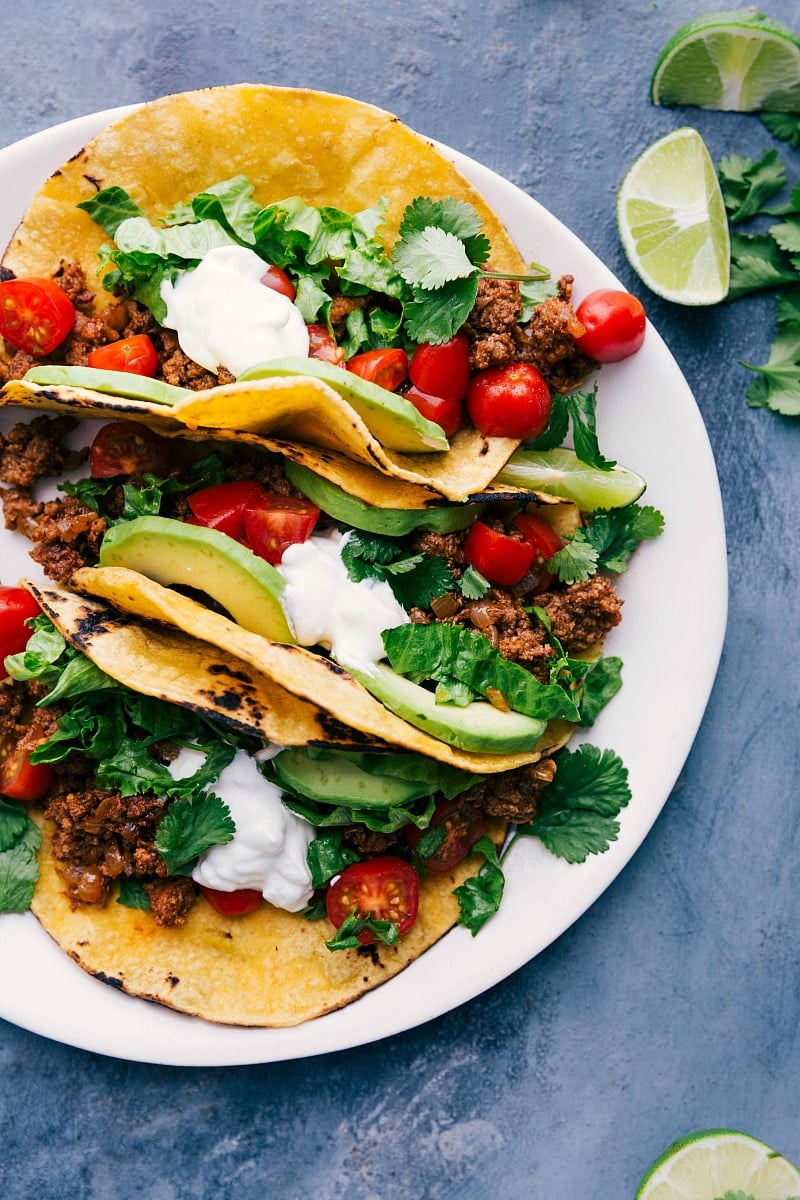 Turkey tacos are flavorful & healthy
One of the best things about tacos is how much variety you can find. There's variety in the tortillas, the meat (or meatless fillings), the toppings, the sauces, etc. It's not hard to find a taco to love.
Tacos can be a completely indulgent meal and not all that healthy (which I think is great in moderation). But sometimes you're craving amazing, flavorful tacos without all the grease, calories, and fat. And that's where these turkey tacos come in.
These will satisfy any taco craving, are packed with flavor, and are much better-for-you than most tacos.
Is ground turkey better for you than ground beef?
This is a huge debate, but overall it really depends on the lean meat to fatty meat ratio that is purchased. Lean ground turkey meat will typically always be leaner than dark turkey meat and ground beef. I recommend a 93 to 7 percent ratio of ground turkey for these tacos. Here's a thorough ground turkey verses ground beef comparison of calories, protein content, and macro-nutrients.
Some people are concerned that using a lean ground turkey will make for dry and flavorless meat. Below I share how we keep this turkey taco meat ultra moist and add flavor!
How to make ground turkey moist
Keep the ground turkey cold: keep the turkey in the fridge right up until it needs to be added to the skillet. Don't set it out or let it come to room temperature.
Add olive oil, garlic, and onions: these ingredients not only contribute a lot of flavor, they also add moisture into the meat.
Add tomato sauce: a little of this sauce at the end makes the meat incredibly moist and adds a nice, rich flavor.
Avoid over cooking: because of the low fat content, ground turkey isn't too forgiving when it's over cooked; it will become dry, crumbly, and lose flavor. Use a food thermometer and cook it until the internal temperature reaches 165 degrees F.
How to make turkey tacos
The descriptions below correlate to the photo collage above.
Measure out the seasonings. This is the BEST taco seasoning mix ever! It's adapted from my taco lettuce wraps. We add a little beef bouillon to enhance the "meaty" flavor (a great Weight Watcher's tip!)
Combine the seasonings
Cook onions and garlic: heat olive oil and then cook the onions for a few minutes until translucent. Add in the garlic and stir until fragrant.
Toast the spices: adding the spices here intensifies their flavors by bringing out the aromatic oils. It also adds complexity to the taste of the spices and bonus the kitchen will smell amazing.
Add in the ground turkey: cook, breaking apart with a wooden spoon until almost cooked through, but still slightly pink
Add tomato sauce: and stir
Simmer for about 3-5 minutes: until ground turkey is fully cooked through (165 degrees F). Taste and adjust seasonings
Build your taco: add the turkey taco meat to a tortilla (or lettuce wrap!) and add your favorite taco toppings.
Make extra turkey taco meat and freeze a batch!
My family loves this turkey taco meat so much, I've made an extra batch the last few times and frozen it for an even quicker meal another day. So here's how you do it:
Cook the turkey according to the recipe and let it cool to room temperature.
Transfer the meat to a freezer safe plastic bag. Let out all the air, seal, and flatten the bag.
Freeze for 2-3 months and then thaw overnight in the fridge.
Remove meat from the freezer bag and reheat in a skillet over medium heat. Add a little additional tomato sauce as needed.
Use this turkey taco meat in other recipes
Build a turkey taco salad: use the meat in this recipe, some chopped romaine lettuce, grated cheese, tomatoes, and the dressing in this BBQ Chicken Salad.
Make lettuce wraps: add turkey taco meat and any of your favorite taco toppings to some Butter lettuce leaves.
Add the seasoned turkey meat to top nachos: add to some chips with cheese (bake) and then load up with taco toppings OR try these loaded taco fries, they're one of my favorite recipes!
Add to a burrito bowl: make some cilantro-lime rice, top it with this meat, add in some black beans, and finish it with a few more taco toppings.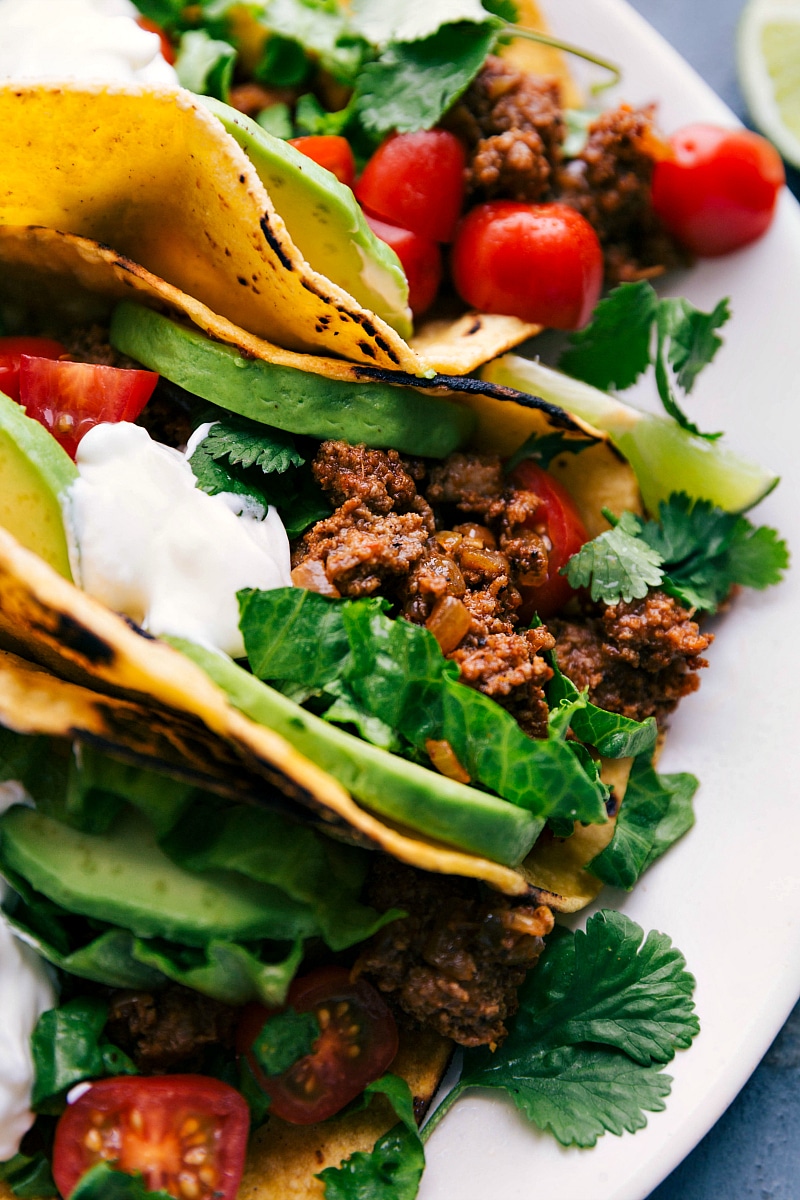 Turkey taco toppings
Our favorite toppings for these tacos:
Freshly grated sharp cheddar cheese
Chopped cherry tomatoes
Fresh cilantro
Squeeze of fresh lime
Large scoop of sour cream (we use fat free to keep these on the light side)
Freshly sliced avocado or scoop of guacamole
Shredded romaine lettuce
More ground turkey recipes: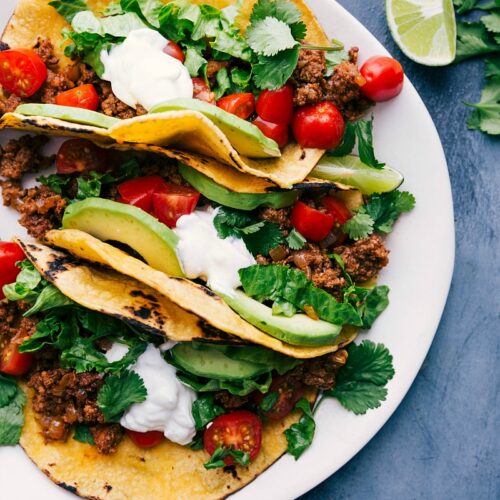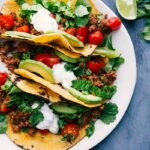 Turkey Tacos
Swapping the beef for ground turkey to make these flavorful, and better-for-you turkey tacos! The ground turkey has a killer seasoning mix and can be whipped up in 15 minutes or less in one skillet. Add your favorite taco toppings and dinner is served!
Ingredients
1

tablespoon

olive oil

1/2

cup

diced yellow onion

(~1/2 of 1 onion)

2

teaspoons

minced garlic

(~2 cloves)

1

tablespoon

ground chili powder

1

teaspoon EACH:

ground cumin, paprika

1/2

teaspoon EACH:

onion powder, garlic powder, dried oregano, salt and pepper

1/2

tablespoon

beef bouillon powder

1

pound

lean ground turkey

1/3

cup

tomato sauce

Tortillas

1

cup

freshly grated Colby Jack or extra sharp cheddar cheese

Toppings: shredded lettuce, sour cream (fat free or lite is great), fresh guacamole OR ripe avocados, chopped cherry tomatoes, salsa or pico de gallo, fresh cilantro, fresh lime
Instructions
TURKEY TACO MEAT: Dice the onion and mince the garlic. Grab a large cast iron skillet and heat over medium high heat. Add 1 tablespoon olive oil and once the oil is hot, add in the diced onion. Cook for 3-5 minutes or until soft and translucent. Add in the garlic and cook for 20-30 seconds. Add in all of the seasonings: 1 tablespoon chili powder, 1 teaspoon ground cumin, 1 teaspoon paprika, 1/2 teaspoon onion powder, 1/2 teaspoon garlic powder, 1/2 teaspoon dried oregano, 1/2 teaspoon salt, and 1/2 teaspoon pepper, and 1/2 tablespoon beef bouillon powder. Stir around the spices until fragrant, about 30 seconds. Nothing should be burning, reduce the heat if needed.

TACO MEAT CONT.: Add in the ground turkey. Crumble the meat into small pieces and cook until no longer pink (but not cooked through all the way), about 5-8 minutes. Add in the tomato sauce and scrape the bottom of the pan to release any browned bits (this is where the flavor is!) Let simmer for 3-5 minutes, or until fully cooked through, and then remove from heat.

ASSEMBLY: Char/warm tortillas (Note 1). Add even amounts of the turkey taco meat and then sprinkle cheese right on top. The taco meat should be hot enough that the cheese should melt. Immediately add toppings of choice. Our favorites are a big scoop of sour cream (fat free is great!), ripe sliced avocado (or guacamole), a few chopped cherry tomatoes, fresh cilantro, and a squeeze of fresh lime juice. Enjoy hot!
Recipe Notes
Note 1: I like to char the tortillas on my stove top; I spray the tortillas (both sides) with olive oil cooking spray and then place directly over the gas flames for a few seconds. Use tongs to flip until tortillas are lightly charred.
These calories do not include any of the toppings as those will vary.