A delicious steak salad recipe with cherry tomatoes, dried cherries, toasted almonds, red pepper, and a delicious healthy lemon cilantro vinaigrette.
Aaaaaand I'm BACK! It feels like it's been forever since we've chatted. I believe that was the longest blogging break I've taken in the two years I've been running this site. Don't get me wrong, it was a great break, but I've missed this crazy internet world and YOU.
How was your holiday break? Did you have a good Christmas? New Years?
I'm so excited for the New Year and what it will bring. There are big plans for CMA and all features I'm looking forward to bringing you. I've got a tentative plan of all the recipes I'll be bringing you this next year and they are going to be good.
There will also be more videos! There are plans to have either a GIF, step by step photos, or a video for every single post in 2016.
I've got a bunch of healthy meals, baked goods, and treats slotted for this month as well as a few fun appetizers to get ready for the Super Bowl come February.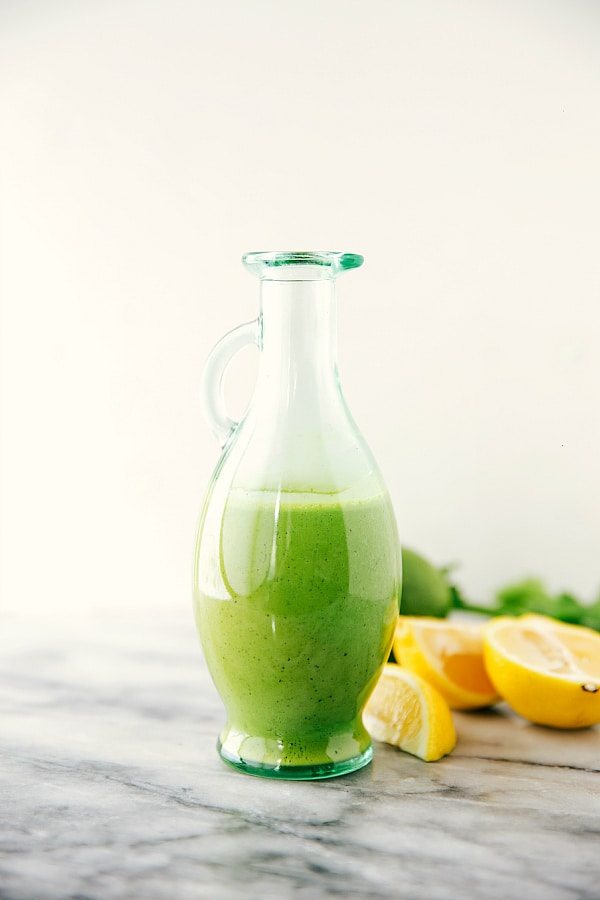 So let's talk about the recipe for today: a Tri-Tip Steak Salad. It's been one of my favorites from a local restaurant so I thought it was time to recreate it at home. Especially since I was begging the husband to go here like every single week for our date night. But no more! We like this version even more. Particularly because you can customize just how much of what you want on your salad. (I'll take three helpings of dried cherries please!)

This salad does take some time to put together, but it's all pretty easy. The marinade for the meat takes minutes to whisk together and the components of the salad are easy to prep. Toasting the almonds is optional, but so flavorful! Then the only veggie chopping is the cherry tomatoes, green onions, and red bell pepper. (Technically the lettuce too depending on what type of lettuce you buy. I always like small pieces of lettuce to absorb more of the dressing so I'll usually chop even pre-chopped lettuce.)
The dressing is very "herby" from all the cilantro, tangy, and a little bit sweet. Everything just gets blended together which is super easy! If you don't absolutely LOVE cilantro, you likely won't like this dressing and I would recommend trying a different recipe or pre-made dressing. But for cilantro lovers — watch out this is good!
To quickly toast the almonds, place the almonds in a single layer in a heavy skillet (you don't need to add anything else) and stir them around on medium-low heat. It only takes about 2-3 minutes (sometimes less depending on how much heat they are getting) until they are toasted and smelling quite fragrant. Just make sure you are stirring them around and watching constantly so they don't have a chance to burn!
Steak Salad Recipe
Ingredients
Steak or Chicken
1

pound

tri-tip steak

or 1 pound boneless skinless chicken breast

Freshly cracked pepper and seasoned salt

2

tablespoons

soy sauce

2

tablespoons

olive oil

1/2

tablespoon

white sugar

1/2

teaspoon

minced garlic

1/2

teaspoon

onion powder
Salad
6-8

cups

chopped romaine lettuce

1

cup

halved cherry tomatoes

1

large red bell pepper

chopped

4-5

green onions

chopped (optional)

1/3

cup

dried cherries or dried cranberries infused with cherry juice

1/3

cup

sliced and toasted almonds

1/3

cup

feta cheese
Instructions
To marinate and then cook the steak or chicken
Rub and knead cracked pepper and seasoned salt into the steak or chicken.

In a small bowl, whisk together the soy sauce, olive oil, sugar, minced garlic, and onion powder.

Place the steak or chicken in a plastic sealable bag and pour the marinade over. Rub the marinade through the bag into the meat.

Place in the fridge for at least 2-3 hours (the longer you marinate, the better the meat tastes (and the moister tri-tip steak will be)! I like to do it for 6-8 hours). Flip the marinating meat on the other side halfway through the marinading period.

Grill or cook the steak or chicken on a grill or over the stovetop. I use this chart to judge exactly how long to grill the steak for according to our desired doneness: http://www.bhg.com/recipes/beef/steak/how-to-cook-tri-tip-steak/
Salad
Wash and thoroughly dry the lettuce. Chop all the lettuce into smaller pieces. Halve the cherry tomatoes. Chop the red bell pepper (remove stem and seeds). Chop the green onions.

When ready to serve, toss the lettuce and tomatoes with the dressing. Stir in the dried cherries, sliced and toasted almonds (see above recipe for how to quickly toast almonds), chopped green onions, and feta cheese. All ingredients best combined right before eating. The salad doesn't sit or store well. (If you don't plan on eating it all OR making in advance, toss small amounts of the salad with the dressing and store separately)

Dressing recipe below this recipe.
LEMON-CILANTRO VINAIGRETTE: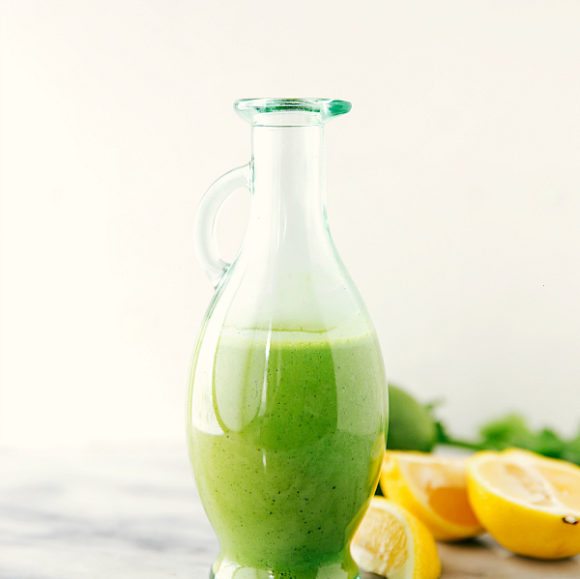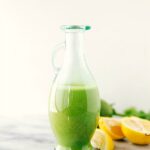 Lemon Cilantro Vinaigrette
Ingredients
Dressing
1/3

cup

avocado oil

1

large lemon

3 tablespoons lemon juice and 2 teaspoons zest

1

large lime

2 and 1/2 tablespoons lime juice

1

teaspoon

onion powder

1 and 1/2

tablespoons

white wine vinegar

1/2

tablespoon

honey

1

cup

lightly packed cilantro

1/2

teaspoon

spicy brown mustard

Optional: pinch of red pepper flakes
Instructions
Dressing
Using a zester, zest the lemon to get about 2 teaspoons lemon zest. Squeeze to get 3 tablespoons lemon juice. Squeeze the lime to get 2 and 1/2 tablespoons lime juice.

For the cilantro, chop off the stems (no need to remove all the stems) and lightly pack into a cup measurer to get 1 cup. This is just over half of a large bunch of cilantro.

Combine all of the ingredients in a blender or food processor. Blend. Add a generous pinch of salt and pepper if desired. Taste and adjust to personal preference (more honey, more salt/pepper, etc.)
Recipe inspired by local restaurant's Cubby's Tri-Tip Steak Salad