The quickest Thanksgiving edible craft treat. These miniature cornucopia cookies only require 3 ingredients and minutes to make!
Some Thanksgiving treats are pretty much the cutest thing you've ever seen, but then making them is a whole different story. Like you need to be a professional treat-maker to make them look even a little bit good, right? Or is just me that feels that way?
These, however, require no special skills. They are so ridiculously easy! So easy that my two year old even made a few that are in these pictures!! Of course, not too many made it in the photo shoot because he was pretty busy eating all the bugles, cookies, and M&M's as quickly as he could. His favorite of the three ingredients are actually the bugles, he could eat those all day long!! And me? I'll take ALL the M&M's please. And next, I will dip those vanilla cookies in melted chocolate and eat all of those too. 🙂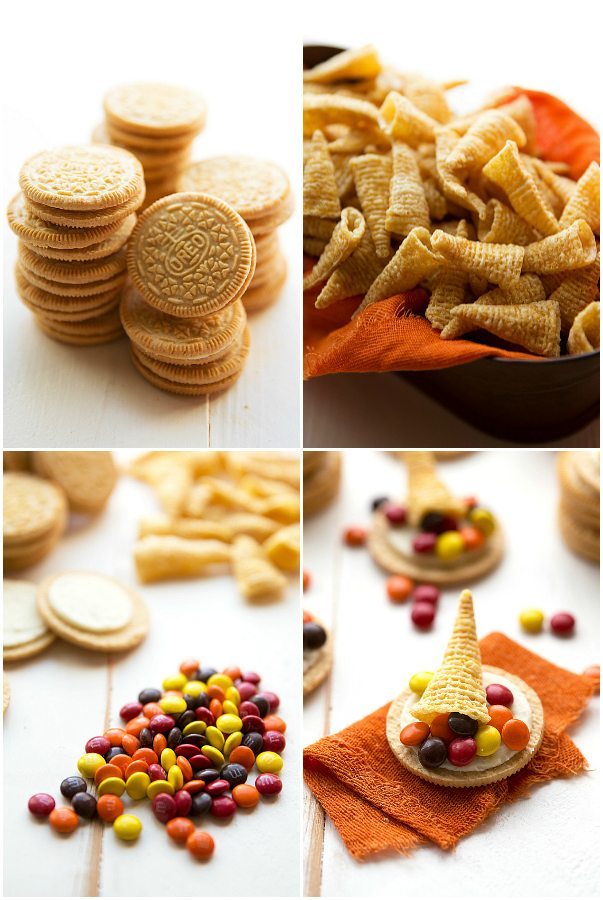 So just 3 ingredients to make these! I guess technically you could add a fourth ingredient if you want these cookies to be super stable — a tub of frosting (or homemade frosting would be a few more ingredients) to pipe on some of the M&M's to keep them right where you want them. I just pressed the M&M's into the creme filling in the oreo and they stuck fine. I also scraped off a little frosting from cookies that didn't come apart pretty to use those and make the M&M's stay in place.
However, I never transported these cookies anywhere and just moved them around on a tray. If you are traveling with these cookies you may want to use some extra frosting to get everything to hold super well.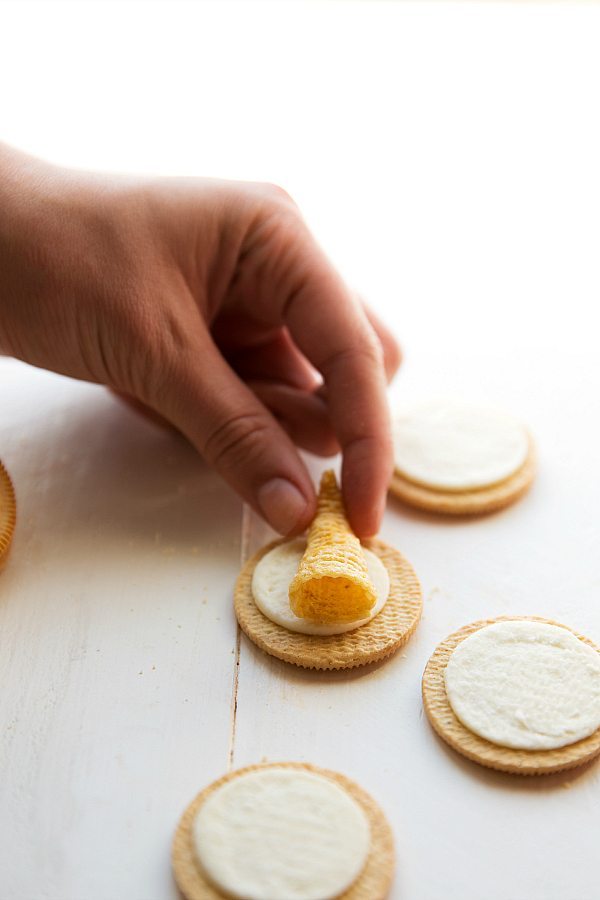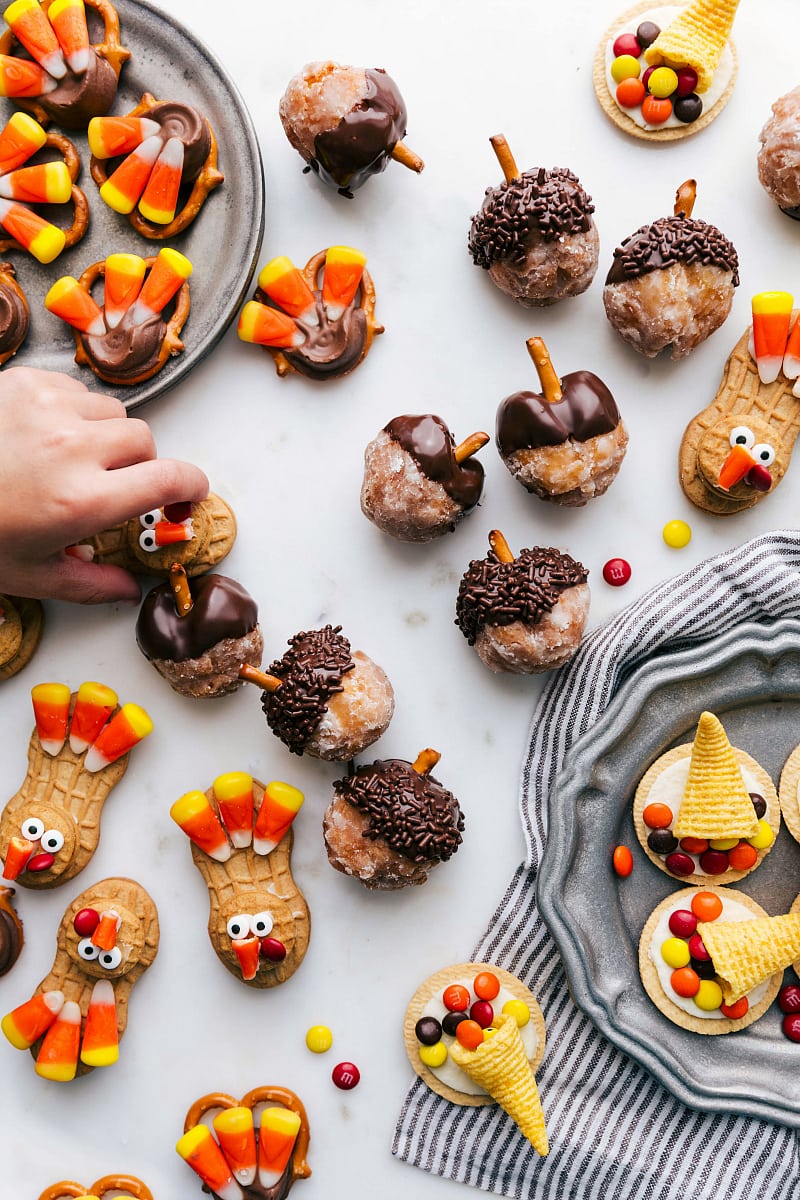 Pictured above: Cornucopia Cookies, Acorn Donut Holes, Rolo Pretzel Turkeys
Here are some more delicious recipes to add to your Thanksgiving menu:
3-ingredient Cornucopia Cookies
Ingredients
1 package

(16 ounces)

Golden Oreo Sandwich Cookies

1

bag

Bugles

1 bag

(12 ounces)

mini M&M's baking bits candies
Instructions
(The ingredients don't have specific amounts as you'll need to buy all those things anyways and it depends on how many of the cookies come apart perfectly and how many bugles look like cornucopias -- you will likely have some leftover of both.)

Separate the golden oreo sandwich cookies and eat or save the side of the cookie with no frosting. I found the best way to separate the oreos is by twisting the top off from the bottom.

On the side with the frosting press a cornucopia-looking bugle onto the cookie.

Press the mini M&M's strategically in and around the bugle. Use extra frosting from cookies that didn't separate well if needed to get the M&M's firmly placed on the cookies.

Alternatively you can also use a tub of frosting if needed and pipe small amounts of frosting onto the M&M to get it very secure (I never found this necessary, but also didn't transport these to any kind of gathering.)